New Stuff
Contents
1. Recent additions to the site
4. New Profiles
5. Major Updates needed - can you help?
6. Master List of Profiles Needed
---
09-27-2023 - New List - Rom characters. Compiled by Donald Campbell!
04-14-2023 - New Lists - Marvel Stories Produced Outside of the U.S.A. (comics and stories from Japan, France, the U.K. and more!) written by our very own Loki

03-15-2023 - Relive the otherworldly oddities and planetary profiles of the Not of This World! event here!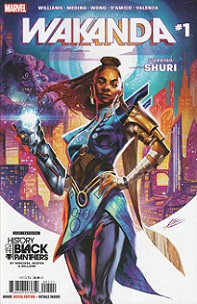 10-12-2022 - Join Handbook writers as they provide annotations to help take readers through the "History of the Black Panthers" in Marvel's WAKANDA miniseries!

08-15-2022 - Arachnid Anniversary

Take another look at our latest event over Here.
In the summer of 1962, Stan Lee and Steve Dikto introduced the world to Spider-Man in Amazing Fantasty #15. The Marvel Appendix is swinging into action to celebrate sixty spectacular years of Spidey and his amazing adventures. For several days the Appendix visited with the friendly neighborhood Spider-Men from all corners of the Spider-Verse and beyond.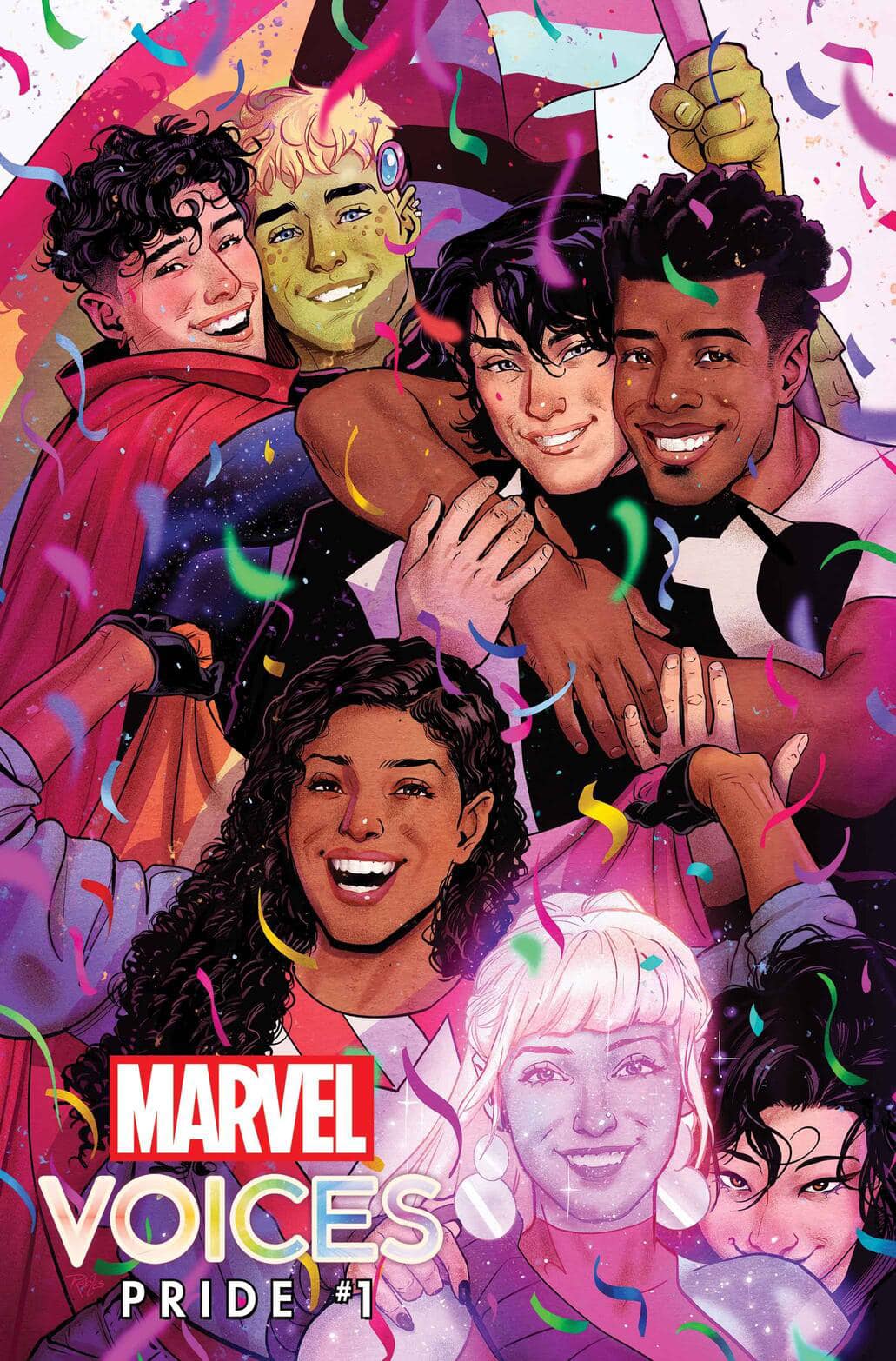 05-20-2022 - Marvel's Voices: Pride #1!

June sees the release of MARVEL'S VOICES: PRIDE #1! Featuring seven new stories by LGBT+ creators and starring your Marvel Pride favorites like the Young Avengers, Hercules, Valkyrie, Moondragon, and D-Man! In addition to all that, it features six all-new Handbook profiles for six never-before-profiled LGBT characters.

Marvel's Voices: Pride #1 is released June 22, 2022.

04-20-2022 - Official Playtest Rulebook for the Marvel Multiverse Role-Playing Game is Now Available

Get ready for the Marvel Multiverse Role-Playing Game, the latest tabletop RPG that puts the power of the Marvel Universe in YOUR hands. The key to unlocking the Multiverse lies in the PLAYTEST RULEBOOK, now available in comic stores and online! Packed with character profiles, statistics, sheets, maps, instructions for character creation and combat. We're glad to announce that several of our writers have worked on the book as well!

Available now.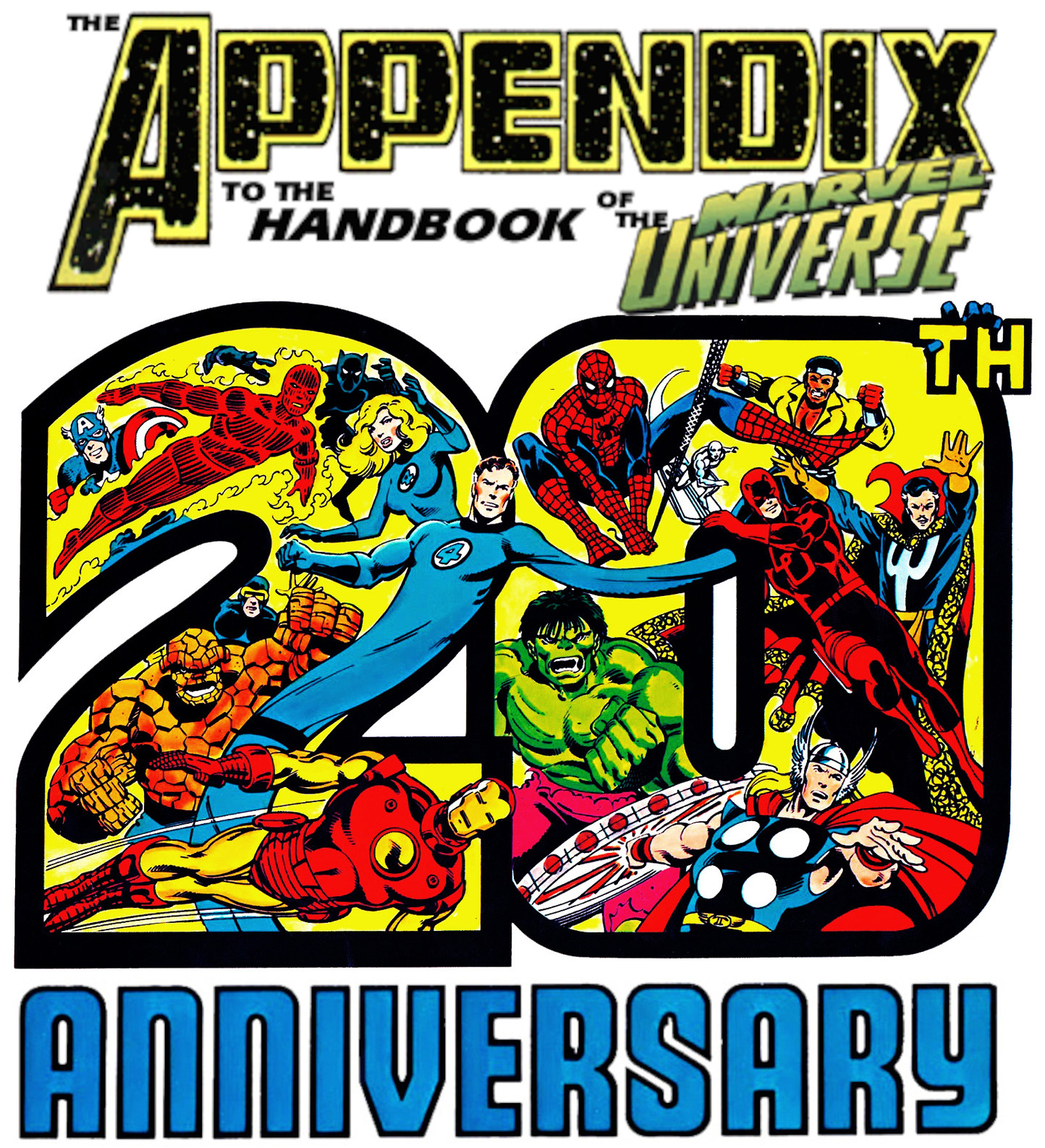 September 2021: The Marvel Appendix 20th Anniversary event, a month-long event adding dozens of profiles each and every day.
---
1. The site is www.marvunapp.com/Appendix (A in Appendix must be capital)
2. Additions or corrections? Please contact the Master of the Obscure responsible for the profile. Visit our overview page to get in touch.
---
Upcoming profiles
Also known as the list that got out of control



...so...I have SO many issues pulled for various story-arcs that I want to cover that I am going to focus on covering some of that before I cover new major arcs/characters from the list below...I'll more slowly whittle down this list when I get the other one trimmed down a bit, but you can see some of what I'll be working on

here

.




Champion's trainers

Zalkor (Count Abyss power source; Adam Warlock/Infinity Watch story)
unidentified giant savages of Reality-6966 (Silver Surfer I#6)
Rob Takiguchi (Godzilla character)
Saurian Holmes expansion (KISS character)
Troll (Gunna)
Renrutanit (witch; Conan foe)
Stranger's ship (Avengers I#317)
Gearbox (Earth-928 circa 2099)
Pusher (Ka-Zar foe)
Thor Corps (Thor characters)
Sophia Latta (vampire; Vampire Tales#8)
Someone from Reality-7481 (Apeslayer's reality)

Dallan Rand (Microverse; Arcturus Rann's father)
Noah Burstein (Luke Cage empowerer)
Kaggor (Giants of Jotunheim)
Sikorsky (Starjammers)
Prototype (Bob Campbell; Ultraverse)
Geirrodur (Asgardian rock troll)
Gideon (Externals)
Midnight (Moon Knight and Spider-Man foe)
Achmed El-Gibar (King of Thieves; Storm character)
Count Kaoz (Dr. Strange character)
Roxanne Gilbert (former Tony Stark girlfriend)
Uranos (Eternals)
Cul (Asgardian god)
Control 7 (Power Man and Iron Fist stories)
Elizabeth Castle (Shadowline)
Zxaxz (Spellbinder character)
Deathlok of Reality-11014
Ozymandias (X-Men/Apocalypse character)
Ultimaton (Weapon XV)
Cosmo (Guardians of the Galaxy character; telepathic dog)
Harpies (Olympian mythology)
"Dutch" Mallone (Spider-Man character)
Mastodon (Wolverine character)
Dr. Oheimer (Man-Thing character)
Yeti (Migou; Shang Chi character)
Starstation Raga (Hercules of Earth-829)
(Female) Machete (Captain America foe)
Rintrah (Doctor Strange disciple)
mind-controlling insects of Yellow Claw (Wolverine: Agents of Atlas)
Lei Fong of Earth-928 circa 2099 AD (Doom 2099 foe)

once living moon from Original Sin#3
Silver Dagger (Dr. Strange and Werewolf foe)
Tarot (Hellions)
Maraud (Power Pack foe)
Omegex (Hulk foe)
Itsy Bitsy (Spider-Man & Deadpool character)
Vikah (Micah Synn follower - DD foe)
Sir Isaac Newton
Jake Fury - Update and split up from Scorpio profile
Cat People - MH covering?

Marianne Rodgers (Iron Man character)
Kh'thon race (X-Men: The Return)
Guardians of the Galaxy of 1000 AD (Guardians of Infinity story)
Llyra (Lemurian; Set descendant; Ian McNee, Namor, & Spider-Man character)
Nyglar (Blastaar's wife)
Aakon race (Alphabetically the first race in Marvel)
Vlad the Elder (Dracula's father)
Senor Muerte/Senor Suerte (The original - Cage foe)
Blue Streak (Caged Angels; Bullseye victim)
Caprice (Caged Angels; Bullseye victim)
Melter (Scourge victim - Avengers foe)
Hellrazor (Caged Angels; Bullseye victim)
Smiling Tiger (New Warriors foe)
Black Knight (Nathan Garrett; Whitman's Uncle/Masters of Evil - Avengers foe)
Mindwave (Caged Angels; Bullseye victim)
Force (Iron Man foe)
Ranulph Haldane (Mys-Tech; Dark Angel father)
Gremlin (Gargoyle's Son - Hulk foe)
Russian (Punisher foe)
Trapster (Larry Curtiss; one-shot Iron Man foe)
Malachi Toomes (Vulture's Nephew)
Mister Y (Deadpool character)
Grizzly (Markham; Spiderman foe)
Big Wheel (Spiderman foe)
Dimitrios (Avengers AI foe)
Cylex (Mojoverse villain)
Alton Osborn (Norman ancestor)
Dictator Draxon (Hulk foe)
Wilson Allan (Liz's father)
Sigurd (Asgardian god)
Junkpile (Earth-928 circa 2099)
Negari (Conan and Solomon Kane stories)
Council of Reeds (Fantastic Four characters)
Pestilence (Alpha Flight foe)
Devastator II (Rom/Iron Man foe)
(Female) Crimson Dynamo (Winter Guard)
Adversary (demon; X-Men foe)
Grondaar (Blastaar's father)
Firepower (Iron Man foe)
Gin Goh (Iron Fist/Deadpool foe)
Rhino Imposter (Rhino/Spiderman foe)
Black Spectre (Moon Knight foe)
Slaymaster (Britain/Deadpool foe)
Tanjaar (Blastaar foe)
Leslie Geraci (Punisher character)
Professor (Truett Hudson; Weapon X project)
Hatchet-Man Imposter (Moon Knight foe)
Spymaster Imposter (Ghost victim - Iron Man foe)
Styx (Spiderman foe)
Stone (Spiderman foe)
Illusion (Scarlet Witch character)
M'tha and Sra (Micah Synn's wives - DD foes)
Vashti (Atlantean/Homo mermani)
Scrier (Silver Surfer character)
Bloodscream (Wolverine character)
Kusanagi-No-Tsurguri / Grasscutter sword (legendary mystic sword)
Red Widow (Ava Orlova; Forever Red and Red Vengeance novels)
Percy Ronald Calvin (Dr. Wilma Calvin's son)
Nevernevernarniozobia (Daydreamers)
Elan/Infant Terrible imposter (Skrull; Fantastic Four I Annual#19)
Hildegarde (Asgardian)
Arachna (spider god; Savage Sword of Conan#156)
Cody Robbins (the boy Rogue kissed)
Bishop character (Last X-Man series)
Trevor Fitzroy (Bishop character)
Deathlok (Jack Truman)
Free Spirit (Captain America character)
Deathlocket (Avengers Arena)
Yagzan (separate out from Jude)
Timeslip (New Warriors)
Update/expansion Overlord (Rakkhal)
Plan Master (Wonder Man foe)
Senor Magico (Power Man and Iron Fist; Contagion character)
Harpies (Elderspawn)
Rok Wit Mik (Korbinite; Beta Ray Bill)
Emila Vachon (Daughters of the Dragon)
Eyeball (Deadpool Corps)
Terrordome (Deathlok (Collins))
Draeketh (Planet of Temples; Asgardians of the Galaxy)
Shaper of Worlds
Darkhawk character
expansion: Kayla Ballantine (Quasar character)
Brad Carter (Ulysses Bloodstone)
Update/expansion: Elric expansion
Demon princess from the lower depths of Asmodeus' realm (Defenders character)
Lurans / Echo Worlders (Atlas)
Ngi (Jubari Gorilla God)
Consortium (Alpha Flight foes)
Ralph Quentin (Ghost Rider/Blaze foe)
Vanishing Ladies (Dragon's Claws characters)
a Watcher
Strikesquad: Gauntlet (X-Man foes)
Naglfar Beacon (Asgardians of the Galaxy)
Margali Szardos (X-Men character)
Sibyl (Rom character)
Outriders (Dazzler character)
Adonai (Hulk 2099)
Tony the Ghost (Mortigan Goth character)
Singularity (A-Force)
Abel Stack (Machine Man creator)
Dethstryk (Ravage 2099)
Citadel (Maximum Security)
Awf (Snark; Power Pack foe)
Turgohl (Conan ally)
Aliya (Earth-4935; Clan Chosen; Cable ally)
Eudora Simpson (Earth-148611; Justice character; gang victim)
Mahkos & Elysia (Spider-Man story)
Blackjack O'Hare (Rocket Raccoon foe)
Ditto (Goodman, Lieber, Kurtberg, and Holliway)
Kly'bn (Skrull Eternal; Emperor of Skrull pantheon)
Lt. Jimmy D'Angelo (NYPD; White Tiger character)
Akreon (Kull the Conqueror III#2)
Alex Alaric (Trust; Punisher foe)
Andrew Forson (AIM; Scientist Supreme)
Hollow (the shell that previously held/was Penance)
Thanotosian Tomes (Book of Magic; Dr. Strange story)
Tears of Nicrotis (Conan story)
Dr. Ketola (Minimum Clonage Alpha)
Priests of Death (Sodom & Gomorrah; Sise-Neg foes)
Valeria (Conan character)
(Moon Girl character)
Marada the She-Wolf character
Kabal of Earth-928 circa 2099 A.D. (Ghost Rider 2099 character)
Red Sonja character
Excalibur (Faiza Hussain; MI13)
Hawk God of Reality-691 (Guardians of the Galaxy character)
Odessa Drake (Black Cat character)
Mysteria (Superia's Femizons; expand from sub-profile)
Captain Sale (Rocket Raccoon character)
Earth-200111 (MAX) character
Vassily (Poison character)
Tristum (Wild Angels)
David Jenkins (Livewires)
Intensifier (Kickers, Inc.)
The Pitt (New Universe)
Foxy Petierra (Mop Man foe)
Druid Walsh (Moon Knight character)
Collector (Elders of the Universe)
Sin/Superior (Red Skull's daughter; Captain America foe)
Nathaniel Richards ("Warlord"/Earth-6311 ruling incarnation; Kang incarnations ancestor)
Scarlet Centurion active on Earth-98702 (Time's Arrow: The Present novel)
Sheila Marks (HULK! character)
Horace Grabsheid (aka Horace Grayson; Marvel Boy's father)
Axecutioner (Sachs and Violens foe)
Violence (SHIELD character)
Praxagora (Annihilation)
"Puff"/green dragon (X-Men/Lockheed character)
Rikki Barnes (Multiversal character)
Toni Ho (Avengers character)
Andrei Belinksy (father of Red Guardian/Starlight)
Ursa Major (Winterguard)
Pasha (Operation S.I.N. character)

Howard Stark
Nightmask character


---

Profiles in various stages of work by Snood
If you have an interest in one of these profiles, please contact me first

'Breed-related (Bravura/Image): Alexander Stoner, Raymond Stoner and his mother

Cable:
Clarity & Greg & Lea


Captain Marvel
Glib's Grog and Grub, Calculex


Conan-related:
Belit, Black Corsairs, Conan, N'Yaga, Tigress

Deathlok the Demolisher related:
Earth-7484, Nina Ferry, Curtis Giles

Dreadstar related:
Altarix / Syzygy Darklock / Vanth Dreadstar / Empirical Galaxy, Instumentality / (High) Lord Papal / Monarchy / Oedi / Cardinal Spydar / Sword of Icy Fire / the Twelve /


Encyclopedia Mythologica:
I'm going to be going through and covering the various as yet unprofiled gods for the main listing and also for an upcoming event. If you want to profile someone, check with me that the character is not already done; if not, I'd most likely be happy to have someone else cover the character.

Frankenstein:
Victor von Frankenstein and all of his descendants...


Gambit related:
Anwar Anubar, Sekmeht Conoway, Courier, Mariah Ellenthrope, Elysian Enterprises, Jack Farley, Grovel, New Son/New Sun, Spat, Cosmo Stephanopolous

Gun Runner:
Enhanced, Lure, Oracle, Gale Patrec, Vassyra(ns), others

Howard the Duck/Crazy stories:
Burlesque house, Odd dimension

Inferno Babies:

Iron Fist:
Crane Mother's Daughters / Gork / Harold Meachum Update / Heather Rand Update / Wendell Rand Update / Shou-Lao Update / Terror Priests / undead cyborg ninjas

Iron Man: Crash characters

Jungle Action related:
Kazibe, Monica Lynne, Tayete

Ka-Zar related:
Aerie Shalahn / Aerians / Athmeth / Bala / Buth / Gorahn Sea / Lemurans / Nahgren Island / Pterons / Skites / Wend

Man-Thing:
Albey, Farley, Man-Thing (Ted Sallis), Project Gladiator

Marvel Zombies Destroy!:
Earth-12591

Mighty Valkyries:
Managarmr/More, triplets, updates: Audumla, Fafnir of Nastrond

Mystic Arcana:
Hauhet, Iah, Nu, Serpent's Sea, Shai

New Men / Knights of Wundagore:

Omega the Unknown:
Amber Grant, Ruth Hart, Pops, James-Michael Starling, Dian Wilkins

Operation: SIN:
updates on Anton Vanko

All things Rigellian:
Grand Commissioner, Recorder 211, Space Lock


Rom:
Agricon, Mentus, Prime Director, Ray-Na, Terminator

Sakaar-related:
Arch-E 5912 / Caiera the Oldstrong / Chaleen Plains / Death's Head Warguards / Great Arena / Great Devil Corkers / Great Portal / Hiroim the Shamed / Imperial Dreadnought / Elloe Kaifi / Korg of the Kronans / Maw / Mawkaw Magkong / Miek / No-Name of the Brood / Pleasure Cruisers / Sakaar / Sakaarian Imperials / Sakaarian Natives / Shadow People / Warbound

Shamrock and le Peregrine unpublished story:
Silver Monster, Lilac, Shamrock, Peregrine, Frankenstein's monster updates; Berserker expanson; Frank Caccone, Eric Prawn


Sludge unpublished story:
Princess Di,


Solomon Kane:
Bogonda, Bogondi, demon (Solomon imprisoned), Nakura, Nayela, Negari, Hassim Ben Said, werewolf (Marta Cabel's brother), Yussef of Hadji

Ultraverse:
Prototype (Bob Campbell)

Void Indigo:
Jhagur and the rest

Upcoming profiles from
the other Masters of the Obscure

---

Final editing under Snood










---

Final editing under another editor




---

Profiles in the works

Gargoyle (Golden Age Cap America foe) - by AvatarWarlord72

Badoon race of Reality-691 (31st century Guardians of the Galaxy foes) - by Donald Campbell


(Captain Britain) Corps - by Loki

Proteus (616, X-Men foe) - by Loki

Crusader X (Corps) - by Loki

Woodgod - by Loki

Dominic Fortune - by Loki

John Kowalski - by Loki

Merlyn Update - by Loki

The Fury Update - by Loki

Lance Hunter Update - by Loki

Tom Lennox, Alison Double and the other members of STRIKE PSI Division Update - by Loki


Descendants- by MarvellousLuke

Destine family - by MarvellousLuke

Albert Destine (ClanDestine character) - MarvellousLuke

Mangaverse characters - by MarvellousLuke

X-Men The Animated Series characters - by MarvellousLuke

Screaming Masks of Cyttorak (Cyttorak, magical creatures) - by MarvellousLuke

Lieutenant Webb (ClanDestine) - by MarvellousLuke

Updates on: Adam-X (X-Men Legends), Anole, Black Womb (X-Men Legends), Bling!, Graydon Creed Update (Xavier Institute: Liberty & Justice For All novel), Curse (X-Men Unlimited), Crystal Claws (X-Men Legends), DJ (Way of X), Delphos (Secret X-Men), Doctor Nemesis, Eric the Red (X-Men Legends), Harriers (X-Men Unlimited), Harry Leland (Marauders), Chantal Lourdes (Marauders), Tran Coy Manh (New Mutants), Malice (Excalibur), Onslaught (Way of X), Paibok (SWORD), Rain Boy (New Mutants), Stacy X (Way of X), Katherine Summers (X-Men Legends), Thunderbird (Trial of Magneto), Wiz-Kid (SWORD), Xarus - by MarvellousLuke

Lance Bannon (Daily Bugle, Spider-Man character) - by Minor Irritant

Chimera/Paul Proust (Black Cat character) - by Minor Irritant

Nick Katzenberg (Daily Bugle, Spider-Man character) - by Minor Irritant

Ashley Kafka (Ravencroft psychiatrist, Spider-Man character) - by Minor Irritant

Nightwatch (90s hero, Spider-Man character) - by Minor Irritant

Sha Shan (Flash's ex-girlfriend, Spider-Man character) - by Minor Irritant

Kristy Watson (MJ's cousin, Spider-Man character) - by Minor Irritant

Asmodeus update (demon, New FF foe) - by Markus Raymond

Blade (Eric Brooks, enemy of all vampires) - by Markus Raymond

Michael Bowen (Dagger's uncle) - by Markus Raymond

Joshua Cooper (Captain America character) - by Markus Raymond

Hannibal King (Nightstalkers, Blade character) - by Markus Raymond

Victoria Montesi update (Darkhold Redeemers, Carnage) - by Markus Raymond

Grigory Rasputin (pretty famous Colossus ancestor) - by Markus Raymond

Siege of Darkness (Midnight Sons event) - by Markus Raymond

Wraith (Brian DeWolff, Scourge victim) - by Markus Raymond

Harmony Young (Luke Cage character) - by Markus Raymond

Kevin and Mick Mortensen (Volstagg's adopted children) - by Shiryu

Riot Squad (Hulk characters) - by Stunner


Crawling Creature (Tales of Suspense I#22) - by Ron Fredricks

Freddy Sykes/Genie (Tales to Astonish I#8-9) - by Ron Fredricks

Linus Vermeer (Strange Tales I#69) - by Ron Fredricks

Klagg (Tales of Suspense I#21) - by Ron Fredricks

Dr. Crime (Captain America Comics#12, All-Winners Comics#7) - by Ron Fredricks

Samurai City (Black Panther story) - by Ron Fredricks

"Walking Mountains" (Captain America Comics#2) - by Ron Fredricks

Wild Pack (Silver Sable characters) - by Spidermay

Interdite race - by Donald Campbell

Sarks race - by Donald Campbell

---

Profiles needing major Updates

1602 AD
Ulysses Bloodstone (flashbacks, 1950s Avengers, Wolverine, etc.)
Brood Imperiatrix
Dimitri Bukharin (Crimson Dynamo)
Bull (Andreas de Ruyter)
Tracy Burke (Captain Marvel character)
Charniputra (vampire clan)
Citadel (Alpha Flight)
Gaea (with All-Mother)
Cathexis Ray (used to empower Red Hulk, A-Bomb, Red She-Hulk....Hulk stories)
Fu Manchu (Secret Avengers and Zheng Zu identity)
Fah Lo Suee (Fu Manchu's daughter)
Agatha Harkness
Idunn (with All-Mother)
Morlun (Inheritors)
Panther God (Bast, Black Panther mostly)
Phyla-Vell (Martyr; Guardians of the Galaxy)
Ranark the Ravager (Alpha Flight)
Sons of the Serpent (DD, Cap, etc.)
Star-Lord (Peter Quill)
Tyr (Asgardian god)
Universal Church of Truth
Carina Walters (Infinite Mansion)


---
Update The Spike (Darian Elliott) (adding in shiny new images & additional BTS appearances!) - by Proto-Man - 11/28/2023


15,457. Unidentified yellow-skinned extraterrestrial race (one challenged the Champion) - by Snood - 11/28/2023


15,456. "The Avengers" (Earth-818 prehistoric hero team) - by Proto-Man - 11/27/2023


15,455. Ghost Goblin (Norman Osborn of Earth-45863, Multiversal Masters of Evil member) - by Proto-Man - 11/27/2023


Updates The Cat (Shirlee Bryant) (adding shiny new images, formatting & additional appearances), Nemesis (Edward Stanford) (adding shiny new images & formatting) - by Proto-Man - 11/27/2023


15,454. Ernie Sluganski (Silver Sable International employee, Rocket Racer character) - by Patrick D Ryall - 11/26/2023


15,453. M.O.D.O.K. (Earth-32323 criminal mastermind, Doom's Battleworld resident) - by HBK123 - 11/26/2023


15,452. Rocket Raccoon (Reality-16147 space adventurer, Marvel Funko Presents animated shorts) - by Mike Castle - 11/26/2023


15,451. Champion's training sphere (Thing story) - by Snood - 11/26/2023


Expansion: Transport Egg (adding the other end: the Transport Chamber) - by Snood - 11/26/2023


15,450. Yago (Grampus; Reality-56862; space pirate) - by Snood - 11/25/2023

15,449. Grampus (extraterrestrial race, planet, and star; alternate future story) - by Snood - 11/25/2023


Update Keewazi Tribe - by Markus Raymond & Ron Fredricks - 11/24/2023

Expansion: Randall Shire (adding in SHIELD agent under his control) - by Snood - 11/23/2023


Update Gorr the Golden Gorilla - by Markus Raymond - 11/22/2023

Update/expansion Boyz R Us (adding new subprofiles, shiny new images & updating formatting!) - by Proto-Man - 11/21/2023


Update Humanoids - by Markus Raymond - 11/21/2023

Updates Dreadnoughts, Killer Robots, Mek-Men, Murder Machine, Punisher robots, Tomazooma robot - by Ron Fredricks - 11/20/2023

Image updates Gyro-Cruiser, Silent Fox - by Ron Fredricks - 11/20/2023

15,448. Turgentine Technenium (robotic empire associated with Skeletron) - 11/19/2023

15,447. Mindworm (Spider-Man foe) - by Markus Raymond - 11/19/2023

Update D.K. (X-Men foe) - by Markus Raymond - 11/19/2023

15,446. Transport Egg (Rigellian technology; Iron Man story) - by Snood - 11/18/2023


Updates Aqueduct, Necrodamus, Clea Strange - by Chadman - 11/18/2023

image update Seeker (Doom robot) - by Ron Fredricks - 11/18/2023

15,445. Jaxon's Tomb (Reality-8116; Dreadstar story) - by Snood - 11/17/2023


15,444. Gorgon extraterrestrial colony (Journey into Mystery story) - by Snood - 11/16/2023


Update Hate-Monger (United States of Captain America) - by Markus Raymond - 11/15/2023

15,443. Sheik Hamid (Azazel and the Undying foe; Cable character) - by Snood - 11/14/2023

15,442. Professor Berger (archeologist; Undying foe; Cable character) - by Snood - 11/13/2023 (I uploaded it 11/04/2023, but either appnew was not updated, or the update was overwritten)


Updates Animus, Lascivious, Letha, Mangler (Lucius O'Neil), Poundcakes, Venus - by Markus Raymond - 11/13/2023

15,441. Sights (mutant, X-Men character) - by MarvellousLuke - 11/13/2023


15,440. Fauna (mutant, X-Men character) - by MarvellousLuke - 11/12/2023


15,439. Jellick (mutant, X-Men character) - by MarvellousLuke - 11/12/2023


15,438. Golgotha (extraterrestrial race; X-Men foes) - by Snood - 11/12/2023


15,437. Beast-Men of Earth-715 (Femizons foes) - by Snood - 11/10/2023


15,436. Sgt. Milnor (Reality-8116; Dreadstar character) - by Snood - 11/09/2023


15,435. Special Agent Kankrr (alien operative, Starbrand (Brandy Selby) foe) - by Proto-Man - 11/09/2023


15,434. Earth-4559 (alternate reality tapped for mystic power by Avenger Prime) - by Proto-Man - 11/09/2023


15,433. Billy (cookie recipient, Avengers character) - by Proto-Man - 11/09/2023


Updates The Collector & Hunter Joe (adding in new & refurbished images, as well updating formatting!) - by Proto-Man - 11/09/2023


Updates Berserker & Faceless One - by Markus Raymond - 11/08/2023

Updates Fizgig, Lightmaster, Vibro - by MarvellousLuke - 11/06/2023

Updates Doctor Midas, Exterminatrix (Oubliette Midas) & Pocket Battlefield - by Markus Raymond - 11/05/2023

Update Diego Ardilles (updating & adding new images & formatting) - by Proto-Man - 11/05/2023


15,432. Mrs. Anders (wife of WWII soldier that served alongside Captain America, Avengers character) - by Proto-Man - 11/05/2023


15,431. Earth-4111 (Earth-Howard Stark sold his soul for immortality) - by Proto-Man - 11/05/2023


image updates Gorki & Orion Missile - by Ron Fredricks - 11/04/2023

15,430. Droook (Badoon War Brotherhood commander; Guardians of the Galaxy foe) - by Snood - 11/03/2023


Update Zzzax (appearances 2016-2023) - by MarvellousLuke - 11/03/2023

Expansion Hulk-Killer (robot, Hulk foe) - by Ron Fredricks - 11/03/2023

15,429. Raoul (vampire; Dracula servant; Deadpool foe) - by Snood - 11/02/2023


Update Equinox - by MarvellousLuke - 11/02/2023

15,428. Alphonse Frankenstein (father of Victor) - by Snood - 11/01/2023 - missed it, by that much!


15,427. The Devil's Posse (Old West-era gang of demonic Mephisto servants, Avengers foes) - by Proto-Man - 10/31/2023 - Happy Halloween!


15,426. Sara Conroy (horror character) - by Grendel Prime - 10/31/2023 - Happy Halloween!


Expansion/Update Darkhold Dwarf (BOO!) - by Markus Raymond - 10/31/2023 ---HALLOWEEN UPDATE---

Update Icemaster (adding cleaner images & a new appearance!) - by Proto-Man - 10/30/2023


Updates King Cadaver & Madam Slay - by Markus Raymond - 10/30/2023

Update Gert Hauptmann (image update) - by Ron Fredricks - 10/30/2023

Update Aelfric the Mad Monk (Darkhold character) - by Markus Raymond - 10/29/2023

15,425. Lt. Sandorz (Reality-8116; Monarchy; First Nova Squadron) - by Snood - 10/29/2023


15,424. Gilgrath (Shi'ar moon; home to research facility; Shi'ar story) - by Snood - 10/28/2023


Update Jinx (Darkhold Redeemers) - by Markus Raymond - 10/28/2023

image updates Acts of Vengeance & Dr. Doom's Killer Robots - by Ron Fredricks - 10/28/2023

15,423. Commander Gemet (Shi'ar; Gul Damar Space Station; X-Men character) - by Snood - 10/27/2023


15,422. Professor Henry Oxton (archeologist; Azazel foe; Cable story) - by Snood - 10/27/2023


Update/expansion Phat (Billy Bob Reilly) (adding new & improved images, new appearances, new comments, new everything!) - by Proto-Man - 10/26/2023


Updates Black Mamba (X-Men Green), Black Swan (Deadpool 2012) & Buck Bukowski (Women of Marvel and more) - by Markus Raymond - 10/26/2023

Updates Arclight, Basilisk, Dracula, Loa, Morpheus, Plantman, Sunstroke, Terraformer - by MarvellousLuke - 10/25/2023

Updates Answer (Nicholson), Blizzard (Gill), Demolisher, Night Phantom - by Markus Raymond - 10/25/2023

15,421. C.I.T.Y. (subway-cleaning robot, Rocket Racer foe) - by Patrick D Ryall - 10/23/2023


15,420. Bolaa (Rigellian mutant; Thor character) - by Snood - 10/23/2023


Updates Cagliostro & Zorba - by Ron Fredricks - 10/23/2023

15,419. B'ket Imstari (Shi'ar scientist; X-Men character) - by Snood - 10/22/2023


15,418. Gevaltu (planet of Urthona and the Gevaltans) - by Snood - 10/22/2023


15,417. Hypno-Persuader (Dr. Doom invention) - by Ron Fredricks - 10/22/2023

Image update Gustav Hauptmann - by Ron Fredricks - 10/22/2023

15,416. Astra (First Generation Galadorian Spaceknight; Rom character) - by Snood & Loki - 10/21/2023


Updates Necrodamus, Silvermane & Clea Strange - by Chadman - 10/21/2023

Expansion Cyclops (Tales of Suspense) - by Ron Fredricks - 10/21/2023

15, 415. Azazel (ship/AI of the Undying; Cable story) - by Snood - 10/20/2023


15, 414. Gevaltans (Urthona's race; Dr. Strange stories) - by Snood - 10/20/2023


15,413. Glow Worm (Morlock, X-Factor character) - by MarvellousLuke - 10/20/2023


Updates Beautiful Dreamer, Bulk, Brute, Choir, Hump, Indra, Nimrod, Shatter, Sunder - by MarvellousLuke - 10/20/2023

15,412. Stygians of Reality-5106 (Space Squadron alien race) - by Grendel Prime - 10/19/2023


15,411. Ann Carver of Earth-691 circa 2006 A.D. (Killraven character) - by Snood - 10/19/2023


15,410. Carlton Drake (Life Foundation, Spider-Man/Venom foe) - by Markus Raymond - 10/19/2023

Expanded Kriven of Reality-2775 (Ranshi Empire; Cable character) - by Snood - 10/17/2023


Updates Technovore & Tri-Sentinel - by Markus Raymond - 10/17/2023

Update Solarr - by MarvellousLuke - 10/16/2023

Updates Scarlet Beetle & Trull the Unhuman - by Markus Raymond - 10/16/2023

Update Mondo, Petra, Sway - by MarvellousLuke - 10/16/2023

Update Troids (Crypt of Shadows) - by Markus Raymond - 10/15/2023

Update Rocco Rank (Amazing Fantasy I#15 character returns in 2022) - by Markus Raymond - 10/14/2023

15,409. Caldor of Reality-8116 (former home of the People, Syzygy Darklock, and Vanth (Dreadstar)) - 10/13/2023


15,408. Natalia Vollock (Russian ambassador, House of X character) - by MarvellousLuke - 10/11/2023

Updates Id Machine (missed appearance) & Yellow Claw's cyborgs (Bludgeoner, Compressor and Transformer - new images) - by Ron Fredricks - 10/11/2023

15,407. Captain Benedict Xavier (grandfather of Charles Xavier, Wolverine character) - by MarvellousLuke - 10/08/2023

15,406. Tryx (Rigellian mutant; Thor ally) - by Snood - 10/08/2023

15,405. Ranshi Empire of Reality-2775 (Cable story) - by Snood - 10/08/2023


Update Eye-Scream, Marauders, Match, Mister M, Peeper, Skin, Tag - by MarvellousLuke - 10/08/2023

15,404. Wolf Turber (insane, time-traveling Earth-36292 android, Captain America (Jeff Mace) foe) - by Proto-Man - 10/06/2023


Update June Jitsui (adding in some new images & comments, updating formatting) - by Proto-Man - 10/06/2023


15,403. Matricca Scoppio (planet in the Crab Nebula; home to the ACE Corporation, Dove Soldiers, Bad Boys, a race of cyborgs, and Orgolhuin, the Black Museum, and its Black Curator) - by Snood - 10/06/2023


Update Bliss, Cybelle, Healer, Opsidian, Riptide, Scalphunter, Saucier - by MarvellousLuke - 10/06/2023

Update/Expansion: Orgolhuin, the Black Museum of the Cyborgs (Matricca Scoppio; Death's Head & Die-Cut story) - by Snood - 10/05/2023


Update Jumbo Carnation (all appearances from 2019 till 2023, including a sub-profile for Mr Cluck) - by MarvellousLuke - 10/04/2023

15,402. Wundagore-3 (base +/- ship of Man-Beast and his New Men; Counter-Earth and Adam Warlock stories) - by Snood - 10/03/2023


15,401. Ahmet (Mutant, Tunnel Rats, District X character) - by MarvellousLuke - 10/01/2023


Updates (images/sub-profiles) Hypno-Gun, Operation: Artificial Powrs, Q-Bomb - by Ron Fredricks - 10/02/2023

15,400. Sandella Ranshi (Reality-2775; Ranshi Empire; Cable character) - by Snood - 10/01/2023


15,399. X-Machine (Ludwig von Frankenstein creation; empowered a trio of beings, each of whose names included Silver and/or Surfer) - by Snood - 10/01/2023


Update Blackbyrd (formatting, image clean-up, adding additional appearance) - by MarvellousLuke & Rob London - 10/01/2023

Updates Blue Streak and the Fast Five - by Markus Raymond - 10/01/2023

15,398. Oedi (Reality-8116; Caldor/People; father of Dreadstar and Company member's Oedi) - by Snood - 09/30/2023


15,397. Black Curator (of Matricca Scoppio's Black Museum; Death's Head and Die-Cut story) - by Snood - 09/30/2023


Updates Jessie Drake, Fortress & Steel Raven - by 09/30/2023

Update Comet Man (formatting, new images, fixing many errors, adding additional Handbook info) - by MarvellousLuke & James Cope - 09/29/2023

Update Echo (Maya Lopez) - by Chadman - 09/29/2023

15,396. arthropods of "Planet X" of Reality-60751 (Tales to Astonish story) - by Snood - 09/28/2023

15,395. "Planet X" of Reality-60751 (Tales to Astonish story) - by Snood - 09/27/2023


15,394. Captain Lee Kwan Pen (Wolverine character) - by MarvellousLuke - 09'/27/2023


15,393. Harmonists/Harmony of Reality-22071 (Cable characters) - by Snood - 09'/26/2023


15,392. The Soldier Supreme (Sgt. Sebastian Szardos, mystic WWII Secret Invaders member) - by Proto-Man - 09/26/2023


Update Rocket Racer - by Patrick D Ryall - 09/26/2023


Updates Death-Shield, Split-Second Squad & Volga Belle - by Markus Raymond - 09/26/2023

Updates Klaw & Living Laser - by Chadman - 09/26/2023

15,391. Planet X of Reality-54561 (Uncanny Tales story) - by Snood - 09/24/2023


15,390. Snowsnake (Legion of the Unliving; Vampire Nation) - by Snood - 09/24/2023


Expansion/image update King's Crossing (home of Skrull milk) - by Ron Fredricks & Markus Raymond - 09/24/2023

15,389. Planet X of Reality-59356 (Tales of Suspense story) - by Snood - 09/23/2023


15,388. A.C.E. Corporation (MOPED creators; Motormouth stories) - by Snood - 09/22/2023


Expansion Monster in the Streets (Larry Rambow) - by Ron Fredricks - 09/20/2023

Updates Imperial Guard (Astra, Electron, Fang, Manta, Warstar) - by Chadman - 09/20/2023

Updates Beast of the Hand, Blindspot (Sam Chung), Kirsten McDuffie, Cole North, Stick, Tombstone - by Chadman - 09/19/2023

15,387. Eyla Cire (Earth-22073/Harmony; Cable character) - by Snood - 09/18/2023


Update: Atlantean Shark Rider, Maori Ghost Rider - by Loki - 09/18/2023

15,386. Samoan Shark Rider (Spirit of Vengeance) - by Loki - 09/18/2023

Update Gateway (2016-2023 storylines) - by MarvellousLuke - 09/17/2023


15,385. Gamera (Kaiju from rival film studio to Godzilla's Toho) - by Loki - 09/17/2023

Update/Expansion: Sir Ram (New Men; adding Marvel Premiere appearance and sub-profile on his ship) - by Snood - 09/17/2023


Update Dr. Karlin "Karl" Malus (Ravencroft) - by Markus Raymond - 09/17/2023

Expansion/Update Sharon Xavier (X Lives of Wolverine update and added subprofile) - by MarvellousLuke - 09/17/2023


Expansion/Update Brian Xavier (X Lives of Wolverine update and added subprofiles) - by MarvellousLuke - 09/17/2023


15,384. Joe Bomb (The X-Cellent character) - by MarvellousLuke - 09/17/2023


15,383. Vague (Hell's Belles member, X-Factor character) - by MarvellousLuke - 09/17/2023


Expansion/Update Hell's Belles (Children of the Atom update) - by MarvellousLuke - 09/17/2023


15,382. Molly Ravencroft (ancestor of Ravencroft Institute founder; lover of Cortland Kasady) - by Snood - 09/16/2023


15,381. Hellfire Club Moscow (Wolverine characters) - by MarvellousLuke - 09/16/2023


15,380. Maxim Ivanov (head of the Moscow Hellfire Club, Wolverine character) - by MarvellousLuke - 09/16/2023


15,379. Jurgen Shields (great-grandfather of Sharon Xavier, Wolverine character) - by MarvellousLuke - 09/16/2023


15,378. Aline Fischer (grandmother of Sharon Xavier, Wolverine character) - by MarvellousLuke - 09/16/2023


15,377. Grandmaster Wong (Wong Fei-Hung, past master of the Drunken Dragon Fist) - by Proto-Man - 09/15/2023


15,376. The Vile Tapeworm ("superhero" Deadpool character) - by Patrick D Ryall - 09/15/2023


15,375. She-Man-Thing (paralegal by day, swamp creature by night!) - by Patrick D Ryall - 09/15/2023


15,374. Pink Sphinx (mystic Deadpool character) - by Patrick D Ryall - 09/15/2023


15,373. Zania Orbal (Sirusite; Guardians of the Galaxy foe) - by Snood - 09/15/2023


Expansion/image update Invincible Man & Norman McArthur - by Ron Fredricks - 09/15/2023

15,372. Bad Boys (ACE Corporation; Matricca Scoppio; Motormouth characters) - by Snood - 09/13/2023


15,371. Garai (planet apparently in Null Space; Darkhawk story) - by Snood - 09/12/2023


15,370. Harokin (Thor character) - by Markus Raymond - 09/12/2023

15,369. Reno Phoenix (outlaw Reno Carlotta, Old West-era Phoenix Force host) - by Proto-Man - 09/11/2023


Updates Bullet, Lance Cashman & Stilt-Man - by Chadman - 09/11/2023

15,368. Conspiracy against Nenora (Kree; Silver Surfer characters) - by Donald Campbell - 09/10/2023


15,367. Ganalon race (Die-Cut's people) - by Snood - 09/10/2023 (I uploaded this profile a couple weeks ago, but either failed to update appnew or it was overwritten)


15,366. Manuel Cire (Harmony/Earth-22073; Cable character) - by Snood - 09/10/2023

Update: Black Knight (Sir Percy) and Mephisto (Ruins of Ravencroft: Sabretooth appearances) - by Snood - 09/09/2023


Update: Tania Belinskya/Red Guardian/Starlight (Operation SIN appearances) - by Snood - 09/09/2023


Update Thing that Crawled by Night...back to the top of the list because it appeared in Marvel Comics#1000 - 09/08/2023

15,365. Delilah D-50 (lover of Vanth (Dreadstar)) - by Snood - 09/07/2023


Update Ethicals - by Ron Fredricks - 09/06/2023

15,364. Ezra Cire (Harmony/Earth-22073; Cable character) - by Snood - 09/05/2023


15,363. Svaðilfari (Sleipnir's dad, Loki's lover) - by Markus Raymond - 09/05/2023

image update Reanimator - by Ron Fredricks - 09/05/2023

15,362. Amir (vampire; Death of Dr. Strange: Blade character) - by Snood - 09/04/2023

Updates Buzz Baxter, Blackheart, Hellcat, Maria Hill, Dorothy Walker, Joshua Walker, Hedy Wolfe - by Chadman - 09/03/2023

15,361. Mordonna (Hela servant, Executioner (Skurge) foe) - by Markus Raymond - 09/03/2023

15,360. Angerboda (Mother of Monsters, one of Loki's former partners, Thor foe) - by Markus Raymond - 09/02/2023 (with an immediate update on 09/03/2023 courtesy of Donald Campbell and Ron Fredricks)

Image updates A-Chiltarian race & Cyclops robot - by Ron Fredricks - 08/31/2023

Update D-Man - by Chadman - 08/30/2023

15,359. Leslie (vampire; Death of Dr. Strange: Blade character) - by Snood - 08/29/2023


15,358. Pildorr the Plunderer (alternate reality alien space pirate, Strange Tales) - by Ron Fredricks - 08/28/2023 --Jack Kirby's birthday--

15,357. Thing that Crawled by Night (Marvel Monster, Tales of Suspense) - by Ron Fredricks - 08/28/2023 --Jack Kirby's birthday--

15,356. Warlock's Eye (mystic weapon, Thor stories) - by Markus Raymond - 08/28/2023 --Jack Kirby's birthday--

15,355. The Starbrand Kid (Old West era Star Brand host, outlaw gunslinger partner of Reno Phoenix) - by Proto-Man - 08/27/2023


15,354. War Machines (Earth-818 soldiers of the Wastelord Black Skull) - by Proto-Man - 08/27/2023


Update Zawadi - by Markus Raymond - 08/27/2023

Updates Airjet-Cycle (new and missed appearances + images) & Spinnerette (images) - by Ron Fredricks & Markus Raymond - 08/26/2023

15,353. Mento-Corders (Badoon technology) - by Donald Campbell - 08/26/2023


15,352. Jamus of Lemuria (Wyrm agent; possible James Allison incarnation) - by Snood - 08/26/2023


15,351. Avell (Kree) - by Donald Campbell - 08/26/2023


15,350. James Allison (R.E. Howard character) - by Snood & Loki - -08/25/2023

Updates Bruiser & Selene - by Chadman - 08/25/2023

15,349. "Torpedo" Taylor (WWII submarine character) - by Grendel Prime - 08/24/2023 - his 1000th profile!


15,348. Molossus (Earth-88131, ALF ally) - by Grendel Prime - 08/23/2023


Update Salome (former Sorceress Supreme meets the Forgiven & Spider-Man) - by Markus Raymond - 08/23/2023

15,347. Zoms of Earth-691 circa 31st century (Guardians of the Galaxy, Captain America, Thing, Defenders foes) - by Donald Campbell - 08/22/2023


15,346. Froma race (Iron Man, Rick Jones, Punisher, and She-Hulk characters) - by Snood - 08/21/2023


15,345. Tyler Wynn (Gambit character, X-Men Unlimited) - by MarvellousLuke - 08/21/2023


15,344. P&B Bar (Texan bikerbar, X-Men Unlimited) - by MarvellousLuke - 08/21/2023


15,343. Cruston Withers (Deadpool foe) - by Snood - 08/20/2023


Image update/expansion Sword of Judgment - by Ron Fredricks - 08/20/2023

Update Cilla & Tryks - by Markus Raymond - 08/20/2023

Update/expansion: The Celestial Order of the Si-Fan (adding in some missed appearances) - by Prime Eternal - 08/19/2023


15,342. Hsien Ming-Ho (Si-Fan splinter faction leader, X-Men character) - by Prime Eternal - 08/19/2023


15,341. Mao Liu-Cho (Si-Fan splinter faction leader, X-Men character) - by Prime Eternal - 08/19/2023


15,340. Chiang Kai-Dong (Si-Fan splinter faction leader, X-Men character) - by Prime Eternal - 08/19/2023


15,339. Cryptid (mutant, X-Student, X-Men Unlimited) - by MarvellousLuke - 08/19/2023


Updates Ma Mingyu (Immortal X-Men update) - by MarvellousLuke - 08/19/2023

15,338. Maddy Vandervalk (Frost's former best friend, X-Men Unlimited) - by MarvellousLuke - 08/19/2023


Updates Owl, the Right, Rose (Richard Fisk), Tombstone, Vanisher - by Chadman - 08/17/2023

15,337. Mari (Rigellian; United Front) - by Snood - 08/16/2023


Update: Ion (Machine Man foe) (updating formatting, most images & comments) - by Prime Eternal - 08/16/2023


15,336. The Flock (Lockheed's race) - by Snood - 08/14/2023


15,335. Fox-People (extraterrestrial race; enemies of Skrang's people) - by Snood - 08/13/2023

15,334. Interpolation Inserter (extraterrestrial technology; Guardians of the Galaxy story) - by Snood - 08/13/2023


15,333. Ultra-Marine (Dark Guard member) - by Snood - 08/13/2023


Image updates Flying Fortress, Followers, Lama & "Professor" - by Ron Fredricks - 08/13/2023

15,332. Unidentified extraterrestrial race (Skrang's race) - by Snood - 08/10/2023


Update Chtylok - by Markus Raymond - 08/10/2023

15,331. Centauri (Microverse; Homeworld; Sandzone) - by Snood - 08/08/2023


15,330. Curator (Dr. Roy Powell, X-Men foe) - by Markus Raymond - 08/08/2023

Update Elizabeth Nikos (Unforgiven update) - by Markus Raymond - 08/08/2023

15,329. Lightcutter II (Reality-8116; Syzygy Darklock's spaceship) - by Snood - 08/06/2023


15,328. Skrang (alien would-be conqueror) - by Snood - 08/06/2023


15,327. Wall (Cable character; mutant; Undying foe) - by Snood - 08/06/2023


15,326. Kayla (X-Force character, mutant, love interest of Colossus) - by MarvellousLuke - 08/06/2023


15,325. Vermilion (ICON agent; Peregrine and Shamrock unpublished story) - by Snood - 08/05/2023


Updates New Enforers (Blitz, Eel, Tangle, Thermite), William Nelson - by Chadman - 08/05/2023

15,324. Dr. Square (Energy Cubes wielder, Iron Man foe, See-a-Show toy character) - by Proto-Man - 08/02/2023


Update Franklin Storm (Susan's father) - by Ron Fredricks - 08/01/2023

Image update T.J. Vance (She-Hulk foe) - by Ron Fredricks - 08/01/2023

15,323. Andromeda starship of Earth-691 - by Donald Campbell - 07/30/2023


Updates Beast of the Hand, Clown & Lady Bullseye - by Chadman - 07/30/2023

15,322. Steck'ee (Sex-morphing alien; Captain Marvel (Genis-Vell) character) - by Snood - 07/28/2023


Updates: Amazon (Earth-9602 heroine), Iron Lantern (Earth-9602 superhero), Super-Soldier (Earth-9602 hero) (adding in new, non-Marvel appearances & updating formatting) - by Proto-Man - 07/27/2023


15,321. Daedalus 5 (planet; former base of the United Front during the Annihilation War) - by Snood - 07/26/2023


Image update Xorak the Outcast (X-Men foe) - by Ron Fredricks - 07/26/2023

Expansion Planner (Captain America foe) - by Ron Fredricks - 07/25/2023

Update: Spider-Boy of Earth-9602 (adding in recent "End of the Spider-Verse" appearance) - by Proto-Man - 07/23/2023


15,320. Hotepians (Reality-700459 alien race of mummies, Spider-Woman foes) - by David Lawrence - 07/23/2023


15,319. Key (Cable character; former mutant; Undying foe) - by Snood - 07/23/2023


15,318. Mosh (Ultraverse; Ghoul character) - by Snood - 07/22/2023


Updates Bi-Beast, Jeff the Land-Shark, Phoenix (Maya Lopez), Savage Land Mutates (Brainchild & Gaza) - by Chadman - 07/22/2023

15,317. Centauria (Micronauts foe) - by Snood - 07/20/2023


New images Zorr (Fantastic Four foe) - by Ron Fredricks - 07/19/2023

New images "Necrophone" & Milo Tindolini - by Ron Fredricks - 07/18/2023

15,316. Badoon psyke-discs (Reality-691's 31st century; Guardians of the Galaxy stories) - by Donald Campbell - 07/17/2023


15,315. Primogenitor (Ultraverse; Godwheel; "Prime race" collective; Prime characters) - by Snood - 07/16/2023


15,314. Agent Codgins (SHIELD; Captain Mar-Vell story) - by Donald Campbell - 07/15/2023


15,313. Konn (Earth-18466 pet dog of Norrin Radd the former Silver Surfer) - by Proto-Man - 07/15/2023 - Happy Snoodiversary!


15,312. Riding Rooster (electrical construct based on giant chickens from a video game) - by Proto-Man - 07/15/2023 - Happy Snoodiversary!


15,311. Scales & Tales (Beverly Switzler's would-be veterinary clinic) - by Proto-Man - 07/15/2023 - Happy Snoodiversary!


15,310. Krauss (WWII blind assassin who used parrot Polly to kill, Angel foe) - by Prime Eternal - 07/15/2023 - Happy Snoodiversary!


15,309. Gyrene (U.S. Marine Corps mascot dog) - by Prime Eternal - 07/15/2023 - Happy Snoodiversary!


15,308. Frisky (distinctly non-frisky Millie the Model dog) - by Prime Eternal - 07/15/2023 - Happy Snoodiversary!


15,307. Flame (extraterrestrial posing as Earth dog) - by Prime Eternal - 07/15/2023 - Happy Snoodiversary!


15,306. Combat Cat (Korean War Easy Company mascot) - by Prime Eternal - 07/15/2023 - Happy Snoodiversary!


15,305. Battle (Korean War K-9 Corps sentry dog) - by Prime Eternal - 07/15/2023 - Happy Snoodiversary!


15,304. Lester (Beverly Switzler's dog) - by Proto-Man - 07/15/2023 - Happy Snoodiversary!


15,303. Almatheia (ancient Greek goat, cared for young Zeus) - by Proto-Man - 07/15/2023 - Happy Snoodiversary!


15,302. Rooster (Flerken posing as a cat owned by Mrs. Worley, Damage Control character) - by Proto-Man - 07/15/2023 - Happy Snoodiversary!


15,301.Randall Shire (Semijan/Undying host; Cable character) - by Snood - 07/14/2023


15,300. Ngi (Cameroon gorilla god, spirit merged with Gorilla-Man) - by Proto-Man - 07/14/2023


15,299. Bahndbirds (extradimensional avian reptiles, Howard the Duck foes) - by Proto-Man - 07/14/2023


15,298. The lion of Cithaeron (ancient Greek creature, young Hercules foe) - by Proto-Man - 07/14/2023


15,297. Laemedon's magical horses (Greek/Roman mythological horses, Hercules characters) - by Proto-Man - 07/14/2023


15,296. Gail Duval (romance character) - by Grendel Prime - 07/14/2023


Images/comments Grabber, Metalloid & Remembrancer - by Ron Fredricks - 07/14/2023

Update Legion of Vengeance (Iron Fist foes) - by Markus Raymond - 07/12/2023

Images/comments Eliminator - by Ron Fredricks - 07/12/2023

Expansions Milo Tindolini - by Norvo - 07/09/2023

15,295. Star of Vengeance (Kree Imperial Dreadnought; Captain Mar-Vell story) - by Snood - 07/09/2023


15,294. Sirusite race (extraterrestrial; Adam Warlock story; reality divergence shenanigans) - by Donald Campbell - 07/08/2023


Expansions/updates/new images Dutta, Lizard Men of Tok and Pearla - by Ron Fredricks & Markus Raymond - 07/08/2023

15,293. Fawn (Rick Jones manifestation) - by Snood - 07/07/2023


15,292. Captain America (Earth-8342, 30 years in future) - by Grendel Prime - 07/04/2023 - happy birthday, Steve Rogers!


15,291. Semijan (Undying; Cable foe) - by Snood - 07/02/2023


15,290. Perdita (planet; Runa the Valkyrie story) - by Snood - 07/02/2023


Image updates/expansions Fantastic Four duplicates (Galactus version), I.T. Saga & Liddleville - by Ron Fredricks - 07/02/2023

Updates/expansions: Jim Morita, Viscount Heinrich Krowler, Sir Baskerville (adding in small missed appearances, shiny new images & adding comments!) - by Prime Eternal & Proto-Man - 06/30/2023


15,289. The Night Man (Ultraverse, sleepless ultrahero) - by Proto-Man - 06/30/2023 - Happy 30th Anniversary of the Ultraverse!

15,288. The "Ultravengers" (Ultraverse, an alliance of Avengers and Ultraforce members from across the multiverse) - by Loki - 06/30/2023 - Happy 30th Anniversary of the Ultraverse!

15,287. Lord Tavon (Ultraverse, Necromantra character) - by Snood - 06/30/2023 - Happy 30th Anniversary of the Ultraverse!

15,286. Bruut (Ultraverse, Deming's Exiles foe) (expanded profile) - by Grendel Prime - 06/29/2023 - Happy 30th Anniversary of the Ultraverse!


15,285. Bloodbath (Ultraverse, Deming's Exiles foe) (expanded profile) - by Grendel Prime - 06/29/2023 - Happy 30th Anniversary of the Ultraverse!


15,284. D.J. Blast (Ultraverse, Squad member) - by Snood - 06/29/2023 - Happy 30th Anniversary of the Ultraverse!

15,283. Alex Autumn (Ultraverse, Foxfire's father) - by Grendel Prime - 06/29/2023 - Happy 30th Anniversary of the Ultraverse!


15,282. Gabriel Frost (Ultraverse, Witch Hunter character) - by Markus Raymond - 06/28/2023 - Happy 30th Anniversary of the Ultraverse!

15,281. Maxis (Ultraverse, Exiles foe, UltraForce member) - by Grendel Prime - 06/28/2023 - Happy 30th Anniversary of the Ultraverse!


15,280. Coven (Ultraverse; Mantra/Lauren Sherwood character) - by Snood - 06/27/2023 - Happy 30th Anniversary of the Ultraverse!

15,279. Conductor (Ultraverse; Warstrike character...or is he?) - by Snood - 06/26/2023 - Happy 30th Anniversary of the Ultraverse!

15,278. Book (Ultraverse, Solution foe) - by Loki - 06/25/2023 - Happy 30th Anniversary of the Ultraverse!

15,277. Wrath ((Thomas Hunter) Ultraverse hero) - by Grendel Prime - 06/24/2023 - Happy 30th Anniversary of the Ultraverse!


15,276. Prime "race" (Ultraverse, Prime characters) - by Snood - 06/23/2023 - Happy 30th Anniversary of the Ultraverse!

15,275. Black Widow (Ultraverse, UltraForce character) - by Grendel Prime & Snood - 06/22/2023 - Happy 30th Anniversary of the Ultraverse!


15,274. Night Patrol (Ultraverse, anti-Ultra vigilantes) - by Loki - 06/21/2023 - Happy 30th Anniversary of the Ultraverse!


15,273. Reverend Anton Delacroix (Ultraverse, Elven/Prime foe) - by Markus Raymond - 06/20/2023 - Happy 30th Anniversary of the Ultraverse!

Expansion Lithodia Rexians (alien race) - by Ron Fredricks - 06/20/2023

15,272. Wreckage (Ultraverse, UltraForce member) - by Grendel Prime - 06/19/2023 - Happy 30th Anniversary of the Ultraverse!


15,271. Iago (Ultraverse, Godwheel character) - by Markus Raymond - 06/18/2023 - Happy 30th Anniversary of the Ultraverse!

15,270. Ace Renard (criminal, All True Crime character) - by Prime Eternal - 06/18/2023 - R.I.P. John Romita, Sr.


15,269. Jerry Bramley (Death foe, Strange Tales character) - by Prime Eternal - 06/18/2023 - R.I.P. John Romita, Sr.


15,268. Manic (Ultraverse, Eliminator foe) - by Markus Raymond - 06/17/2023 - Happy 30th Anniversary of the Ultraverse!

Expansion Blips (alien race) - by Ron Fredricks - 06/17/2023

Image updates Madame Grimm & Prototype - by Ron Fredricks - 06/17/2023

Updates G'illian Blax'zthor, Clea, Maria Hill, Jeff the Land-Shark, Phoenix (Maya Lopez), Squirrel Girl, Tiger Shark - by Chadman - 06/17/2023

15,267. Hybrid (Ultraverse; Mantra & Ultraverse foe) - by Snood - 06/16/2023 - Happy 30th Anniversary of the Ultraverse!

15,266. Handbook to the Malibu Ultraverse (never published Handbook) - by Grendel Prime - 06/15/2023 - Happy 30th Anniversary of the Ultraverse!


15,265. Prototype (Jimmy Ruiz; Ultraverse) - by Snood - 06/14/2023 - Happy 30th Anniversary of the Ultraverse!

15,264. Bug (Ultraverse, Solitaire ally) - by Grendel Prime - 06/13/2023 - Happy 30th Anniversary of the Ultraverse!


15,263. Janus (Ultraverse, Rune foe) - by Markus Raymond - 06/12/2023 - Happy 30th Anniversary of the Ultraverse!

15,262. Mr. Mischief (Ultraverse, spreader of chaos) - by Loki - 06/11/2023 - Happy 30th Anniversary of the Ultraverse!

15,261. Dark Bloodhunger of the Night (Dr. Strange foe(s)) - by Donald Campbell - 06/10/2023 - no, not Ultraverse-related...but interesting nonetheless!


15,260. Technomantra (Earth-95431, Foxfire ally) - by Grendel Prime - 06/10/2023 - Happy 30th Anniversary of the Ultraverse!


15,259. Bloodstorm (Ultraverse, Sludge foe) - by Markus Raymond - 06/09/2023 - Happy 30th Anniversary of the Ultraverse!

15,258. Muscles (Cindy comedy-romance character) - by Grendel Prime - 06/09/2023


Updates Blackheart, Circus of Crime (Clown, Fire-Eater, Great Gambonnos, Princess Python, Ringmaster) & Vincent Patilio (Leap-Frog) - by Chadman - 06/08/2023

15,257. Grenade (Ultraverse, Strangers member) - by Grendel Prime - 06/08/2023 - Happy 30th Anniversary of the Ultraverse!


15,256. Breakdown (Ultraverse Premiere character) - by Snood - 06/07/2023 - Happy 30th Anniversary of the Ultraverse!

15,255. Stoneheart (Ultraverse villain) - by Grendel Prime - 06/06/2023 - Happy 30th Anniversary of the Ultraverse!


15,254. Ellen Swan (Ultraverse, Firearm's wife) - by Grendel Prime - 06/05/2023 - Happy 30th Anniversary of the Ultraverse!


15,253. Protronic Disintegrator (Kree execution device; Captain Marvel (Mar-Vell) story) - by Donald Campbell - 06/04/2023


15,252. War Eagle (Ultraverse, Hardcase/Strangers foe) - by Grendel Prime - 06/03/2023 - Happy 30th Anniversary of the Ultraverse!

15,251. Spook (Ghoul/Ultraforce character) - by Snood - 06/02/2023 - Happy 30th Anniversary of the Ultraverse!


15,250. Hylas (Hercules ally) - by Grendel Prime - 06/02/2023 - happy Pride month!


Expansion Willie Evans Jr. (and Grunt, Fantastic Four/X-Factor/Iron Man character) - by Ron Fredricks - 06/02/2023

Image Update Walter Burke (theme park ghost) - by Ron Fredricks - 06/02/2023


Update: Victoria von Frankenstein (adding unpublished Shamrock and Peregrine story) - by Snood - 06/01/2023


15,249. Ninja Bread Man (Care Bears ally) - by Grendel Prime - 05/31/2023


15,248. Danny Poll (WWII, Angel (Halloway) foe) - by Grendel Prime - 05/31/2023


15,247. Underground of Deneb IV (Captain Marvel stories) - by Snood - 05/30/2023


15,246. Moon of Deneb IV (Captain Marvel stories) - by Snood - 05/30/2023


15,245. Deneb IV (planet...and a discussion of where it is) - by Snood - 05/30/2023


Update Psyklop (Enigma Force foe/member) - by Markus Raymond - 05/29/2023

15,244. Psych-Major (Earth-88131, ALF ally) - by Grendel Prime - 05/29/2023


15,243. "Miracle Man" (Journey into Unknown Worlds character (kind of)) - by Ron Fredricks - 05/29/2023

Expansion Bruttu (Marvel Monster) - by Ron Fredricks - 05/29/2023

15,242. Francis Dork (WWII, Fiery Mask foe) - by Grendel Prime - 05/28/2023


15,241. Aentaros (Undying; Cable foe) - by Snood - 05/26/2023


15,240. Konrad Dippel (real world alchemist; father of the modern line of von Frankensteins) - by Snood - 05/26/2023 - his 3100th profile!


15,239. So-Ki (Boxer Rebellion character) - by Grendel Prime - 05/26/2023


15,238. Chun San Sun (Korean War character) - by Grendel Prime - 05/26/2023


Update Mark Raxton (Molten Man) - by Chadman - 05/26/2023

Image update Reducta-Craft (Fantastic Four vehicle) - by Ron Fredricks - 05/26/2023

15,237. Empire-7 (Earth-93060/Ultraverse, Strangers/Prototype ally) - by Grendel Prime - 05/25/2023


15,236. Jentorra (Enigma Force, Hiro-Kala foe) - by Markus Raymond - 05/24/2023

Update Visis (Hulk foe) - by Markus Raymond - 05/24/2023

15,235. Null Cascade (Shi'ar weapon) - by Snood - 05/23/2023


Update - Blackout (Marcus Daniels, Secret Empire and more) - by Markus Raymond - 05/23/2023

Update - Kate Fraser (Union appearance) - by Loki - 05/22/2023


15,234. Devin-9 (prison "planet"; Rocket and Groot story) - by Snood - 05/21/2023


15,233. Blockade (Cable foe) - by Snood - 05/21/2023


15,232. Captain Jeremy Merrick (Captains Network) - by Snood - 05/21/2023


Update Yellowjacket (Darren Cross, Ant-Man (Scott Lang) foe) - by Markus Raymond - 05/21/2023

15,231. Ostras (Microverse; Homeworld; Sandzone) - by Snood - 05/20/2023


15,230. Oracle Adventures (Runa the Valkyrie story) - by Snood - 05/19/2023


Update Anuxa (pre-modern monster turned Iceman foe) - by Markus Raymond - 05/19/2023

15,229. Atom Bob (Earth-93060/Ultraverse, Strangers member) - by Grendel Prime - 05/18/2023


Updates Lore, Master Pandemonium, Sauron - by Markus Raymond - 05/18/2023

Image additions Chronifact - by Markus Raymond - 05/18/2023

15,228. Moon Dinosaur (Reality-17885; partner of Devil Girl; Moon Girl and Devil Dinosaur story) - by Snood - 05/16/2023


Image updates Aquon, Braggadoom, Captain Omen, Iron Mask, Volcanus - by Ron Fredricks - 05/15/2023

15,227. Hana (Woodrow McCord romantic interest circa 1943) - by Snood - 05/15/2023


15,226. Undying race (Cable story) - by Snood - 05/14/2023


Update Iron Mask (Old West owlhoot, Wolverine and the X-Men) - by Markus Raymond - 05/14/2023

15,225. Roamer (Galadorian Spaceknight) - by Snood - 05/13/2023

15,224. unidentified alien race native to Flivok-6 (Thanos story) - by Snood - 05/12/2023

Expansion Martian Who Stole a City (Tales of Suspense) - by Ron Fredricks - 05/11/2023

15,223. Campus Captain America (Captains Network) - by Snood - 05/10/2023


Update/Expansion Mole (X-Men Legends, Sabretooth update, all other appearances rewritten, formatting, images, complete overhaul) - by MarvellousLuke - 05/10/2023

Updates Graydon Creed, Nanny (Eleanor Murch), Nekra, Orphan-Maker (Peter) - by Chadman - 05/09/2023

15,222. Javelin (Spaceknight) - by Snood - 05/08/2023


Update Headlok (Marauders) - by MarvellousLuke - 05/08/2023

Updates Night Shift (Brothers Grimm, Dansen Macabre, Digger), Panda-Mania - by Markus Raymond - 05/08/2023


15,221. Unidentified space station (Eben Stafford and Woodrow McCord story) - by Snood - 05/07/2023


15,220. Crimson Crystals of Cyttorak (Doctor Strange, magic spell) - by MarvellousLuke - 05/07/2023


Update Wand of Watoomb - by Spidermay - 05/07/2023


Update Fever Pitch (Marauders and X-Men Unlimited appearance) - by MarvellousLuke - 05/07/2023

Updates Lone Shark, Megaton (Jules Carter), Skein (Sybil Dvorak), Waxman - by Markus Raymond - 05/07/2023

15,219. Wilhelmina Anderson (Valkyrie/Jane Foster and Runa character) - by Snood - 05/06/2023


Update Maggott (all appearances from 2011 to 2023) - by MarvellousLuke - 05/06/2023

15,218. Scarlet Sphere of Cyttorak (Doctor Strange, magic spell) - by MarvellousLuke - 05/05/2023


15,217. Scarlet Screen of Cyttorak (Doctor Strange, magic spell) - by MarvellousLuke - 05/05/2023


15,216. Crimson Circle of Cyttorak (Doctor Strange, magic spell) - by MarvellousLuke - 05/05/2023


15,215. Circle Killer (Undying host; Cable character, circa 1947 A.D.) - by Snood - 05/04/2023


Expansion Them (alien invaders) - by Ron Fredricks - 05/03/2023

15,214. Flivok-6 (planet; Black Quadrant; destroyed by Thane) - by Snood - 05/01/2023


15,213. Clamp of Cyttorak (Doctor Strange, magic spell) - by MarvellousLuke - 05/01/2023


Update/Expansion Cyttorak (complete overhaul) - by MarvellousLuke - 05/01/2023

Update Shocker, Slither, (new main image and formatting) - by MarvellousLuke - 05/01/2023

Updates Jacob Grimm, Petunia Grimm, Mole Woman & Wendy's Friends - by Markus Raymond & Ron Fredricks - 05/01/2023

15,212. Hulk (of the pre-current Multiverse) - by Proto-Man - 04/30/2023


15,211. Jukka (Rigellian mutant; Thor story) - by Snood - 04/30/2023


Update Amir, Charlemagne, Gahck, Strontian (Love Unlimited: X Loves of Wolverine, formatting, images, comments etc.) - by MarvellousLuke - 04/30/2023

15,210. Teraphin Mox (alien; Eben Stafford and Woodrow McCord character) - by Snood - 04/30/2023


15,209. Captain America of the Kickapoo Tribe (Captains Network) - by Snood - 04/30/2023


15,208. Hitler Twins (Shang-Chi/Deadpool foes) - by Markus Raymond - 04/30/2023

15,207. Sir Gote (Knights of Wundagore) - by Snood - 04/29/2023


Update Living Diamond (X-Men Legends, formatting, images, comments etc.) - by MarvellousLuke - 04/29/2023

15,206. Hutsu (WWII, Angel (Halloway) foe) - by Grendel Prime - 04/29/2023


15,205. Woodrow McCord (The Man on the Wall; Original Sin/Operation SIN character) - by Snood - 04/28/2023


15,204. Morpheus (Olympian god of dreams) - by Grendel Prime - 04/28/2023


Updates Andromeda, Beast of the Hand, Echidna, Echo (Maya Lopez), Silver Samurai, Tiger Shark - by Chadman - 04/28/2023

Image update/comment Murder Machine (Fantastic Four foe) - by Ron Fredricks - 04/27/2023

15,203. Koma Koi (island nation, Wolverine/Thing stories) - by Markus Raymond - 04/25/2023

Update Wendy's Friends (Fantastic Four characters) - by Markus Raymond - 04/25/2023

Update Ammo, Arclight, Ariel, Astronomer, Blizzard, Bullet, Bushwacker, Famine, Frenzy, Stinger, Timeshadow, War (adding hi-res handbook image from the Official Handbook of the Marvel Universe Update '89) - by MarvellousLuke - 04/25/2023

15,202. Captain America of Harrisburg (Nichelle Wright; Captains Network) - by Snood - 04/23/2023


15,201. Aventurine Stone (Set-associated Talisman of Mystic Power; Conan & Dark Agnes stories) - by Snood - 04/23/2023


15,200. Eben Stafford (Man on the Wall; Original Sin character) - by Snood - 04/23/2023


Update Davy Jones Saloon (adding a new appearance & image to a subprofile!) - by Proto-Man - 04/22/2023


15,199. Red Rum's Club (Bagalian nightclub/bar frequented by villains) - by Proto-Man - 04/22/2023


15,198. Multitude (Ward, synthetic being hosting Soul Stone) - by Proto-Man - 04/22/2023


15,197. Veronica von Frankenstein (Frankenstein monster character) - by Snood - 04/21/2023


15,196. Entari race (Men on the Wall foes; Original Sin story) - by Snood - 04/20/2023


Expansion Murder Module (Leader weapon) - by Ron Fredricks - 04/20/2023

Expansion Victor von Doom clone (Fantastic Four character) - by Ron Fredricks - 04/19/2023

15,195. Deathurge (Messenger of death, Great Lakes character) - by Norvo - 04/19/2023

15,194. Clay Brickford (Hulk and Rom character) - by Norvo - 04/19/2023

15,193. Entari Monsters (Man on the Wall/Eben Stafford and Woodrow McCord characters) - by Snood - 04/18/2023


Update Anti-Matter (refreshing images & formatting!) - by Proto-Man - 04/17/2023


15,192. Little Rico (gangster Skrull warpjacker) - by Proto-Man - 04/17/2023


15,191. The Worthy (Asgardian soldiers of the Serpent (Cul)) - by Proto-Man - HIS 1700TH PROFILE!! - 04/17/2023


15,190. Ylandris (Extradimensional energy being; possessed and empowered Poison) - by Snood - 04/17/2023


15,189. Dream Master (Captain America (Jeff Mace) foe) - by Grendel Prime - 04/17/2023


15,188. Glib Arkanian (Laxidazian; Captain Marvel/Genis-Vell character) - by Snood - 04/16/2023


15,187. Esther Parrish (Undying pawn/host; Cable character) - by Snood - 04/15/2023


New Lists - Marvel Stories Produced Outside of the U.S.A. (comics and stories from Japan, France, the U.K. and more!) - by Loki - 04/14/2023


15,186. Man-Spider (transformed SHIELD agent) - by Loki - 04/14/2023

Update Earth-7840 (upgraded images, new subprofiles) - by Loki - 04/14/2023


15,185. Mound-Dwellers (Hyborian era Worm-Men; Belit characters) - by Snood - 04/14/2023


Correction Jesus Diaz and X-Statix - by Loki - 04/13/2023

Expansion Skip Collins - by Ron Fredricks - 04/13/2023

15,184. Men on the Wall (Original Sin characters) - by Snood - 04/12/2023


Updates Bushwacker, Johnny Dee, Christian Frost, Imperial Guard (Fang, Manta, Mentor, Neutron, Oracle) - by Chadman - 04/12/2023

Updates Amphibious, Reaper, Timberius, Toad (X-Men: The Animated Series/Earth-92131) - by MarvellousLuke - 04/11/2023

15,183. unidentified alien race (Original Sin#5; Man on the Wall/Nick Fury foes) - by Snood - 04/09/2023


15,182. Jonas Morpheo (post-WWII, Young Allies foe) - by Grendel Prime - 04/09/2023


15,181. Ring of the Sect of the Red Serpent (Conan story) - by Snood - 04/08/2023


15,180. Baluchistan Century Plant (Young Allies storyline) - by Grendel Prime - 04/08/2023


Updates Blackheart, Black Tarantula, Dirt Nap, Mister Hyde, Kamran, Lineage, Clea Strange - by Chadman - 04/08/2023

15,179. Havok (X-Men: The Animated Series/Earth-92131, X-Factor) - by MarvellousLuke - 04/06/2023

15,178. Ape (X-Men: The Animated Series/Earth-92131, Morlock) - by MarvellousLuke - 04/06/2023

15,177. Annalee (X-Men: The Animated Series/Earth-92131, Morlock) - by MarvellousLuke - 04/06/2023

Image upgrades/edits el Dorado, Retrievers of Atlantis, They Who Wield Power - by Ron Fredricks - 04/05/2023

Updates Copycat, Rictor, Warpath (X-Men: The Animated Series/Earth-92131) - by MarvellousLuke - 04/04/2023

15,176. Seismo-Recorder (seismic activity monitoring computer device) - by Prime Eternal - 04/03/2023


15,175. Isadora Martinez (Penance Council of the V-Battalion, daughter of Irene) - by Prime Eternal - 04/03/2023


15,174. Gammatron Bombarder (US Air Force device designed to weaken gamma-powered beings) - by Prime Eternal - 04/03/2023


15,173. Marty Dennis (architect, Eric Masterson friend) - by Prime Eternal - 04/03/2023


15,172. Ed Haggerty (Daily Bugle reporter) - by Prime Eternal - 04/03/2023


15,171. Null-Trons (Kree robots/weapons; Captain Mar-Vell story) - by Snood - 04/02/2023


Update/expansion: Bun-Dall (Kree) - by Spidermay - 04/02/2023

15,170. Gul Damar space staton (X-Men & Starjammers story) - by Snood - 04/02/2023


15,169. Protoids (Captain America/Spider-Man/Thunderbolts characters) - by Markus Raymond - 04/01/2023

15,168. Xanthimi (planet pulled into its sun; X-Men story) - by Snood - 03/31/2023

Updates Feral, Gamesmaster, Random (X-Men: The Animated Series/Earth-92131) - by MarvellousLuke - 03/31/2023

Updates/expansions: Bogatyri, Raksasa (replacing old images with bright, shiny new ones where able & expanding on the texts a bit!) - by Proto-Man - 03/30/2023


Update/expansion: Earth-9511 (Earth-The Last Avengers Story) (updating formatting, images & adding in some new subprofiles!) - by Proto-Man - 03/29/2023


Expansion: Sovel Redhand, Jat Vor-Thrul, Glitter (adding information from X-Men Legacy#250) - by Snood - 03/28/2023


Update Davy Jones - by Spidermay - 03/28/2023

Image updates Hungry One & Alden Maas - by Ron Fredricks - 03/28/2023

15,167. Sillatochca of Earth-148611 (New Universe; Red Sun; Psi-Force character) - by Snood - 03/27/2023


Updates Erg, Glow Worm, Kangaroo, Scaleface, Tommy (X-Men: The Animated Series/Earth-92131) - by MarvellousLuke - 03/27/2023

15,166. Desert Demons (Microverse; Homeworld; Sandzone) - by Snood - 03/26/2023


Updates Angar the Screamer, Morpheus (Robert Markham, 2018 appearance) & White Tiger (Angela Del Toro) - by Markus Raymond - 03/26/2023

15,165. Lavarites (Venus-based race of 1' tall humanoids; Namor foes) - by Spidermay - 03/25/2023

15,164. Hammerhand (Spaceknights, first generation) - by Snood - 03/24/2023

15,163. Super-Adaptoid (X-Men: The Animated Series/Earth-92131, early X-Men foe) - by MarvellousLuke - 03/24/2023

15,162. Strong Guy (X-Men: The Animated Series/Earth-92131, X-Factor) - by MarvellousLuke - 03/24/2023

15,161. Cody Robbins (X-Men: The Animated Series/Earth-92131, Rogue's former sweetheart) - by MarvellousLuke - 03/24/2023

15,160. Multiple Man (X-Men: The Animated Series/Earth-92131, X-Factor) - by MarvellousLuke - 03/24/2023

15,159. Voltarr (unpublished Shamrock and le Peregrine story; I.C.O.N.) - by Snood - 03/22/2023

Updates Bloodscream, Roughouse (X-Men: The Animated Series/Earth-92131, rewritten text, images, formatting, comments) - by MarvellousLuke - 03/22/2023

15,158. Jarna (Queen of the Lavarites; Namor foe) - by Spidermay - 03/21/2023

15,157. Morag (Kree shuttlecraft; Captain Mar-Vell story) - by Donald Campbell - 03/20/2023

15,156. Sir Hogg (New Men / Knights of Wundagore) - by Snood - 03/19/2023

15,155. Earth-652975 (Pryde of the X-Men cartoon special reality) - by MarvellousLuke - 03/19/2023

Updates Clea Strange & Rose (Richard Fisk) - by Chadman - 03/19/2023

Updates G'uranthic Guardian, Taurus (Cornelius van Lunt) & Trinity of Ashes - by Markus Raymond - 03/19/2023

Expansion Kinsmen (Irish super hero team) - by Ron Fredricks - 03/17/2023 -- St. Patrick's Day

Updates Arclight, Blockbuster, Karma, Northstar, Peeper, Sasquatch, Snowbird, Stryfe, Typhoid Mary (X-Men: The Animated Series/Earth-92131, images, typos, formatting, comments) - by MarvellousLuke - 03/16/2023

15,154. Sect of the Red Serpent (Set and Wyrm associates) - by Snood - 03/15/2023

Image Updates Caliber, Gilded Lily, Macro System, Pink Pearl - by Ron Fredricks - 03/15/2023

15,153. Great Gambo (1950s telekinetic) - by Ron Fredricks - 03/14/2023

image update Dromedan (Eternals foe) - by Ron Fredricks - 03/14/2023

Updates Delilah, Firebrand (Dennison), Flying Tiger, "Hammer" Harrison, "Snake" Marston, Squid (Callahan) - by Markus Raymond - 03/14/2023

15,152. Sparkles Labelle (Captain America/Jeff Mace, Bucky/Fred Davis foe) - by Grendel Prime - 03/14/2023

15,151. Gerr (Rigellian mutant) - by Snood - 03/13/2023

15,150. Kree Supreme Science Council (Captain Marvel (Mar-Vell), Inhumans, and Ms. Marvel (Carol Danvers) characters) - by Spidermay - 03/12/2023

15,149. The Wyrm (Conan, Solomon Kane, Dark Agnes, Moon Knight, and Niord foe) by Snood - 03/12/2023

Updates Baron Blood (Ravencroft), Serpent Solutions (Anaconda, Asp, Black Mamba, Black Racer, Boomslang, Bushmaster, Coachwhip, Copperhead, Cottonmouth, Death Adder, Fer-de-Lance, Princess Python, Puff Adder, Rattler, Rock Python, Sidewinder, Slither) - by Markus Raymond - 03/12/2023

15,148. Mr. Polly (Captain America/Jeff Mace, Bucky/Fred Davis foe) - by Grendel Prime - 03/12/2023


Update - Mesmero, Moondragon, Scarlet Witch (X-Men: The Animated Series/Earth-92131) - by MarvellousLuke - 03/11/2023

15,147. Martians (mono-wheeled extraterrestrials, Homer Ghost characters) - by Grendel Prime - 03/10/2023


15,146. "Martians" (bipedal extraterrestrials, Homer Ghost foes) - by Grendel Prime - 03/09/2023


15,145. Chrome (X-Men: The Animated Series/Earth-92131, Acolytes) - by MarvellousLuke - 03/09/2023

15,144. Doug Hutchinson (X-Men Unlimited, Emma Frost's former crush) - by MarvellousLuke - 03/09/2023

15,143. Nautilus (Waterworld; former home to Heavy Duty; Gun Runner story) - by Snood - 03/08/2023

Updates - Bison (Billy Kitson), Bloodshed (Wyndell Dichinson), Conundrum, Gale, Hippo, Human Fly (Rick Deacon), Iguana, Joystick (Janice Yanizeski), Kangaroo (Brian Hibbs), Man-Bull (William Taurens), Pyromania, Walrus (Hubert Carpenter), Webber, Wild Whip - by Markus Raymond - 03/08/2023

15,142. Quicksilver (X-Men: The Animated Series/Earth-92131, X-Factor) - by MarvellousLuke - 03/08/2023

15,141. Rachel Summers (X-Men: The Animated Series/Earth-13393, psychic) - by MarvellousLuke - 03/08/2023

15,140. Tar Baby (X-Men: The Animated Series/Earth-92131, Morlocks) - by MarvellousLuke - 03/08/2023

15,139. Jane Carmody (Cable character) - by Snood - 03/07/2023

15,138. Masque (X-Men: The Animated Series/Earth-92131, Morlocks) - by MarvellousLuke - 03/07/2023

15,137. Delgado (X-Men: The Animated Series/Earth-92131, Acolytes) - by MarvellousLuke - 03/07/2023

Updates - Asti the All-Seeing (New Avengers), Laufey (War of Realms), Midgard Serpent (currrent Thor stuff), "Red" Norvell (actually dead Norvell), Superia (Captain America Corps...after giving it some thought) - by Markus Raymond - 03/06/2023

Expansion - Binary Bug (new images & sub-profiles) - by Ron Fredricks - 03/06/2023

Update/expansions - Skrulls of Kral IV, Prince Dezan, Boss Barker - by Loki - 03/05/2023

Update - Gael (image upgrades) - by Loki - 03/05/2023

Update/expansion: Pro-Rata Update (Howard the Duck unpublished story) - by Snood - 03/05/2023 (main image replaced, but could use an overall image upgrade, still)

15,136. Andy Carmody (Aentaros victim; Cable character) - by Snood - 03/05/2023

15,135. General (aka the Head; Deneb IV; Captain Marvel character) - by Snood - 03/05/2023

15,134. Hans von Frankenstein (Solomon Kane character) - by Snood - 03/05/2023

15,133. Enzo Ferrara (vampire-hunter, Blade character) - by Snood - 03/05/2023

15,132. X'Hoss (ancient extraterrestrial magic user, affiliation of the Designate) - by Donald Campbell - 03/04/2023


15,131. Luphomoids (natives of the planet Luphom, Nova characters) - by Markus Raymond - 03/04/2023


15,130. Vorms (xt reptilian race, natives of the Kree Galaxy) - by Norvo - 03/04/2023


15,129. Jasmine (Microverse adventurer, Fantastic Four associate) - by Grendel Prime - 03/04/2023


15,128. Heavy Duty (Vassyr mutate warrior, member of the Enhanced) - by Snood - 03/04/2023


15,127. Ard (Kronan, part of Earth invasion party alongside brother Korg) - by Proto-Man - 03/04/2023


15,126. Shocket (female Rocket Raccoon clone created by the Collector, smuggler) - by Proto-Man - 03/04/2023


15,125. Wundagore II (xt planet, colonized by New Men) - by Snood - 03/04/2023


15,124. Wildebots (xt mechanoid race of Sakaar) - by Snood - 03/04/2023


15,123. The Sidri (xt insectoid race, X-Men foes) - by Chadman - 03/04/2023


15,122. Pharoid (Microverse prince, leader of the Desert Demons) - by Snood - 03/04/2023


15,121. Zoog (Z'oofrey Grasswind, extraterrestrial Kymellian, Genis-Vell associate) - by Snood - 03/04/2023


15,120. Mur-G'nn (Knight of the Infinite, Kree/Skrull hybrid, Hulkling's court wizard) - by Proto-Man - 03/04/2023


15,119. Gosamyr (extraterrestrial, New Mutants ally/manipulator) - by Minor Irritant - 03/04/2023


15,118. Chitauri (humanoid extraterrestrial race, natives of Chitauri Prime) - by Markus Raymond - 03/04/2023


15,117. Red Skrull (Reality-77640 Skrull, Fantastic Four foe) - by Zuckyd1 - 03/03/2023


15,116. Psycho-Woman (Microverse Fantastic Four foe, daughter of Psycho-Man) - by Minor Irritant - 03/03/2023


15,115. Mxxptrm (Reality-5106 extraterrestrial Martian race, Space Squadron characters) - by Grendel Prime - 03/03/2023


15,114. Planet of the Shapes (Reality-88131 extraterrestrial planet, Alf comic) - by Grendel Prime - 03/03/2023


15,113. Venom Rocket (Reality-18197 symbiote-bonded Rocket Raccoon, member of the Anti-Poison Resistance) - by Proto-Man - 03/03/2023


15,112. Star-Lord (Gamora of Reality-14971, leader of the Guardians of the Galaxy) - by HBK123 - 03/03/2023


15,111. Skratt (Reality-5631 alien Snark, Power Pack foe) - by Grendel Prime - 03/03/2023


15,110. Silverback Surfer (Reality-95019 Power Cosmic-wielding extraterrestrial simian) - by Proto-Man - 03/03/2023


15,109. Progeny (Reality-93060 Ultraverse extradimensional/extraterrestrial race) - by Grendel Prime - 03/03/2023


15,108. Poison Groot (Reality-17952 alien Poison creature with powers of alternate reality Groot) - by Proto-Man - 03/03/2023


15,107. 18th Kree Diplomatic Gestalt (Reality-200080 Kree peacekeeping group) - by Copeinator123 - 03/03/2023


15,106. Mosquito Men (Reality-5391 humanoid/insectoid alien race) - by Grendel Prime - 03/03/2023


15,105. The People of the World Called Heaven (Reality-791 natives of the planet Heaven, Star-Lord characters) - by Donald Campbell - 03/03/2023


15,104. The Colony (Reality-92131 green-skinned reptilian alien race) - by MarvellousLuke - 03/03/2023


15,103. Omnipotentis (extradimensional cosmic entity, Moon-Girl & Devil Dinosaur character) - by Minor Irritant - 03/03/2023


15,102. Sparkitects (natives of the planet Sparkitron, alien manipulators of Earth-based superhumans) - by Proto-Man - 03/02/2023


15,101. Space Beasts (extraterrestrial conquerors, defeated by farmer Jeb Harris) - by Prime Eternal - 03/02/2023


15,100. Wing-Men (winged alien race native to Mars circa the distant past) - by Grendel Prime - 03/02/2023


15,099. Serayn race (insectoid alien race from the distant past, enemies of the Undying) - by Snood - 03/02/2023


15,098. Viburnumites (Atlas-era blue-skinned extraterrestrial race, Strange Tales of the Unusual) - by Grendel Prime - 03/02/2023


15,097. Nullans (alien race known for their healing skills, natives of the planet Nulla) - by HBK123 - 03/02/2023


15,096. Mongoors (1960s alien race, enemies of the Star Patrol) - by Prime Eternal - 03/02/2023

15,095. Thuvrian race (natives of the planet Thuvria, Rom associates) - by Snood - 03/02/2023


15,094. Kresh (humanoid alien race, Silver Surfer characters) - by Markus Raymond - 03/02/2023


15,093. Kigor (extraterrestrial hexapeds of Cancrius III, It the Living Colossus associates) - by Markus Raymond - 03/02/2023


15,092. The Kaaragga race (energy-based extradimensional race, The Marvels characters) - by Proto-Man - 03/02/2023


15,091. Xenians (1960s extraterrestrial race, Amazing Adult Fantasy characters) - by Prime Eternal - 03/02/2023


15,090. Grad Nan Holt (insectoid extraterrestrial race, X-Men: Legacy characters) - by Snood - 03/02/2023


15,089. Ethereals (mostly extinct, non-corporeal extraterrestrial race) - by Snood - 03/02/2023


15,088. Asteroidians (Golden Age extraterrestrial race, Vision foes) - by AvatarWarlord72 - 03/02/2023


15,087. Truth Chair (Kree interrogation device) - by Prime Eternal - 03/01/2023


15,086. Space Station Web (Kree interstellar outpost) - by Donald Campbell & Snood - 03/01/2023


15,085. Sentry#9168 (Kree robot, Fantastic Four foe) - by Prime Eternal - 03/01/2023


15,084. Psycho-Probe (Skrull mind-reading device) - by Prime Eternal - 03/01/2023


15,083. Cazon (Froma Tangers cartel member, She-Hulk foe) - by Snood - 03/01/2023


15,082. Machino (Skrull robot pet) - by Prime Eternal - 03/01/2023


15,081. Por-Bat (Skrull posing as a Kree, Captain Mar-Vell foe) - by Prime Eternal & Donald Campbell - 03/01/2023


15,080. Jarax (extraterrestrial collectibles dealer, Shocket & Linda the Duck foe) - by Proto-Man - 03/01/2023


15,079. Millennium Monarch (extraterrestrial M'Hass native, Thor character) - by Donald Campbell - 03/01/2023


15,078. Zu'ub (extraterrestrial Scavenger, Cannonball foe) - by Donald Campbell - 03/01/2023


15,077. Harvester from Beyond (Sm'ggani scientist, Hulk character) - by Snood - 03/01/2023


15,076. Yoof (Society of Higher Interstellar Education & Logistical Development member, extraterrestrial Yrd) - by Snood - 03/01/2023


15,075. The Tirenians (natives of the planet Tiran, Red Hulk allies) - by Proto-Man - 03/01/2023


15,074. Arcturus (Rigellian Iron Man foe) - by Snood - 03/01/2023


15,073. Starforce Blue (Kree first response unit serving law & justice) - by Proto-Man - 02/28/2023


15,072. Rad-Nam (Kree city, birthplace of Mar-Vell) - by Prime Eternal - 02/28/2023


15,071. The People (Reality-8116 cat-like extraterrestrial race, Dreadstar stories) - by Snood - 02/28/2023


15,070. Geburan race (semi-humanoid extraterrestrial race, Void Indigo) - by Snood - 02/28/2023


15,069. Mend-Meks (Kree repair robots) - by Prime Eternal - 02/28/2023


15,068. Knights of the Infinite (Kree/Skrull hybrids, dedicated to the hybrid King Dorrek) - by Proto-Man - 02/28/2023


15,067. Glenbrook (Kral X, Skrull colony planet populated by Skrulls modeled after the fictional Ritchie Redwood Show) - by Proto-Man - 02/28/2023


15,066. Krylorians (natives of the planet Krylor, Hulk characters) - by Loki - 02/28/2023


15,065. swamp creatures from Wundagore II (extraterrestrial insectoid creatures, Iron Man foes) - by Snood - 02/28/2023


15,064. Rigellian mutants (sub-race of the extraterrestrial Rigellians, Thor characters) - by Snood - 02/28/2023


15,063. Tektons (extraterrestrial race, Fantastic Four characters) - by Prime Eternal - 02/28/2023


15,062. Hedzek race (natives of the planet Randaa, Red Hulk foes) - by Proto-Man - 02/28/2023


15,061. Quarrnians (semi-humanoid extraterrestrial race, Hulk foes, Marvel UK characters) - by Loki - 02/28/2023


15,060. The Designate's race (hidden extraterrestrial race, Thor characters) - by Donald Campbell - 02/28/2023


15,059. "Space Cabbie" (extraterrestrial shuttle pilot, Cannonball ally) - by Donald Campbell - 02/27/2023


15,058. Murd Blurdock (Seeing Being, Echomelian lawyer/superhero?) - by HBK123 - 02/27/2023


15,057. Qyre (the mouthless, silent Watcher) - by Proto-Man - 02/27/2023


15,056. Unoxxians (gaseous extraterrestrial alien race) - by HBK123 - 02/27/2023


15,055. Taylor (alien captive of the Collector) - by Proto-Man - 02/27/2023


15,054. Tana'ri Dana'e (Intergalactic Network reporter, Groot fan) - by Proto-Man - 02/27/2023


15,053. Kodor (Badoon bounty hunter, She-Hulk character) - by Snood - 02/27/2023


15,052. Piratasaurs from Planet Zed (reptilian extraterrestrial race, "distracted" by She-Hulk) - by Snood - 02/27/2023


15,051. Kitchen Witch (Reality-88131 Melmacian mystic) - by Grendel Prime - 02/27/2023


15,050. Skifflefuffles (extraterrestrial race of shapeshifters) - by Proto-Man - 02/27/2023


15,049. Grelorxians (xt race that yells "Wheeee!!!!" when in pain) - by Proto-Man - 02/27/2023


15,048. The Conquest (group of various aliens & races, sought to invade Earth starting with Australia) - by Loki - 02/27/2023


15,047. Chitt-crrt (xt planet populated by alien squirrels) - by Proto-Man - 02/27/2023


15,046. Burfians (xt race, Planet Terry characters) - by Grendel Prime - 02/27/2023


15,045. Zo (1950s multi-limbed Attalian explorer) - by Prime Eternal - 02/26/2023


15,044. Flb'dbi race (non-humanoid alien race, Fantastic Four characters) - by Snood - 02/26/2023


15,043. Rambu (Aakon cyborg, Captain Mar-Vell ally) - by Snood - 02/26/2023


15,042. Zundamites (extraterrestrial humanoid race, Fantastic Four allies) - by Norvo - 02/26/2023


15,041. Wise One (Dire Wraith, Thuvrian manipulator, Spaceknights foe) - by Snood - 02/26/2023


15,040. Warcrime (Cynodd creation, Gun Runner foe) - by Snood - 02/26/2023


15,039. Shareen's ship (interstellar crystalline spacecraft) - by Snood - 02/26/2023


15,038. Repra (Snark leader, Power Pack associate) - by Loki - 02/26/2023


15,037. Rainbow (cyborg Galadorian Spaceknight, Rom character) - by Snood - 02/26/2023


15,036. Yorites (extraterrestrial natives of the planet Yor, She-Hulk characters) - by Snood - 02/26/2023


15,035. Kr'ii-VI (Shi'ar colony planet, brief home to Cannonball & Smasher) - by Proto-Man - 02/26/2023


15,034. Kraggoom (would-be alien world conqueror, Marvel monster) - by Prime Eternal - 02/26/2023


15,033. Intergalactic Red-Tape Brigade (Spyder's accountants, New Mutants foes) - by Proto-Man - 02/26/2023


15,032. "Gravity Garden" (extraterrestrial life-sustaining gravity field, Silver Surfer story) - by Grendel Prime - 02/26/2023


15,031. D'var (Shi'ar scout) - by Proto-Man - 02/26/2023

Update Andrea Sterman (replacing an image with bright shiny new ones & adding in stats!) - by Prime Eternal - 02/26/2023


15,030. Sir Lyan (Knights of Wundagore; New Men; Thor and Iron Man character) - by Snood - 02/25/2023

15,029. Caleb Short (1950s scifi character) - by Grendel Prime - 02/25/2023


15,028. Cathryn (Katzenborn dragon victim; Hans von Frankenstein foe; Solomon Kane ally) - by Snood - 02/23/2023

15,027. demon (unidentified demon seeking the Hood's cloak, Count Nefaria/Hawkeye associate) - by Proto-Man - 02/23/2023


15,026. Stanley (Han Dynasty restaurant employee, the Hood annoyance) - by Proto-Man - 02/23/2023


15,025. Davis "Genocide" Jensen (prize bar fighter, Ronin foe) - by Proto-Man - 02/23/2023


15,024. Alethea Mutual Bank (legitimate bank owned by the Hood) - by Proto-Man - 02/23/2023


15,023. Edward Foy (Mercy Hospital administrator) - by Proto-Man - 02/23/2023


15,022. Hayes (ex-SHIELD agent turned government contractor) - by Proto-Man - 02/23/2023


15,021. Armand (The Hood's assistant/enforcer) - by Proto-Man - 02/23/2023


15,020. Lucas Telling-Stone (vampire hunter; Blade ally) - by Snood - 02/22/2023

Expansion Stone Men (xt, Tales of Suspense) - by Ron Fredricks - 02/22/2023

15,019. Theodore "Teddy" Roosevelt (26th President of the United States and Marvel zombie!) - by Loki - 02/20/2023 HAPPY PRESIDENTS' DAY!

15,018. Katzenborn Dragon of the 1550s (Solomon Kane & Hans von Frankenstein foe) - by Snood - 02/20/2023

15,017. Patricia Walker (Captain America/Jeff Mace ally) - by Grendel Prime - 02/19/2023

Updates: Kulla, Protector (Gerald Marsh), Time Master, Trago - by Prime Eternal - 02/18/2023

Expansion: Millennia Bloom (upgrading to digital images and adding two more images) - by Snood - 02/17/2023

15,016. Matador (Captain America (Jeff Mace), Bucky (Fred Davis) foe) - by Grendel Prime - 02/17/2023


15,015. Archon (Thuvrian; Rom character) - by Snood - 02/16/2023

15,014. Stone Men (1950s Tales to Astonish monsters) - by Ron Fredricks - 02/16/2023

Expansion: Oog (Tales of Suspense monster) - by Ron Fredricks - 02/16/2023

Expansions/image additions: Futurist, Magneto's Mutates, Quogg, "Thing from the Hidden Swamp" - by Ron Fredricks - 02/15/2023

15,013. Boris Zorrel (obsessed sculptor, Atlas era horror (and romance?) character) - by Prime Eternal - 02/14/2023 - HAPPY VALENTINE'S DAY!


15,012. Gwen Saunders (rancher, Old West romance character) - by Prime Eternal - 02/14/2023 - HAPPY VALENTINE'S DAY!


15,011. St. Valentine (historical character, Atlas era agent of Heaven) - by Prime Eternal - 02/14/2023 - HAPPY VALENTINE'S DAY!


15,010. Zelda Coyne (farmer's daughter, Marvel romance character) - by Prime Eternal - 02/14/2023 - HAPPY VALENTINE'S DAY!


15,009. Stellar Stone (Reality 5391, Speed Carter romantic ally) - by Grendel Prime - 02/14/2023 - happy future Valentine's Day!


15,008. Louise Cummings (romance character) - by Grendel Prime - 02/14/2023 - happy Valentine's Day!


15,007. Diana Cummings (romance character) - by Grendel Prime - 02/14/2023 - happy Valentine's Day!


15,006. Black Panther (Earth-15730, X-Men '92 character) - by MarvellousLuke - 02/12/2023

15,005. Captain Britain (Earth-15730, X-Men '92 character) - by MarvellousLuke - 02/12/2023

15,004. Doctor Strange (Earth-15730, X-Men '92 character) - by MarvellousLuke - 02/12/2023

Updates/expansions (adding in new appearances, updating formatting and bright, shiny new images!): Vinnie Evans, Lt. Marc Stone - by Prime Eternal - 02/12/2023


15,003. Admiral Dupen'th (extraterrestrial Webb agent, New Mutants foe) - by Proto-Man - 02/10/2023


15,002. Foul Bog 4 (extraterrestrial planet, home to aliens who assaulted Rocket Raccoon) - by Proto-Man - 02/10/2023


15,001. Lana Cummings (1950s mystery character) - by Grendel Prime - 02/09/2023

Update Ebon Seeker (Operation S.I.N.) - by Snood - 02/06/2023

15,000. William Burnside / Captain America of the 1950s - by Proto-Man - 02/05/2023