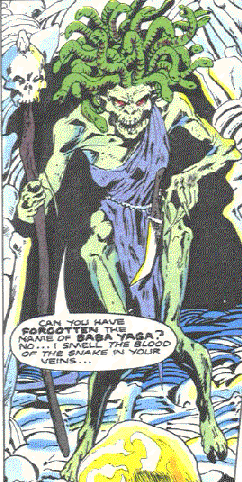 BABA YAGA
Real Name: Baba Yaga
Identity/Class: Russian Goddess
Occupation: Goddess of Witchcraft and Misfortune, former goddess of earth
Affiliations: Gods of Russia ; Daughters of Baba Yaga
Enemies: Yarilo (Bielbog), Perun, Captain Britain, Meggan
Known Relatives: Rod (father), Gaea (mother, alias Erce), Vij, Vodhi (sons), Chert (grandson, alias Chernbog); Kashchej (grandson, alias Koshchei The Undying), Autrimpas, Praamzius (brothers), Varunna, Sweigsdunka (sisters); Svaros, Pikuolis, Patrimpas (nephews), Lada, Kupala (nieces)
Aliases: Frau Holle (German Name), Jehzi Baba (Polish Name)

Base of Operations: a house by Bald Mountain near Kiev in the Soviet Union
First Appearance: Captain Britain II#11 (November, 1985)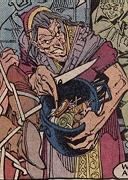 Powers: Baba Yaga still possess some of the powers of the Russian Gods. She has considerable powers rooted in black magic such as reanimating the dead and manipulating earth and wood. Despite her great age and wizened appearance, she has great strength (Class 10 possibly) and resistance to injury but none of the vitality and vigor from her prime. She was also credited with creating the practice of flying on brooms.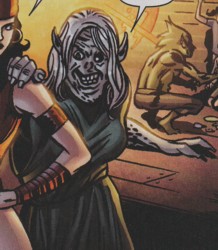 History: (Russian Myth) Baba Yaga was the ancient Slavic goddess of earth before the Russian Gods came into power, but she seemed to abuse her powers by inflicting mortals with drought and famine. She unwittingly degenerated into a goddess of the underworld who built her hut out of bones on earth near the location of a cave leading to the underworld and often flew through the air on a mortar rowed by a pestle. The model for the fairy tale witch, she subsisted on anyone who wandered near her and soon inspired the story of "Hansel And Gretel." She was also known as the grandmother of Chert (Chernobog), the Russian devil, and Koshchei, the god of misfortune, whom became foes of Bielbog (Yarilo), the god of spring, and Perun, the god of thunder.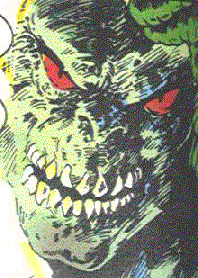 (Captain Britain II#11) In the present, Captain Britain and Meggan came across Baba Yaga's home while traveling through Western Russia. She captured the hero and attempted to subvert Meggan to her side. Meggan being both an empath and having ties to the energy of the Earth was especially susceptible to Baba Yaga's influence. Because of Meggan's nature, Baba Yaga believed her to be one of her "daughters", and that Brian Braddock was Meggan's offering to her. Meggan was in a daze as Baba Yaga used her control of the surrounding woods to capture Captain Britain, and then prepared to kill him. However, Meggan managed to resist her: Summoning an ancient, perhaps racial, memory, Meggan spoke the words:
"Witch of Wood and Witch of Water--Fire will save us from the Slaughter.
Fire to Scorch you...Fire to Torch you...Fire to Send you Screaming Back to Hell!"
She unleashed a blast of flame that incinerated Baba Yaga (or at least her earthly form), her daughters, and her house.
Comments: Adapted by Jamie Delano and Alan Davis.
I always sing the praises of Alan Moore, but this combination did an excellent Captain Britain (second series). If you can't get the originals, there is a Trade Paperback (IN COLOR). Highly recommended!--Snood.
All in all, Marvel has created a fair depiction of the witch-goddess, but it may be added that nowhere in her myth is she described as having a headful of snakes.
--Easy solutions: She's either a metamorph or an illusion caster (not such a stretch for a witch), or she's done the "demon degeneration thang" we've seen with other gods gone bad.--Snood.
Baba Yaga has actually appeared in a movie called "Jack Frost."
NOTE: In X Men#231, a demon from Otherwhere, Sym's dimension, plucked the image of Baba Yaga out of Magik's memories of fairy tales and impersonated the witch as it kidnapped the New Mutants. She also transformed the X-Mansion into a version of Baba Yaga's house. Magik summoned up the image of her brother Colossus who was believed to be dead to battle the witch and save them, but this impostor Baba Yaga exploded from contact with the iron in his body. This Baba Yaga was not the mythological witch-goddess but a demon impersonating her fairy tale image.
Clarifications: Baba Yaga should not be confused with:
The aforementioned Baba Yaga imposter, @ Uncanny X-Men#231
---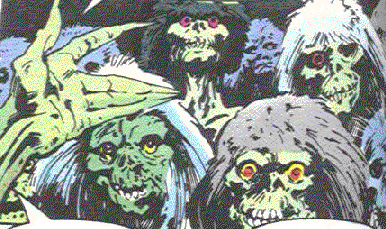 The Daughters of Baba Yaga
A group of women who apparently were buried alive with their dead husbands. They were revived or at least reanimated by Baby Yaga and enjoyed the feasts she captured for them.
--Captain Britain II#11
---
Profile by: William Uchtman , caliban, and Snood
Last updated: 08/02/02
Any Additions/Corrections? please let me know.
All characters mentioned or pictured are ™ and © 1941-2099 Marvel Characters, Inc. All Rights Reserved. If you like this stuff, you should check out the real thing!
Please visit The Marvel Official Site at: http://www.marvel.com