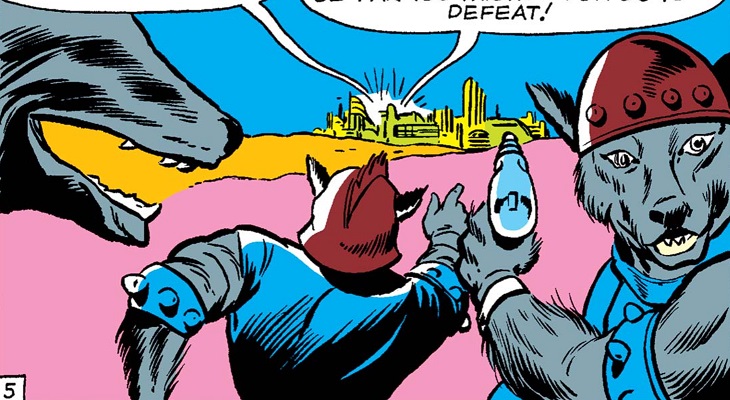 FOX-PEOPLE


Classification: Semi-humanoid-vulpine extraterrestrial race


Location/Base of Operations: Unidentified planet, unidentified star system, unidentified galaxy

Known Members: None identified


Affiliations: None known


Enemies: The unidentified extraterrestrial race with whom they shared their planet (notably Skrang)

First Appearance: Tales of Suspense I#54/3 (June, 1964)

Powers/Abilities: Unrevealed, but they were apparently extremely powerful (see comments).

They wore armored helmets and used pistol-like weapons.

They are somewhat dolicocephalic, with extended maxilla and mandibles, with sharp teeth.


They likely have some degree of superhuman strength, speed, agility, and/or reflexes.

They likely have enhanced nocturnal vision (possibly seeing into the infra-red spectrum), as well as enhanced auditory and olfactory senses.


Traits: The Fox-People were willing to engage in warfare and were apparently skilled, or at least just very successful at doing so.


Type: Bilaterally symmetric semi-humanoid-vulpine bipeds
Eyes: Two (on head; light color seen)
Fingers: Three or four (plus opposing thumb)
Toes: Unrevealed
Skin color: Unrevealed (covered in gray fur)
Average height: Unrevealed


History:


(Tales of Suspense I#54/3 (fb) - BTS) - The Fox-People shared a planet with an unidentified reptilian (or piscine) race, who considered them to be "menacing."

Despite highly advanced weapons and technology, the reptilian race were never able to defeat the Fox-People.

Whether because of the threat of the Fox-People or otherwise, a group of the reptilians known as the Planet-Taker Corps sought to conquer other planets.


(Tales of Suspense I#54/3 - BTS) - Traveling to Earth, Skrang found humanity to be helpless against his advanced technology, and conquest seemed certain, but he mistakenly assumed an elderly woman with a fox collar/scarf to be an indication that humanity was much more powerful than the Fox-People. He then rushed back into his ship and took off, vowing that he would never again dare to enter this accursed solar system.


Back on his home planet, Skrang reported his findings to the chief of the Planet-Taker Corps, who apparently agreed with his assessment...

(Tales of Suspense I#54/3) - Meanwhile, a group of Fox-People gathered some distance from the city in which the Planet-Taker Corps were meeting.


Comments: Created by Stan Lee, Larry Lieber, and Dick Ayers.

They are only shown in one image, and only described as powerful and menacing.

If you review Skrang's race's profile, you see that his people have devastating weapons, with abilities like liquefying metal, magnetically levitating as well as obliterating missiles, projecting force fields, electromagnetic nets able to snare multiple aircraft. rapidly-acting knock out gas, and disintegrating multiple skyscrapers.
What is/are the Fox People's abilities that Skrang's people are so terrified of them?

Maybe they are immensely physically powerful and extremely durable, rendering them resistant to Skrang's people's weaponry?
Maybe their level of technology is even greater?
Maybe Skrang's people's weaponry's effects are only illusory and the Fox-People are resistant to this?
Maybe the Fox-People can generate irrational fear in their foes?

What is the name of their race and the representatives that we saw?


What is the name of their planet and star system (and from what galaxy do they originate)?

What are the circumstances that led to such diverse races inhabiting the same world?


Deviants vs. Eternals?
Inhumans?
Mutants vs. normals?
Alien colonizers?


I need more stories about the Fox-People!


Profile by Snood.

CLARIFICATIONS:
The Fox-People should be distinguished from:
FOX

of the Old West (Mr. Stanley) - brother of Professor Steven Stanley, enemy of Two-Gun Kid, posed as single criminal mastermind, Prof. Stanley pretended to try to trap the Fox, duping Two-Gun, defeated and exposed by him--Two Gun Kid I#67
FOX (Jasper Whifflegrass) - Alaskan fur trader, sent furs via motorized torpedoes via underground stream to Seattle to avoid paying customer and sales tax; employed Red Larson; discovered, captured & turned over to US government by Namor. bestial appearance--Marvel Mystery Comics#27 (or 23?

FOX

(Reynard Slinker) - criminal mastermind, encountered Spider-Man + Human Torch, possibly served in Hydra as head of administrative division--Strange Tales I Annual#2

FOX

of Earth-5555 - circa 8162 A.D., leader of the Chain Gang--Death's Head I#2

FOX DIVISION

- Hydra, agents of Imperial Hydra, used the Betatron Bomb as part of Operation: Doomsday to try force the surrender of the government of the USA--Strange Tales I#138

FOX, AARON

- oil tycoon, battled Manphibian--Legion of Monsters#1/2

FOX, CHARLIE

- Indian guide, encountered the "Howler," tried to stop army from attacking it--Tales of Suspense I#6/1

FOX, HUGH

of Earth-93060- see GRENADE--Strangers#1

FOX, JACOB

- truck driver hired by Stark West, sold equipment to Nicholas Trask, slain by She-Droid--Savage She-Hulk I#2

FOX, JOHN

of Earth-59265 - criminal, rehabilitated via virtual reality--World of Fantasy#16/5

FOX, KILLIAN

- --Nightwatch#2

FOX, PHIL

- reporter, attempted to blackmail Cage, killed by Billy Bob Rackham--Hero for Hire#4
FOX, - widow of Jacob--Savage She-Hulk I#6
"FOX in the SNOW" ( ) - presumptive Oracle Adventures security agent or bounty hunter on Perdita; attempted to prevent the Oracle/Kvasir's rescue--The Mighty Valkyries#2

FOXBAT

- Dark Riders, assassinated by team-mates--X-Factor I#65

FOXEYE

( ) of Reality-93060 - Alien Elite--Ultraverse Unlimited#2

FOXFIRE

(Sheila Donner) - alias used by reporter to assist Human Torch in the search for Rose Delaney. Used false story of having developed technology to control path of fire, used it in arson and murder after the fire department refused to buy the technology from her--[Human Torch II#2], 4

FOXFIRE

of Earth-712 (Olivia Underwood) - Institute of Evil, Squadron Supreme, underwent behavior modification, former lover of Dr. Spectrum, killed Nighthawk and then killed when stabbed through heart by Mink in battle between Redeemers and Squadron--Squadron Supreme I#5

FOXFIRE

of Earth-93060 (John Reynolds) - Aladdin--Hardcase#4 (Strangers#4

FOXFIRE

of Earth-93060 (Rose Autumn) - genetically engineered from future, sent into modern era, powers triggered by Phoenix--Phoenix Resurrection: Genesis

FOXHOLE

- former headquarters of Black Fox, Foxwood Farms, near Woodstock, Illinois--Marvel: Lost Generation#8

FOXX

- see MYSTIQUE. identity used to seduce Gambit--X-Men II#171

FOXXE, BARRY

- Executive director of Cosmic Oneness--Amazing Spider-Man I#273

FOXY BRIGGS

- henchman of Dr. Octopus (at least)--Amazing Spider-Man I#31
FERDINAND "FOXY"

PERTIERRA

- sarcastic assassin employed by Slug, sent after Mop Man, arms blown off by him--Marvel Comics Presents I#63/2
BLACK FOX (Dr. Robert William Paine) - superhero @ 1950s-1980s, First Line, lover killed by Nocturne, former professor at Northwestern University, taught pre-law, came out of retirement and killed during Skrull invasion. Used fox-motif (Foxhole, Flying Fox), skilled inventor and technical engineer--Marvel: Lost Generation#12
BLACK FOX ( ) - aging cat burglar, thirty years of experience, sought to pull off one last big heist so he could retire in the French Riviera, duped Spider-Man into allowing him to escape d/t age and family, eventually sent to prison by him. Skilled acrobat and international jewel thief, uses equipment for crimes--Amazing Spider-Man I#255

FLYING FOX

- New Men, Animen--Scarlet Spider Unlimited#1

FLYING FOX

- former airship of Black Fox--Marvel: Lost Generation#9

SILENT FOX

- leader of Keewazi tribe, father of Will Wingfoot, grandfather of Wyatt and Wynonah Wingfoot--Fantastic Four I#80

SILVER FOX

(Bayan) - last surviving descendant of a race of wizard kings of Realm of Shadowqueen, led rebellion against Shadowqueen, allied with Clea, Dr. Strange, + Wong. Magical powers--Dr. Strange II#42


SILVERFOX

- old girlfriend of Wolverine, unknown association with Project X, seemingly killed by Psi-Borg (Aldo Ferro)--[Wolverine II#10], (actual appearance) Wolverine II#50

STARFOX

(Eros) - Eternals of Titan, Avengers, son of Mentor +Sui-San, brother of Thanos, identity used as a member of Avengers--(Eros) Iron Man I#55; (Starfox) Avengers I#232

REYNARD, Mr.

- Warrant's agent--Web of Spider-Man I#110

REYNARDO

- New Men, priest, killed in destruction of genetic bomb--Avengers Annual#17

VULPINE

(Roja Sanford) - former reality show X-Force member; humanoid fox--X-Statix#10

other "Fox" or vulpine characters, groups, events, items, races or places...
---
images: (without ads)
Tales of Suspense I#54/3, pg. 5, panel 6

---
Appearances:
Tales of Suspense I#54/3 (June, 1964) "Skrang Strikes Tonight!"- Stan Lee (plot/editor), Larry Lieber (script/pencils), Dick Ayers (inker)

---
First posted: 08/13/2023
Last updated: 08/14/2023
Any Additions/Corrections? please let me know.
Non-Marvel Copyright info
All other characters mentioned or pictured are ™ and © 1941-2099 Marvel Characters, Inc. All Rights Reserved. If you like this stuff, you should check out the real thing!
Please visit The Marvel Official Site at: http://www.marvel.com
Special Thanks to www.g-mart.com for hosting the Appendix, Master List, etc.!