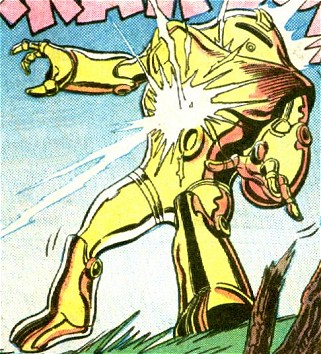 MEK-MEN
Classification: Robots
Creator: Unrevealed
User/Possessors: Professor Power, Secret Empire
Affiliations: Professor Power
Enemies: Avengers (Iron Man, Scarlet Witch, Spider-Woman), Battlestar (Lemar Hoskins), Cloud, Captain America (John Walker), Defenders (Angel, Beast, Gargoyle, Ice Man, Moondragon, Valkyrie), Darkhawk
Location/Base of Operations: Professor Power's base in Kansas City;
formerly Professor Power's Castle on the Adirondack Mountains in NY State;
formerly Professor Power's Castle in the Virginia Smokies.
First Appearance: Defenders I#127 (January, 1984)
Traits: Height: about 3.5 meters. Three fingers and an opposable thumb per hand. Each of the Mek-Men was covered in pale yellow armor.
Powers/Abilities/Functions: Each of the Mek-Men could fire energy blasts from its hands and its "navel" and presumably had some degree of superhuman strength and durability, given their armored forms. They could fly using the jets under their boots, emit a thick, cloying, sleeping gas from the spots on their hands, and shoot stunning energy beams from the middle of their only horizontal "eye".
They could speak, making cold observations, analysis and alerts. They had sensors which substituted the sense of hearing.
They were well-protected against lightnings and were equipped with a null- ray capable of temporarily neutralize Cloud's metamorphic abilities.
History: (Defenders I#127) - When Cloud fled from the Secret Empire's base, five teams of couples of Mek-Men were sent to capture her. One team reached her when she was running in human form, but she transformed in a cloud and stroke the robots with her lightninghbolts, which only slowed them. They took off and followed her flying to New York.
(Defenders I#127/Defenders I#128 (fb)/Defenders I#129 (fb)) - When they reached New York City, they were intercepted by some Defenders, Angel, Beast and Ice Man, just when the robots bashed in a wall of the Defenders' headquarters. One of the Mek-Men was sizzled by Moondragon's mental blast, the second one was slashed by Valkyrie's sword and terminated by the other Defenders but suddenly the other four teams of Mek-Men assaulted the heroes, overpowering them. A Mek-Man neutralized Cloud's morphing abilities and they brought her back to the Secret Empire's base.
(Defenders I#129) - The Defenders had been taken captive in the Secret Empire's base, when they succeeded to freeing themselves from their prison-cubes, four Mek-Men intervened to re-capture them. This time the heroes were more determined and concentrated and soon defeated the robots.
(Captain America I#338) - Professor Power escaped from the SHIELD prison and took base on the Adirondacks. Captain America and Battlestare were sent to capture him and were intercepted by a team of five Mek-Men. The robots used their energy blasts and the sleeping gas but were soon shattered into pieces by the two super-powered men, who eventually captured Power.
(Avengers West Coast Annual#7) - During an attempt to rescue the captured James "Rhodey" Rhodes from the clutches of Professor Anthony Power, the Avengers discovered a group of scientists creating duplicate suits of armor based on the recently stolen "Iron Monger" armor once worn by Obadiah Stane. The Avengers soon busted their way into the laboratory, where one of the scientists unleashed the Mek-Men against them. One the Mek-Men began firing energy blasts at Spider-Woman and Darkhawk (who was aiding the Avengers). While the duo engaged the Mek-Men, the Scarlet Witch attempted to use her hex abilities to destroy the newly-made Iron Monger armors. The Mek-Men soon turned toward the Scarlet Witch, who joined her teammates in battle against them. During the battle, the Scarlet Witch cast a hex that destroyed one of the Mek-Men, while the others were quickly rounded up by Darkhawk and Spider-Woman. In another part of Professor Power's base, Iron Man (who had split from the other Avengers) was attacked by two more Mek-Men himself. Iron Man quickly took out the other two Mek-Men and confronted Professor Power, rescuing James Rhodes.
Comments: Created by J. M. De Matteis (writer), Sal Buscema (layouts), Alan Kupperberg (finisher), Paul Becton (colors), Ann Nocenti (editor).
Alan Kupperberg and Don Perlin drew the Mek-Men rather differently from the original design from Sal Buscema.
There's a definite resemblance to Mandroid armor - I wonder if the technology for these robots was derived from that source. - Loki
I wonder, too. - Spidermay
Profile by Proto-Man, updated by Spidermay.
CLARIFICATIONS:
No known connection to
Mandroids, exo-skeleton type armored units used by S. H. I. E. L. D., whom the Mek-Men resemble, @ Avengers I#94
Mekano (Tom Regal), stole exo-skeleton battlesuit, which he used to gain father's attention, @ X-Men I#36
Mekkan race, Milky Way galaxy, planet Maarin, originally built as robotic slaves, @ Fantastic Four I#91
Mekkanoid, robot of the Kronans, destroyed by Anak of the Godpack, @Thor I#482
Mechanoid, foe of Iron Man, @ Iron Man I#32
Mech-Monster, opponent of the Shogun Warriors, @ Shogun Warriors#3
any of the numerous other characters with Mech as part of their name.
---
Images:
Defenders I#127, p5, pan 3 (Mek-Man, full body)
Defenders I#129, p18, pan 7 (different Mek-Men)
---
Appearances:
Defenders I#127 (January, 1984) - J.M. DeMatteis (writer), Sal Buscema (pencils), Alan Kupperberg (inks), Ann Nocenti (editor)
Defenders I#128 (February, 1984) - J. M. DeMatteis (writer), Alan Kupperberg (pencils), Mike Mignola (inks), Christie Scheele (colors), Carl Potts (editor)
Defenders I#129 (March, 1984) - J. M. DeMatteis (writer), Don Perlin & Kim DeMulder (artists), Christie Scheele (colors), Carl Potts (editor)
Captain America I#338 (February, 1988) - Mark Gruenwald (writer), Kieron Dwier (pencils), Tom Morgan (inks), Gregory Wright (colors), Ralph Macchio/Tom DeFalco (editors)
Avengers West Coast Annual#7 (1992) - Roy Thomas (writer), M. C. Wyman (pencils) , Tim Dzon (inks), and John Tartaglione (editor)

---
Any Additions/Corrections? please let me know.
Last Updated: 07/18/13
Non-Marvel Copyright info
All other characters mentioned or pictured are ™ and © 1941-2099 Marvel Characters, Inc. All Rights Reserved. If you like this stuff, you should check out the real thing!
Please visit The Marvel Official Site at: http://www.marvel.com