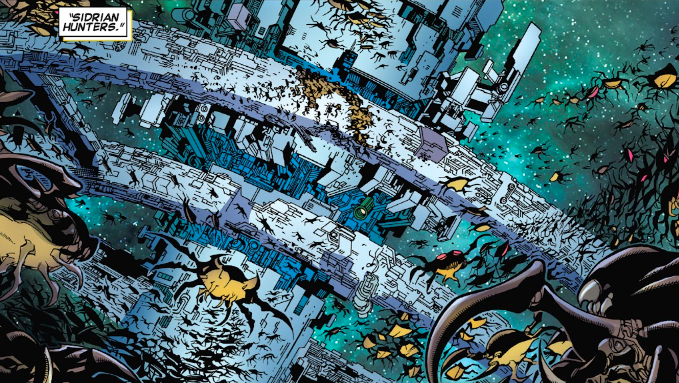 THE SIDRI


Classification: Extraterrestrial insectoid/hive mind race


Location/Base of Operations: Unidentified location in deep space


Known Members: None identified


Affiliations: Black Judges, Shi'ar, Supreme Intelligence


Enemies: Aria, Danger, Deathbird (Cal'syee Neramani), Ego the Living Planet, Excalibur (Colossus/Piotr Rasputin, Douglock/Warlock, Meggan, Nightcrawler/Kurt Wagner, Pete Wisdom), Legacy (Genis-Vell), Nova (Sam Alexander), Starjammers (Binary/Carol Danvers, Ch'od, Corsair/Christopher Summers, Lilandra Neramani, Raza Longknife, Sikorsky), S.W.O.R.D. (Abigail Brand, Manifold Tyger, others), Wolverine (James Howlett), X-Men (Armor/Hisako Ichiki, Banshee/Sean Cassidy, Boom-Boom/Tabitha Smith, Cannonball/Sam Guthrie, Colossus/Piotr Rasputin, Cyclops/Scott Summers, Cypher/Doug Ramsey, Eye-Boy/Trevor Hawkins, Forge, Jubilee/Jubilation Lee, Lady Mastermind/Regan Wyngarde, Lockheed, M/Monet St. Croix, Magik/Illyana Rasputin, Marvel Girl/Rachel Grey, Marrow/Sarah, Nightcrawler/Kurt Wagner, Kitty Pryde, Psylocke/Betsy Braddock, Dr. Cecelia Reyes, Storm/Ororo Munroe, Strong Guy/Guido Carosella, Sunspot/Roberto DaCosta, Tempo/Heather Tucker, Warlock, Wolverine/James Howlett), X-Treme (Adam Neramani)

Aliases: Sidrian Hunters

First Appearance: Uncanny X-Men I#154 (February, 1982)


Powers/Abilities: The individual members of the Sidri are sentient, intelligent creatures that are primarily a deep ebon black in color with an eye-shaped pink triangle on the surface and a yellow patch on their underbellies. Lacking faces, the creatures possess long black wings and a few extra tail-like tendrils (the closest description I can give using Earth creatures is like a little stingray with spindly spider legs and batwings). They can walk along their legs or glide through the air.

Individual Sidri can take on multiple forms, from small insectoid creatures with spidery legs to winged creatures that can fly through the sky, and they are able to fire concussive beams from the pink triangle on their form that resembles an eye and which are accompanied by a "SHREEEE" sound.

Immune to telepathic scans, these creatures are themselves part of a collective hive mind, in contact with other members of their species consistently. The Sidri speak to each other in a unique language (likely conveyed telepathically).

The Sidri can combine their forms to create larger constructs, generally a large ship that is capable of surviving in and flying across the cold and vacuum of deep space at warp speed, surviving without oxygen and resistant to the extreme cold of space. The Sidri get stronger when combined into larger forms.

Sidri can also combine to form more humanoid structures with arms and legs.

The combined Sidri are extraordinarily strong and durable but are resistant to sonic and energy attacks and especially to extreme heat (which can disrupt their collected shapes, scattering them back into their original forms).

The Sidri lay clutches of eggs in communal nests, which hatch after an unrevealed amount of time.

Lacking obvious extrernal aural, oral, nasal or other features, it is unrevealed how they feed or perform other functions.

A small group of Sidri were mutated by a Shi'ar virus, becoming mutants (kinda) and they were separated from the hive mind, rejected by the Sidri for being individuals. These "mutants" could combine into one powerful humanoid form wearing a suit of radiation armor, were capable of human speech and emotions, were super-strong, and could emit a sticky gel. After absorbing some of the Transmode Virus, these mutants seemed capable of altering their mutation and hoped to be accepted back by the hive mind.

Traits: Though their methods of communication with other species are unrevealed, the Sidri frequently take missions as bounty hunters, relentlessly pursuing their targets across known space.

Type: Bilaterally symmetrical arthropod/colony hive mind
Eyes: None (means of sensory input is unrevealed)
Fingers: None (tendrils extend from body at times)
Toes: None (tendrils extend from body at times)
Skin color: Black with patches of pink on top, yellow underbelly and magenta under legs
Average height: 4'0" (8'0" in length with legs)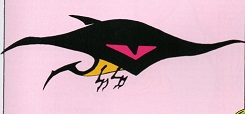 History:
(Official Handbook of the Marvel Universe I#10 - Sidri entry - BTS/Official Handbook of the Marvel Universe A-Z Update#3 - Sidri entry - BTS) - The Sidri, also called the Sidrian Hunters, evolved in an isolated, free-floating asteroid cluster and little has been revealed about their specific origins or civilization.
In time, at least part of the race became bounty hunters and took jobs working for the Shi'ar often.

(X-Men V#9 (fb) – BTS) – The Black Judges, who were under the employ of the Supreme Intelligence, sought to create a weaponized drone race and they experimented on several different races, including the Sidri, the Scatter, the Phalanx and more, but they only considered the Brood successful.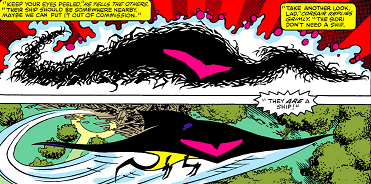 (Uncanny X-Men I#154 (fb) - BTS) – Corsair (Christopher Summers), the leader of the intergalactic pirate crew the Starjammers, had a bounty on his head and he was chased all the way to Earth by the deadly Sidrian hunters.
(Uncanny X-Men I#154) – Corsair landed among Cyclops and Storm of the X-Men, and the Sidrian hunters began smashing through the windows to fight them. Corsair yelled that extreme heat was their biggest weakness, and Storm blanketed the aliens with wind then water as Corsair and Cyclops escaped in a ship. The Sidri then combined themselves together and formed their own ship resembling a sleek black stingray with one eye and taloned feet slicing through the sky. The size of a skyscraper, the Sidri ship pursued Corsair's ship, disrupting smaller airplanes.
Cyclops hit the Sidri ship with an optic blast, briefly disrupting it, and then Corsair explained: "When the Sidri merge into their ship matrix, the bond that links them is almost impossible to break… a violent dissolution will act like a gigantic short circuit… but shattering the matrix requires a phenomenal amount of energy." While rescuing civilians from a helicopter that the Sidri had shot down, the pursuing Storm blanketed the Sidri ship with lightning bolts, after which Cyclops rammed the Sidri with his ship, breaking them apart. Thousands of Sidri fell to Earth, where Corsair blew them up in a massive explosion despite Cyclops briefly having second thoughts upon realizing that the Sidri were living. Corsair explained that the creatures were a colony of sentient beings who shared one mind but he had no choice but to kill them.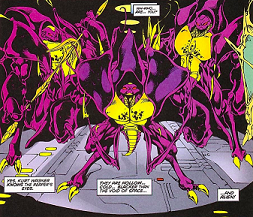 (Excalibur I#116 (fb)) – In space near Earth, the X-Men (Nightcrawler, Cyclops, Wolverine, Colossus, Storm, Kitty Pryde) and the Starjammers (Corsair, Lilandra, Binary, Hepzibah, Ch'od, Sikorsky, Raza), having just survived their first epic battle with the Brood, were in a rush back to Earth so they could save Professor X, who had been implanted with a Brood egg, when they passed a Sidri ship in distress. They debated about the ethics of letting the Sidri die but determined they had no choice. Nightcrawler and Kitty Pryde, wanting to save the Sidri, deployed a "Shi'ar revitalization serum" (actually a mutation virus) that would puncture the Sidri ship and rewrite their genetic codes, hopefully saving them. The Sidri in the ship mutated, growing massive in size and turning purple and yellow in coloring. When the newly-mutated Sidri tried to return to the Sidri homeworld, they were no longer accepted among the Sidri, seen as abominations, and they were cast out.
(Uncanny X-Men I#168 (fb) – BTS) – Some of the Sidri survived and laid eggs in the a store room at the X-Men's base.
(Uncanny X-Men I#168) – Kitty Pryde, Colossus and Lockheed battled the Sidri, destroying them and burning their eggs.
(Captain Marvel III#3) – Eric the Red (Davan Shakari) and the Crystal Claws sent a squadron of Sidri to apprehend the X-Treme (Adam-X) and to kill Legacy (Genis-Vell) but the Sidri were easily defeated by energy blasts.
(Wolverine II#135) – A group of Sidrian hunters were hired by the Collector to work with Torgo in capturing the escaped mutant Wolverine on Collector's prison world. The Sidri and Torgo cornered Wolverine and his ally Aria.
(Wolverine II#136) – The Sidri helped isolate Wolverine then let Torgo handle the job.
(Excalibur I#116 (fb) – BTS) – Under unrevealed circumstances, the mutated Sidri came to Earth. They were hired by the organization Black Air to hunt down the members of Excalibur.
(Excalibur I#116) – The mutated Sidri attacked Nightcrawler in Venice, demanding vengeance for being mutated them in the first place. Excalibur attacked and discovered the Sidri ship at the bottom of the canal. They were fired upon and attacked, and the Sidri took on a powerful armored form to attack Colossus.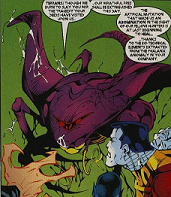 (Excalibur I#117) – The members of Excalibur were nearly overwhelmed by the mutant Sidri, whose strength and invulnerability were too great for them to overcome. The Sidri noticed Douglock among the heroes and saw the opportunity to take on the Phalanx technology and perhaps use it to be able to interface with the Sidri collective once again. Meggan and Peter Wisdom triggered a massive explosion that stopped the Sidri from killing Douglock, but the Sidri had drawn enough tech to make them believe the could join their race again. They combined their form into a ship and took off for space, giving up their mission of vengeance.
(X-Men IV#19 (fb) – BTS) – The Sidri were hired by the Providian Order to apprehend Deathbird (who was pregnant and being experimented on) when she escaped.
(X-Men IV#18) – The Sidri attacked a S.W.O.R.D. station to reclaim Deathbird, cutting the power to the ship, and they swarmed inside, where they faced Abigail Brand, Manifold Tyger and members of the X-Men (Storm, Psylocke, Marvel Girl, M, Jubilee, Dr. Reyes). Soon, the hull was breached.
(X-Men IV#19) – The X-Men held off the Sidri with weather attacks and learned they were vulnerable to psychic attack.
(Nova VII#1) – When the Sidri infested Ego the Living Planet, Nova (Sam Alexander) rushed to aid the planet in repelling them.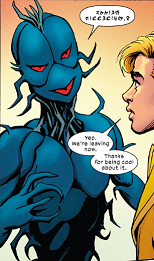 (Giant-Size X-Men: Nightcrawler#1 (fb) – BTS) – A pack of Sidri laid a nest at the abandoned Xavier mansion in Westchester, New York. Newly hatched Sidri, cut off from their main race, saw Lady Mastermind enter, trying to use the gateway to Krakoa, and they captured her but her mind began lashing out at them with hallucinations and illusions, and she took control over the minds of some of the Sidri.

(Giant-Size X-Men: Nightcrawler#1) – The X-Men (Cypher, Lockheed, Magik, Nightcrawler, Eye-Bo

y) showed up at the mansion looking for a missing mutant and

discovered that the Sidri (under the control of Lady Mastermind) had taken on the composite form of Rachel Summers, altering their appearance to look like Rachel so Lady Mastermind could ask for help. "Rachel" soon burst into a pack of tiny Sidri that attacked the X-Men. Cypher interfaced with the Sidri using the newly arrived Warlock, and the Sidri agreed to maintain the peace and avoid the Krakoan gateway

if the rest of the estate was left to them. T

hey then released Lady Mastermind, and she left the Sidri on her own. Some Sidri combined into a humanoid form to say goodbye to the departing X-Men.

(Secret X-Men I#1) – The Sidri were hired by the Shi'ar to capture Deathbird and ended up fighting a team of X-Men (Banshee, Armor, Sunspot, Cannonball, Strong Guy, Marrow, Tempo, Forge, Boom-Boom), who were defending Deathbird. Banshee was able to scatter the Sidri with a sonic scream while the X-Men escaped. The Sidri then combined into a ship form and shot a tether to capture Deathbird off a spaceship.




(Marauders II#3 (fb) – BTS) – The Sidri deposited Deathbird far across the universe, believing she would never survive.

(Wolverine VI#23 (fb) – BTS) – Looking for a place to have her baby, Danger went to the mansion and scared the nest of Sidri away with an extreme blast of heat.

Comments: Created by Chris Claremont, Dave Cockrum, Bob Wiacek and Josef Rubinstein.


The firing of energy blasts out of their eye is rather like Cyclops or the Mindless Ones.


In their initial appearance, these aliens are called the Sidri, the Sidrian Hunters and the Sindri. The flashbacks in Excalibur I#116-117 fall between the events of Uncanny X-Men I#167-168.

Profile by Chadman.

CLARIFICATIONS:
The Sidri have no known connections to:
Sindri - king of the dwarves--Journey into Mystery I#103

ANT-PEOPLE

- insectivorid inhabitants of Ant Tica on Microverse's Homeworld, enslaved by Baron Zebek--Alpha Flight II#10

ANTRONS

- Microverse. four armed scavenger drones, some served Psycho-Man and Baron Karza; others were artificially created in the Body Banks--Micronauts I#15

BASTON-KARIANS

- ill-mannered extraterrestrial race from Reality-20051, planet threatened by Galactus--Marvel Adventures: The Avengers#26

BEM

race (Bakka, Tromka) - space parasites and raiders from Reality-5391, opposed in 2075 AD by Speed Carter and the Space Sentinels--Spaceman #3/5

BLACK SWARM

- colony of nearly microscopic insects, captured by Ambrose Carpathian around the turn of the twentieth century, kept in his mansion, release engineered by Calculus to prevent Kingpin from getting them, recontained and sent into space by Avengers, Outlaws, and Spider-Man - aka Black Swarm--Spectacular Spider-Man II#170

BLATTARIANS

(Blurry, Brainy, Greasy, Spikey, Stinky, Warpy, Windy) - extraterrestrial cockroaches, seven mutated by Bianca LeNiege into humanoid dwarves and empowered to serve her--Generation X#40

BOH-TAN-EE

insects - local fauna--X-Factor I#110
BROOD race - extraterrestrial insectoids, unrevealed galaxy, Broodworld, winged, razor sharp teeth, tentacles, poison stingers, chitinous armor, queen injects eggs into living beings, hatched embryos metamorphoses its hosts' body into young brood--Uncanny X-Men#155

CANNIBAK

- insectoid Mindscape demons, one attacked N'ogskak and T'opali--Sleepwalker#25

CHITINAUT race

- Negative Zone insectoid race, served Catastrophus, fought Darkhawk and Brotherhood of Raptors--War of Kings: Ascension#1

CHNITT race

- extraterrestrial, large, savage insectoid/arthropod-like creatures, razed the home planet of Karel, battled by Bishop and Deathbird on a port planet--Uncanny X-Men#358

CH"RP

- planet, home of insectoids including queen mother insect--X-Men: Spotlight on Starjammers#1
CHR'YLITES race (Sikorsky) - extraterrestrial, Shi'ar galaxy, planet Ch'yllalisa. Insectoid, helicopter-like form, empathic abilities enabling them to scan interior of organic bodies--Uncanny X-Men#156

COLONY

- intelligent insect swarm which acted as one sentient being, Shi'ar Death Commando--Uncanny X-Men#467

DANCE race

- nearly extinct alien species with inscrutable motives--Solo Avengers#18/2

DARVINIAN race

- extradimensional metal-coated insectoids, invaded Earth intending to use it as a breeding ground, defeated by Avengers--[Avengers: The Man who Stole Tomorrow]

DUNE DEVILs

of Reality-791 - natives of Ferrol--Marvel Preview#14

EARTH-6095 alien insect race - swarm invaded Earth and devoured all life on the planet within minutes, witnessed by Warren Traveler and Ms. Marvel--Ms. Marvel II#5

EPHEX race

- giant flying insects from the Cloudsea dimension, radiate an aura that dulls the reactions of their prey--Marvel Graphic Novel#22: Spider-Man: Hooky

GEOMETER

's race - long-extinct extraterrestrial scientists, large + green biped semi-insectoid, composed of numerous geometric shapes--Quasar I#51

"GIGER race"

- extradimensional insectoid mechanoids, transformed earth creatures on Koma Koi island to serve them as "Blue Gorilla, "Prince" Samson, "Princess," and warriors, defeated by Wolverine. Control and transform others even across a dimensional portal--[Marvel Comics Presents#137], (arm) 140, (fully seen) 141

GRAD NAN HOLT (Friendless) - insectoid race, had uprising against the Shi'ar, battled by Starjammers--X-Men Legacy #250

GYREA

- scientifically advanced extragalactic species, teleportational technology stolen by Mephisto in an alternate reality--Infinity Entity#4

HORDE

- "locusts of the universe," sent to Earth upon the awakening of the Dreaming Celestial, used Joey Eliot as a host to gather information on the Eternals, destroyed his mind upon being discovered--[Eternals III#5], 6

HORNETROIDs

of the Microverse - massive insectoids; an apparent cyborg creation of Baron Karza was used in his Arena of Death--Micronauts Annual#1/3

HREYTION race

- presumably extinct, one native sought to utilize the Omegex to avenge its race--Hulk#29/2

INSECT-MEN

- Moon-dwelling race of Reality-5106, delegation attends annual interplanetary conference in the year 2000--Space Squadron#3

INSECTOIDS

- extradimensional bio-mechanical lifeforms, organized by Moot into invasion force to attack Reality-1298's Earth, opposed by the Six and the Fantastic Four--Mutant X#2

INSECTIVORIDS

- Arthrosians(?); hivemind insectoid drones who serve Annihilus--Webspinners: Tales of Spider-Man#5

INSECTIVORIDs

(Bug, Centivor, Jasmine(d), Wartstaff, Esmera, Treefern, queen Lyca, old one ) - Microverse, natives of Kaliklak--Micronauts I#1

KKALLAKKI

(Kkallakku) - aka Fear Eaters, extraterrestrial insectoid demons, generate and feed off of fears of others--Marvel Comics Presents#1/4

KLKLK race

(BA'T'LL) - extraterrestrial insectoids, Milky Way galaxy, planet La'kll, agricultural society, attempted to give advanced farming techniques to earth, fought off by Hulk who misunderstood their intentions--Incredible Hulk II#273

KOSMOSIANs - native to the dimension of

Kosmos

--(Creature caste) Tales to Astonish I#44; (insectoids) Thunderbolts I#13

KRYIHD race

- ancient race, warred with and eventually vanquished by the Dargalans; created the Red Hole, which in turn created the Omegex to destroy the Dargallans--Hulk#29/2

KRONOS race

- Microverse, war-like sub-species of Insectivorids, former agents of Baron Karza--Micronauts Annual#2
KT'KN race (

Faceless One

) - extraterrestrial, Milky Way galaxy, planet Kn'kn, Intergalactic Council. Insectoid, smooth round bodies with six short legs, secrete paralyzing nerve toxins from claws, communicate telepathically, advanced technology--Astonishing Tales#2

LEVIOTES

- population of Leviaverse, semi-insectoid creatures, attacked Reed Richards' Datavore until repelled by him--Fantastic Four III#60
MALTESIANs (

Hemlock Shoals

,

Prey-Ying Mantis

) - extradimensional human-sized and vertically standing intelligent insectoids--Howard the Duck II (Magazine)#4

NORRAK

(Kon (d)) - unsuccessfully sought to avenge Omegex's destruction of their role, now extinct--Hulk II#33

PARAXIS INSECTS

- parasitic winged species which inhabit the isolated, mostly-deserted planet of Paraxis--Silver Surfer III Annual#6

PHOBOS race

- Microverse, Spiral Path, Kaliklak, sub-species of Insectivorids, former allies of Baron Karza--Micronauts I#26/2

PROGENY

- insectoid alien conquerors from alternate future(?) of Reality-93060, susceptible to the Theta Virus, stole corpses of Deming's Exiles, sent insanity virus back to modern era--All-New Exiles#4

PSYKLOP

's race - semi-humanoid/insectoid that allegedly once dominated the Earth, reportedly extinct except for Psyklop. Single compound eye, hypnotic powers, flexible joint--Avengers I#88

SAKAARIAN NATIVES

(Miek, Mung) - Sakaar, insectoids--Incredible Hulk III#92

SCATTER race

- formerly used Century to track worlds previously attacked by Lore--Force Works I#1

SECTAURS

(Dargon, Devora, others) - insect-evolved humanoid inhabitants of the alternate-reality planet Symbion--Sectaurs#1

SERAYN race

- extraterrestrial, Milky Way Galaxy, tremendous intellect, burned with curiosity about all things, extremely fragile and unable to leave world, created indestructible spaceship Azazel and created the Undying to be its pilots, but the Undying turned against them and exterminated the entire race over the course of 1000 years--Cable II#84

SLAVEWORLD INSECTS

- extradimensional spine-covered fauna of Dehnock (aka "Slaveworld"), helped Ant-Man defeat warlord Kulla--Tales to Astonish#41

SLIG race

(Grogarr, Krogg + 5 others) - extraterrestrial, Milky Way galaxy, planet Ankara. Insectoid, tentacle-like limbs, telepathy, levitate, shrivel upon death--Fantastic Four I#209

SLIG race

(Supreme One) - extraterrestrial, sent Examiner to determine earth's potential for conquer and the power of its defenders, scout team blew up due to attempts to give the Examiner sufficient power to defeat the West Coast Avengers, partial transmission sent that led them to believe there was a warrior race, each with the composite power of the entire team. Insectoid bipeds--West Coast Avengers II#30

SM'GGANI race

- Insectoid bipeds; Harvester from Beyond obtained soil samples in hopes of saving his starving, war-ravaged world via encounter with the Hulk--Incredible Hulk II#230

SPACE-LUBBERS - grasshopper-like aliens from a destroyed world who have an affinity for music--Shuri#2

TIDING-FLIES

- Ninth-Cosmos species bred for communication across great distances of space and time--Immortal Hulk#25

TIMEBREAKERS

(Sovereign and Worker Caste Drones) - discovered the Panoptichron and inadvertently damaged a number of reality, began recruiting Exiles to repair the realities, departed Panoptichron after seeming destruction of Earth-1720 and deaths of their Exiles team--[Exiles I#1], 62

TORZIANS

(Captain Blade, Sergeant Quinto (d)) - pink-skinnned semi-insectoid aliens from planet Torz, abducted human lovers Howard and Laura in hopes of learning of Earth's nuclear capabilities--Journey into Unknown Worlds#26/6

TRIAX

- giant flying insectoids used as weapons/warriors by the H'Mojen, battled Fantastic Four and Spider-Man--Spider-Man and the Fantastic Four#2

TRILEXIA

- green insectoid extraterrestrials of Reality-691 circa 31st century, attacked crew of Sol III--Cyberpace 3000#1

TYRMEAN BRAIN-STEM PARASITES

- insectoids used by Broker to control servants, bond to back of hosts' necks, stimulated by ultrasound to cause great pain or even death--Force Works#15

U'SR'PRIANS

(U'Sr'Pr) - semi-insectoid bipeds, formerly enslaved to maintain technology by U'Sr'Pr until overthrown by Her, attempted to worship her as J'Ridia Starduster--Marvel Comics Presents#35/4

VALLEY OF LIFE bugs

- lived in lush region created by Gardener on otherwise desolate world of K'ai, commanded by Gardener to attack Hulk when he came there to bury Jarella--Incredible Hulk#247

VISITORS

- insectoid aliens with large claws and slender bodies who claimed victims in New Jersey for some time until driven off by the Fantastic Four--Marvel Knights 4#5

VRELLNEXIAN race

( ) – extraterrestrial, Milky Way, planet Vrellnex, formerly partnered with Sssith in extraterrestrial slave trading ring. Six-limbed semi-humanoid/insectoid, some are winged--Thor I#212

ZZIAZZIS

(Izzifizz(d)) – insectoid race from planet Zziazz, associated with Blackbody, traded ability to fly in exchange for a portion of the Silver Surfer, consumed by great flood--Silver Surfer III#115

Unidentified extraterrestrial race

- large cockroaches who planned to conquer Earth, entered sci-fi writer Harry Slade's body and mind so as to better understand humans, unintentionally provided Slade with inspiration for a story--Uncanny Tales#17/5

Unidentified extraterrestrial race

- giant green insectoids, attempted takeover of Earth in 1615, fought off by Adam Destine--ClanDestine I#8

Unidentified extraterrestrial race

(

K'kkt

) - insectoid--Century: Distant Sons

Unidentified extraterrestrial race

(

Offset

) - subterranean all-female mantis-like insectoids--Uncanny X-Men#467

Unidentified extraterrestrial race

of Reality-8116 - giant green insectoids, encountered twice by Vanth Dreadstar and his crew--Dreadstar I#44

other insectoid races...

or any other "Sidri" alien races
---
images: (without ads)
New X-Men IV#18, p15, pan3 (mass of Sidrian hunters)
Official Handbook of the Marvel Universe I#10, Sidri entry (single Sidri)
Uncanny X-Men I#154, p15, pan1-2 (changing into ship)
Excalibur I#116, p3, pan4 (mutant Sidri)
Excalibur I#117, p20, pan3 (mutant Sidri ship)
Giant-Size X-Men: Nightcrawler#1, p29, pan1 (humanoid form)
---
Appearances:
Uncanny X-Men I#154 (February, 1982) – Chris Claremont (writer), Dave Cockrum (penciler), Bob Wiacek, Josef Rubinstein (inkers), Louise Jones (editor)
Uncanny X-Men I#168 (April, 1983) – Chris Claremont (writer), Paul Smith (penciler), Bob Wiacek (inker), Louise Jones (editor)
Official Handbook of the Marvel Universe I#10 (October, 1983) - Mark Gruenwald (head writer, designer, editor), Peter Sanderson, Mark Lerer, Tom DeFalco (writers), Paty (Sidri entry pencils), Josef Rubinstein (inks)
Captain Marvel III#3 (February, 1996) – Fabian Nicieza (writer), Ed Benes (penciler), Mike Sellers (inker)
Wolverine II#135-136 (February-March, 1999) – Erik Larsen (writer), Jeff Matsuda (penciler), Jonathan Sibal (inker), Bob Harras (editor)
X-Men IV#18 (October, 2014) – Marc Guggenheim (writer), Harvey Tolibao (penciler), Ed Tadeo, Craig Yeung (inkers), Mike Marts (editor)
X-Men IV#19 (November, 2014) – Marc Guggenheim (writer), Harvey Tolibao, Dexter Soy (pencilers), Ed Tadeo, Craig Yeung (inkers), Mike Marts (editor)
Nova VII#1 (February, 2017) – Jeff Loveness (writer), Ramon Perez (artist), Devin Lewis (editor)
Giant-Size X-Men: Nightcrawler#1 (May, 2020) – Jonathan Hickman (writer), Alan Davis (artist), Annalise Bissa (editor)
X-Men V#9 (June, 2020) – Jonathan Hickman (writer), Leinil Francis Yu (artist), Jordan White (editor)
Secret X-Men I#1 (April, 2022) – Tini Howard (writer), Francesco Mobili (artist), Jordan White (editor)
Marauders II#3 (June-July, 2022) – Steve Orlando (writer), Eleonora Carlini (artist), Jordan White (editor)
Wolverine VI#23 (August, 2022) – Benjamin Percy (writer), Adam Kubert (artist), Jordan White (editor)
---
First Posted: 03/04/2023
Last updated: 04/01/2023

Any Additions/Corrections? please let me know.
Non-Marvel Copyright info
All other characters mentioned or pictured are ™ and © 1941-2099 Marvel Characters, Inc. All Rights Reserved. If you like this stuff, you should check out the real thing!
Please visit The Marvel Official Site at: http://www.marvel.com
Special Thanks to www.g-mart.com for hosting the Appendix, Master List, etc.!