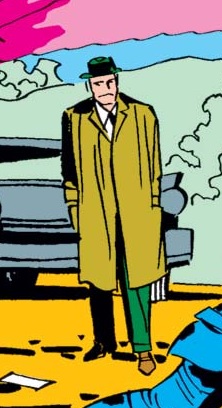 BIG JOE


Real Name: Unrevealed (first name presumably Joe)

Identity/Class: Human

Occupation: Criminal

Group Membership: None
Affiliations: Several local criminals;
formerly the Infant Terrible (whom Big Joe manipulated)

Enemies: The Fantastic Four (Human Torch/Johnny Storm, Invisible Girl/Sue Storm, Thing/Ben Grimm), the Infant Terrible

Known Relatives: None
Aliases: None

Base of Operations: New York City, New York, USA
First Appearance: Fantastic Four I#24 (March, 1964)
Powers/Abilities: Big Joe is a skilled criminal organizer and manipulator, and is dangerous enough that his henchmen blindly follow his orders.

He often carries a handgun.

Height: Unrevealed (approximately 6'2")
Weight: Unrevealed (approximately 180 lbs.)
Eyes: Hazel
Hair: Brown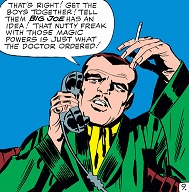 History: (Fantastic Four I#24) - Hearing on the news of the heroic Mr. Fantastic's theory that a recently attacking alien displayed infantile behavioral patterns, criminal leader Big Joe came up with an idea to manipulate the alien and called a meeting of other local criminals to discuss his idea. Big Joe subsequently ordered the criminals to locate the so-called alien Infant Terrible and entice him with candy. A group of thugs soon began searching for the Infant Terrible and when one expressed impatience, another insisted that Big Joe knew what he was doing. When the Infant Terrible appeared in a crowd, the thugs did as Big Joe ordered and presented the alien with candy. The alien willingly got into the car with the thugs and ate ice cream as the thugs commented on how pleased Big Joe would be. Once the Infant Terrible was brought to Big Joe, Big Joe tricked the alien into doing his bidding by drawing him simple pictures of what he wanted the alien to do. Big Joe then accompanied his henchmen as the Infant Terrible was tasked with stealing an armored car full of money. When one of his henchmen was surprised that the Infant Terrible had succeeded in stealing the armored car, Big Joe commented that the Infant had naturally done what he told him to. Big Joe then bragged about how he had tricked the Infant Terrible with simple pictures before ordering his men to pick up the money from the armored car, warning them against missing any of it.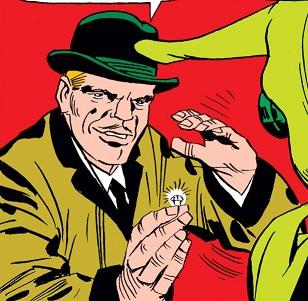 When the Infant Terrible played a joke, transforming the armored car's money into various things such as a pig and mud, Big Joe drew a gun but warned his men to back away, reminding them that the alien had the mind of a child. Realizing the Infant Terrible thought he was being funny, Big Joe showed the alien a glittery diamond ring and asked the alien to make the gem bigger. The alien did as instructed and Big Joe gloated that a diamond that size would make a millionaire, announcing that they now needed to get rid of the alien before someone else took advantage of the creature. Before Big Joe could relay any new orders, however, the Infant Terrible transformed the giant diamond into an egg that hatched a large bird. Angry that he had now lost his diamond, Big Joe ordered his men to draw their guns and threatened to kill the Infant Terrible if he didn't transform the egg back into a diamond. Three of the Fantastic Four then appeared, having followed the levitating armored car there, and they attacked, prompting Big Joe to order his men to get the heroes. As his men battled the Thing and the Human Torch, Big Joe jumped in his car and attempted a hasty retreat towards New Jersey but the Invisible Girl spotted him and stopped his car with an invisible force field. The Thing then bound Big Joe up in the tires of his own car and Big Joe attempted to bribe the Thing with $1,000 if the hero would let him go. The Thing exclaimed that he ought to clobber Big Joe for insulting his integrity, commenting that he couldn't be tempted by money before jokingly suggesting Big Joe up the ante a little more. A frantic Big Joe then offered five then ten thousand, soon asking for a response from the Thing. The Thing then laughingly declined as the Human Torch sealed the tires together, pinning Big Joe against a cliffside to await the police. Invisible Girl then informed the Thing and the Human Torch that Big Joe didn't know how lucky he was, remarking that there was no telling what the Infant Terrible would do if Big Joe had tried to harm the alien. The heroes then began a search for the alien, soon finding the scared infant, whom the Torch figured Big Joe and his men had terrified into hating humanity.

Comments: Created by Stan Lee, Jack Kirby and George Roussos.
The modern OHotMU profile of the Delinquent (formerly the Infant Terrible) mentions that Big Joe deduced the Infant Terrible's age on his own, apart from Reed Richards' deduction, but Fantastic Four I#24 clearly shows Big Joe getting the idea to lure the childlike alien with candy while watching a news report that was talking about the theory that the alien was a child. So Big Joe didn't deduce the Infant Terrible's age on his own, he was inspired to take advantage of the alien's age after seeing the news report.
This Big Joe shares many similarities between the Big Joe who later encountered Daredevil. Both were created by Stan Lee, both have brown hair, both were criminals and both had a penchant for nice hats. The Big Joe who battled Daredevil was employed by the Masked Marauder but I could see this Big Joe, having been embarrassed by his loss to the Fantastic Four, falling a bit lower in the criminal chain of command and having to take a job from the Masked Marauder to remain in the game. These things led me to think that perhaps they are the same character. However, one difference between the two is that the one who fought Daredevil did not have a thin mustache like this Big Joe. In additional, the Official Marvel Index to the Fantastic Four I#2 mentions that this profile's Big Joe had no further appearances to date, suggesting that the one in Daredevil was a different character. Therefore, I am treating them as if they are two different characters but if anything more concrete ever comes up to tie the two into one, I'll update both profiles to reflect this. Until then, they are considered two different Big Joes.

Profile by Proto-Man.

CLARIFICATIONS:
Big Joe should be distinguished from:
Big

- Hydra agent, attempted to kill Wolverine, killed in battle--Wolverine: Inner Fury

Big Al G'houl

- inmate at Dorkham Asylum, scimitar-wielding Middle Easterner obsessed with killing writer Salmon Rushdie--Sensational She-Hulk I#19


Big Al's

- soda shop--Spider-Man Family Featuring Spider-Clan#1

Big Angry

- Sinnarian warrior, slain by the Black Order--Black Order I#1

Big Apple Advocate

- New York newspaper, employed Lou & Stacey--Daredevil I#323

Big Bart of Earth-57780 - outlaw, posed as Kid Colt, nabbed by the real Kid Colt & a time-traveling Spider-Man--Spidey Super Stories I#16


Big Ben

- famous British clock, meeting place for the Invaders--What If? I#4
Big Ben of Earth-18 - British mutate hero, Marvelman/Miracleman ally--Warrior I#9


Big Ben

(Barruski) of Earth-928 - enforcer, agent of Canis, defeated & imprisoned by Spider-Girl--Spider-Girl I#76

"Big Ben" Donovan

- Harlem lawyer, former agent of Black Mariah--Hero for Hire I#14

Big Bertha

(Ashley Crawford) - Great Lakes Avengers, mass-increasing former supermodel--West Coast Avengers II#46

Big Bertha

- employed by Dr. Yes against Venom, body housed plasma cannon, killed by Venom--Venom: License to Kill#3

Big Boy

- Super Squad, robot created by Miss Mech to help fight crime--Monsters Unleashed III#12

Big Brain (Reed Richards) of Earth-7712 - bodiless brain inside robotic armor shell--What If? I#6

Big Brain

of Earth-982 - Fantastic Five, robot controlled by Mr. Fantastic from Negative Zone--What If? II#105

Big Brother

- criminal mastermind cyborg, mentally linked to computer, employed Chesire Cat--Power Man I#38

Big Brown

- home invader/thief, partner of Junior, killed by She-Venom--Venom: Sinner Takes All#2


Big Budd

of Earth-691 - 31st century Buddha-like figure, Asylum, worshiped by cult--Marvel Presents I#4

Big Bulk

- Golden Age character--Marvel Mystery Comics I#66

Big Bull Bulowsky

- McGinty's Bar patron, took a swing at Ragland Peppermill & Volstagg, starting a bar brawl--Marvel Spotlight I#30


Big Casino

- immense planetary craft associated with Skrulls of Kral, run by Floyd Donahue as gambling casino--Avengers I Annual#14

Big Casino

- Neo, mutant, agent of Ransome Sole--Uncanny X-Men I#383

Big Cat

- Freefall Warriors, Maruthea, Bonjaxx's Bar patron--Doctor Who Monthly I#56


Big Change in Nutrition

- Matriculon, food additive developed by Mall Addy--Marvel Graphic Novel I#29

"Big Daddy" Dawson

- Ruthless Riders motorcycle gang leader, Ghost Rider foe--Ghost Rider II#2

"Big Earl" Kowalski the Sword Swallower

- Dugan Traveling Circus of Wonders sword swallower, Dominic Fortune character--Marvel Premiere I#56

Big Eddie

- criminal gang leader, Yellowjacket foe--Avengers I#59


Big Enilwen

- Starstop giant, kept Xemnu & Spragg as pets--Sensational She-Hulk I#7

Big Game Posse

- hunters briefly allied with Sam Buchanan, encountered Vengeance--Marvel Comics Presents I#152

Big Gorgon

of Earth-9602/Amalgam - amalgamation of Gorgon & DC's Big Bear, Un-People member--Challengers of the Fantastic#1

Big Greeny

of Earth-27135 - giant prehistoric therapod, devoured Soft One & Little One--Marvel Year-in-Review '93#5

Big Grokko

- Atlantean, Attuma ally, Defenders foe--Defenders I#7


Big Guy

- diminutive criminal mastermind, rode dog named Dinosaur as a steed, obsessed with oversized objects, battled Captain America (Nasland)--Captain America Comics I#54

Big Henri's Alligator Farm

- held Hydra for Ares--Incredible Hercules I#113

Big Hero 6

- Japanese superteam, funded by Giri Industrial Corporation--Sunfire & Big Hero 6#1

Big House

- New York prison where supervillains are shrunken via Pym Particles--She-Hulk I#5

"Big Jim" Galton

- criminal agent of the Enforcer--Ghost Rider II#24

Big Joe

- Golden Age character--Mystic Comics I#7

Big Joe

- street cleaner, Archie the Gruesome antagonist--Comedy Comics I#10

Big Joe

- employee of the Masked Marauder, Daredevil foe--Daredevil I#19


Big Julie

(Julius Bridwell) of Earth-982 - crimelord, mind transferred into body of gorilla after being shot by police, defeated by J2--J2 I#9

Big Leo

- lion-headed humanoid extraterrestrial, boyfriend of Mandu, encountered KISS--Marvel Comics Super Special I#1

Big L'il Nose

- squirrel ally of Squirrel Girl, introduced to Nancy Whitehead--Unbeatable Squirrel Girl II#40


Big M

- alias briefly used by Madame Masque--Tales of Suspense I#97

Big M

(Calvin Rankin) of Earth-5423 - aided in redemption by Earth-12's Mimic (Calvin Rankin)--Exiles I#50

Big Mack

- extraterrestrial hamburger-headed man, runs dimensional transport business, slaughtered by Korrek--Howard the Duck I#23

Big Man

(Frederick Foswell) - organized criminal gangs under his leadership, employed Enforcers, former Daily Bugle employee, killed by Kingpin--Amazing Spider-Man I#10
Big Man (Janice Foswell) - ganglord, daughter of original Big Man, lover of Nick Lewis Jr., unknowingly killed by him in his guise as the Crime-Master during gang war--Marvel Team-Up I#38

Big Man

- foe of Lightning Bolt, the hero who can transform into lightning--Spider-Man Magazine I#10


Big Man

(Henry Pym, Jr.) of Earth-982 - Revengers, son of Giant-Man (Henry Pym) & Wasp, rebelled against Revengers when they attempted to kill Avengers, later served with FBI--A-Next I#12
Big Man of Earth-7484 - Godwulf's Redeemers--Captain America I#288

Big Max

- successful criminal, phoned by Mike Slate & informed of boy who needed medical help, arranged for Daredevil to be put on the case to assist the boy--Daredevil I#137

"Big Monk" McGak

- career criminal, sentenced to 99 years but escaped & recovered ill-gotten gains, forced Mr. Zero to take him to a supposedly haunted house to hideout but left crying after being shown the error of his ways--Journey into Mystery I#68


Big Mother

- mother of symbiotic Grendel, summoned by Merlin Demonspawn to bring him the Holy Grail, became wrestler--Captain Marvel V#20

Big Mouth

- giant living mouth, went on a rampage until defeated by Captain Marvel (Mar-Vell)--Hostess ad seen in Amazing Spider-Man I#174
Big One (Kenjiro Sasaki) - Pacific Overlords, son of Taifu & Pele, mutated & hypnotized into serving Dr. Demonicus, defeated by Avengers & powers removed--Avengers West Coast I#70

Big Papi

- former wrestling manager of Armadillo--Super-Villain Team-Up: MODOK's 11#1

Big Pearl

- part of Mystique's criminal gang circa 1921, killed by police during bank robbery--Wolverine III#63

Big Pete

- criminal mugger, battled Daredevil, arrested by police--Daredevil I#55


Big Pox

- mutant Smallpox strain developed by Dr. Harrison Taylor--Mystique I#7
Big Question (E. Nigma Fisk) of Earth-9602/Amalgam - amalgamation of Kingpin & DC's Riddler, Catsai & Dare foe--Assassins#1

Big Rock

- Maggia, agent of the Top Man--Fantastic Four I#101

Big Roy

- human mutate, Raft prisoner, beast-like appearance--Thunderbolts II#159


Big Sal's Beer Distributor

- Milwaukee, Wisconsin company, site where Machine Man got drunk while lamenting Jocasta's return to Ultron--Marvel Zombies 5#2


Big Shot

of Earth-5555 - mercenary circa 8162, employed by Undertaker & Pyra--Death's Head I#4

Big Sigrid

- would-be Viking woman circa 1100, recruited by Dr. Strange to fight Harald Jaekelsson, sent into past & was slain in battle, welcomed into Valhalla--Thor: Vikings#3
Big Strong Man (Steve Kisto) - Delta City member of All-Hate Squad, Fight-Man foe--Fight-Man#1
Big T's Computer Company - front business for the extraterrestrial Thirsties, used as a base of operations by them--The Adventures of Kool-Aid Man I#3

Big Thirstie - extraterrestrial leader of the Thirsties race, mastermind of plans to ruin humanity's fun, Kool-Aid Man foe--The Adventures of Kool-Aid Man I#1


Big Thunder

- leader of Coney Island Cruisers, sought to usurp Jacob Kirsch's home--Captain America I#240

Big-Time

(Rupert Bigelow) of Earth-77013 - criminal, Spider-Man foe--Amazing Spider-Man newspaper strip - September 25, 2008


Big Titania

of Earth-9602/Amalgam - amalgamation of Titania (Mary MacPherran) & DC's Big Barda, Female Furies, widow of Scott Free--Bullets & Bracelets#1

Big Tonee

- Inhuman customer of Rexel Toiven--Inhumans III#7

Big Tony

- criminal--Marvel Knights: Spider-Man I#14

Big Top

- Lost Boys & Girls, mutant--X-Factor I#35

Big Tow

(Edwin) of Earth-57780 - tow-truck enthusiast, Spider-Man foe--Spidey Super Stories I#30

Big Turk

- criminal extortionist, employee of the Kingpin--Amazing Spider-Man I#51


Big Wheel

(Axel Wheele) - embezzler, hired Rocket Racer to steal evidence against him & eventually had Tinkerer build large wheel-like weapon for him--Amazing Spider-Man I#182

Big Wheel ship

- used by Rocket Racer during Hypernova mission, crashed into Mandarin's ship by Armadillo--Super-Villain Team-Up: MODOK's 11#4

Big Zero

(Amity Hunter) - Young Masters, size-changing supremacist Microverse native, hacker--Dark Reign: Young Avengers#1

or any other "Big" or "Joe" characters



---
images: (without ads)
Fantastic Four I#24, p13, pan1 (Big Joe, main image)
Fantastic Four I#24, p9, pan7 (Big Joe, headshot while on the phone)
Fantastic Four I#24, p13, pan6 (Big Joe with ring)

---
Appearances:
Fantastic Four I#24 (March, 1964) - Stan Lee (writer, editor), Jack Kirby (pencils), George Roussos (inks)

---
First posted: 07/18/2022
Last updated: 07/18/2022
Any Additions/Corrections? please let me know.
Non-Marvel Copyright info
All other characters mentioned or pictured are ™ and © 1941-2099 Marvel Characters, Inc. All Rights Reserved. If you like this stuff, you should check out the real thing!
Please visit The Marvel Official Site at: http://www.marvel.com
Special Thanks to www.g-mart.com for hosting the Appendix, Master List, etc.!
---