QUEEN AI'SHA
(of Earth-148)

Real Name: Ai'sha
Identity/Class: Extradimensional (Earth-148) human magic user (?-see comments)

Occupation: Queen
Group Membership: Rebellion against Necrom;
possibly the Sorceress Sisterhood (see comments)

Affiliations: Kylun (Colin McKay), Princess Sa'tneen, Yeoman UK, Zz'ria
Enemies: Necrom
Known Relatives: Sa'tneen (daughter, deceased)

Aliases: None
Base of Operations: Ee'rath
First Appearance: Excalibur I#1 (October, 1988)

Powers/Abilities: While Queen Ai'sha never displayed any superhuman powers, she possibly possessed a significant ability to manipulate mystical energy for a variety of effects (see comments).

Height: 5'8" (by approximation)
Weight: 140 lbs. (by approximation)
Eyes: Unrevealed (see comments)
Hair: Unrevealed (see comments)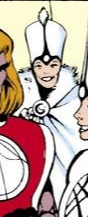 History: (Excalibur I#43 (fb) - BTS) - The last member of her regal dynasty to actually rule on Ee'rath, Queen Ai'sha was presumed to have been a member of the mighty Sorceress Sisterhood.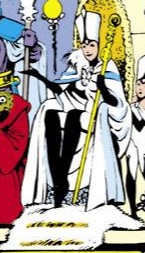 (Excalibur I#46 (fb) - BTS) - Very little has been revealed about Queen Ai'sha's life. Although it is known that she led her forces in a war against the evil sorcerer Necrom and his army, it has never been revealed if Necrom's forces first attacked during her reign or if the war was something that she had inherited from the monarch (presumably one of her parents) who preceded her. Her trusted counselor was the mystic Zz'ria.
(Excalibur I#43 (fb) - BTS) - At some point, Queen Ai'sha gave birth to her only (known) child, a daughter who she named Sa'tneen. The identity of Sa'tneen's father has never been revealed so he may (or may not) have been Ai'sha's consort (assuming she had one). It has also not been revealed if Sa'tneen was born before or after the war against Necrom began.
(Excalibur I#1 (fb) - BTS) - Eventually, the war against Necrom reached a point where it became clear that Queen Ai'sha's forces would not be able to prevail. Under circumstances that have never been revealed, Queen Ai'sha apparently decided that surrendering was her only viable choice, presumably in order to prevent her followers from needlessly dying in an unwinnable fight. In exchange for her surrender, Necrom apparently agreed to only exile Queen Ai'sha, her daughter and her followers (instead of simply killing them)
(Excalibur I#1) - A ceremony to mark Queen Ai'sha's dethronement was held in the Chamber of Infinity. Queen Ai'sha was present, sitting cross-legged on a floating pillow, and was accompanied by her counselor, the mystic Zz'ria, and Yeoman UK, leader of the guardians of Ee'rath known as Excalibur. Necrom was not known to be present but was represented by two of his Druids and multiple other warriors. Partway through the ceremony, a "blue demon" (actually Earth-616's Nightcrawler/Kurt Wagner) emerged from the Tower That Crosses Time, surprising the participants and provoked several verbal reactions, with Ai'sha saying, "Vajna-majents Quee!" to which Yeoman UK replied, "Rästne-bajan! Kodamöe!" When the two of Necrom's warriors reacted with hostility, the demon spat out what seemed to those present to be an alien curse and vanished in a burst of flaming brimstone.

(Excalibur I#46 (fb) - BTS) - Following the demon's departure, the ceremony resumed, and the demon's visit came to be remembered in legend as an omen that heralded the enslavement of Ee'rath.

Following her dethronement, Queen Ai'sha went into exile at a location on Ee'rath that has never been identified. She was joined in exile by Sa'tneen, Zz'ria, and an unspecified number of royal supporters.
Soon afterwards, a seven-year-old mutant boy named Colin McKay stepped through a interdimensional doorway (created by his friend Widget) from the highlands of Scotland on Earth-616 and arrived on the ice plains of Ee'rath. The people who found him (before he could freeze to death) considered his arrival to be a good omen so they brought him to the exiled royal household. Queen Ai'sha (with her young daughter peering out from behind her mother's throne) welcomed "Kylun" and placed him in Zz'ria's care.
Over the next twenty or so (local) years, while Zz'ria trained Kylun as a warrior, Sa'tneen received training in sorcery, presumably from her mother and/or Zz'ria (and possibly others). During this period, Sat'neen and Kylun fell in love. Eventually, after Kylun had come of age and chosen the image of Widget as his totem, he pledged his heart to Princess Sa'tneen as Queen Ai'sha, Zz'ria and others of the royal court looked on happily.

Sadly, this happiness was not destined to last. Despite being in exile, Queen Ai'sha had remained a symbol of opposition to Necrom and, over the years, the evil tyrant's reign of terror had caused many people to travel to her place of exile where they joined the royal supporters in order to one day fight back against him. Necrom eventually became fearful of the growing strength of her army, so much so that he had his forces launch a "cowardly" (surprise?) attack on the settlement where the exiles lived. Queen Ai'sha, Zz'ria and thousands of royal supporters were killed in the massacre while hundreds of others, including Princess Sa'tneen, were taken captive and imprisoned.
Kylun, who had been badly wounded and left for dead, survived and organized a rebel army who rescued the princess from being sacrificed. Together, Kylun and Sa'tneen led the rebels against Necrom's army and ultimately brought an end to his evil empire. Sadly, Sa'tneen was mortally wounded by Necrom after thwarting his attempt to use the animated corpses of the Excalibur members to take his revenge on her and Kylun. The death of Princess Sa'tneen ended Queen Ai'sha's dynasty forever.
Comments: Created by Chris Claremont, Alan Davis and Paul Neary.

This profile was originally a subprofile written entirely by Donald Campbell for the Princess Sa'tneen profile. It was expanded into a full profile using all of Donald's original text and some new text/links/brightly-colored images to upgrade it to full profile status by Proto-Man.
Queen Ai'sha did not actually appear and was not mentioned by name in Excalibur I#43 but in that issue, her daughter Sa'tneen was mentioned as the last of a regal dynasty, meaning that Ai'sha was obviously the last herself before Sa'tneen was born. It also referred to Sa'tneen as the last of the Sorceress Sisterhood, suggesting that Ai'sha had been before her. If Queen Ai'sha indeed was a member of the Sorceress Sisterhood, then she would have possessed a significant ability to manipulate mystical energy for a variety of effects. However, since she was never depicted using any magic, it's possible that she was not actually a sorceress herself.

Queen Ai'sha has only been depicted clearly in three images, all three included in this profile as well as an image of the massacre in which she died.

Profile by Donald Campbell and Proto-Man.
CLARIFICATIONS:
Queen Ai'sha has no known connections to:
Ayesha of Balobedu - circa 10,000 BC, sorceress supreme, ancestor of Ashake of Egypt, Ashake of Meroe, and Ororo Munroe and her ancestors--Marvel Tarot
Ayesha - see Her/Kismet--Fantastic Four III#11
Aislinn, a witch from c. 1000 A.D. who lived until the modern era when her contemporary self (Dr. Ellen Mallory) tricked Iron Man into traveling back in time so he could be captured by her past self, then traveled back into the past and merged with her past self but was decapitated when she tried to travel/return to the future in partially-repaired Iron Man armor and thus created a time paradox--Iron Man III#59
Queen, a golden robot constructed by Charles Riegel that could fire energy blasts and had enhanced strength and intelligence that was destroyed when Riegel sent it against the Hulk--Incredible Hulk Annual#9
Queen (Indries Moomji), a female mercenary with enhanced allure who was hired by Obadiah Stane to represent the Queen of his Chessmen in his plot to destroy Anthony Stark and take over Stark International--Iron Man I#163
Queen, the codename for Fury Secret Base 2--listed in Secret Warriors I#1/2
Queen (Adriana "Ana" Soria), a former girlfriend of Captain America from the 1940s who was mutated by a secret government project into a superhuman with the power to control anyone with the "insect gene" and who resurfaced in the modern era and fought Spider-Man and Captain America--Spectacular Spider-Man III#15
Queen & Castle, a "majik" shop in New York City's Greenwich village that is owned by a woman of occult talent--(first visited) She-Hulk II#10; (name revealed) She-Hulk II#11 (fb)
The Queen, a member of the playing card-themed Ace Gang who were opposed by Namor the Sub-Mariner--Sub-Mariner Comics#21
The queen of an alien planet populated entirely by beautiful people who she found to all be commonplace and dull so she had a want ad for an "ugly man" placed in an Earth newspaper and when an applicant was brought to her world she proposed marriage and he accepted--Strange Tales I#78/3
The Queen of Crime, the leader of the Murder Mob who was opposed by the android Human Torch (Jim Hammond) and Toro (Thomas Raymond)--Marvel Mystery Comics#76
The Queen of Darkness, a name by which the skull-faced goddess Nebethet was known when she was worshipped in Punt during the Hyborian Era--Savage Sword of Conan#60 (adapted from "The Ivory Goddess")
The Queen of Diamonds, a female diamond thief active in New York City on Earth-57780 who was caught by Spider-Man while trying to steal the Ritz Diamond--Spidey Super Stories#23/4
The Queen of Egypt, a Roxxon L-N-G supertanker that was hijacked by Batroc and Mister Hyde so they could extort New York City for millions of dollars by threatening to detonate it--Captain America I#231
The Queen of Hearts, a member of the Crazy Gang led by Mad Jim Jaspers from Earth-238--Marvel Super Heroes (UK) #377
The Queen of Ice and Blood, one of the names by which the evil sorceress Vassilisa of Sythia was known during the Hyborian Era--Red Sonja III#8
The Queen of Star Swords, the Tyrant Queen of the Realm of Meridian in Reality-23100 and the alternate dimensional counterpart of Earth-616's Arcadia Deville who took control of Arcadia when her reality-altering powers overwhelmed her and tried to remake Earth until banished from Arcadia's body by Danielle Moonstar--X-Force I#100

Queen of the barbarians of Arcturus, the leader of a group of organic Arcturans who worshipped the last remaining starship (created by the genetically-engineered super race) as a god--Adventures Into Fear#23
The queen of the Caraneri race who employed Morg as her court executioner after the captured rebel accepted her offer of life in return for his loyalty to the throne--Silver Surfer III#69
Queen of the Dark Domains, the extradimensional goddess/demoness Ovada who was seriously wounded by her enemies during the Hyborian Era and whose blood transformed many mortals into her monstrous blood-children who caused much damage before she was finally killed--Conan the Savage#5
The Queen of the Deep, one of the names by which Namora, (a female version of Namor, not a counterpart of Aquaria Nautica Neptunia) from Earth-2189 who had led her Atlantean people to conquer humanity was known--Exiles I#46
The queen of the Ergon race whose interaction with the Impossible Man caused a "minor misunderstanding" that sent an Ergonian space fleet to execute the Poppupian--Silver Surfer III#33
The Queen of the Gargoyles, a title claimed by human magic user Sylvia Corpo after she discovered and used her ability to bring stone gargoyles to life--Venus I#16/1
Queen of the Goblins of Earth-982 (Elan DeJunae), an enemy of Spider-Girl (May "Mayday" Parker)--Spider-Girl#79
Queen of the Great Below, one of the names by which the Mesopotamian Goddess Erishkegal was known--Thor Annual#10
The Queen of the Nile, one of the titles by which the 1st Century BC Queen of Eqypt Cleopatra was known--Ideal#1

The "Queen of the Sub-Sea Realm," a mysterious woman who was tortured before dying and when she somehow returned to life she sought vengeance by torturing every living person she could capture with the wind tunnel device she had obtained somewhere--Sub-Mariner Comics#34/1
Queen of the Sun and the Sun Queen, two of the names by which Apalla, a living manifestation of Earth's Sun (Sol), was known--Doctor Strange II#22
Queen Adora, the ruler of the Xandarian people from the planet Xandar in the Andromeda galaxy who sought help from Earth's Fantastic Four when her world was threatened by a Skrull invasion--Fantastic Four I#204
Queen Bee, a would-be conqueror of Earth-57780 whose plans were repeatedly thwarted by Spider-Man--Spidey Super Stories#15/3
Queen Cilla, a Tryk vampire queen who manipulated Blade into impregnating her in order to create the prophesized son of a Tryk Queen and a Daywalker who would bring the Tryks to their rightful place as the rulers of the twin realms--Blade II#1
Queen Divine Justice (Chanté Giovanni Brown, originally Ce'Athauna Asira Davin), the princess of the Jabari tribe of Wakanda who was taken to the United States of America and raised in secret in Chicago and later New York City after her royal parents were killed in a tribal conflict when she was an infant--Black Panther III#14
Queen Esmera of Kaliklak, a now-deceased ruler of the Insectivorid homeworld in the Microverse who was succeeded by her daughter, Lyca--mentioned in Micronauts I#56
Queen Fria, the gentle ruler of Polaria on the Subzero Zone of the molecular planet of Homeworld in the Microverse who could transform herself into the Snowbear and was the secret holder (until her death) of the second of the three Keys of the Engima Force--Micronauts I#32
Queen Greensong, one of the Frogs of Central Park who once met the Asgardian god Thor after he had been transformed into a frog by Loki's magic--Thor I#365
"Queen Guinevere," an identity adopted by the mentally-unstable Marianne Rodgers after she had accidentally used her psychic powers to incapacitate Mordecai Midas while attempting to attack Iron Man (Stark)--(as Rodgers) Iron Man I#36; (as "Queen Guinevere") Iron Man I#107
Queen Hyppolyta of the Amazons, a daughter of the Olympian god Ares and a former possessor of the Amulet of Pazuzu--Thor I#127
Queen Hippolyta from the Amalgam Universe (Earth-9602), an amalgam of Queen Hippolyta of the Amazons from Marvel Earth-616 and Queen Hippolyta of the Amazons from a Distant Cosmos--Amazon#1
Queen Jocasta of Thebes, the widow of the Greek King Laius who married Oedipus, the hero who had recently been elected king after saving the city, and bore him four children before they both learned, years later, that Oedipus had killed Laius and that he was himself the son of Laius and Jocasta who had been abandoned to die as a baby in order to thwart a prophecy that he would grow up to kill his father and marry his mother--Greek mythology that inspired Ultron's chosen name for his robotic mate in Avengers I#162
Queen Kalthea, a member of the alien Quist race and ruler of her own planet who offered her hand in marriage to Uatu the Watcher after he had appeared and frightened off the barbarians who were about to overwhelm her forces--Tales of Suspense I#56/2
"Queen Klutz," a self-nicknamed freelance editor at the Village Voice who also worked in the marketing division of Merx Pharmaceuticals--Spider-Man Unlimited III#7
Queen Knorda, a human-sized giantess and the widowed queen of the Mountain Giants of Jotunheim in the Asgard dimension who was later banished by Odin to Midgard where she lived for some centuries until dying in the recent past as an aged human businesswoman known as "Nora Queen"--Journey Into Mystery I#109/2
Queen Lyca of Kaliklak, Queen Esmera's daughter and ruler of the Insectivorid homeworld in the Microverse--Micronauts I#56
Queen Medusa, ruler of the Sub-Earthmen living under the surface of the American Mid-West who was deceived by a Nazi agent into attacking the US Army in revenge for a series of explosions that caused massive cave-ins to her city--Captain America Comics#17/3
Queen Medusa (Medusalith Amaquelin Boltagon), the wife of Black Bolt, King of the Inhumans of Attilan, and mother of their son Ahura--Fantastic Four I#38
The Queen Mother of the small Hyborian Era kingdom of Ravonna, actually the personal servant of the real queen who had begun pretending to be her mistress after deliberately ruining her face in the fire that killed the king and the real queen (whose burned skeleton in the king's bed the people were led to believe was that of the maid)--Savage Sword of Conan#66
The Queen Mother of the realm of Britain on Alternate Earth-1193 (see above)
Queen Mother Maraud, a power-hungry Snark who was deposed and exiled for treason--Power Pack I#3
Queen Sen, ruler of one of the two nations on the island of Kaiwann who loved Prince Dragon but agreed to marry the Gracious One, the elderly emperor of the rival nation, as part of a peace treaty to end the centuries of war between their two nations--Marvel Two-in-One I#25
Queen Sen Suwanda from the magical realm of Elsewhere, the form taken in recent years by the Mother-Goddess so that she might have some influence on the Poobah Kings as the Oracle--Power Pack I#47
Queen Sharaan of Eurth, the counterpart of Sharon Carter who existed on the artificial world--Avataars: Covenent of the Shield#1
Queen Tandylla, a false identity as the "queen of Quarl" that the Quarlians forced on journalist Tandy Snow by subjecting her to the fires of submission--Ka-Zar: Lord of the Hidden Jungle#14
Queen Taramis of Khauran, a Hyborian Era ruler who was secretly kidnapped and replaced by the sorceress Salome, her twin sister who had supposedly died at birth, and was held captive in the palace dungeon and violently abused for seven months before Conan rescued her--Savage Sword of Conan#5 (adapted from "A Witch Shall Be Born")
Queen Ursula, the beautiful but evil ruler of the European principality of Castile d'Or who in 1939 regained her throne and ordered an invasion against her long-time enemy the neighboring monarchy of Attania which was opposed by the heroic pilot American Ace (Perry Webb)--Motion Picture Funnies Weekly#1
Queen Victoria, a former possessor of the Amulet of Pazuzu--Howard the Duck III#3
Queen Xiombarg (also known as the Queen of the Swords of Chaos), a powerful sorceress from the extradimensional realm of Melniboné who used the Stygian sorcerer Kulan Gath in her plan to conquer both her world and Earth during the Hyborian Age--Conan the Barbarian I#14 (but the character of Xiombarg first appeared in "The Queen of the Swords")
Queenie, the moll of Lincoln City crime boss "Brains" Borelli--Marvel Mystery Comics#13/4
Queenie, a female member of the gang of young criminals led by the Astrologer who shot at the car following the gang's truck--Amazing Adventures II#7/2
Queenie Dimm, a young woman who worked at the Richard M. Nixon Massage Parlor on Earth-791014 (Amusement World) in its 40th Century--Avengers: The Man Who Stole Tomorrow novel
The Queen's Vengeance, a team of Avengers who were transformed with the rest of the planet when the sorceress Morgan Le Fay used the power of the Asgardian Twilight Sword to alter Earth-616's reality into one in which she ruled the entire civilized world but who fought back and succeeded in returning their world back to normal--Avengers III#2
The Queen's Vengeance, a team of Avengers from Earth-398 who were permanently transformed with the rest of their planet when the sorceress Morgan LeFay used the power of the Asgardian Twilight Sword to alter their reality into one in which she ruled the entire civilized world--diverged from Earth-616 reality sometime during Avengers III#2
any of the many other

"Queen"

characters
---
images: (without ads)
Excalibur I#1, p14, pan2 (Queen Ai'sha being dethroned, main image)
Excalibur I#46, p14, pan4 (Ai'sha, headshot)
Excalibur I#46, p14, pan2 (Ai'sha on her throne)
Excalibur I#46, p14, pan6 (Ai'sha death at settlement massacre)

---
Appearances:
Excalibur I#1 (October, 1988) - Chris Claremont (writer), Alan Davis (pencils), Paul Neary (inks), Ann Nocenti, Terry Kavanagh (editors)
Excalibur I#43 (November, 1991) - Alan Davis (writer, pencils), Mark Farmer (inks), Terry Kavanagh (editor)
Excalibur I#46 (January, 1992) - Alan Davis (writer, pencils), Mark Farmer (inks), Terry Kavanagh (editor)

---
First Posted: 03/13/2019
Last updated: 03/13/2019

Any Additions/Corrections? please let me know.
Non-Marvel Copyright info
All other characters mentioned or pictured are ™ and © 1941-2099 Marvel Characters, Inc. All Rights Reserved. If you like this stuff, you should check out the real thing!
Please visit The Marvel Official Site at: http://www.marvel.com
Special Thanks to www.g-mart.com for hosting the Appendix, Master List, etc.!
---