BEELZEBOUL
Real Name: Beelzeboul
Identity/Class: Demon
Occupation: Ruler of his own Hell dimension
Group Membership: Hell-Lords, Lucifer's Inner Circle (including Kazaan, Olivier, Pazuzu, Xaphan);
formerly the Angels of Heaven
Affiliations: Roger Barbatos, Lucifer (the arch-demon), 13 other fallen angels/demons;
formerly Louis Childs and his coven, Beelzeboul's demon servants
Enemies: Cassandra Drakonmegas, Charlie Hagarth, Hellfire, Magik (Amanda Sefton), Nightcrawler (Kurt Wagner), Christine Palmer, Terror, Seth Walker,
Known Relatives: Cassandra Drakonmegas (ex-wife); Hellfire (son);
possibly Satana (daughter); possibly Daimon Hellstrom (son)
Aliases: Beelzebub, "Satan"
Base of Operations: Trapped within a magic clay figurine within Limbo/Otherplace;
formerly his own little Hell dimension;
formerly Heaven
First Appearance: (Atlas) Journey into Unknown Worlds#19 (June, 1953); (Marvel) Terror INC#1 (July, 1992)
Powers/Abilities: Beelzeboul is a demon and is not necessarily vulnerable to aging, disease and other generally human weaknesses. He was able to open portals to the normal world, though this seemed to be based around the sacrifice of one of his servants. His strength is enhanced to an undefined range, and he can probably alter hit height and appearance. While on Earth, he took a human form to seduce Cassandra Drakonmegas, but whether he had to take over the body of a human or whether he could simply take the form wasn't explored. Like many of the demons claiming to be Satan, Beelzeboul owned his own Hell dimension, and had a large group of creatures that lived there.
Like any good demon, Beelzeboul enjoys his items of evil power. His wife would often burn such objects when she found them, but he still seemed to be creating some. One of the more prominent items was the Hellfire Gun. This gun was only usable when either he or his son willed it to be so. Originally he gave it to his officer, Neith, but Terror and Hellfire stole it, and it is currently in Hellfire's possession.

History:
(Marvel Zombies: The Book of Angels, Demons & Various Monstrosities/Nightcrawler III#3 (fb) - BTS) - Beelzeboul was one of 14 angels who stood by Lucifer in the war against God. When Lucifer lost and was cast down, he fell into the pit (Hell), dragging his fourteen lieutenants down with him, and the fourteen angels became fourteen demons.
(Journey into Unknown Worlds#19) - Beelzebub, as the Arabian Jean, joined the explorer Charles Hagarth on his search for the Book of Satan, a tome that enabled its owner to enslave Beelzebub. For 20 years Beelzebub took the book each time Hagarth was near it and hid it at another location. Around 1963 Hagarth caught Jean stealing the book from the tomb of Assadmaian in Egypt. Hagarth shot Jean, took the tome and summoned Beelzebub, who devoured the surprised Hagarth after revealing that he was Jean all along. Beelzebub then took the book to another hiding place.
(Terror INC#5 (fb) - BTS) - Beelzeboul sought to create a son via a human woman, intending that this son would serve as a living battery drawing in the black energy (sin) of mankind, storing it up as a charge of pure evil. This would give the Hell-Lords the power to break through the walls of reality in force and lead to an unstoppable assault on man.
(Terror INC#3 (fb) ) - The demon Beelzeboul, in human form, came to Earth, married, and impregnated the human Cassandra Drakonmegas.
(Terror INC#5 (fb) ) - Upon finding proof of her husband's demonic nature, Cassandra stabs him with a knife provided by Rekrab, a man very much in the know of the occult world. Being dragged back to his Hell, Beelzeboul hit Cassandra, snapping her neck in the process. As he disappeared, he at least gained some satisfaction in knowing that even if he can't have his son, neither can his wife. Despite her condition, Cassandra fights on to live at least a bit longer, until medics arrive and induce labor on her. Mikal Drakonmegas was born. The use of the mystic dagger, etc. prevented Mikal from gaining the darksoul that would have accomplished the demons' plot.
(Terror INC#1 (fb) ) - The international arms dealer, Roger Barbatos, gains an audience with Beelzeboul, who gives him total protection from his enemies in exchange for his soul.
(Terror INC#3 - BTS) - Beelzeboul sends several of his agents to a lighthouse on Earth, where he and his wife lived, to bring him his son, Hellfire.
(Terror INC#4) - In his Hell, he awaited the arrival of his son, after his servants defeat...
(Terror INC#5) - Coming upon Hellfire and Terror, he watched as Terror bit back into his son with the Hellfire Serpent's fangs, draining his Darksoul from him. In exchange for this dead, Beelzeboul hands Terror his contract with Barbatos, and the mercenary departs. Beelzeboul lifts the powerless Mikal Drakonmegas up, and prepares to kill him, when Terror swoops back to save him. Once more, Beelzeboul is stabbed with the knife, this time by his son. The wound opens a portal to Earth, and Terror and Hellfire rush into it, escaping the grasps of (a) devil.
(Nightcrawler III#1-3 - BTS, 4) - Beelzeboul joined Pazuzu and other demons of Lucifer's court in a failed bid to access Earth with the help of Louis Childs and his coven. Stopped by Nightcrawler, Seth Walker & Magik he was left trapped in a statue that Magik stashed away in her castle in Otherplace/limbo.
Comments: Created by DG Chichester and Jorge Zaffino.
Historically, Beelzeboul has been a synonym for Beelzebub, a fallen angel from the Bible.
It is highly unlikely Beelzeboul is really Daimon Hellstrom's father, though it is possible that Beelzeboul is just another alias of Marduk Kurios. I personally believe that Rekrab was just mixing his myths up, and Beelzeboul is just the ruler of a (much) smaller Hell dimension who also claims to be Satan (it's all the rage with demon types), thus leading to confusion (Hellstrom = the Son Of Satan, after all)
See also the comments on the entry on Marduk Kurios for discussion (ad nauseum) on this issue--Snood.
Another good idea is that Satan is actual a conglomeration of demons who merge and split off from each other at different intervals, taking on aspects like Mephisto, Satannish, Thog, Marduk Kurios, Beelzeboul, etc. Thus there could be SOME relationship b/t Hellstorm and Hellfire.
One thing I found interesting about the Terror INC series is that there seems to be a lot of similar characters to those already in the Marvel universe, but not quite. With Barbatos you have a bulky crime boss similar to the Kingpin, with Hellfire you have a less experienced Daimon Hellstrom, and with Beelzeboul, you have a dollar store Mephisto.
Beelzeboul has been revealed as a member of Lucifer's Inner Circle in Lucifer's profile in Marvel Zombies: The Book of Angels, Demons & Various Monstrosities.
Thanks to Gammatotem for pointing out the appearance in Journey into Unknown Worlds#19. Though the alias Beelzebub was also used by Mephisto on occassion it is more likely that Beelzebub in this appearance was Beelzeboul, whose alternate name is actually Beelzebub.
Profile by: Zerostar
CLARIFICATIONS:
The Imps have no known connection to:
IMP (Pandora Destine) - ClanDestine—Marvel Comics Presents#158
Neith has no known connection to:
NEITH - the name used by Gaea as the mothergod of the Egyptian pantheon, as revealed @ Thor I#300
Vulkanus has no known connection to:
VULCAN - the Roman name for the Olympian God, Hephaestus--Thor Annual#5
Vulcan ( ) - First Line --Marvel: Lost Generation#7
VULCAN ( ) - criminal, led gang. Kyphosis,superhuman strength and durability (app)--BlackGoliath#3
VULCANN the BLOODSMITH 2099 - demon, kidnapped and aged Joaquim Navarro to adulthood--XMen 2099#32
---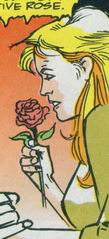 Cassandra Drakonmegas
The mother of Mikael Drakonmegas, Hellfire, and former bride of Beelzeboul. In her teenage years, she became pregnant from a boy in her high school. After a horrible abortion experience, it was believed she could no longer bear a child. But after her marriage to Beelzeboul, she found she was indeed pregnant once more. Throughout their marriage, Cassandra found many items which suggested that her husband was more than a man, and whenever she found these items, she would toss them in the fireplace, hoping to burn them out of existence.
Somehow, she got into contact with the librarian of the occult, Rekrab, who sent her a knife which could dispatch of her demonic husband. Confronting him, she slashed at him with the knife, cutting him open. Before the knife could have it's desired effect, the demon disguised as a man hit her, snapping her neck. But as he was sent back to his Hell dimension, she fought to hold on to her life, for the sake of her child. When the doctors arrived, there was nothing they could do for her, her spine destroyed from the blow, but they were able to induce labour, and with her death, Mikal Drakonmegas was born.
--Terror INC#3,5
---
---

Ghasta
Spikes protrude from Ghasta's shoulders, and his hands are in fact sharpened claws. During the battle in the lighthouse, he attacks Hellfire, who sends him back to Beelzeboul's Hell with his own claws. @Terror INC#3,4
---

Imps
A group of Imps lived in Beelzeboul's Hell. Physically, they were much like Strigae, so he may have been among their numbers. Two of them were used as a set of makeshift wings by Vulkanus, but they likely shared his fate, plummeting into a large pit of lava. nother was sent to escort Terror out of Hell, when he had turned his back on Hellfire. But after Terror changed his mind, he ripped the wings off the demon and used them to fly back to Hellfire's side.@Terror INC#5
---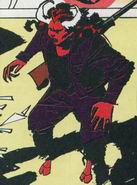 Neith
Seemingly Beelzeboul's favourite, she was even given personal audience with the demon. Physically, horns protruded from her forehead and her feet were replaced with hooves. Acting as the leader during Beelzeboul's servants attack on Terror and Hellfire in the lighthouse, she directed the others (quite awfully) She was given Beelzeboul's gun, which Terror steals from her and hands to Hellfire, who uses it to send her and Vulkanus back to Beelzeboul's Hell. When she arrived, she spoke directly to Beelzeboul, and promised that they would regroup and deal with Terror and Hellfire, but Beelzeboul dismissed her. @Terror INC#3,4
---

Se'irim
A large, extremely muscular orange creature with an enlarged head and jaw. During the battle in the lighthouse, it grabs Terror in a bearhug, but Terror nearly breaks him in half, using the legs of a world class bodybuilder. It seems as though that wasn't enough to kill the monster, but after Terror and Hellfire go to Beelzeboul's Hell, Dr. Strange destroys him. @Terror INC#3,4
---

Strigae
Almost bat-like in appearance, Strigae is the one who steals Cassandra Drakonmegas' eye and ear from Terror and passes them off to Vulkanus. During the scuffle in the lighthouse, Terror grabs Strigae and throws him through a window, sending them both crashing to the ground. On their landing, Terror interegates the creature, before destroying him. @Terror INC#3,4
---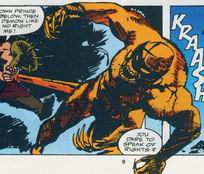 Unnamed Demon
This demon was also orange in complexion, had 3 arms, 2 on his left side, and a prehensile tail, which had a large spikey end. During the attack on Terror and Hellfire in the lighthouse, he tries to sneak attack Hellfire, after he had dispatched of Ghasta. Slashing him across the back with his tail, but Hellfire grabs onto it and throws him through a window. Terror and Hellfire return to his body, and despite his begging, kill him to open a portal to Beelzeboul's Hell. @Terror INC#3,4
---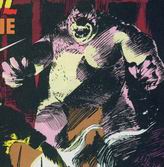 Vulkanus
An extremely obese creature, Vulkanus was never one to turn down an opportunity to boast about things he may or may not have actually done. During the battle in the lighthouse, he is the one who caught Cassandra Drakonmegas' eye and ear, which Strigae had stolen from Terror. Returning to Beelzeboul's Hell, he holds a large group of demons in awe, as he tells the heroic tale of how he defeated Terror.
He is shocked to find that Terror is in the audience, and the two engage in battle. Terror eventually outsmarts Vulkanus and jabs his facial spikes into the glutonous monster's eyes, stealing the eye and ear back. As Terror and Hellfire escape over a pit of lava, Vulkanus convinces some imps to sink their talons into his back and he followed, using them as wings. But Hellfire shot at some stalagtites on the ceiling, sending a gigantic one through Vulkanus' gut, sending him plummeting into the lava. @Terror INC#3,4,5
---
Appearances:
Journey into Unknown Worlds#19 (June, 1953) - Larry Woromay (pencils), Matt Fox (inks)
Terror INC#1 (July, 1992) - D.G. Chichester (writer), Jorge Zaffino (artist), Marc McLaurin (editor)
Terror INC#3-5 (September-November, 1992) - D.G. Chichester (writer), Jorge Zaffino (artist), Marc McLaurin (editor)
Nightcrawler III#1-4 (November, 2004 - February, 2005) - Roberto Aguirre-Sacasa (writer), Darick Robertson (penciler), Wayne Faucher (inker), Mike Marts (editor)
---
Last updated: 02/16/14
Any Additions/Corrections? please let me know.
Non-Marvel Copyright info
All characters mentioned or pictured are ™ and © 1941-2099 Marvel Characters, Inc. All Rights Reserved. If you like this stuff, you should check out the real thing!
Please visit The Marvel Official Site at: http://www.marvel.com