KRYSTILLAN race

Classification: Extratemporal (Reality-829 / Earth-Hercules 2300) extraterrestrial humanoids
Location/Base of Operations: The planet Krystilla (now destroyed), formerly within an unspecified star system that was located in or near Quadrant 36 of the Andromeda galaxy
Habitat: Unrevealed; now non-existent
Gravity: Unrevealed; now non-existent
Atmosphere: Unrevealed; now non-existent
Known Members: Science Council (all members now deceased), J'Nel and his family (all now deceased)
Estimated population: None; population prior to planetary destruction unrevealed
Affiliations: Wilamean Empire
Enemies: The Galactus Black Hole
First Appearance: Hercules: Twilight of a God#3 (October, 2010)
Powers/Abilities: None known
Cultural Traits: Unrevealed
Type: Humanoids
Eyes: Two (solid yellow)
Fingers: Four (plus opposable thumb)
Toes: Unrevealed (probably five)
Skin color: Pink (possibly crystalline)
Hair color: Unrevealed (possibly inapplicable)
Average height: Unrevealed (possibly 6')
Type of government: Unrevealed, may have been ruled by their Science Council, now non-existent
Level of technology: Advanced, with warp-drive technology
History:
(Hercules: Twilight of a God#3 (fb) - BTS) - The Krystillan race evolved on the planet Krystilla, part of a star system located in or near Quadrant 36 on the outer rim of the Andromeda galaxy. Over time, they developed a civilization with advanced technology that could, if needed, enable them to evacuate their world.
(Hercules: Twilight of a God#3 (fb) - BTS) - At some point, the Krystillans entered into diplomatic relations with the Wilamean Empire. In the early 25th Century (Earth reckoning), a red-skinned humanoid named J.A. Skelter was the empire's ambassador to Krystilla.
(Hercules: Twilight of a God#1) - At some point in the early 25th Century (Earth reckoning), circumstances caused Galactus to inadvertently overload his physiology with energy (by feeding on a unique planetary system), grow to massive size and then collapse into a rapidly-expanding black hole.
(Hercules: Twilight of a God#2 (fb) - BTS) - Despite being millions of light-years away in the Tau Ceti galaxy, some Rigellians detected this puzzling cosmic phenomenon, the largest black hole ever detected in their recorded history.
(Hercules: Twilight of a God#3 (fb) - BTS) - Krystilla's head scientist, J'Nel, also detected the "Galactus Black Hole" and determined that its unnaturally-rapid growth rate meant that the tidal forces it generated would soon destroy Krystilla. However, the planet's Science Council called him an alarmist and assured their people that the effects of the GBH would bypass their planet so there was no need to evacuate. The Krystillan people believed them, but J'Nel knew better; and so he constructed a small space capsule to carry his infant son K'Tel away from his doomed homeworld to another planet in a distant galaxy whose radio broadcasts J'Nel had been monitoring for years.
(Hercules: Twilight of a God#3) - As the Galactus Black Hole's tidal forces began to rend Krystilla asunder, the people realized that the Science Council was wrong and that they should have evacuated when they had the chance...but now all was lost!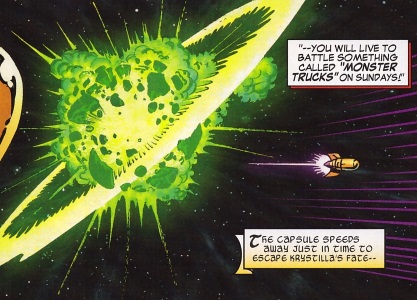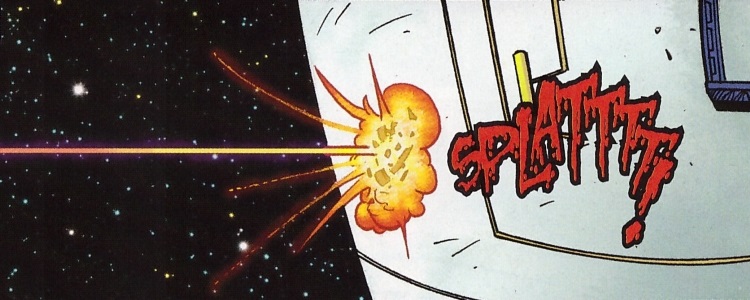 As the shaking got worse, J'Nel placed his son in the capsule and launched it into space. The capsule sped away from Krystilla just in time to escape being caught in the massive explosion that destroyed the planet.
Unfortunately, as the capsule hurtled through the stars towards its rendezvous with destiny, a Rigellian starship entered the system to monitor the growth of the Galactus phenomenon and the capsule impacted its hull with a large SPLATTTT!
Two Rigellians who heard the noise dismissed it probably being more space debris and noted that it had caused no damage to their ship.
And thus perished the Krystillan race.
"Destiny is not without a sense of irony."
Comments: The planet Krystilla and its denizens created by Bob Layton and Rom Lim.
The fact that J'Nel learned about "Rednecks" and "Monster trucks" through his years of monitoring the radio broadcasts coming from a certain planet in a distant galaxy would seem to indicate that that planet was meant to be Earth. However, there are two problems with this idea. First, radio broadcasts from Earth (by humans) did not begin until the 20th Century. Since radio waves travel at the speed of light and the Andromeda Galaxy is over 2 million light-years away from Earth, it will be a very, Very, VERY long time before the first of them gets anywhere near Krystilla. Second, since the strength of any radio signal diminishes with the square of the distance it has traveled, all radio signals sent from Earth become indistinguishable from background noise by the time they are only a few light-years away. Even radio signals that are specifically aimed, focused and amplified for interstellar communication can only reach hundreds of light-years before signal degradation renders them undetectable.
Of course, since the Krystillans seemed to have had some form of warp-drive, it's possible that J'Nel could have used that technology to scatter some listening posts around the universe, satellites that could pick up local radio waves and use some means of faster-than-light communication to relay them back to him on Krystilla. However, this is only speculation on my part.
Given that the name "K'Tel" is very similar to that of a music company that is well-known for its TV marketing, I expected that the name "J'Nel" also had some real-world signifigance. However, I haven't been able to find anything.
The doomed Krystillan race was clearly inspired by the Kryptonians from a Different Cosmos but, considering the fate of little K'Tel, I'm unsure as to whether they were meant to be an homage or a parody (or maybe just a morbid source of comedic relief). In any event, the fact that the Krystillans wear bodysuits that cover everything but their faces is cleary drawn from how the Kryptonians were depicted after John Byrne reimagined them in his "The Man of Steel" miniseries in 1986. The idea that Krystilla is a planet covered in crystals is also drawn from a past depiction of Krypton but I'm not sure when that version first appeqared.
Calendar complications
Although I really enjoyed reading Bob Layton's stories about Hercules' adventures in outer space in the far-flung future, they do have some weaknesses, one of which is the lack of any exact dates for the various happenings. This problem stems from the fact that Mr. Layton uses three different dating systems in these stories and does so in an inconsistent manner.
The only firm date in all of the stories comes from the second miniseries whose prologue specifially states that "by Earth chronology, it is the year 2385!" Since the events depicted in that miniseries take place over the course of less than a week and the graphic novel refers to said events as having "recently" occurred, it seems safe to conclude that all of the events in both that miniseries and the graphic novel take place in that year. However, the placement of the rest of Hercules' adventures are a bit more dubious.
The uncertainty is caused by conflicting statements as to how long before 2385 A.D. the events of the first miniseries occurred. It was during that miniseries that Hercules first met Layana Sweetwater and then, seemingly only days later, Commander Amayd Malin. However, their statements (made in 2385) as to when they met Hercules are (or seem to be) significantly different. On his deathbed, Malin states that he has known Hercules for forty-one years while Layana, Arimathes and Hercules himself all agree that the demigod visited the Wilamean system "thirty years ago." While at first glance this does seem to be a problem, I believe that an easy solution is to be found in the fact that these two encounters took place on planets in two different star systems. A year is the time that it takes any given planet to make one complete orbit around its star and it follows that (almost) every planet in the universe must therefore have a year whose length is uniquely different from that of the years of all other planets. For example, within our own solar system, a Martian year is 687 (Earth) days long while the years on other planets range from 88 (Earth) days for Mercury to 248 (Earth) years for Pluto. With that in mind, it seems perfectly plausibale that 41 years as measured in the Omacron system could be equal to only 30 years on the planet Wilamean. All that would be required is that one year on Wilamean be about 37% longer than one Omacron year. Of course, this also means that neither an Omacron year nor a Wilamean year are likely to be the same length as Earth year, so that would make it still difficult/impossible to pinpoint exactly when Hercules was banished by Zeus. Without knowing the relative lengths of the various years involved, "around 2344 A.D." is only a best guess.
However, this profile is not really concerned with events that preceeded 2385 but with those that took place later. The bulk of the third miniseries takes place around the time of the 75th anniversary of when Hercules saved the Ciegrimites from Galactus. On the face of it, this seems simple: Hercules saved Ciegrim-7 on the same day he met Commander Malin. That was 41 (Omacron) years before Malin's death so it follows that the 75th anniversary takes place 34 (Omacron) years after Malin died in 2385. However, as discussed above, an Omacron year is significantly shorter than a Wilamean year so those 34 Omacron years would be just under 25 Wilamean years. This poses a problem because the final issue of the third miniseries reveals that Layana had faked her death and had spent 40 (Wilamean) years in cryo-freeze before being thawed after Hercules suffered severe brain damage a year before the 75th anniversary. So, since Layana was definitely alive and scheming at least "twelve months" after 2385, there's no way that those 40 years in cryo-freeze could take place within a period of less than 25 years. The only explanation that seems feasible is that the anniversary celebration is actually taking place 75 Wilamean years (or about 102.5 Omacron years) after Hercules saved the Ciegrimites. Of course, it seems odd that the Ciegrimites, being natives of the Omacron system, would use a Wilamean calendar to determine the timing of this significant anniversary but I suppose one could speculate that, as the Wilamean Democracy spread throughout the Andromeda Galaxy, the members worlds would have adopted the Wilamean dating system as a sort of "standardized time" within the realm. If so, then the 75th anniversary celebration actually takes place 45 Wilamean years after 2385 A.D. So, a best guess would be "around 2430 A.D."
Profile by Donald Campbell.
CLARIFICATIONS:
The denizens of Krystilla have no confirmed connections to
The Kryptonians, a race of humanoids who lived on the planet Krypton (now destroyed) which orbited a red star in a Different Cosmos and who gained vast powers when exposed to light from other, non-red stars -- Action Comics#1
Additionally, the denizens of Krystilla have no known connections to
"Cristal", a young man who was transformed when his dormant/latent mutation was accidentally activated by Roger Fieldston's own uncontrolled mutant ability--X-Men and Captain Universe: Sleeping Giants#1
Crystal (Crystalia Amaquelin Maximoff), a member of the Inhuman Royal Family from Attilan who gained elemental powers that enabled her to mentally manipulate air, earth, fire and water as the result of being exposed to the Terrigen Mists as an infant-- Fantastic Four I#45
Crystal, a blonde albino woman who was briefly fascinated by Michael Morbius until she discovered that he was some sort of vampire and then she rejected him for being a monster--Morbius the Living Vampire#24
Crystal, a female member of the Hydrators team who could turn invisible and create a crystal shield that she could use to protect herself or others from the effects of dehydration or energy beams-- Hydrators#1
The Crystal Casque, a mystic item that, when combined with three others, could grant its user the power to traverse and conquer dimensions--Fantastic 4th Voyage of Sinbad#1
The Crystal Cathedral, the base used by the New Son that was located between time and space but was later destroyed during a battle against the X-Men--Gambit III#9
The Crystal Claws, a cultish croup of Shi'ar militants who wished to place former Emperor D'Ken's estranged son X-Treme on the throne instead of Dken's sister Lilandra--Captain Marvel IV#3
The Crystal Crown of Earth-93060 (Ultraverse), a crown that gave its wearer the power to control water and which was one of the three Keys needed to activate the Crucible of Life which previously generated the energies needed to empower the gods of Vahdala--GodWheel#0
The Crystal Dimension, a sub-atomic crystalline pocket realm in which Stargod (John Jameson) was trapped for a time and which was connected to a necklace owned by Jennifer Walters (She-Hulk)--She-Hulk I#13
The Crystal Forest, an area in the African country of Wakanda where the ground and vegetation are all made of crystal--Black Panther III#32
The Crystal Key, a piece of Celestial technology which could open the vial into which the essence of the Dreaming Celestial had been placed by the Second Host and of which some of Earth's Deviants managed to make a copy--Eternals II#5
The Crystal of Bas-Lyonesse, a magical item which Victoria Bentley once used to try to determine the nature of the evil she felt was menacing England in the aftermath of Dr. Strange's (supposed) death--Strange Tales II#12/2
The Crystal of Blood, a crystal that could negate existence which had been prophesized would be used by "the one" to destroy Asgard and which was guarded by Olympian Titans and a dragon until Thor destroyed it--Marvel Preview#10
The Crystal of Kadavus, a large crystal that resembled a human skull and which could be used to drain or restore the power of the Wand of Watoomb--Marvel Team-Up I#21
The Crystal of Souls, a mystical crystal which could be used to hold within it souls which had been removed from their bodies and which held for a time both Centurious and Zarathos--Ghost Rider II#74
The Crystal of Torment, a magical power item created by Satan to hold the billions of damned souls trapped in Hell (after being reaped by an avatar of Death for Satan) but which was destroyed and all of its imprisoned souls released when Death, wishing to end its existence, tricked Satan into using the Crystal as a weapon of last resort against it--Haunt of Horrors#3/8
The Crystal of Transference, an Asgardian magical item which can transfer objects or beings placed within it to whatever location is then displayed within it--Thor I#308
The Crystal of Ultimate Vision, a vastly powerful alien artifact that was sought by Horde because it could grant absolute power to anyone who touched it and which was protected by many traps within the indestructible Citadel of Light and Shadow--Uncanny X-Men Annual#11
The Crystalia Amaquelin, a species of flower grown in Attilan by Jolen which was named for Crystal--Son of M#3
Crystalium, an extradimensional planet (within a dimension known by the same name) that is a critical battlegound in the war between the Forces of Order and Chaos and the homeworld of Crystar, his twin brother-turned-enemy Moltar and their respective allies--Saga of Crystar the Crystal Warrior#1
Crystalkhrits, a possible native of the planet Brekknis who fled the approach of what seemed to be Galactus (but was actually an unidentified astral entity)--Silver Surfer: In Thy Name#4
Crystal Palace, a base in the Antarctic which was constructed by Kristal van Heiden and later destroyed by Emma Frost--X-Men Unlimited I#42
The crystal spheres, two magic items possessed by Salome of the Hyborian Era which enabled the people holding them to communicate at a distance by sending and receiving audiovisual messages--A Witch Shall be Born (prose story)/Savage Sword of Conan#5
The Crystal Spiders, a sentient race who live on a planet in the Negative Zone and who can spin crystalline webs to trap any who visit their planet-- Fantastic Four III#19
The Crystal Trapezohedron, a mystical jewel created before the sinking of Atlantis by the demonic Outer God Nyarlathotep to house a portion of its power--Nyarlathotep (prose story)/Journey into Mystery II#3
The Crystals of Conquest, magic weapons used by the Sons of Satannish cultists which allowed each of them to harness the power of their entire group to perform feats like firing energy blasts, forming magical shields, and binding others--Doctor Strange I#176
The Crystals of Kahesha, seven crystals which originated on the extradimensional planet of Kahesha and which, after being energized in the atmosphere of the extradimensional planet Jormal, could be used to heal or empower others but which would eventually evolve and merge into a malevolent collective entity--Darkhawk#45
The Crystals of Volsalvant, a vast source of power which were once abundant on the Negative Zone planet Volsalvant and which a being known as the Vigil now guards to prevent them from being taken and used by those who are unworthy--Marvel Comics Presents I#105/4
Crystar the Crystal Warrior, the king of the extradimensional world of Crystalium and warrior of the city of Galax who, as a servant of Order, was mystically transformed from organic flesh to living crystal form and opposed his twin brother-turned enemy Moltar who had similarly been transformed into living magma form by the forces of Chaos--Marvel Age#1
Krista, a young Asgardian woman who joined the Valkyrior as Brunnhilde's replacement--Thor I#217
The Kristall Starrer, an Austrian oculist whose Nazi-funded supernatural experiments enabled him to cross over into another dimension in a non-corporeal form with only his magically-empowered eyes, the only part of him which remained physical, left behind on Earth--Blaze II#1 (Eyes only); Blaze II#9 (person)
Krystalin (Krys Porter Ortega) from the year 2099 A.D. on Earth-928, a mutant who could project crystalline material--X-Men 2099#1
Krystar, one of the ordinary people transformed into a mutate by Magneto to be used as an army with which to conquer Earth--Amazing Adventures II#9
or any other person, group, place or thing whose name began with the "Kryst" sound
---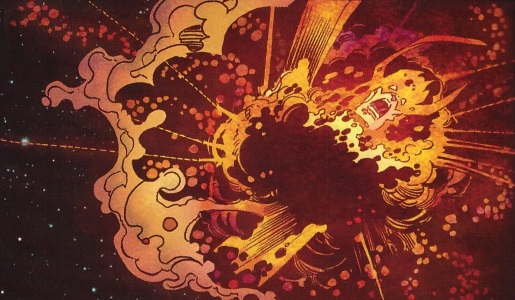 Galactus Black Hole
Note: This is an extremely limited place-holder/stub profile which deals with this cosmic phenomenon as it relates to Krystilla
It may, at some future point, become part of a full profile on Galactus of Reality-829
At some point in the early 25th Century (Earth reckoning), Galactus traveled to Quadrant 36 (on the outer rim of the Andromeda Galaxy) and discovered a unique planetary system which had very rich deposits of organic material, one which he felt would sustain him for some time. However, as Galactus began the absorption process on one of these worlds, the alien material within it sent out waves of radiation that caused the other planets to all explode. Bombarded with more cosmic energy than his physiology could safely absorb, Galactus' body quickly grew to the size of a solar system. Realizing what was going to happen next, Galactus tried to expel the excess energy but was not fast enough as gravity caused his immense mass to begin to collapse upon himself, transforming him into a black hole.
Millions of light-years away in the Ceti Tau galaxy, the Colonizers of Rigel discovered the existence of this cosmic phenomenon and identified it as the largest black hole ever detected in recorded history. They also noted that its event horizon was already immense and continuing to grow at an exponential rate. Similar observations were also made, from a MUCH closer vantage point, by head scientist J'Nel of the planet Krystilla.
As the Galactus Black Hole grew, the surrounding solar systems were swallowed by it, thereby increasing its mass and its gravitational pull, and enabling it to pull in matter from farther and farther away. Its gravity also caused tidal effects on planets that it had not yet swallowed, causing them to tear themselves apart (as happened to Krystilla).
As the threat to the Andromeda galaxy worsened, a scientist working for Emperor Arimathes of the Wilamean system created a "White Hole Engine" that could end that threat. Arimathes' father, the demigod Hercules, transported the device through the event horizon and activated it, destroying the Galactus Black Hole and himself at the same time.
--Hercules: Twilight of a God#1-4
---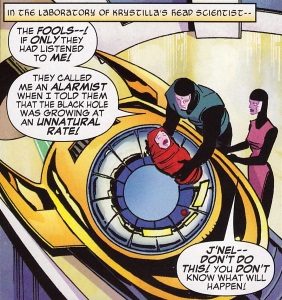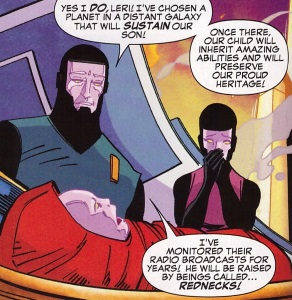 J'Nel was the head scientist of the planet Krystilla in the 25th Century (Earth chronology). At some point, J'Nel married a female, Leri.
At some point, J'Nel began to monitor radio broadcasts from a planet in a distant galaxy. J'Nel's studies led him to believe that this world's dominant native lifeform were beings called "Rednecks." J'Nel also determined that any Krystillans who traveled to this planet would not only be sustained, they would inherit amazing abilities.
Eventually, years after he had begun monitoring that alien world, J'Nel and Leri had a child together, a male baby whom they named "K'Tel." Sadly, while K'Tel was still an infant, the Galactus Black Hole was created and J'Nel predicted that its unnatural growth rate meant that it would soon destroy Krystilla. The Science Council disagreed and denounced him as an alarmist, reassuring the Krystillan people that the effects of the Galactus Black Hole would bypass their planet. Knowing the truth, J'Nel prepared a space capsule that was just large enough to hold K'Tel and which would be able to transport him across space to that alien planet in that distant galaxy. As Krystilla's end neared, J'Nel placed K'Tel into the capsule, reassuring the concerned Leri that it had to be done, and that their son would survive, inherit amazing abilities and preserve his people's proud heritage.
As the capsule launched into space, J'Nel and Leri stood in each others arms. Watching his son depart, J'Nel spoke his last words:
Farewell - - my little K'Tel! Although we perish, you will live to battle something called "Monster Trucks" on Sundays.
And then Krystilla exploded and J'Nel and Leri died.
Sadly, within minutes little K'Tel also died when his capsule impacted the hull of a Rigellian starship which had entered the Krystillan system in order to monitor the growth of the Galactus phenomenon.
--Hercules: Twilight of a God#3
---

Krystilla was a planet which was part of a star system that was in or close to Quadrant 36 on the outer rim of the Andromeda galaxy.
Much (or all) of Krystilla's surface appeared to be covered (or composed of) crystals of various colors, including white, pink, purple, yellow and green.
Krystilla was inhabited by a humanoid race who had developed an advanced technological society.
At some point in the 25th Century (as time is measured on Earth), the cosmic phenomenom known as the Galactus Black Hole came into being and began to swiftly grow at an unnatural rate. Soon, the tidal forces its gravity generated began to affect Krystilla, causing earthquakes to shake the planet. Finally, the stresses within the planet became so extreme that Krystilla was ripped apart in a massive explosion.
--Hercules: Twilight of a God#3
---
The Science Council was an organization on the planet Krystilla which had considerable influence over all scientific discoveries and how such matters were revealed to the populace.
When Krystilla's head scientist J'Nel discovered that the Galactus Black Hole was growing at an unnatural rate, he brought his findings to the Science Council and urged that the planet be evacuated. However, the Science Council didn't agree with his conclusions. Instead, they called J'Nel an alarmist and reassured their people that the effects of the Galactus Black Hole would (somehow) bypass their planet and that there was no need to evacuate.
All the members of the Science Council were (presumably) killed when the tidal forces from the Galactus Black Hole rent the planet asunder, causing it to be torn apart in a massive green explosion.
--Hercules: Twilight of a God#3 - BTS
---
images: (without ads)
Hercules: Twilight of a God#3, page 2, panel 3 (main image)
page 3, panel 2 (Krystilla exploding)
page 3, panel 4 (the death of K'Tel)
page 2, panel 1 (Galactus Black Hole)
page 2, panel 5 (J'Nel and Leri with K'Tel)
page 2, panel 6 (K'Tel in the capsule)
page 2, panel 4 (crystalline landscape of Krystilla)
---
Only appearance:
Hercules: Twilight of a God#3 (October, 2010) - Bob Layton (has-been writer and nearly-finished art), Rom Lim (greying pencil art), Charles Beckerman (sagacious editor), Mark Paniccia (senior citizen editor)
---
Last updated: 10/28/05
Any Additions/Corrections? please let me know.
Non-Marvel Copyright info
All other characters mentioned or pictured are ™ and © 1941-2099 Marvel Characters, Inc. All Rights Reserved. If you like this stuff, you should check out the real thing!
Please visit The Marvel Official Site at: http://www.marvel.com
Special Thanks to http://www.g-mart.com/ for hosting the Appendix, Master List, etc.!