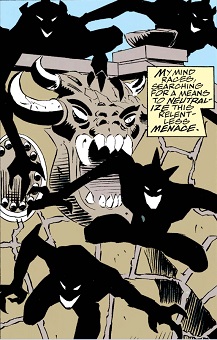 COUNT ABYSS' shadow creatures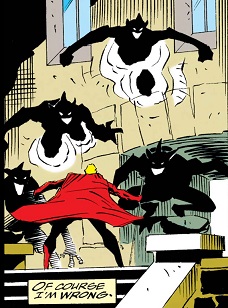 Classification: Extradimensional creatures
Location/Base of Operations: Unrevealed;
formerly Count Abyss' fortress in the realm of Egolix-7
Known Members: None identified
Affiliations: Formerly Count Abyss (Milos Abyss)
Enemies: Infinity Watch (Drax, Gamora, Maxam, Moondragon/Heather Douglas, Pip the Troll, Adam Warlock), Maya
Aliases: Shadow Demons
First Appearance: Warlock and the Infinity Watch#16 (May, 1993)
Powers/Abilities: Soulless beings perhaps composed of the Darkforce, ectoplasm, or some other form of energy and/or matter, the shadow demons could alter their density, passing though solid rock or telekinetic fields at will.
Although they could be damaged or torn apart by physical assaults, such assaults did no actual harm, and the creatures could almost instantly reform themselves at will.
The creatures were also immune to telepathic and telekinetic assaults, as well as "karmic blasts" that assault the soul.
The shadow creatures generate an intense, other-worldly cold. It is soul-chilling, metaphysical freeze, a virtually undeterable assault.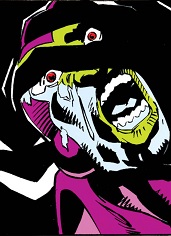 Traits: The creatures single-mindedly pursued a goal, and they would use numbers of overwhelm their targets.
It is unrevealed whether they were sentient creatures or just creations acting via the will of Count Abyss.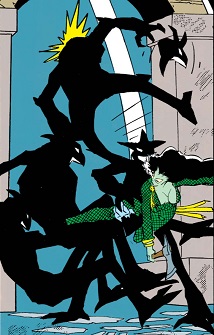 Type: Bilaterally symmetric semi-humanoid shaped bipeds (possibly composed of Darkforce or other energy)
Eyes: Two (solid white)
Fingers: Two (plus opposing thumb)
Toes: Two (forward-facing, with a toe-like spike on what would be their calcaneus; this may have functioned as a third/opposing toe)
Skin color: Black
Average height: Approximately 5'10"?
History:
(Warlock and the Infinity Watch#16) - Seeking to claim Adam Warlock's Soul Gem, Abyss sent a group of his shadow creatures (see comments) to Monster Island to assault the Infinity Watch.
A group of them first encountered the simple-minded Power Gem-possessing Drax the Destroyer, whose associate, the Space Gem-possessing Pip the Troll told him to hold the fort while he sought reinforcements.
Despite the vast power at his command, Drax could not physically harm the shadow creatures, whose soul-chilling cold incapacitated him and left him covered in ice.
Reporting demons in the rec room, Pip sent Moondragon and Gamora to join the fight and then located and informed Adam Warlock as well.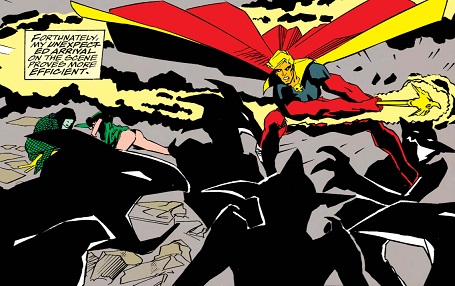 Gamora decapitated one of the shadow creatures with an axe but then was grabbed by a number of the creatures until Moondragon telekinetically extracted her.
After Moondragon's telepathic blast had no effect on the creatures, she and Gamora fled while she put up a telekinetic wall between them and the creatures, but the shadow beings passed right though it.
A direct telekinetic assault similarly had no effect.
Warlock then arrived, initially driving the creatures back with his staff, but he found continued use of the staff had no effect. He then tried a karmic blast from his Soul Gem, which likewise proved utterly ineffective.
Realizing that this meant the creatures had no souls, Adam switched to a physical assault, only to see the creatures almost instantly regenerate from his attacks.
Warlock next fled into the castle, hoping to temporarily lose his pursuers by zig-zagging through the castle's near-endless corridors, but the creatures thwarted this by passing through the walls.
Blasts of masonry did nothing against the creatures, and Adam Warlock was briefly overwhelmed before a recovered Drax arrived and briefly drove them back before they began to freeze him again.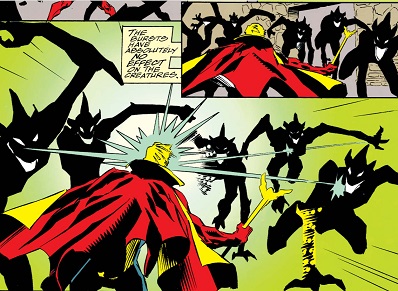 As apparent creations of a dead soul, Warlock finally reasoned that he could use the Soul Gem's ability to read how pure a spirit a being had to vanquish the creatures. After one of the beings fell under the cold light of truth, Warlock was again overwhelmed before he could strike again.
However, once his teammates caught up to him and occupied the creatures, Warlock gained the time to use the power on the other creatures in succession, and they were either destroyed or banished back to Count Abyss' stronghold.
(Warlock and the Infinity Watch#16 - BTS) - Count Abyss subsequently appeared himself, demanding the Soul Gem and revealing the many other servants at his command, but Warlock refused to yield the Gem.
(Warlock and the Infinity Watch#30) - Abyss sent his mutated Egolan minions and a number of shadow creatures to Earth to battle the Infinity Watch (which now included, at least as an ally, Maxam).
During this distraction, Abyss captured Maya and returned her and his minions to his fortress.
Comments: Created by Jim Starlin, Tom Grindberg, and Keith Williams.
I don't think the "shadow demons" from Warlock and the Infinity Watch were Egolans transformed by Count Abyss but rather soulless creations of his.
The Egolans were subsequently returned to their normal forms after Count Abyss' defeat. The fate of the shadow creatures, unless they were also mutated Egolans, remains unrevealed.
Profile by Snood.
CLARIFICATIONS:
The shadow creatures of Count Abyss should be distinguished from:
shadow demons

of the Dark Place--Midnight Sons Unlimited #1/2
Shadow Demons of Luminia - empowered by Shar-Khan--Iron Man I#26
Shadow Realm (House of Shadows, Warlord Kaa, Mister E, shadow man, Shadow People, Shadow Warriors, Soul Masters, Screamers) - inhabitants able to enter other dimensions as shadows--[Yellow Claw#4], Strange Tales I#79
Shadow Realm - former home of Dark-Crawler, shattered by the Hulk--Incredible Hulk II#126
Shadow Realm (Darkspawn, Sardanus, Shadow Sharks) - dark half of Biphasia--Giant-Size Werewolf by Night#5
Shadow - Hand ninja--Elektra II#18

Shadow

- Dire Wraith; field leader of the Road Force--Harley-Davidson Thor Special#1
Shadowbase - government agency--Spider-Man/X-Factor: Shadow Games#1
Shadowbox of Earth-1191 - Fanatix - killed by Rook--Bishop: Xavier Security Enforcers#1
Shadow Cabinet - information sources of Moo Knight--Marc Spector: Moon Knight#38
Shadow-Captains (Albion, Brittania, Lionheart, others) - Excalibur foes--New Excalibur#19
Shadowcaster - ancient Egyptian sorcerer--Spider-Woman III#5
Shadowcat (Kitty Pryde) - X-Men member--Uncanny X-Men I#
Shadow City - virtual world in the Negative Zone--Fantastic Four III#17
Shadowclaw of Earth-6706 - Storm ally--New Exiles#2
Shadow Consortium (Maxov, Thera, Planner, Shatterforce) - crime organization--Nova II#8
Shadow Dancer of Earth-928 - alien trapped on Earth--X-Men 2099#14
Shadow Dwellers of Shadowline - term used to describe the beings of power who had previously stayed somewhat hidden from mankind--Dr. Zero#1
Shadowforce (Airborne - Ambush, Firefight, Hardtime, Mirrorshade, Oversize) - Project: Homegrown creations--Spider-Man/X-Factor: Shadowgames#1
Shadowforce Alpha (Bombadier - Clash - Cordite - Flare - Shell - Shot - Stampede) - mercenary terrorists--Amazing Spider-Man Super-Size Special#1/3
Shadowhand (Li Chun) - servant of Fu Manchu--Master of Kung Fu: Bleeding Black#1
Shadow-Hound - agent of the Huntsman--Ka-Zar Quarterly#1/2
Shadow-Hunter (Niki Jakosun)--Bizarre Adventures#28
Shadow Hunters (Hellstorm, Mechamagem Margali Szardos) - battle forces of black magic on Earth--Fantastic Four Annual 1999
Shadow Initiative (Bengal, Constrictor, Mutant Zero, Scarlet Spiders, Trauma, others) - used for covert missions--Avengers: Initiative#5
Shadow Key - utilized by Shadowoman to enter extradimensional realm in which Spider-Woman (Drew) was held prisoner--Sensational Spider-Man Annual 1996/2
Shadow King - vastly powerful psionic being - Professor X foe--X-Men I#117
Shadowknight (Randall Spector) - Moon Knight's evil brother--Hulk!#17
Shadowlance - weapon of Blackwulf--Thunderstrike#6
Shadow Lord - last survivor of Earth Lords--Avengers I#207
Shadowmasters (Shigeru + Yuriko + Sojin Ezaki, Philip Richards) - family of ninjas opposing the eternal Sun Society--Punisher War Journal I#1
Shadowman of Earth-148611 ("New Universe") - antibodies controlled by Evan Huebner/Ghost-Driver--DP7#25
Shadow Men of Kaa-U - servants of Kaa-U--Marvel Premiere#5
Shadow Monster (Karl Shaffer) - Nazi impersonating monster from a painting; opposed by Captain America (Steve Rogers) and Bucky (James Barnes)--Captain America Comics#43
Shadowoman (Jillian Marie Woods) - Shock Troop - magically empowered--Quasar#45
Shadow Priests - Microverse, separate embodiments of Time Traveler, servants of Engima Force, pretended to assist Baron Karza in his rise to power--Micronauts I#1
Shadow Priests of Sakaar--Incredible Hulk III#100
Shadowqueen (Shialmar) - queen of extradimensional realm - former servant of the N'Garai--Doctor Strange II#43
Shadow Queen of Earth-2122 (Jean Grey) - briefly enslaved by the Shadow King before being slain by Rachel Summers/Phoenix of Earth-811--Excalibur I#22
Shadow Riders (Boot, Che, Goodfellow, Grunt, Roadie, Stranger, Vorin) - group of reanimated warriors--Shadow Riders#1
Shadows (Hawkeye, Striker, Sundance) - strike force used by rebel forces of San Revilla--Force Works#12/2
Shadows of Nergal - bat-like creatures summoned by Munthassem Khan via Hand of Nergal--Conan the Barbarian I#30
Shadows: The Dark Side of the Marvels - written by Dr. Dennis Schoolcraft--Thunderbolts I#24
Shadow Sharks of Biphasia - winged bat-like creatures--Giant-Size Werewolf by Night#5
Shadow Sisters (Dawn, Dusk) of the Hellbent--X-Man#45
Shadow Slasher (Xi-Shan Hao) - attempted to establish reputation by defeating Shang-Chi--Master of Kung Fu I#98
Shadow Spikes of Luminia - weapons of the Shadow Demons--Iron Man I#26 (26(fb) - 26
Shadow-Stalker of the Si-Fan - former agent of Fu Manchu--Giant-Size Master of Kung Fu#3
Shadow-Stalker - robot - employed by Dr. Doom--Master of Kung Fu I#60
Shadow Thief - sought Golden Dragon - twin brother of Cho Lee--Deadly Hands of Kung Fu I#12
Shadow Thief (Karen Hildebrand) - empowered servants of Chi--Iron Fist IV#1
Shadow Walker (Mahog) - agent of Kimora--Logan: Path of the Warlord
Shadow Wing (Alan Trent) - lord of the Bane - Knights of Pendragon foe--Marvel Comics Presents I#122/4
Shadow-X (Angel - Beast - Cyclops - Iceman - Marvel Girl) - original X-Men of Earth-6141--New Excalibur#19
any other character with shadow in their name
---
images: (without ads)
Warlock and the Infinity Watch#16, pg. 2, panel 6 (freezing Drax);
pg. 5, panel 2 (vs. Gamora);
pg. 7, panel 4 (vs. Warlock-facing reader);
pg. 8, panel 3 (vs. Warlock-facing away from reader);
pg. 11, panel 4 (passing through wall);
pg. 12, panel 1 (dropping down from wall)

---
Appearances:
Warlock and the Infinity Watch#16 (May, 1993) - Jim Starlin (writer), Tom Grindberg (pencils), Keith Williams (inks), Craig Anderson (editor)
Warlock and the Infinity Watch#30 (August, 1994) - Jim Starlin (writer), Patrick Olliffe (artist), Craig Anderson (editor)

---
First posted: 11/21/2022
Last updated: 11/21/2022
Any Additions/Corrections? please let me know.
Non-Marvel Copyright info
All other characters mentioned or pictured are ™ and © 1941-2099 Marvel Characters, Inc. All Rights Reserved. If you like this stuff, you should check out the real thing!
Please visit The Marvel Official Site at: http://www.marvel.com
Special Thanks to www.g-mart.com for hosting the Appendix, Master List, etc.!