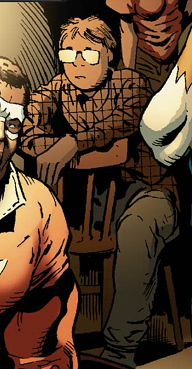 FREEWARE
Real Name: Kurt Duryea (see comments)
Identity/Class: Mystic artifact user (see comments)
Occupation: Adventurer (see comments)
Group Membership: Anti-Registration Undergound (All-Out/Unarmed Training Automaton, Attacker/Richard Taine, Awe-Striker/Cecily Johnson, Basic Black/Norman Gentry, Battlestar/Lemar Hoskins, Brain Spasm/Dennis Hoxie, Canasta/Henry Cavanaugh, Captain Kinship/Edward Randlebuck, Dahntu/Charles Luc Phan, Gladiatrix/Robin Braxton, Green Guardswoman/Natalie Bell, Harbormaster/Sean Beckett, Haunter/Mark Runnemyer, Human Haze/Steve Cochrane, Iguanid/Tom Boldstep, Johnny Justice/Jonadab Megyscol, Kruzado/Dorothy Cardoza, Lawman/Leon Frankfurt, Leather Angel/Andrew Mussawyr, Masked Rose/Josie Tyler, Natural/Beru Addison, Network/Valerie Martin, Orange Crusher/Andy Gardner, Panthrax/Alex Mitchell, Peace-Lover/Barry Kanczeski, Qiblah/Jared Nelson, Saint Hildegard/Sonya van Jagt, Scorecard/Bill Merrick, Skybolt/Zack Zimmerman, Solo/James Bourne, Spaceheat/Charles Yaméogo, Staten Island Star/Russell Feldman, Stone-Tough/Ted Pendleton, Tosser/Ferris Hartke, Typeface/Gordon Thomas, U.S. Annie/Harriet Best, Warbug/Bernard Van Buren, Winter Woman/Angela Stover, Xantippe/Mandy Atkinson, Zapster/Langley Saint-Margaret, others); see comments
Affiliations: See comments
Enemies: (At least formerly) S.H.I.E.L.D. and its "Cape-Killers," Iron Man (Tony Stark), Ms. Marvel (Carol Danvers), Wonder Man (Simon Williams) and at least ten unidentified flying heroes see comments
Known Relatives: See comments
Aliases: See comments
Base of Operations: Unrevealed;
previously an unidentified Anti-Registration Underground safehouse in Manhattan, New York
see comments
First Appearance: (Unidentified) Civil War: Front Line#4 (2006);
(identified) Official Handbook of the Marvel Universe A to Z hardcover#14 (2010)
Powers/Abilities: See comments
Height: Unrevealed (approximately 5'7"; see comments
Weight: Unrevealed (approximately 178 lbs.; see comments)
Eyes: Unrevealed (see comments)
Hair: Brown
History: See comments.

(Civil War: Front Line#4 (fb) - BTS / Official Handbook of the Marvel Universe A to Z hardcover#14: Anti-Registration Underground (fb) - BTS) - Following the Stamford disaster -- where hundreds had perished during a battle between New Warriors and four Raft escapees -- Iron Man (Tony Stark), Mr. Fantastic (Reed Richards) and others worked with US officials to develop the Superhuman Registration Act (SHRA), outlawing any crimefighting activities by unregistered super heroes.
(Civil War: Front Line#4 (fb) - BTS / Official Handbook of the Marvel Universe A to Z hardcover#14: Anti-Registration Underground (fb) - BTS) - Vigilante Typeface organized an Anti-Registration Underground, beginning with ex-government operative Battlestar and anti-terrorist Solo, to support super heroes who continued fighting crime without SHRA approval. Their ranks were soon supplemented by mystic-armored Freeware; as well as Green Guardswoman, Masked Rose, Network, and Skybolt. Via a covert interview with Alternative reporter Sally Floyd, ARU members publicized their perspective, and several other anti-registration heroes joined.
(Civil War: Front Line#3) - Several A.R.U. members, including Freeware in civilian garb, met with reporter Sally Floyd at the group's safehouse.
(Civil War: Front Line#4) - Freeware was among the many A.R.U. members debating whether to seek and join Captain America (Steve Rogers)'s Secret Avengers, a better organized and equipped anti-SHRA unit, or to remain independent. when Iron Man (Stark), S.H.I.E.L.D. "Cape-Killers," and other pro-Registration forces attacked. He was presumably arrested along with most of those present.
(Civil War: Front Line#5/2 - BTS) - ARU prisoners were seen being sent to the Prison 42.
(Civil War#6 - BTS) - The "Secret Avengers" and the Superhuman Registration Act resistance arrived at Prison 42 to free the prisoners.
(Civil War#7 - BTS / Amazing Spider-Man I#538 - BTS / Civil War: Front Line#10-11 - BTS) - The Secret Avengers penetrated Prison 42, freeing many prisoners. When the combined anti-registration forces were confronted by Iron Man's pro-registration forces, Secret Avenger Cloak (Tyrone Johnson) teleported both groups to Manhattan. Freed ARU prisoners took part in the battle between the pro and anti-registration heroes, spanning from the Negative Zone prison to the streets of New York.
Following Captain America's surrender to forestall further civilian risk, Battlestar and possibly others avoided recapture.
The government offered amnesty in return for registration. Although Gladiatrix rejected the offer, Network registered under the 50 States Initiative, while Solo also registered but pursued independent interests. Presumably additional ARU members followed Gladiatrix's example, others followed Network's or Solo's, and still more remained at large.
Comments: Created by Paul Jenkins (writer), Ramon Bachs (penciler), John Lucas, Rick Magyar (inker)
Codename, real name, and nature provided by Ronald Byrd
During the production of the Civil War: Battle Damage Report (2007) writer Paul Jenkins provided Ronald with authorization to provide identities, real names for the various background Anti-Registration Underground characters, and to flesh them out as much as he wanted. Ronald provided identities and real names for the Anti-Registration Underground entry in Official Handbook of the Marvel Universe A to Z hardcover#14 (2010). There wasn't room to provide much more than that in that entry. However, Ronald had backgrounds and histories in mind for these characters when he provided their names.
While the information is unofficial until it sees print, here is the full story behind Freeware:
REAL NAME: Kurt Vonnegut Duryea
ALIASES: "Orange Guy"
IDENTITY: Known to US authorities
OCCUPATION: Fashion designer, adventurer
CITIZENSHIP: USA
PLACE OF BIRTH: Paterson, New Jersey
KNOWN RELATIVES: Wilson Duryea (father), Thelma Duryea (nee Jonasson, mother), Miller Duryea (brother), Constance Duryea-Goner (sister), Annabelle Duryea-Goner (sister-in-law)
GROUP AFFILIATION: Holy Trinity Church, Manhattan; formerly Anti-Registration Underground
EDUCATION: College degree
SHRA CLASSIFICATION: Mystic Artifact User
FIRST APPEARANCE: (Duryea, unidentified) Civil War: Front Line#3 (2006);
(Freeware, unidentified) Civil War Front Line#4 (2006);
(identified) Official Handbook of the Marvel Universe A to Z hardcover#14 (2010)

HISTORY: While boarding a subway car, Kurt Duryea was jostled by career criminal Charlie Buchanan, who used the opportunity to pick Duryea's pocket before boarding, seizing less than a hundred dollars in cash. Duryea grabbed Buchanan by the jacket but only caught hold of another stolen item, an amulet on a chain, before the train doors closed, allowing Buchanan to escape while Duryea remained in the subway car, the amulet in his hand. Returning home, Duryea studied the amulet, and when he held it in his hand for more than five minutes, the amulet's magic granted him partial knowledge of its capabilities. Deciding to use its power as a costumed adventurer, Duryea manifested the amulet's energies as an armored exoskeleton and took the codename "Freeware" to mislead opponents into presuming his armor was computer-derived and thus futilely attempting to disable it via mechanical means. Weeks after acquiring the amulet, Freeware, while testing his teleportation abilities in open air, observed Buchanan being arrested on theft charges. Reverting his armor to amulet form, Freeware, as Duryea, questioned Buchanan on the amulet's origins, only to learn Buchanan had acquired it via random pickpocketing and knew nothing about the amulet's rightful owner.
Although Freeware began his career by capturing conventional criminals such as Buchanan, he soon encountered more exotic foes, including would-be conqueror Anubis the Jackal, cyborg crimelord Big Brother, the rubber-armored Bloated Bandit, the subversive cabal called I.C.O.N. (International Crime Organization Nexus), and the mercenary Rejects (Barb, Link, Mister Nice, Sadista, Short Fuse). Freeware was among the Manhattan-based super-heroes who dealt with collateral damage from the Perilous Painter's "Art Attack," Lilith Kiskilla (Mother of Demons)'s Siege of Darkness, Doctor Yesterday's "Time Wounds," and Yandroth's inundation of the world with various menaces, among other crises.

Following the passage of the Superhuman Registration Act (SHRA), Freeware declined to register to avoid the risk of the source of his abilities becoming more widely known, out of concern that someone claiming, truthfully or otherwise, to be the amulet's rightful owner would learn of its whereabouts and demand its return. He was pursued by SHIELD forces and eventually became one of the first members of Typeface's Anti-Registration Underground. When SHIELD raided the ARU's safehouse and attacked the team, Freeware, confronted by SHIELD "Cape-Killers," teleported his armor to a random location an undisclosed distance away, where he knew it would revert to amulet form; when questioned by SHIELD operatives, he refused to provide any information on the amulet's whereabouts, and since he no longer possessed superhuman abilities, SHIELD released him. Following the SHRA's repeal, he embarked on a search for his amulet with the intent of returning to his adventuring activities.

HEIGHT: 5'7"
WEIGHT: 178 lbs.
EYES: Brown
HAIR: Brown

ABILITIES/ACCESSORIES: Freeware wields a mystic amulet of unrevealed origins which he can transform into a full-body suit of armor of similarly unrevealed composition. While armored, he possesses superhuman strength, speed, and durability, the full extent of which has yet to be determined. He can teleport himself and/or his armor to any location he can see, as well as to any location within a pre-determined radius of his present position; he often travels by teleporting vertical distances while in mid-air, giving the illusion that he possesses the power of flight. He can project mystic energy from his gauntlets for various effects, including electric bursts and sonic blasts. Due to nearsightedness, Freeware wears prescription glasses, even while in armor.
***********
What is up with that armored face?
Is it screaming? Is that a big black nose? It kind of looks like a stepped-on bug.
--Mike Fichera & Snood.
My interpretation is that, yes, it's a nose. So the two lines extending from it are kind of like, well, I don't know, the "beard lines" on Fred Flintstone, Homer Simpson, et cetera? OSLT? Maybe it's the equivalent of a gas mask? From a, for lack of a better term, "practical" sense, it's simply the way that Freeware imagines an armored full-headed helmet should look (not entirely unlike the psychic armor created by Prof. X, Amahl Farouk, and others on occasion).
--Ronald Byrd

OK, I'll buy that. Perhaps it is deliberately pixilated/confusing to distract his opponents.




--Snood
Profile by Ronald Byrd, Snood, and Multi-Tasking Mike Fichera.
CLARIFICATIONS:
Freeware should be distinguished from:
Free, Chester

- see Pinball of Earth-712--Squadron Supreme I#6
Free, Scott of Earth-9602 (Amalgam) - killed during Secret Crisis, former husband of Big Titania--Bullets & Bracelets#1
Free Access - terrorist group espousing the "liberation of technology"--Spider-Man Unlimited I#5/2
Free Divers (Lt. Hitch, Commander O'Neill) - hired by Phoebe Marrs to locate the remnants of the Endurance before Leon McKenzie, assaulted by Black Moray, rescued by Namor--Namor I#52
Free Parking Lot - Swamp City--Howard the Duck II#7
Freebisher, Mortimer - costumed criminal, kidnapped Redwing, easily defeated by Falcon, used bow and trick arrows--Captain America I#220/2
Freebooter of Earth-982 (Brandon Cross) - Dream Team, Avengers, son of Hawkeye and ??, uses bo--A-Next#4
Freebooters (Gunther, Kehl, Levan, Skunge) - pirates, crew of Nebula--Avengers I#257
Freedom Fighters - radical group of animal rights activists, Earth-5555--Death's Head I#3
Freedom Force (Mystique, Avalanche, Blob, Destiny, Pyro, Spiral, Spider-Woman/Carpenter, Crimson Commando, Stonewall, Super Sabre) - group of superhuman mutant criminals turned government agents, broke up after several were crippled or killed following battles with Desert Sword and the Reavers--Uncanny X-Men#199
Freedom Force (Challenger, Cloud 9, Equinox (Skrull imposter), Spinner, Think Tank) - Initiative's Montana-based team--Avengers: Initiative#12
Freedom Force (Brawl, Crimson Commando, Haste, Mass, Shift) - Afghanistan war veterans, volunteered for cybernetic implants, serve as government agents, sent to recover Owen Backes, battled X-Men-- X-Men III#40
Freedom Five of Earth-84444 (Bucky/Jack Monroe, Captain America/William Burnside, Golden Girl, Hangman/Harlan Krueger, Hawkeye/Clint Barton) - front for William Taurey's forces--What If? I#44
Freedom's Five (Crimson Cavalier, Phantom Eagle, Silver Squire, Sir Steel, Union Jack) - World War I, team of costumed heroes, formed in 1917, served allied nations of USA + Great Britain + France--Invaders I#7
Freedom's Lady of Earth-691 circa 31st century - ship of Guardians of the Galaxy--Thor Annual#6
Freedom Ring (Curtis Doyle) - found ring made from Cosmic Cube fragments after Captain America used it in battle, crippled in first adventure against the Abomination, trained by Crusader, apparently slain by Iron Maniac--(Doyle) Marvel Team-Up III#20; (Freedom Ring) #21
Freedom Science Studies (Railsback/Brew, McDonald/Lime, nurse Kupper, nurse Goren) - Project: Glamour, based in California, served as laboratory to develop and test "the juice" which created several super soldiers--Marvel Comics Presents#2/2
Freedomslight - urban terrorist organization led by Lottie Hederman, disbanded when Black Widow impersonated Ebon Flame and claimed to be using them for S.H.I.E.L.D. II--Journey into Mystery I#517
Freedomtown - capital city of Burunda--Moon Knight III#2
Freefall of Earth-148611 (Arthur Benway) - Clinic, group B--DP7#9
Freefall of Earth-982 ( ) - Wizard's Warriors, uses anti-gravity disks, white female--Fantastic Five#2
Freehold - Leader's New England HQ--Incredible Hulk II#400
Freelance Restorations (Clive Reston, Shang-Chi, Sir Denis Nayland Smith, Black Jack Tarr, Leiko Wu) -private detective firm based in England, former members of MI-6--Master of Kung Fu#95
Freelancers of Earth-148611 (Bernard, Fraley, Lezar, Perricone, Price, West, Jerry) - mercenaries hired by the Clinic to bring back seven escaped/displace paranormals--DP7#6
Freeman, Angie - vampire vigilante, sister of Tom, old friend of Misty Knight--Vampire Tales#6
Freeman, Barbara of Earth-93060 - mother of Eden Blake--Mantra I#1
Freeman, Derek - FBI, brother of Duane--Avengers I#263
Freeman, Duane - government liaison to Avengers following return from Heroes Reborn pocket dimension, Triune Understanding, brother of Derek, killed in Kang's destruction of Washington--Avengers III#4
Freeman, Emilee - owner of Freeman Bonding, Inc.--She-Hulk II#24
Freeman, Nan - friend of Alynn Cambers, who was in turn a friend of the Thing (Grimm)--Thing I#2
Freeman, Spike - public relations agent for X-Statix/X-Force, manipulates members to maintain popularity, neck broken by Orphan when revealed to have dealt with Saddam Hussein, Mr. Code, and Euro-Trash, arranged assassination attempt on Lacuna, killed by Orphan after admitted it--[X-Force I#117], 120
Freeman, Tom- vampire vigilante, brother of Angie--[Bizarre Adventures#25/3], Vampire Tales#6/2
Freeman Bonding Inc. (Emilee Freeman, Jazinda, Pierce, She-Hulk) - subsidiary of Goodman, Lieber, Kurtsburg, & Book--She-Hulk II#22
Free Men of Earth-691 circa 2019 AD (Arrow, Dagger, Carmilla Frost, Grok, Hawk, Killraven, Old Skull, M'Shulla Scott) - battled Martian Masters and their agents--Amazing Adventures II#18
Freese, Larry "Frosty" - World War II, briefly trained by Nick Fury, worked with Lou Wilcox, James MacReedy, and Russ Talbert--Sgt. Fury and his Howling Commandos#116
Freons - extradimensional invaders, fought off by Penance Council--Citizen V and the V Battalion #2 - BTS
Free Radicals of Earth-928 circa 2099 A.D. (Billy the Kid, Daze, Instant Karma, Rainmaker, Trance) - terrorist group fighting against government and corporate oppression--[X-Men 2099#17],18
Free Spirit (Cathy Webster) - former college student, maximum physical potential brought out by subconscious training of Superia, rebelled against Superia's attempts to use her in anti-male crusade, allied with Captain America--Captain America I#431
Freestone, Jack - owner of the Mermaid Bar--X-Treme X-Men: XPose#2
Freewomen of Earth-691 (Mint Julep) - band of women rebelling against the Martian Masters and their agents--Amazing Adventures II#22
Freex of Earth-93060 (Anything, Boomboy, Plug, Pressure, Sweetface, Cayman, AJ) - Ultraverse--Freex (uv)#1
Freeze Man - Snake King foe--Spider-Man Magazine I#11
Freezemaster - freeze gun of Chill--Hydrators#1
Freezer Burn (Jack Croft) - criminal, wore costume derived from Gregor Shapanka's Blizzard costume, stole from Ricadonna, killed by Razor-Fist--Daughters of the Dragon#1

other "Free" or "Ware" characters, groups, items, races, places, etc.



---
images: (without ads)
civilian: Civil War: Front Line#3, p2, panel 3
armored: Civil War: Front Line#4, p5, panel 4
---
Appearances

:

Civil War: Front Line#3/1 - BTS (September, 2006) - Paul Jenkins (writer), Ramon Bachs (penciler), John Lucas (inker), Cory Sedlmeier (editor)
Civil War: Front Line#4/1 (September, 2006) - Paul Jenkins (writer), Ramon Bachs (penciler), John Lucas (inker), Tom Brevoort (editor)
Civil War: Front Line#4/3 (September, 2006) - Paul Jenkins (writer), Sean Chen (penciler), Rick Magyar (inker), Molly Lazer, Aubrey Sitterson (assistant editors), Tom Brevoort (editor)
Civil War: Front Line#5/2 - BTS (October, 2006) - Paul Jenkins (writer), Steve Lieber (artist), Molly Lazer, Aubrey Sitterson (assistant editors), Tom Brevoort (editor)
Civil War#6 -BTS (December, 2006) - Mark Millar (writer), Steve McNiven (pencils), Dexter Vines (inks), Tom Brevoort (editor)
Civil War#7 -BTS (January, 2007) - Mark Millar (writer), Steve McNiven (pencils), Dexter Vines, John Dell & Tim Townsend (inks), Tom Brevoort (editor)
Official Handbook of the Marvel Universe A to Z hardcover#14 (June, 2010) - Jeff Christiansen & Mike Fichera (head writers/coordinators), Markus Raymond & Mike O'Sullivan (coordination assistants), Stuart Vandal, Sean McQuaid, Michael Hoskin, Ronald Byrd, Markus Raymond, Mike O'Sullivan, Madison Carter, Kevin Garcia, Gabriel Shechter, Jacob Rougemont, Rob London, Rich Green, Chris Biggs, David Wiltfong, Jeph York, Mark O'English, & Mike Gagnon (writers), John Denning (associate editor), Alex Starbuck (assistant editor), Theodore Kutt (copy editor), Mark D. Beazley (editor, special projects), Jeff Youngquist & Jennifer Grunwald (editor)
---
First posted: 07/16/2022
Last updated: 07/16/2022
Any Additions/Corrections? please let me know.
Non-Marvel Copyright info
All other characters mentioned or pictured are ™ and © 1941-2099 Marvel Characters, Inc. All Rights Reserved. If you like this stuff, you should check out the real thing!
Please visit The Marvel Official Site at: http://www.marvel.com
Special Thanks to www.g-mart.com for hosting the Appendix, Master List, etc.!
---