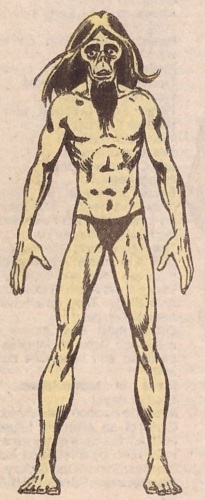 CENTURII race
Classification: Extraterrestrial humanoids
Location/Base of Operations: Centuri-Six, the sixth planet out from the sun in the Proxima Centauri star system in the Milky Way galaxy (see comments)
Habitat: 71% of surface covered with water, temperate climate
Gravity: 80% Earth
Atmosphere: 90% Earth density
Known Members: Gormok
Estimated population: 400,000 before Centuri-Six was conquered
Affiliations: (Gormok) Fellow slaves aboard the Bird of Prey (including Thor, Sif, the Warriors Three (Fandral, Hogun, Volstagg), Recorder#211)
Enemies: The crew of the pirate starship Bird of Prey (notably the Grey Gargoyle)
First Appearance: Thor I#258 (April, 1977)
(race identified) Official Handbook of the Marvel Universe I#2 (February, 1983)
Powers/Abilities: None known
Cultural Traits: Peaceful. The majority of the population were philosophers and artisans.
Type: Humanoid
Eyes: Two
Fingers: Four (plus opposable thumb)
Toes: Five
Skin color: Light yellow
Hair: Yellow
Average height: 5'6"
Type of government: Worldwide democracy, controlled by the Planet Governing Council
Level of technology: Comparable to Earth but with no weapons. No interstellar travel.
History:
(Thor I#258 (fb) - BTS) - On the planet known as Centuri-Six, the native Centurii were a peaceful race who built a civilization which flourished for untold millennia. Most of the population were philosophers and artisans. Whenever aliens visited their planet, the Centurii reacted with "the customary mixture of curiosity and fear."
(Official Handbook of the Marvel Universe#2: Alien Races: Centurii entry) - The Centurii governed themselves through a worldwide democracy which elected representatives to the Planet Governing Council.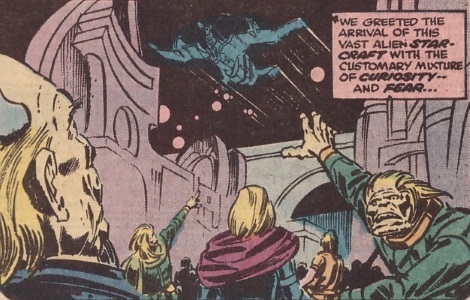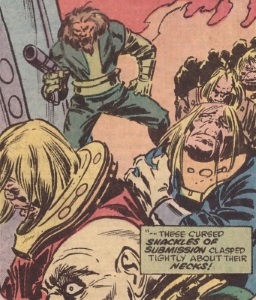 (Thor I#258 (fb)) - One day, possibly during Gormok's term as chairman of the governing council, the Centurii watched as a vast alien starcraft descended on Centuri-Six. As the apprehensive Centurii looked on, the crew of the Bird of Prey emerged from their starship and, led by the Grey Gargoyle, savagely attacked the native population. Not being a warlike race, the Centurii were quickly defeated and enslaved with shackles of submission clasped tightly around their necks. Those Centurii who dared to even raise their voices in protest were all quickly lined up against a wall and slaughtered without hesitation. This ended any thoughts of rebellion.
(Official Handbook of the Marvel Universe#2: Alien Races: Centurii entry) - Most of the Centurii population were sold into slavery throughout the galaxy by the Bird of Prey's crew.
(Thor I#258 (fb) - BTS) - Gormok was kept aboard the pirate starship as a slave to labor in the furnace room, shoveling stardust fuel into the cosmic furnaces. It has not been revealed if any other Centurii were also kept aboard as slaves.
(Thor I#258-260) - With substantial aid from a party of recently-enslaved Asgardians and a Rigellian Recorder, Gormok and the other slaves aboard the Bird of Prey successfully rebelled against the star-pirates, took control of the starship and renamed it the Phoenix of Freedom.
(Official Handbook of the Marvel Universe: Deluxe Edition#15: Centurii entry) - Few Centurii still live on their native planet.
Comments: Gormok and his people from Centuri-Six created by Len Wein, John Buscema and Tony DeZuniga.
Centurii race named (and their homeworld identified as being in the Proxima Centauri star system) by the staff of the original Official Handbook of the Marvel Universe (led by Head Writer Mark Gruenwald).
The Centurii race received quarter-page profiles in the original and deluxe editions of the Official Handbook of the Marvel Universe.
Problems with the story
Decades ago, when I first read this storyline, I just accepted it at face value and didn't think about it too deeply. However, working on this profile has caused me to finally examine it more critically and there are certain elements which don't make much sense. I'll ignore my reservations about the way in which the Grey Gargoyle ended up encountering the star-pirates and focus on data relating to Gormok's people.
The biggest problem that I have with the Centurii comes from information made up for the Official Handbook. Specifically, that "the pirate starship Bird of Prey...conquered Centuri-Six, and sold the population into slavery throughout the galaxy." Sure, the Bird of Prey might have been described as a "vast alien starship" and it's certainly much larger than the Asgardian Starjammer but it's NOT that large. Judging from how it was drawn, I'd say that it might be large enough to hold a few thousand prisoners but certainly far too small to hold all 400,000 Centurii.
As I see it, there are only five possible ways to adjust the story so that it makes sense but three of them involve discrediting Gormok's story and the other two question the data provided by the Official Handbook. Here are the options:
1. Contrary to what Gormok claimed, the Bird of Prey had actually raided Centuri-Six on multiple occasions. If they only captured about 4,000 slaves per raid, then it would only have taken them ONE HUNDRED raids to get the entire population.
2. Contrary to what Gormok claimed, the single raid in which his whole race was enslaved was carried out by a FLEET of pirate starships, not just the Bird of Prey alone. Again, there would have to be about a hundred of these "vast" starships to hold the entire population.
3. Gormok's story omitted an essential fact: That the star-pirates were able to capture the entire Centurii population because they possessed miniaturization technology (reducing gas) similar to that which had been used to shrink almost every member of the Xantha race down to a height of an inch. Of course, if that's what really happened, then that would have been a MASSIVE omission.
4. Contrary to both Gormok's story and the Official Handbook, the star-pirates only captured as many Centurii as the Bird of Prey could hold and left the vast majority (about 99%) of the population on their homeworld.
5. Contrary to what the Official Handbook claimed, the estimated population of Centurii on Centuri-Six was much, MUCH lower than 400,000. Maybe the star-pirates were able to enslave the entire race because there were only a few thousand Centurii living on the planet in the first place?
These are the five ways I can see to "fix" the biggest flaw in the storyline featuring Gormok and his people. Personally, I would reject the first three because I believe that Gormok's account of what happened, as a primary source of data, should be taken as being absolutely canon. Therefore, that just leaves the last two options. Of them, Gormok does imply that the star-pirates had destroyed his entire civilization with what seems to have been a single attack which in turn suggests that his race only had a small population and that they all lived in or near a single location on their planet. Admittedly, this is not an idea that I, as a human from a planet as populated as Earth, would normally consider plausible but writer Len Wein doesn't seem to have given much thought to what his concept of "a single pirate starship conquers and enslaves the population of an entire planet" entailed.
However, one thing to consider is that Gormok was certain that his story was "not at all unlike" the tales of the other slaves. This would seem to imply that these star-pirates can conquered "myriad" alien homeworlds and had enslaved the entire populations of all of them! Considering how few star-pirates there were, this seems HIGHLY UNLIKELY, especially if any of those other homeworlds had even a small number of inhabitants who were armed with weapons and willing to fight. In this particular instance, I will concede that Gormok's story may not be entirely accurate and that the slaves from the other species may have been obtained by something much less drastic than conquering an entire planet. Maybe the star-pirates only attacked peaceful, unarmed planets? Or maybe they caught most of their slaves via stealthy raids on small isolated villages? What happened to Gormok's people may have been an atypical raid triggered by the fact that they were exceptionally vulnerable...and pirates like weak targets who won't fight back.
In conclusion, I would choose option #5 because it's the one that is most consistent with what Gormok told Thor.
I agree that there are story elements that are unlikely as presented, and I think any of the five ideas are possible, but I also prefer #5, as it is the least contradictory. Maybe the Centurii populate multiple worlds to have that higher total population, but maybe there were only a few thousand on Centurii. Maybe they had an artificial environment, like the Blue Area of the Moon, or something. Who knows?
--Snood
Proxima Centauri in the real world
Alpha Centauri is the brightest star in the southern constellation Centaurus and the third brightest star in the night sky. Originally believed to be a single star, Alpha Centauri was discovered to actually be a visual binary star (a binary star whose two components orbit each other at a distance which is great enough for them to be observed as a double star in a telescope) in 1689, almost a century after "it" was named Alpha Centauri by German astronomer Johann Bayer. As a result, the two component stars are now known as Alpha Centauri A and Alpha Centauri B, and the main binary system itself is known as Alpha Centauri AB.
At a distance of 4.37 light years, Alpha Centauri is the closest star system to Earth. The "A" star, the primary of the system, is a yellow main-sequence star that is about 10% more massive and 23% wider than the Sun. The "B" star, the companion star, is a slightly oranger star that has only about 90% the mass of the Sun and is 14% smaller in width. These two stars orbit a common center of mass with an orbital period of 79.91 years and since their orbit is moderately eccentric the distance between the two stars varies between 11.2 and 35.6 astronomical units (AU). The A and B stars are, respectively, more and less luminous than the Sun, and if seen independently would be the fourth and twenty-first brightest stars in the night sky (instead of the third).
A third star, Proxima Centauri, is believed to be gravitationally bound to the other two stars and may actually be orbiting them. If this is true, then Alpha Centauri AB and Proxima Centauri (sometimes referred to as Alpha Centauri C) would be a trinary star system, Alpha Centauri AB-C, with Proxima Centauri orbiting Alpha Centauri AB at a distance of about 15,000 AU and taking between 100,000 and 500,000 years to complete one orbit. At a distance of 4.24 light-years, Proxima Centauri is the closest known star to the Sun and, as a red dwarf, is only about 12% as massive and 14% as wide as the Sun (or about 1.5 time as wide and 129 times as massive as Jupiter). This star is too faint to be seen with the naked eye from Earth and even from any planets orbiting Alpha Centauri AB it would be a very faint (fifth magnitude) star.
The stars in the Alpha Centauri trinary system are all believed to be slightly older than the Sun. Being very Sun-like, Alpha Centauri A and B will eventually (in about 5 billion years) both become red giants and then white dwarfs. In contrast, Proxima Centauri, as a red dwarf, will last for 4 trillion years before becoming first a blue dwarf and later a white dwarf.
Currently, the only confirmed planet within the Alpha Centauri trinary system is Proxima Centauri b which orbits within the habitable zone of the red dwarf star. This planet orbits its star at a distance of only about 0.05 AU and its year is slightly over 11 days long. This planet is unlikely to be habitable because its tight orbit makes it subject to stellar wind pressures that are more than 2,000 times stronger than those experienced by Earth from the solar wind and so any atmosphere would likely have been blown away long ago. The planet might also be tidally locked with only one side of the planet ever facing its sun.
Proxima Centauri and/or Centuri-Six in the MU
The following is a list of the only three direct references to the Proxima Centauri star system and/or the planet Centuri-Six as they exist in Reality-616 and ">Reality-691:
1. Marvel Presents#4 (April, 1976) - This issue's letters page is devoted to "An Outline Course In World History 1975-3015 A.D." by Steve Gerber which reveals that "the first terran starship, Andromeda, was constructed in 2908, but perished on its maiden voyage, upon entering the Proxima Centauri anti-matter star-system."
2. Thor I#258 (April, 1977) - While held captive aboard an alien starship, Thor meets Gormok, a yellow-skinned humanoid from "a world known as Centuri-Six."
3. The Official Handbook of the Marvel Universe#2 (February, 1983) - The "Alien Races" pages contain a profile on the "Centurii" which states that they are from the planet Centuri-Six in the Proxima Centauri star system.
As can been seen by looking at the list above, there is an obvious discrepancy between Steve Gerber's assertion that Proxima Centauri is an anti-matter star system and the Official Handbook's statement that that star system is where the inhabited planet Centuri-Six is located. Since only beings who were composed of anti-matter themselves could live in an anti-matter star system and Gormok was clearly NOT such a being, it stands to reason that both of these statements cannot be true. So, how can this be explained?
To begin, neither of these "facts" has ever been presented "in-story" but only in text pages. What factors support each statement? On the one hand, although he didn't create the Guardians of the Galaxy, Steve Gerber wrote the first stories in which those characters interacted with familiar elements of the Marvel Universe and, as such, I consider him to be the writer who brought them fully into the MU. To me, that gives his opinion a greater weight than that of the Handbook writer who may have thought "Centuri-Six sounds like Centauri, so why don't we put that planet into the Proxima Centauri system?" Also, Mr. Gerber wrote his text page first, a year before Gormok first appeared and almost seven years before the Handbook made its claim. In my opinion, precedence does have some value (although it's not absolute).
On the other hand, there are also two factors against the idea that Proxima Centauri is an anti-matter system. First, there is that reference to the "three inhabited planets in the Alpha Centauri system" which appeared in GOTG #25 (although Centuri-Six was not specifically named as that third planet in that story). Second, although real world scientists consider planets, stars and galaxies composed of anti-matter to be theoretically possible, there has so far been no evidence of them. If they did exist, then the interaction between them and normal matter would generate continuous high energy gamma radiation which has NOT been detected anywhere in the observable universe. On a related note, Larry Niven featured an anti-matter solar system in his Known Space short story "Flatlander." In this story, the planet's surface had been polished by the tiny matter/anti-matter annihilation explosions caused when interstellar gas and dust of normal matter had been come in contact with the anti-matter of the planet.
So, with no decisive factor being present, there are four possible ways in which this discrepancy could be explained:
1. Steve Gerber was right and the Official Handbook is wrong. This would mean that Proxima Centauri was an anti-matter star system and that the planet Centuri-Six must actually be located in some other star system. This is the explanation which I prefer but I'm sure some people will disagree.
2. The Official Handbook is right and Steve Gerber was wrong. This would mean that Centuri-Six is a planet located in the Proxima Centauri star system which is composed of normal matter and that the relevant information from Steve Gerber's "Outline Course In World History" should be ignored.
However, an alternate explanation would have to be provided for why the first terran starship, Andromeda, perished on its maiden voyage upon entering that star system.
3. Both Steve Gerber and the Official Handbook were right but their information was relevant to two different realities. In Reality-691, the Proxima Centauri star system was composed of anti-matter and there was no Centurii race while in Reality-616 that same system was composed of normal matter and its sixth planet, Centuri-Six, was the homeworld of the Centurii race. This explanation is not impossible but it would require that the two realities had diverged a VERY long time ago, as far back as when the Proxima Centauri star system first formed.
4. Both Steve Gerber and the Official Handbook were right but their information was relevant to two different time periods. In both Reality-616 and Reality-691 the Proxima Centauri system was originally composed of normal matter and the Centurii species evolved on its sixth planet. However, at some point between the late 20th Century and the early 30th Century, *something* happened in Reality-691 (and possibly will happen in Reality-616) that caused (or will cause) the entire star system to be transformed into anti-matter. However, I have no idea what this *something* could possibly be since I'm not aware of any process, either real or fictional, that could accomplish this.
True, but in the Marvel Universe, all it takes is the Celestials or some other semi-omnipotent being to make such a change.
--Snood
Although I prefer Option #1, I will leave it to others to decide what is the "official" position on where Centuri-Six is located within Reality-616.
The three (Alpha) Centauri worlds
Aside from those three direct references to the Proxima Centauri star system and/or the planet Centuri-Six, there are also these two references to the Alpha Centauri system in Reality-691 which were probably meant as INdirect references to Centuri-Six:
1. Guardians of the Galaxy I#24 (May, 1992) - "Eon" (actually Era) states that Galactus is "on to the three inhabited worlds in the Centauri system."
2. Guardians of the Galaxy I#25 (June, 1992) - The omniscient recap mentions the "three inhabited planets in the Alpha Centauri system." The third planet from the 'A' star is identified as Arima and its inhabitants are the water-breathing Alphans. Centauri IV is described as "the only other world with an ocean in this sector." The third inhabited planet is not seen and its name is not mentioned.
These two GOTG issues were written by Jim Valentino. The fact that he gives the name of the Alphans' homeworld as "Arima" but doesn't mention its unique "figure-of-eight" orbit indicates that he got his information about the planet from the Official Handbook and not from Sub-Mariner I#17-18.
To begin with, there are two minor inconsistencies with the idea that Centuri-Six is the third planet. First, the Official Handbook stated that ".71 (of Centuri-Six's) surface (was) covered with water" but this is seemingly contradicted by the specific reference to Centauri IV being "the only other world with an ocean in this sector." However, this is something that could easily be explained. Either Centuri-Six's climate simply became significantly drier between the 20th Century and the 31st Century or the water that covered 71% of Centuri-Six's surface had always existed as (non-saline) bodies of water (a network of VERY large lakes) that were never considered to be oceans in the first place.
The second inconsistency is the apparent lack of any Terran presence on this third planet. Considering how they pretty much overran Centauri IV and took control of the planet away from the native Centaurians, the Terrans from Reality-691's 30th Century seemed rather imperialistic. I find it hard to imagine that such people would leave a habitable planet like Centuri-Six untouched, especially if the planet was sparsely populated by beings who were mostly philosophers or artisans. Of course, it's possible that the Centurii in Reality-691 (assuming they existed) were both more aggressive and more populous than their counterparts from Reality-616 and would therefore have been able to so effectively resist any attempt to occupy their planet that the Terrans decided to leave them alone...but this is all just speculation.
Finally, for the sake of argument, let's suppose that The Powers That Be at Marvel were to decide that Centuri-Six was not part of the Alpha Centauri system. What about those GOTG references to the "three inhabited worlds" in that system? If Centuri-Six was not one of them, then how could those references be explained? In my opinion, the use of the word "inhabited" instead of "habitable" provides a little bit of wiggle room. If there were a third planet in Alpha Centauri that humans considered to be habitable (like Centuri-Six), then the two points listed above would apply and it would be odd that the imperialistic Terrans had not occupied that planet. However, since not all lifeforms need the same environmental conditions to live as humans do, it's very possible that this third planet could be inhabited by a sentient native species even though humans would not classify it as being habitable. After all, in Reality-691 the planets Mercury and Pluto were thought to be uninhabitable until genetic engineering created the Mercurian and Pluvian sub-species of humanity to colonize them.
So, if the need ever arose, those GOTG references could be explained away by stating that that third inhabited planet's habitat was such that its atmosphere or global temperature or gravity was such that neither humans nor Alphans could survive there.
A final thought about the Alpha Centauri system as it exists in the Marvel Universe. The story in The Immortal Iron Fist#21 is set in a possible 31st Century of Reality-616 and takes place on the planet Yaochi, home to the last Chinese humans in the universe. The writer of this story did not bother to explain exactly how the dying and infertile planet Yaochi was meant to fit in with the previously-established planets Arima and Centauri IV. I suppose that Yaochi could be the human name for one of those two worlds, at least after the evacuees from Earth had overrun the planet and "removed" the native population in order to acquire "living space" for themselves. However, as I said, nothing definitive was stated about Yaochi and so it remains an anomaly.
Profile by Donald Campbell.
CLARIFICATIONS:
The Centurii of Centuri-Six have no known connections to
The Alpha Centaurians, a water-breathing humanoid race who are natives of the planet Arima in the Alpha Centauri star system--Sub-Mariner I#17
The Centauran, a non-humanoid alien from the planet Centaurus who in 1953 came to study Earth for a short time and, during its visit, created riches to pay the human couple who allowed it to stay in their basement (while secretly eating any other human who came near the house)--Mystery Tales#15
The Centaurans race, a semi-humanoid race from "far Centaurus" (presumably NOT the same planet listed just above) who possessed Time Sphere technology and one of whom interacted with greedy Earthman Victor Farrington on Earth in 1953 and on an asteroid in solar sector XB-61 in 1983--Tales of Suspense I#45/2
The Centauri, a race from the Microverse whose members have the arms and upper body of a human and the head, lower body and legs of a horse, and who allied with Shaitan against Aegypta--Micronauts I#22/2
Centauria of the Changelings, wife of Centaurio and mother of Centauron--Hulk II#251
Centauria, a female centaur who was a member of the Death Squad from the Microverse--Micronauts I#35
The Centaurians, a blue-skinned humanoid race who are natives of the planet Centauri IV in the Alpha Centauri star system--Annihilation: Prologue#1
Centaurio of the Changelings, husband of Centauria and father of Centauron--Hulk II#251
Centaurion, an Olympian demi-god who as an agent of Bellona battled and was defeated by Kyllian--Dr. Strange III#54
Centaurius, one of the Inhumans--Amazing Adventures II#1
Centauron of the Changelings, son of Centauria and Centaurio--Hulk II#248
The Centaurs, a supernatural race originating in Ancient Greece whose members have the head, arms and upper body of a human and the lower body and legs of a horse--Journey Into Mystery Annual#1
Center, a large plaza on the 40th Century Earth in Reality-6311 which is the seat of government of Kang the Conqueror--Avengers III#45
The Center for Homo Superior Research and Medical Care, a medical facility run by Mr. Sinister (in his identity as Dr. Robert Windsor) which was a cover for his genetic experimentation on mutants--Weapon X II#26
Centerville, New York, the hometown of Patsy Walker (Hellcat) and Hedy Wolfe--Marvel Fanfare I#59/2
Centerville, an American town where a plant that manufactured bomb components was located and some of whose residents were taken hostage by the terrorist Faysal al-Tariq--Captain America IV#2
Centurion, a codename used by Tanak Valt of Xandar before he became Nova-Prime--Fantastic Four I#204
Centurion (Geoffrey Ballard), a C.I.A. agent allied with Mystique who stole the experimental personal weapons system codenamed Centurion from S.H.I.E.L.D. and used it to try to kill Ms. Marvel (Carol Danvers) for Mystique--Black Goliath#4; (as Centurion) Ms. Marvel I#17
Centurion Britannus (Thracius Scipio Magnus), a married member of the "Captain Britain" Corps who was based on Earth-4100--Excalibur I#24
The Centurions, agents of Mordecai Midas who wore exoskeleton armor and guarded their employer's base in Greece--Marvel Super-Heroes III#13/3
The Centurions, an elite warrior force made up of one member from each of the 100 Negative Zone worlds that were controlled by Annihilus--Annihilation#2
Centurious, a Native American "prince" who centuries ago sacrificed his soul to Mephisto in order to save his beloved princess from the demon Zarathos but who later became a corrupt immortal sorcerer--Ghost Rider II#74
Centurius (Dr. Noah Black), a mad geneticist who planned to wipe out all life on Earth and then repopulate the planet with life forms of his own creation--Nick Fury, Agent of SHIELD I#2
Century, a composite being created by the alien Hodomur out of their 100 strongest and most able survivors in order to track down and kill the being (Lore) who had destroyed their homeworld--Force Works#1
The Century Club (formerly the Midtown Business Executives Club), a gentleman's club located in Manhattan whose members included J.Jonah Jameson, Wilson Fisk (the Kingpin of Crime), Norman Osborn (Green Goblin), and Roderick Kingsley (Hobgoblin)--Amazing Spider-Man I#23; (as Century Club) Spectacular Spider-Man II#80
Turner D. Century (Clifford F. Michaels), a mentally ill would-be reformer who used technology in his murderous vigilante campaign against the corruption of modern socity--Spider-Woman I#33
or any other "centur" characters
Gormok has no known connections to
Father Gorm, an enemy of the Dragon Kings and one of the gods (the Lords of Light) who were worshipped in Thongor's pre-Cataclysmic Lemuria--Wizard of Lemuria; Creatures on the Loose#23
Gorm, an older Aesir warrior/harper from the Hyborian Age who served under Njal during their encounters with the witch-queen Vammatar and her forces but he and Conan were the only two reavers to escape being killed and turned into members of Vammatar's Legion of the Dead--Savage Sword of Canan#39
Gorm, a Pictish warrior from the Hyborian Era who fought against Niord's invading Aesir until he was defeated and befriended by Niord and their two tribes swore peace between them--Supernatural Thriller#3
Gorm, a Pictish warrior from the Hyborian Era (c. 9,500 B.C.) who allowed a naive Nemedian missionary named Arus to try to civilize him but secretly used their contact to learn how to forge iron weapons which helped Gorm gain the leadership of the united Pictish clans and later lead them to conquer Aquilonia--"The Hyborian Age" by Robert E. Howard (adapted in Savage Sword of Conan#15/2)
Gormac (Gorn), a minor demon from Mephisto's hell-realm who was worshipped by a cult in New York City and who tried to have them sacrifice Kevin Moran as part of his plan to become free from Mephisto and escape to Earth--Marvel Comics Presents I#101/3
Gormac of the Seventh Dimension, a mystic entity whose image Augustyne Phyffe included in one of his paintings--(image only) Marvel Super-Heroes III#14/2
Sgt. Cleve Gorman, the former leader of Frank Castle's marine troop who engaged in criminal activities during and after the Vietnam War--Marvel Graphic Novel: Punisher: Return to Big Nothing
Donovan "Don" Gorman, a World War II era test pilot who invented a new plane engine capable of making a plane travel at speeds of 1,000 m.p.h. that soon became the target of foreign (Nazi) spies--Daring Mystery Comics#4
Richard Gorman, a chancellor of Empire State University--Spectacular Spider-Man II#2
Gormuu (a.k.a. The Infinite Monster), a warrior from the alien planet Kraalo who came to Earth to conquer it but was thwarted by Reed Richards--Fantastic Four I#271
Gorn of the pre-Cataclysmic era - former rowing slave of Roc, old friend of Kull--Kull the Conqueror III#3
Gorn of Valusia - barbarian husband of Elfqueen, lived with her in safety until demanding they re-enter society in modern times, killed by policemen when went on rampage--Avengers I#212
or any other "gorm" characters
---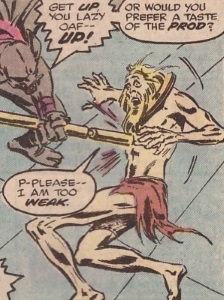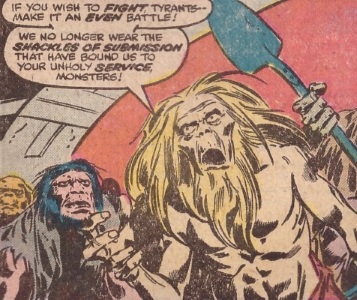 Gormok is an aged male Centurii who was once the chairman of the Governing Council on the planet known as Centuri-Six. He was one of the Centurii who were captured and enslaved by the savage crew of the Bird of Prey when the pirate starship arrived on Centuri-Six. It has not been revealed if Gormok was the chairman who was in office when the star-pirates arrived.
Although most of the Centurii were sold into slavery throughout the galaxy, the pirates kept Gormok on the Bird of Prey where he was one of the slaves who were forced to labor in the furnace room, shoveling stardust fuel into the cosmic furnaces. Despite his age, Gormok managed to survive the brutal working conditions there for an unspecified time.
Eventually, the Bird of Prey pirates successfully attacked an Asgardian vessel, the Starjammer, captured its crew and placed the Shackles of Submission around their necks. Then, to keep them occupied and break their spirits, the pirates sent their six new slaves to toil in the furnace room.
Hours after the new slaves arrived, Gormok's body finally gave out and he collapsed on the deck. A bat-headed overseer confronted Gormok, calling him a "lazy oaf" and threatening him with a taste of the electro-prod if he didn't get up. Gormok pleaded that he was too weak but the overseer replied, "Get up, scum - - or suffer!" At that moment, one of the new slaves intervened, confronting the overseer and telling him to leave the "old one" alone because he was clearly exhausted. The overseer tried to threaten the new slave but found himself cowed by the newcomer's grim stare and quietly retreated. As the grim new slave assisted him, assuring him that the "spineless wretch" would not bother him again, Gormok expressed his surprise that the stranger had risked harm to himself for one he did not even know. When he asked his benefactor for his name, the stranger identified himself as "Hogun."
As the other slaves gathered around the newcomers, Gormok stated that beings so noble and so fearless had never come among the slaves before. After another slave expressed his hope that with the newcomers beside them they might be able to throw off their yoke of servitude and be free once more, the leader of the newcomers, Thor, god of thunder and the raging storm, pledged that they would all soon be free. When Thor then asked how the slaves had come to be captives of the cursed Grey Gargoyle, Gormok told him the story of how his homeworld Centuri-Six had been visited by the alien warship Bird of Prey and how the savage pirates had quickly enslaved the entire population, binding all with the Shackles of Submission and slaughtering any who even protested their fate. Gormok then stated that now that Thor and his comrades were there, perhaps the spark of courage that they had long thought extinguished could be rekindled once more. Thor agreed with "friend Gormok" but stated that they all should return to their labors so as to have time to form a plan of action.
As the slaves resumed their work, Gormok asked Hogun why he was ladling so much stardust into his shovel and was told that the greater Hogun's burden was, the lesser Gormok's burden would be.
Eventually, the work cycle ended and pirates brought in replacement slaves, sending Gormok and the others back to their quarters. Once alone, the Recorder revealed that he had discovered a way to safely remove the slave-shackles and he proceeded to free all the slaves who eagerly agreed to join the Asgardians in their quest for liberty. Immediately afterward, those in the slave quarters were confronted by the Grey Gargoyle who surprised them by offering to support their uprising if they would later take him back to Earth. Thor agreed to his terms and the Grey Gargoyle left, unaware that his treachery had been witnessed by the first mate, Fee-Lon.
Later, the Asgardians' attempt to take over the starship's bridge was foiled by Fee-Lon's preparations. As one of the pirates (Pr'kash) was about to use a destructoid rifle to reduce the Grey Gargoyle and his Asgardian allies to ash, he was struck down from behind by a shovel hurled by Gormok who had just arrived on the bridge leading all the rest of the freed slaves behind him.
Aided by the Asgardians and inspired by their fierce determination, the ex-slaves managed to finally overcome the pirate crew and the surviving pirates surrendered. In the aftermath, Thor told the former slaves that the Bird of Prey was theirs now and advised them to use it wisely. Gormok revealed that most of the slaves still had family scattered about the galaxy and that, "the fates willing," they would find them again.
Later, after renaming the starship the Phoenix of Freedom and allowing the Asgardians to use some of the surplus weaponry to arm the Starjammer, Gormok and the other ex-slaves watched as the Recorder tapped into the starship's cerebral computer nexus in an attempt to download the knowledge that would enable the Asgardians to reach the dreaded Doomsday Star. Soon afterwards, Gormok and the others observed silently as the Asgardians departed to continue their quest.
Whether Gormok was ever reunited with his family or returned home to Centuri-Six has never been revealed.
--Thor I#258 (Thor I#258 (fb), Thor I#258-260
---
images: (without ads)
Official Handbook of the Marvel Universe I#2, page 32, panel 1 (main image)
Thor I#258, page 14, panel 4 (Centuri-Six being conquered by star-pirates)
page 15, panel 1 (Centurii enslaved by star-pirates)
page 13, panel 4 (Gormok collapsed on the deck)
Thor I#259, page 11, panel 5 (Gormok leading the freed slaves into battle)
---
Appearances:
Thor I#258-259 (April-May, 1977) - Len Wein (writer/editor), John Buscema & Tony DeZuniga (illustrators)
Thor I#260 (June, 1977) - Len Wein (writer/editor), Walt Simonson (illustrator), Tony DeZuniga (embellisher)
---
First Posted: 06/17/2017
Last updated: 06/17/2017
Any Additions/Corrections? please let me know.
Non-Marvel Copyright info
All other characters mentioned or pictured are ™ and © 1941-2099 Marvel Characters, Inc. All Rights Reserved. If you like this stuff, you should check out the real thing!
Please visit The Marvel Official Site at: http://www.marvel.com
Special Thanks to http://www.g-mart.com/ for hosting the Appendix, Master List, etc.!