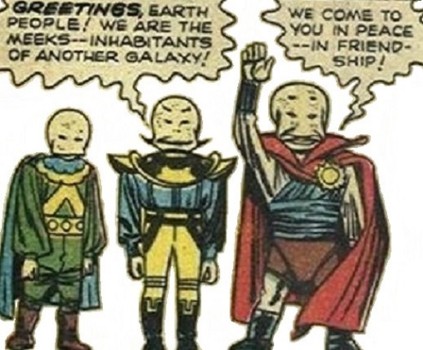 MEEKS
Classification: Extradimensional extraterrestrial (see comments)
Location/Base of Operations: Temporarily on Earth; originally from an unidentified planet in another galaxy
Known Members: At least three (none identified)
Affiliations: None
Enemies: Walter Johnson
First Appearance: Strange Tales I#86/3 (July, 1961)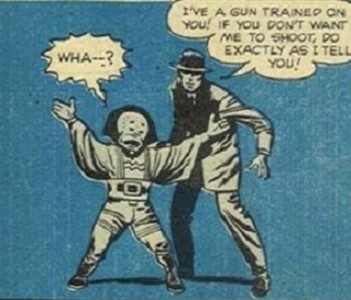 Powers/Abilities: Short in stature and physically-unimposing, the Meeks displayed no paranormal abilities, although they possibly had extended life-spans (see comments). Highly advanced in the fields of electronics, mechanics, and robotics, the Meeks traveled through the cosmos in their spaceships.

Traits: The Meeks were would-be world conquerors who falsely portrayed themselves as peaceful; they bestowed their technological gifts to mankind in an attempt to subjugate Earth by making humans lazy, unambitious, and dependent upon the technology, and thus easy prey for their conquest.

Type: Semi-humanoid
Eyes: Two
Fingers: Five (including opposing thumb)
Toes: Unrevealed
Skin color: Pale yellow
Hair color: Inapplicableb
Average height: 4'6"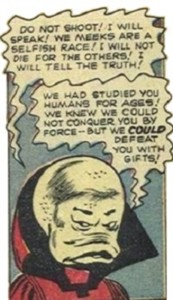 History:
(Strange Tales I#86/3 (fb) - BTS) - The past of the Meek race is largely unrevealed, but from their homeworld in another galaxy, they studied humans for ages. Realizing that they could never conquer Earth by force, the Meeks formulated a plan to give mankind labor-saving "gifts" designed to make humans weak and soft, so they would not be able to resist an attack.
The Meeks loaded a fleet of spaceships with their cargo of technology and departed for Earth.
(Strange Tales I#86/3) - The first spaceship landed in an American city, and although it was initially met by military resistance, a trio of Meeks emerged and pledged to the onlookers that their intentions were peaceful. Then the aliens brought forth their labor-saving technological gifts for mankind, and the Meeks were met with cheers.
Throughout the world, more Meek spaceships landed and bestowed their incredible gifts upon a joyous mankind. The offerings of the Meeks soon made it possible for everyone to indulge in a life of comfort and leisure. Since all humans now had the necessities and luxuries of life, there was no need to work; there was also no longer any reason for conflict, so all nations disbanded their armies, and the world became an utopia.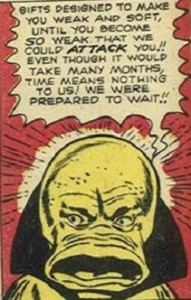 But the Meeks' generosity aroused the suspicions of newscaster Walter Johnson, who was concerned that mankind was growing soft and lazy, like sheep being fattened for the slaughter. Night after night on his news broadcast, Johnson warned the viewers that they should return the machines back to the Meeks and learn to become self-sufficient again, but it was useless, for no one would believe him.
Finally, in an act of desperation, Johnson seized one of the Meeks at gunpoint and forced the little alien to confess their scheme on live television.
After the sinister truth was revealed, the military forces throughout Earth mobilized, and the Meeks were driven off the planet.
Comments: Created by an unidentified writer and Jack Kirby (artist).
Considering the world-wide ramifications of the dispersal of the Meeks' advanced technological gifts, more than likely this story took place on some alternate Earth; however, that doesn't necessarily mean that there aren't Reality-616 (mainstream Marvel Universe) counterparts of the Meeks somewhere out in space (I think the Meeks have a slight resemblance to the Grunds).
The title of this 5-page story--Beware of Meeks Bringing Gifts!--is a reference to the old saying "Beware of Greeks bearing gifts," which comes from the story of the Trojan Horse.
It's a good thing their plan failed, otherwise this story might have been titled: ...And the Meeks Shall Inherit the Earth.
Possibly the Meeks had long life-spans, because one of them stated: "Time means nothing to us!".
Shortly after this story was published, the old TV series The Twilight Zone would have an episode with a similar theme (...albeit with a more horrifying conclusion) -- To Serve Man.
Profile by Ron Fredricks.
CLARIFICATIONS:
The Meek race has no known connections to:
Meek, servant of Mojo @ X-Men II#6
Ambrose Q. Meek, aka. Doctor Fear, Blazing Skull (Mark Todd) foe @ Mystic Comics#8/6
Morris Meekly, of Earth-78819, AKA the Incredible Kvetch @ Crazy Magazine#78
any other similarly named characters
Walter Johnson has no known connections to:
Albie Johnson, farmer, Speedball (Robert Baldwin) associate @ Civil War: Front Line#1/2
Andrew "Slugger" Johnson, aka. the Brain, inspiration for Earth 1958 @ Fantastic Four I#136
Anna Johnson, sister of Cloak @ Cloak & Dagger III#17
Billy Johnson, David's son @ Marvel Comics Presents I#149
Boff Johnson, arms dealer @ Punisher Summer Special#3
Bumpy Johnson, Skrulls of Kral @ Black Panther IV#32
Burt Johnson, pimp, vampire-killer @ Vampire Tales I#9/4
Cal Johnson, son of Frank @ Fantastic Four Unlimited#7
CJ Johnson, became involved in the plot of the Absorbing Man possessing others to escape his prison @ Incredible Hulk III#55
Clarence Johnson, World War I soldier, friend of Isaac Christians @ Gargoyle#4
Captain Clay Johnson, Wild West, US Army @ Two Gun Western#6/5
Colonel Johnson, plantation owner @ Gunhawks#2
Daisy Johnson, aka. Quake, S.H.I.E.L.D., daughter of Mister Hyde @ Secret War#2
Dale Johnson, former soldier, friend of Illuminator @ Illuminator#2/2
David Johnson, NYPD, became criminal, Vengeance victim @ Marvel Comics Presents I#149
Dixie Johnson, New York Minute radio @ Daredevil I#301
Doug Johnson, U.S. Naval Air Force lieutenant, fought to avenge death of friend Dave Nichols, racked up large body count @ USA Comics#6
Erik Johnson of Ultraverse (Gemini) @ Mantra I#4
Frank Johnson (Juan Francisco Alonso), comic book illustrator, creator of Zzutak @ Strange Tales I#88
Frank Johnson (Bill Bradley), father of Chris Bradley, adopted false identity to escape mutant persecution @ X-Men Unlimited I#7
Frank Johnson, aka. Monstro, Damage Control, former member of Fire Department of New York, hiding from family @ Amazing Fantasy II#15
Gena Johnson, coffee shop owner, mother of Ray and Ricky, friend of Jake Lockley/Moon Knight @ Marvel Spotlight I#28
Greg Johnson, presidential candidate, slain by X-23 @ X-23: Target X#1
Harold "Hank" Johnson, Satana victim @ Haunt of Horror#2/6
Jack Johnson, Right-Winger's father @ Captain America I#347
Jenn Johnson (Cathy Bradley), sister of Chris Bradley, adopted false identity to escape mutant persecution @ X-Men Unlimited I#7
Jerome Johnson, aka. Right-Winger, partner of Left-Winger, former ally of Captain America (Walker) @ Captain America I#323
John Johnson, eidtor, enemy of the alien Peters @ Uncanny Tales I#23/5
"Knuckles" Johnson, thug, fought the Ferret @ Marvel Mystery Comics#4
Mickey Johnson, punched young Matt Murdock @ Daredevil: Battlin' Jack Murdock#2
Mike Johnson, S.H.I.E.L.D., former field agent @ Secret War: From the Files of Nick Fury
Otis Danger Johnson, receptionist of Night Restorations, mutated by radiation while working as a temp for A.I.M. @ Daughters of the Dragon#2
Randall Johnson Jr., U.S. financial wizard and politician, associate of Tony Stark @ Iron Man III#51
Ray Johnson, son of Gena, assisted Moon Knight on occasion, became his pilot @ Moon Knight I#2
Corporal "Rickets" Johnson, US Army ranger, World War II @ Sgt. Fury and his Howling Commandos#33
Ricky Johnson, son of Gena, assisted Moon Knight on occasion, died overseas, serving in military @ Moon Knight I#2
Rose Johnson (Marion Bradley), mother of Chris Bradley, adopted false identity to escape mutant persecution @ X-Men Unlimited I#7
Sadie Johnson, saved from Nightmare by Living Totem (Whistle Pig) @ Doc Samson II#5/2
Simon Johnson, bank manager, forced to quit job by Peter Parker @ Marvel Fanfare I#42
Stanley George Johnson, British hero Thunderclap @ Spider-Man Weekly#607
Tilda Johnson, aka. Nightshade, criminal genius @ Captain America I#164
Timmy Johnson, father employed at Daily Bugle @ Tangled Web#20
Tyrone Johnson, aka. Cloak, partner of Dagger @ Spectacular Spider-Man II#64
Willie Johnson, school bully, beaten by Captain Universe (Delayne Masters) @ Marvel Fanfare I#25/2
any other similarly named character
---
Meeks' spaceships

An unspecified number of spacecraft that brought the Meeks to Earth, the vehicles were capable of intergalactic travel.

The spaceships were loaded with a cargo of the Meeks' labor-saving technological gifts for all of mankind--the "gifts" were actually designed to make humans grow weak and soft, and thus easily conquered by the diminutive Meeks.

When the Meeks' true agenda was exposed by newscaster Walter Johnson, military forces throughout the world mobilized and forced the entire Meek fleet back into space.

--Strange Tales I#86/3
---
Meeks' gifts

The mechanical wonders and electronic marvels bestowed upon mankind by the Meeks, the assortment included:

incredibly fuel-efficient automobiles
robot laborers to perform household chores
robotic farm-laborers
seemingly-limitless food-dispensers
televisions that didn't require electricity

The gifts were actually intended to make humans soft and lazy, so that the Meeks could easily conquer the planet; however, newscaster Walter Johnson exposed the Meeks' plot, and the aliens were forced to take back their insidious "gifts" and leave Earth.

--Strange Tales I#86/3
---
Walter Johnson

A television newscaster, Walter Johnson had the reputation for reporting the news in a straight-forward and honest manner, without coloring it.

But one day, Johnson was called into the office of the network president ("J.B."), who told Johnson that he would be terminated when his contract expired, because the public and the sponsors wanted the news to be dramatized and sensational.

Shortly thereafter, the extraterrestrial Meeks landed on Earth and bestowed incredible labor-saving technological gifts to the world. But Johnson was suspicious of the aliens' true intentions, because he felt that humans were becoming soft and lazy, like sheep being fattened for the slaughter. Johnson began to urge his viewers to return the gifts and learn to become self-sufficient again, but no one heeded his warnings.

On the night of his final broadcast, Johnson acted out of desperation and seized one of the Meeks at gunpoint, then forced the alien to confess their plot on live television. The military forces of the world then mobilized and drove the Meeks off the planet.

Johnson had saved the grateful people of Earth from the would-be conquerors, and for his invaluable service to humanity, the network president awarded him a lifetime contract.

--Strange Tales I#86/3
---
images: (without ads)
Strange Tales I#86/3, p2, pan2 (three Meeks)
Strange Tales I#86/3, p4, pan3 (Meek, held at gunpoint by Walter Johnson)
Strange Tales I#86/3, p5, pan2 (Meek begins to confess their plot)
Strange Tales I#86/3, p5, pan3 (Meek reveals their plot against humans)
Strange Tales I#86/3, p1, pan1 (Meek spacecraft lands in city)
Strange Tales I#86/3, p5, pan6 (Meek spacecrafts leaving Earth)
Strange Tales I#86/3, p2, pan4 (Meek-built automobile and robot)
Strange Tales I#86/3, p3, pan1 (onlookers watch as Meek-built technology disembarks from spacecraft)
Strange Tales I#86/3, p3, pan2 (unidentified family enjoys Meek-built technology)
Strange Tales I#86/3, p3, pan7 (unidentified couple watch Walter Johnson's news broadcast, Meek-built robot laborer)
Strange Tales I#86/3, p1, pan3 (Walter Johnson learns of his impending termination from network president)
Strange Tales I#86/3, p3, pan6 (during news broadcast, Walter Johnson warns viewers about the Meeks)
Strange Tales I#86/3, p4, pan6 (in TV studio, Walter Johnson holds Meek at gunpoint and forces him to confess)
---
Appearances:
Strange Tales I#86/3 (July, 1961) - unidentified writer, Jack Kirby (pencils), Sol Brodsky (inks), Stan Lee (editor)
---
First Posted: 08/28/2019
Last updated: 08/28/2019
Any Additions/Corrections? please let me know.
Non-Marvel Copyright info
All other characters mentioned or pictured are ™ and © 1941-2099 Marvel Characters, Inc. All Rights Reserved. If you like this stuff, you should check out the real thing!
Please visit The Marvel Official Site at: http://www.marvel.com
Special Thanks to http://www.g-mart.com/ for hosting the Appendix, Master List, etc.!