SEAN KNIGHT
Real Name: Sean Knight
Identity/Class: Human
Occupation: Adventurer; former A.T.F. agent
Group Membership: None; formerly Bureau of Alcohol, Tobacco and Firearms
Affiliations: S.H.I.E.L.D., Beck Underwood, Venom (Eddie Brock), San Francisco Underground City residents (Elizabeth, Jason, others)
Enemies: Stalkers (Briggs, Kass, Raiden, Trent)
Known Relatives: None
Aliases: None
Base of Operations: Mobile
First Appearance: Venom: Nights of Vengeance#1 (August, 1994)
Powers/Abilities: Sean Knight was a trained undercover agent, proficient in the use of spy technology and weaponry provided to him by several agencies including S.H.I.E.L.D..
Height: 5'9' (by approximation)
Weight: 175 lbs. (by approximation)
Eyes: Blue
Hair: Brown
History:
(Venom: Nights of Vengeance#1 (fb) - BTS) - Sean Knight worked as an undercover agent for the US government. He earned a lot of money, wore tailor-made suits and ate at fancy restaurants.
(Venom: Nights of Vengeance#2 (fb) ) - Sean Knight successfully infiltrated the mercenaries group known as the Stalkers. He had all the information he needed for the A.T.F., but when they moved in to arrest the Stalkers another agency interfered and Knight was forced to flee with the Stalkers into Storm Mountain in Colorado's Rocky Mountains where they found an alien spacecraft. He watched as the Stalkers grabbed the weapons inside the spaceship and were mutated. Knight resisted the call by the weapons, which blew his cover. Trent ordered to kill him, but Knight escaped through a tunnel and ran away from the Stalkers.
(Venom: Nights of Vengeance#2 (fb) - BTS) - Knight reported everything that had occurred to his superiors, but they didn't believe him when the spacecraft was nowhere to be found when they sent in a team.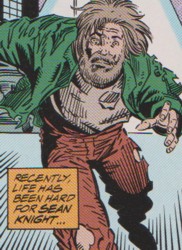 (Venom: Nights of Vengeance#1 (fb) - BTS) - Knight lost his job and still on the run from the Stalkers became homeless, wearing rags and eating out of trash bins.
(Venom: Nights of Vengeance#1) - Government agent Michael Badilino hunted the homeless Sean Knight through the streets of San Francisco. He had him cornered when Knight failed to jump over a fence, but Venom came to Knight's aid and knocked out Badilino. Knight fainted when Venom talked to him. Venom took Knight and Badilino to the underground city.
(Venom: Nights of Vengeance#1 - BTS) - Elizabeth took care of Knight.
(Venom: Nights of Vengeance#1) - Knight woke up and received something warm to eat. While eating Knight revealed to Eddie, Beck and Elizabeth his past as an undercover agent, who had infiltrated the mercenary gun runners known as the Stalkers that somehow bonded with alien technology and were hunting him since then. Eddie and the others hardly believed him, but Badilino assured them that this was the reason he was looking for Knight. Badilino was there to offer Knight some protection, but Knight knew that the government couldn't protect him and declined. Moments later the Stalkers attacked the underground city. Knight surrendered and was ready to die, but Venom tossed a door at the Stalkers' Trent when he was tried to kill Knight. After the Stalkers were defeated by Venom and Vengeance (Badilino) they were taken over by the alien technology, kidnapped everyone nearby except and challenged Venom and Badilino to become their prey for an elaborate hunt. They also left behind Knight, who could lead Venom and Vengeance to the Stalkers.
(Venom: Nights of Vengeance#2 (fb) - BTS) - Knight used some of his old intelligence field contacts to get some equipment for his search for the Stalkers, including S.H.I.E.L.D. issue tech.
(Venom: Nights of Vengeance#2) - On a back road in Washington State Sean Knight went to the Bucket of Blood Bar and Grill to ask the mercenaries frequenting the bar about the Stalkers. The scared mercenaries pulled their guns on Knight for even asking about the Stalkers. Knight introduced Venom and Vengeance to the mercenaries, who were quickly dealt with by the two vigilantes. Knight was sure the reaction of the mercenaries confirmed that the Stalkers were still in the area. Venom got angry at Knight because they had still not found the Stalkers, but Knight promised him that he would not fail him and that he would bring them to the Stalkers.
Knight brought Venom and Vengeance to a tunnel leading to the center of Storm Mountain in Colorado's Rocky Mountains where the Stalkers were hiding. Venom and Vengeance were impressed by the technology Knight used and could hardly believe that he had been homeless a day ago. Knight told them how a few good meals, a bath and a shave was all it needed for him to get back into shape because years of undercover work for the A.T.F. had taught him to improvise on a moment's notice. Knight sent out a robotic surveillance spider before telling Venom and Vengeance how the Stalkers became what they are now. After telling them the story Knight found the Stalkers with his surveillance device, which was seen and destroyed by Trent, revealing the arrival of Venom and Vengeance to the Stalkers. When Venom and Vengeance found the kidnapped undergrounders Knight offered to bring them to safety while Venom and Vengeance dealt with the Stalkers.
(Venom: Nights of Vengeance#3 (fb) - BTS) - Knight succeeded to bring the undergrounders to safety, but returned to free Beck and Elizabeth as well.
(Venom: Nights of Vengeance#3) - Knight destroyed a security robot with S.H.I.E.L.D. guns then cut Beck and Elizabeth free from their bonds inside the spaceship. He brought the women to the tunnel, destroyed another security robot, but before they could leave Storm Mountain the alien technology that had previously infected the Stalkers, caught Knight, Beck and Elizabeth, infecting them as well.
(Venom: Nights of Vengeance#4) - Knight was going to detonate an energy grenade to commit suicide along with Beck and Elizabeth before they were turned into techno-organic beings like the Stalkers. Knight dropped the grenade, but it was caught by Venom, who had arrived just in the nick of time to save Knight and his women. He tried to rip off the circuitry, but it hurt them too much. Knight explained that the circuits were not yet penetrating their skin and the life form was not as sophisticated as the ones that took over the Stalkers, but Venom and Vengeance needed to destroy the brain of the organism inside the spaceship to save them. Venom and Vengeance destroyed the ship and the circuits released Knight, Beck and Elizabeth. Vengeance grabbed Knight and brought him to safety outside the mountain before the spaceship blew up.
After Venom and Vengeance destroyed Trent, the final Stalker, in the streets of San Francisco Knight stood behind Venom with Beck and Elizabeth at his side.
Comments: Created by Howard Mackie (writer), Ron Lim (pencils) & Al Milgrom (inks).
Profile by Markus Raymond.
CLARIFICATIONS:
Sean Knight has no known connections to:
Knight, robot used by Charles Reigel against Hulk @ Incredible Hulk Annual I#9
Knight (Fletcher Heggs), of the Chessmen, agent of Obadiah Stane @ Iron Man I#163
Knight (Raleigh Halward), of the Chessmen, agent of Obadiah Stane @ Iron Man I#167
Knight (Basil Thorpe), of the Chessmen, agent of Obadiah Stane @ Iron Man I#200
Knight, agent of Morgan Le Fay, possessed Excaliber among others @ Spider-Woman I#2
Knight (Malcolm Knight), British hired killer, partner of Fogg @ Spectacular Spider-Man II#165
Diana Knight, 18th century aristocrat, Hellfire Club member @ X-Men: Hellfire Club#2
Doctor Knight, biochemist, created antidote against a poison gas @ Astonishing#30/5
Dora Knight, vampire @ Uncanny Tales I#16
Franklin Knight, Daily Crusader newspaper owner @ Incredible Hulk Annual I#9
Gregg Knight @ Lorna the Jungle Girl#2
Lei-Kung Knight of Earth-90221, trained Wah-Sing-Rand ca. 3075 AD @ Immortal Iron Fist#21
Leo Knight, UK, brother of Malcolm Knight @ Spectacular Spider-Man II#166
Melanie Knight, father killed by Dracula @ Tomb of Dracula I#30
Misty Knight (Mercedes Knight), Nightwing Investigations, Daughters of the Dragon, Heroes for Hire, former policewoman @ Marvel Team-Up I#1 @
Paul Knight, killed by Dracula, murdered his own wife @ Tomb of Dracula I#30
Knight Demon, transformed by Sardeth @ Marvel Two-in-One#90
Knight Errant (William Matson), British vigilante @ Excalibur I#59
Knight Errant, clone of Black Knight, created by Master of the World, Strike Force One member @ Heroes for Hire I#12
Knight Koala, superhero @ Spider-Man Magazine I#9
Knight Man, erased from existence by Clockwise @ She-Hulk II#3
Knight of Darkness, leader of Shadow Warriors from the Black Nebula @ Star Team
Knightress, former alias of Jessica Jones @ The Pulse#14
Knights, agents of Baron @ Luke Cage, Power Man#39
Knights in Satan's Service, Satanists in Waxahachie Maximum Security Prison @ Ghost Rider VI#24
Knights of Doom, of Earth-110, robots following Silver Surfer @ Fantastic Four: Big Town#1
Knights of Hades, demons of Mephisto summoned by Elspeth Cromwell @ Fantastic Four I#276
Knights of the Order of St. George of Earth-Shadowline @ St. George#1
Knights of the Moon, followers of Plasma, then Nepthys @ Marc Spector: Moon Knight#25
Knights of Justice of Earth-93121, football player turned knight @ King Arthur and the Knights of Justice#1
Knights of Neep, Microverse, Quarlos IV, sentient, mobile flora @ Microverse I#7
Knights of Pendragon, British heroes, defenders of Earth @ Knights of Pendragon I#1
Knights of the Round Table (Galahad, Gareth, Gawain, Kay, Lancelot, Mogard, Percival, Percy, Tristan), King Arthur's knights in Camelot @ Black Knight Comics#1
Knights of Saint Virgil, agents of Peace Monger @ Marvel Comics Presents I#27/4
Knights of the Tempered Brotherhood, Temploids, healed those beset by Battletide @ Battletide I#2
Knights of Witch-World of Earth-7614 (Sir Cat, Sir Ram, Sir Warthog, Sir Anteater, Sir Ant), servants of Kirke @ Marvel Preview#7/2
Knights of Wundagore (Sir Porga, Sir Lepard, Sir Ossilot, Sir Lyan, Sir Ram, Sir Ferret, Sir Hystrix, Sir Panther, Sir Puma, Count Tagar, Sir Ursus, Sir Hogg, Lord Gator, Lady Ursula, Delphis, Mr. Steed, Lord Anon, Lord Tyger, Lord Churchill, Lady Vermin, Lord Anon imposter, Snow Queen, others), servants of High Evolutionary, animals evolved into humanoid form and intellect @ Thor I#135
Knights Templar, ancient order, they guarded Bloodline legacy throughout the generations, monitored and guarded the Hellbent, kept records (Arcane Archives) of all significant data through variety of means @ Web of Spider-Man Annual I#9
any other knight or character with a similar name
---
images (without ads)
Venom: Nights of Vengeance#3, p7, pan2 (main)
Venom: Nights of Vengeance#2, p5, pan5 (head shot)
Venom: Nights of Vengeance#1, p1, pan2 (homeless)
---
Appearances:
Venom: Nights of Vengeance#1-4 (August-November, 1994) - Howard Mackie (writer), Ron Lim (pencils), Al Milgrom (inks), Danny Fingeroth (editor)

---
First Posted: 06/02/2020
Last updated: 06/02/2020
Any Additions/Corrections? please let me know.
Non-Marvel Copyright info
All other characters mentioned or pictured are ™ and © 1941-2099 Marvel Characters, Inc. All Rights Reserved. If you like this stuff, you should check out the real thing!
Please visit The Marvel Official Site at: http://www.marvel.com
Special Thanks to www.g-mart.com for hosting the Appendix, Master List, etc.!
---