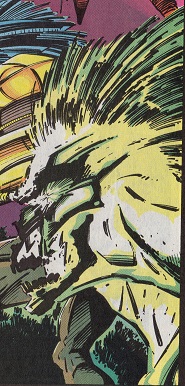 TIMESLOT

Real Name: Unrevealed;
possibly Timeslot

Identity/Class: Unrevealed (possibly a native and/or genetically-engineered being from the Mojoverse);
resident and presumably a native of Mojoworld and the Mojoverse;

Occupation: Warrior serving in mergers and acquisitions (usually via combat)
Group Membership: Death Sponsors (Cancellator, Deadair, Lead-In, Sweepzweak)
Affiliations: Grandmaster (En Dwi Gast), Mojo II, ;
formerly Gringrave;
Enemies: Arize, Gringrave, Mojo and his arena warriors, Shatterstar (Gaveedra Seven), Dwayne Taylor of Earth-90214 ("Noir"), X-Men (Archangel/Warren Worthington, Lucas Bishop, Colossus/Peter Rasputin, Iceman/Bobby Drake, Jean Grey, Storm/Ororo Munroe), Charles Xavier;
indirectly (he brought the team to capture them) Pug-Smasher (Karl Snortenthau) of Earth-8311 ("Larval Earth"), Goldon and Crimzor of the Scorpius Citadel, The End Woman of Earth-18140, and Tina Cooke (of a "normal" Earth without super-beings, etc.; see comments)

Known Relatives: None

Aliases: None

Base of Operations: Unrevealed;
last seen in Shatterstar's boarding house in College Point, Queens, New York;
presumably spent some time on Horus IV, Horus star system, Milky Way galaxy;
previously Mojo II's citadel spire, Mojoworld
First Appearance: Uncanny X-Men Annual#16 (1992)
Powers/Abilities: Timeslot's primary ability is to open portals across dimensions and space, bringing others with him, off via cyberlinking their brains.

Opening a portal seemed to be initiated, at least in some cases, with certain dance-like motions.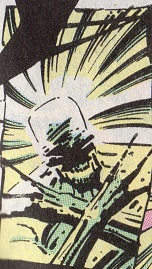 With a specific location programmed into his mind, Timeslot could at least track it across space and open a portal to bring himself and others there.

The energy released upon his arrival via a portal is excruciating for telepaths.

He can "time-dance" the brain of a victim, disorienting the victim in unspecified fashion (perhaps causing severe temporal confusion or directly casting the victim's thoughts into the past or future...or something?).

Like the other members of the Death Sponsors, Timeslot was ratings and his teammates
Height: Unrevealed (approximately 6')
Weight: Unrevealed (composition unrevealed)
Eyes: None (glowing yellow energy)
Hair: None (glowing yellow, black, and green energy that mimicked the appearance of hair)

History:






(Uncanny X-Men Annual#16 (fb) - BTS) - Aided by Timeslot and the Death Sponsors, Mojo II took the battle of the network stars to Mojo on a counter-programming basis with a series of bootleg transmissions, developing a solid demographic audience base.




(Uncanny X-Men Annual#16) - Mojo's arena-warriors assaulted the citadel spire from which Mojo II pirated Mojo's airwaves, but the Death Sponsors made short work of them; Timeslot time-danced with a cat-man's brains.


(Uncanny X-Men Annual#16) - Mojo II then arrived and noted that this attack proved that Mojo was panicking, but they would not take the battle to him but rather to his mistakes.

Telling Timeslot to "weave your magical dance through the dimensions," Mojo II sent the Death Sponsors to Earth to obtain one of three potential ratings bonanzas: Longshot, Spiral, or Arize; he further considered that regardless of whether they succeeded or failed, the effort would benefit their rival network.

Arriving in the Ginza district of Tokyo, Japan via Timeslot's interdimensional transport, the Death Sponsors prepared to initiate their search; Lead-In congratulated Timeslot on getting them there.



(Uncanny X-Men Annual#16) - Deadair reminded the team that their primary schedule point was to embarrass Mojo and bolster their pirate network in the eyes of the masses.

Tuning in on Arize, who also had the clearest signal, Deadair summoned Timeslot, preparing to "wire him for cable"; he had Timeslot scan the program location he was feeding him and then tune them out of there and to wherever Arize was.Timeslot thus transported them to just outside Xavier's mansion in Westchester, New York, where Arize had been brought after fleeing to Earth to escape Mojo.

(Uncanny X-Men Annual#16 (fb) - BTS) - Their arrival set off the perimeter security, alerting the X-Men, although Xavier's telepathic scans revealed nothing but garbled static (similar to his early probes of Arize). Archangel, Bishop, and Iceman headed to confront the arrivals, while Storm had Colossus, Jean, Xavier, and herself traveled to the medical facilities to watch over Arize.




(Uncanny X-Men Annual#16) - As the heroes arrived, Cancellator had Timeslot accompany her to seek out Arize while the others had all the fun (fighting the arriving heroes).

Professor X noted as two of the attackers breached the mansion and approached them, but Timeslot teleported them behind the X-Men, catching them somewhat off-guard as Timeslot's energy release "

screwed the max out of <their> telepaths.

"

After Arize recognized the Death Sponsors as the mergers and acquisitions department of a pirate network, Timeslot rushed forward and painfully connected with Arize. Jean used a telekinetic thrust to break contact, which instead transported herself, Timeslot, and Arize outside.








(Uncanny X-Men Annual#16) - Taking advantage of the distraction, Sweepzweak disrupted the mutants' access to their powers. Noting that since Timeslot had Arize, it was time to depart.

As they prepared to depart, Bishop leveled his gun at and threatened to kill Timeslot, but Sweepzweak held him at bay with the threat to kill all of the X-Men if he took down one of them.

Deadair then instructed Timeslot to cyberlink and take them home, noting that they would leave Bishop's comrades with him.

Appreciating that Timeslot was teleporting them through an electronic mind-link, Bishop fired his rifle, shooting Timeslot in the head as they hit midport. The other Death Sponsor screamed and seemingly discorporated, while Arize, who was not linked to the cybernet, was spared and remained on Earth.




<

They got better

>







(Shatterstar I#1 (fb) - BTS) - Gringrave employed the Death Sponsors in her plot against Shatterstar.

(Shatterstar I#1) - While Shatterstar was out watching a play, the Death Sponsors assaulted those present at his boarding house (or house with rooms for rent), including Pug-Smasher (Karl Snortenthau) of Earth-8311, Goldon and Crimzor of the Scorpius Citadel, The End Woman of Earth-18140, Dwayne Taylor of Earth-90214 ("Noir"), and Tina Cooke, allegedly of Earth-1218 (

see comments

).

Deadair snagged Pug-Smasher, Sweepzweak subdued Goldon and Crimzor, Cancellator punched out The End Woman, Lead-In dragged Tina Cooke away.

(Shatterstar I#1 (fb)) - Outside Dwayne Taylor-90214's door, Timeslot paused and opened a portal to summon Gringrave.

Timeslot assaulted Dwayne Taylor.

(Shatterstar I#4 (fb) - BTS) - Gringrave slew Timeslot to eliminate the Death Sponsors' teleporter...

(Shatterstar I#1 - BTS) - Shatterstar returned to his house to find the dying Dwayne Taylor, who told Shatterstar of the assault but noted how he had taken one of their with him, indicating Timeslot's corpse.

Shatterstar viewed footage of the assaults via his laptop computer.











Comments: Created by Fabian Nicieza, Jae Lee, Jan Harps, and Joe Rubinstein.

When Mojo II calls out their names, Cancellator and Timeslot's are reversed (Cancellator, the blonde female, is pictured last but named fourth; Timeslot is pictured fourth but named last).

Earth-1218 is supposed to be the real world that the readers live in. Writers love to use characters from Earth-1218, but since we don't have any super-powers or interdimensional portals, etc., as soon as some interaction with an alternate reality or super-powered characters occurs, it becomes just another previously "normal" reality that has since diverged.
So, despite the fact that it is repeatedly called Earth-1218, I contend that it is a reality diverged from -1218; I may address this in the future, but since it is called -1218 repeatedly in the story, I'm not going to provide another reality designation at this point.


CLARIFICATIONS:
Timeslot should be distinguished from:
Time Bike - designed by Reed Richards to facilitate travel to the DC Universe--JLA/Avengers#1

Time Bomb

- see BOOM BOOM

--Secret Wars II#5

Time Bomb (Louis Joubert) - Harriers, SHIELD I, reported by Hardcase as killed or badly injured--Uncanny X-Men#261
Time-Bot - robot of Dr. Doom, stole Mjolnir for him. Fire beam that transports objects or beings through time--Thor I#409
Time Broker - creation of the Caste Drones within the Panoptichron, used to communicate with the Exiles, mediates Exiles, dwells in pocket realm within Limbo, explained the situation and gave them the Talus--Exiles#1

Timebreakers

(Sovereign and Worker Caste Drones) - discovered the Panoptichron and inadvertently damaged a number of reality, began recruiting Exiles to repair the realities, departed Panoptichron after seeming destruction of Earth-1720 and deaths of their Exiles team--[Exiles#1], 62

Time Buoy#6-C

- see LUANN BLOOM--Defenders I# ,119
Time Bubble of Earth-8810 - fifteen year long time barrier to time travel @ 20 years in future, destroyed along with that entire universe when the Galactus of that timeline destroyed himself with the Ultimate Nullifier--Avengers I#296


Time Gem

- Infinity Gems, formerly used by Runner--Avengers Annual#7, (identified) Thanos Quest#1 (

Time Guardian - based at crossroads of time, weakened by chronifact, used Killpower to help recover and destroy it--[Motormouth & Killpower#8], 9

Time Horn - weapon used by Turner D. Century, designed to fatally destroy the nervous system of those under 65 years old, though it only knocked them unconscious--Marvel Team-Up I#120
Timekeeper (Hank Joern) - A.I.M. scientist, leader of an outpost in Venture Ridge, Wyoming, attempted to tap into power of Holly-Ann Ember--Aladdin Effect Graphic Novel
Time Keepers (Ast, Vort, Zanth), created at the end of Time by He Who Remains, alternate counterparts of Time Twisters--Thor I#245
Time Lords, the Gallifreyans of Dr. Who continuity, who have some loose ties with Earth-616--Dr. Who Magazine#47 (not first)

Timelozar

- medication patented by Timely, used to treat symptoms of brain cancer, taken by Wong--Dr. Strange: The Oath#1

Timely

- city in Wisconsin, formed in 1901 by Kang posing as Victor Timely, released variety of technological innovations, connected to Chronopolis--Captain America Annual#11


Timely Pharmaceuticals

(Nicodemus West) - tests experimental drug in India, learns of Nicodemus West, offered him a position in their company in return for not using his magic to heal others, which might put them out of business; they also covered up his involvement with Pavlish & further instructed him to seek out other abusers of the occult arts and to have their powers checked; directed him to destroy Oktid's Elixir and anything associated with it; evidence of activities sent to Matt Murdock and various regulatory agencies by Night Nurse--[Dr. Strange: The Oath#1], 3


Timely Plaza

- New York building, headquarters of Goodman, Lieberman, Kurtzberg, & Holliway--She-Hulk I#2
TIMELY, VICTOR - see KANG --Avengers Annual#21/6
TIMELY, VICTOR, Jr. - see KANG --Avengers Annual#21/6
TIMELY, VICTOR III - see KANG Annual#21/6
time machine - circa 1963, invented by Frederick Fenton--Journey into Mystery I#96/3

time machine - circa 1959, invented by Frank Hanes--World of Fantasy#18/2

time machine of Earth-59591 - circa 2469, invented by Arro Gorron--Tales to Astonish I#3

time machine - circa 1959, invented by Ashley Hunt--Tales of Suspense I#3

time machine - circa 1963, invented by Eric Kane--Strange Tales I#109/3

time machine - circa 1963, invented by Simon Stanley--Tales of Suspense I#43/2

time machine - circa 1959, invented by Willy Phelps--Strange Tales I#68/5

time machine - circa 1962, invented by Filbert Phelps--Journey into Mystery I#85/2

Time Master (Elias Weems) - encountered Ant-Man (Pym), fired at age 65, sought vengeance by creating machine to age others--Tales to Astonish I#43
Time Master of Earth-20476 - see KRONUS, KERWIN--Incredible Hulk II#204
Time Projector - device created by Zakka, allowed him to view the past and transport objects or beings to the present to serve him--Eternals Annual#1
Timequake - events in which Immortus (as the Whisperer) thwarted the effort of the Time Twisters (who were posing as the Time Keepers) to destroy various nexus beings--What If? II#35 (36-39
Time Ray - creation of Elias Weems/Time Master. Able to age any living thing to a geriatric state, as well as to reverse the effects--Tales to Astonish I#43
Time Reversal Ray - created by Calvin Zabo. Generate images depicting past events which the person or persons targeted had enacted. --Journey Into Mystery I#105
Timeshadow, of the Alliance of Evil--X-Factor I#5
Timeslip (Rina Patel) New Warriors--New Warriors I#59

Time Smasher

( ) - native of alternate future, encountered Merlyn. ill-defined but vast power--Rampage Monthly#40

Time Sorceress

( ) - Spider-Man video game--Amazing Spider-Man Family#6/4 (2009)

TIME SORCERESS of Earth-9704 ( ) - parallels Spider-Man video game--[Amazing Spider-Man Family#6/4 (2009)]

Time Sphere - showed images of the future, used by Centaurans--Tales of Suspense I#45

Timespinner - Kang's Spider-Man robot--Avengers I#11


Timestream

– the junction point of all time and dimension--Deathlok II#32
Timestream - mystic body of water that travels throughout all eternity and infinity--Conan the Barbarian I#185

Timestream of Earth-7484 (Henry Akai) – former member of Nth Command, employed the Bangers--Deathlok II Annual#1

Time Stryke

- mini-series set @ 2050 AD, involving Badhand and a dying Dr. Evelyn Necker
Time Tether device - connected to the end of the universe, used by alternate future Vision counterpart in plot to destroy Kang the Conqueror--Avengers VI#5

Time Travelers - Microverse, manifestation of Enigma Force, patterned after prince Wayfinder--Micronauts I#1
Time Twisters - alternate/malevolent variants of the Time Keepers--Thor I#243
Time Variance Authority - immense bureaucratic organization, clones employees and automatically creates computer terminals to monitor alternate timelines--Thor I#372
"time viewer" - Paul Haines invention, allowed viewing and hearing events/beings in past, as well as "eliminating" specific beings--Journey into Mystery I#33/2

"time viewer" - Louis Stark invention, allowed viewing and hearing events/beings in past, as well as sending immobilizing electronic rays into the past--Uncanny Tales I#50

Time Warden, --Dr. Who Magazine#135
Time Warp Traveler of Comicsville - fake weapon of the Death Master in the storyline of Harvey Norton/White Zero--2001: A Space Odyssey#5
---
images: (without ads)
Uncanny X-Men Annual#16, story pg. 2 (face profile; more dark lines);
pg. 3 (time-dancing cat-thing);
pg 5, panel 5 (face-closeup);
panel 8 (Timeslot, begins opening portal);
pg. 22 (arrival on Xavier grounds; face profile; more light, more detail);
pg. 27, panel 1 (Timeslot and Cancellator arrive, stunning telepaths);
pg. 28, panel 3 (Timeslot, profile);
pg. 31, panel 3 (Timeslot; mostly full, with Arize);
pg. 32, panel 4 (Timeslot shot);
panel 5 (team discorporated);
Shatterstar I#1, pg. 13, panel 6 (Timeslot, deceased);
pg. 14, panel 4 (opening portal for Gringrave);

---
Appearances:
Uncanny X-Men Annual#16 (1992) - Fabian Nicieza (writer), Jae Lee (penciler), Jan Harps & Joe Rubinstein (inkers), Suzanne Gaffney (managing editor), Bob Harras (editor)
Shatterstar I#1 (December, 2018) - Tim Seeley (writer), Carlos Villa (penciler), Juan Vlasco (inker), Chris Robinson (assistant editor), Jordan D. White (editor)

---
First posted: 04/07/2021
Last updated: 04/07/2021
Any Additions/Corrections? please let me know.
Non-Marvel Copyright info
All other characters mentioned or pictured are ™ and © 1941-2099 Marvel Characters, Inc. All Rights Reserved. If you like this stuff, you should check out the real thing!
Please visit The Marvel Official Site at: http://www.marvel.com
Special Thanks to www.g-mart.com for hosting the Appendix, Master List, etc.!
---