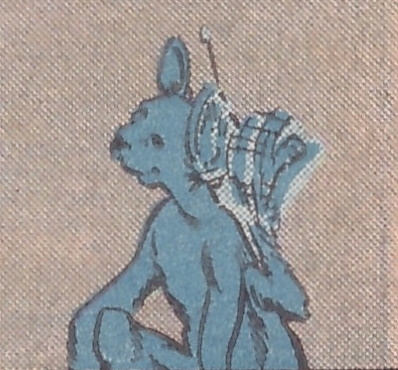 NULLET
Real Name: Nullet
Identity/Class: Extraterrestrial (unspecified species) semi-humanoid
Occupation: "Simian-Techno" responsible for maintaining the mechanical systems of the Kree Supreme Intelligence
Note: The Supreme Intelligence also once referred to Nullet as its "Chief Coordinator"
Group Membership: Servitors of the Supreme Intelligence
Affiliations: Kree Supreme Intelligence, Nenora, Phae-Dor, Tus-Katt
Enemies: Skrulls
Known Relatives: None
Aliases: "Little Nullet" (to the Supreme Intelligence)
Base of Operations: Chambers of the Supreme Intelligence in the city of Kree-Lar on the Kree homeworld of Hala in the Pama system of the Greater Magellanic Cloud
First Appearance: Silver Surfer III#6 (December, 1987)
Powers/Abilities: Nullet was a "simian-techno" who served the Kree Supreme Intelligence by maintaining its mechanical systems. It has not been revealed if Nullet was intelligent enough to perform his duties on his own or if he only served as an organic tool directed by the Supremor.
Nullet was very agile and could climb all over the Supreme Intelligence's machinery. He could use his prehensile tail to help anchor him while he performed his maintenance duties.
Nullet had a device (which had an antenna) attached to the back of his head. Presumably this was how Nullet received instructions as to where he was to go to perform his maintenance duties.
Limitations: Nullet was incapable of speech. It has not been revealed if his muteness was natural from his species.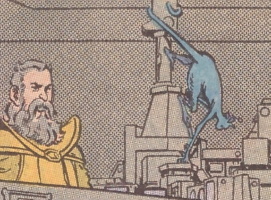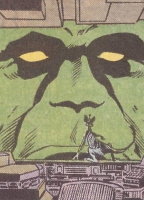 Height: 2' (estimated)
Weight: Unrevealed
Fingers: Three (plus an opposable thumb)
Toes: Three
Eyes: Blue
Fur: Dark blue
History:
(Silver Surfer III#6 (fb) - BTS) - Nullet was a "simian-techno" who served the Kree Supreme Intelligence. His species has not been revealed but he somewhat resembled a Terran spider monkey (except for his blue fur). How he came to serve the Supreme Intelligence has also not been revealed.
(Silver Surfer III#6 (fb) - BTS) - On Kree-Lar, Nullet maintained the Supreme Intelligence's mechanical systems.(see comments)
(Silver Surfer III#6) - Nullet was present in the chambers of the Supreme Intelligence when it, after receiving news about an attack by a Skrull armada on a certain Kree outpost, informed its three controllers (Phae-Dor, Nenora and Tus-Katt) that its deduction concerning the Skrulls' sudden weakness had been confirmed. Nullet continued to do his work as the Supreme Intelligence gave its underlings their orders and revealed that it planned to detonate the planet that it predicted the Skrulls were going to attack next, Sandomar II, as soon as the armada was in close proximity. After the controllers had left to carry out their orders, Nullet sat on the equipment and looked at the face of the Supreme Intelligence as it spoke to "Little Nullet" about how a new Kree-Skrull War had begun and how this time there would be no stalemate and the universe would shake as never before.
However, when the Skrull armada later turned away from Sandomar II without attacking, the Supreme Intelligence realized that they must have been warned by a traitor amongst the Kree and ordered Phae-Dor to return to Kree-Lar at once. Nullet was still sitting in the Supreme Intelligence's chamber when the Supreme Intelligence spoke to him, saying, "I will review the records on Phae-Dor, Mus-Katt, Nenora -- and yourself, little Nullet!"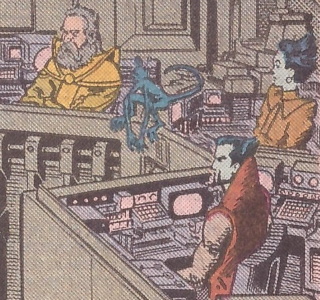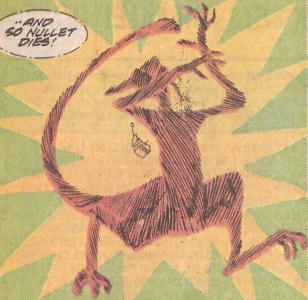 (Silver Surfer III#6) - Later, after Phae-Dor had returned, he, the other two controllers and Nullet were all present when the Supreme Intelligence announced that it had found the traitor among them and that they were there for the execution. The Supremor revealed that it had reviewed the life-records of the three controllers and its simian-techno because they were the only ones who had known of its plan concerning Sandomar II and that, after reviewing their parents, their birthings, their schools, their friends, their friends' friends, their lovers, their enemies, their compliance with its orders and 439 other categories, it had found nothing. After asking each of the controllers if they had anything to say and listening to their one-sentence replies, the Supreme Intelligence added that Nullet, of course, could say nothing.
Then, as the sitting Nullet scratched his left ear with his left hind leg, the Supreme Intelligence continued, stating, "And so, I still have no hard evidence --" and then, as Nullet's body was engulfed by a massive energy discharge that dislodged his implant, the Supreme Intelligence proclaimed, "AND SO NULLET DIES!"
As Nullet's smouldering corpse fell to the floor, the Supreme Intelligence stated that Nullet, who maintained its mechanical systems, was the only one who had the opportunity to alter its information banks to cover his tracks. Nenora peered down at Nullet's body and, while saying that she never would have guessed that there had been a Skrull at the heart of the Kree Empire, thought to herself that it was because she had thought that she had been the only Skrull spying on the Supreme Intelligence and that if Nullet had been a "Skrull brother" it had been hidden even from her. The Supreme Intelligence then stated that Nenora would replace "the creature" as its Chief Coordinator and that Phae-Dor would command Nenora's fleets.
Comments: Created by Steve Englehart, Marshall Rogers and Joe Rubinstein.
Some online sources refer to Nullet as being a "murine creature." The term murine means "Of, pertaining to, or characteristic of, the mouse, rat or (more generally) any mammal of the family Muridae." Nullet's head may have looked somewhat "mouse-like" but the rest of his body resembled that of a spider monkey and the fact that he was described as a "simian-techno" suggests that he was, in fact, a primate since "simian" refers to the higher primates (i.e., monkeys, apes, and humans). Simians are also known as anthropoids. If Nullet was similar to spider monkeys, then he would have been better described by a term meaning "Of, pertaining to, or characteristic of,...any mammal of the family Atelidae."
Nullet only appeared in nine panels in Silver Surfer III#6 and six of them are included in this profile. Due to being so small, it's difficult to see clearly how many fingers and toes he had -- until the panel in which he was electrocuted.
Nullet may be a successor to the adult male Blue Kree named Bun-Dall who, as of his first appearance in Captain Marvel I#45, had served the Supreme Intelligence for years. The Kree entry in Official Handbook of the Marvel Universe II#7 described Bun-Dall's occupation as "Servitor to Supremor."
The Supreme Intelligence referred to Nullet in two different capacities, first describing Nullet as its "simian-techno" who maintained its mechanical systems but later telling Nenora that she would "replace the creature as (its) Chief Coordinator." This is puzzling because Nullet had not previously been seen to have had ANY position in the command structure of the Kree Empire.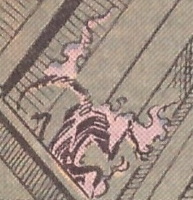 Was Nullet a Skrull or not?
The evidence of Nullet's Skrullness remains contradictory. On the one hand, the Supreme Intelligence would seem to have been wrong because it also believed that Nullet was the Skrull spy who sabotaged its attack plan when it was Nenora who was actually responsible. On the other hand, the fact that the cybernetic ruler of the Kree Empire was unable to find any hard evidence that any of its four suspects was a Skrull does suggest that maybe someone had indeed covered Nenora's tracks and, if Nullet was that person, then he was probably a Skrull. Alternatively, maybe Nenora was the only spy and the Skrulls were able to use some other agent to sanitize her backstory.
Also, although Skrulls usually revert to their true form upon death, this seems not to have been the case for Skrulls who were locked in their assumed forms by the Hyper-Wave Bomb. For example, after Aptak was killed by Nenora, his body remained in the shape of a female Waziliah. Plus, it has been revealed that the bodies of Skrull operatives have sometimes been permanently transformed into copies of the people they will be impersonating/replacing in order to avoid exposing their infiltration. So, if Nullet had truly been a Skrull spy, his body would not necessarily have reverted.
Hala or Kree-Lar?
Silver Surfer III#6 is one of the early issues of the third Silver Surfer series in which writer Steve Englehart mistakenly refers to the planet where the Supreme Intelligence is located as "Kree-Lar" instead of its proper name, "Hala." He also makes several references to "Kree-Lar" as a planet orbiting the blue sun Pama. This is odd because Englehart, who had previously written Captain Marvel for over a year, should have known that Hala was the name of the planet in the Pama system where the Kree race originated and the Supreme Intelligence had its Hall of Judgment while Kree-Lar was the planet in another system where Mar-Vell had been born. A few issues later, Englehart does begin referring to the planet where the SI is based as "the Kree homeworld" and/or "Hala" so I guess he caught his mistake (or someone pointed it out to him). That still leaves the problem of those early issues in which a planet which is clearly Hala is called "Kree-Lar" instead by people who should have known better. Since the idea that Kree-Lar could have been transported to the Hala system and then the Supreme Intelligence was transferred to Kree-Lar but later returned to Hala seems implausible, I'm going to suggest that maybe, for some unknown reason, the Supreme Intelligence just declared that the planet originally known as "Hala" would be called "Kree-Lar" instead. Then, at some later point, the name reverted to being "Hala" again.
Having said that, Chris Claremont was the writer who revealed that "Kree-Lar" was (also) the name of the "planet-girdling throne city" in Captain Marvel I#46 but who later, in Ms. Marvel I#18, misidentified "Kree-Lar" as the throneworld of the Kree Empire.
So Kree-Lar is apparently both a city on Hala and a planet in another system. They could just be namesakes - not impossible, given that there's a US state called Georgia and an Eastern European country of the same name; a city in England called Birmingham and at least one town in the USA of the same name; a village near where I live in Scotland called Moscow and a slightly better known city of that name in Russia; etc. - place names do get recycled. However, another possibility occurs - what if Kree-Lar is more a title rather than a name, referring to wherever the Kree seat of government (or Supreme Intelligence) is housed at a given time? The format of the name - segmented, with the first part being the name of the race/Empire - could be indicative of that. Maybe Lar means something like "capital"? And this would explain the location shifting - especially in times of conflict (such as the prolonged Kree-Skrull War), there might be cause to move the seat of power from time to time.
--Loki
Profile by Donald Campbell.
CLARIFICATIONS:
Nullet the simian-techno has no known connections to

Nul, Breaker of Worlds - one of the Worthy spirits that served the Asgardian god of fear known as the Serpent (Cul) and whose most recent host body was the Hulk (Robert Bruce Banner)--Fear Itself#2
The Nulatrons - four semi-humanoid robots created by Lord Professor Teller to serve as agents of Baron Rockler that possessed superhuman strength but were easily destroyed by Iron Man (Tony Stark)--Iron Man I#80
Null - a giant android designed to oppose Galactus that was part of the technology usurped by the Dawn of the White Light--Wolverine II#30
Null the Living Darkness - a demonic entity spawned by the desire for revenge upon the cosmos that existed within the collective unconscious of S'Raph race when they all committed suicide--Defenders I#103
The Null Bands - power items with which Tomazooma (secretly a robot) was equipped by its creators--Fantastic Four I#80
The Null-Box - a device created by the Beetle that dampens the signals given off by Spider-Man's Spider-Tracers--Deadly Foes of Spider-Man #2
The Null-Life Bomb - a weapon capable of destroying planets that the Stranger created to destroy humanity (and Earth along with it)--Silver Surfer I#5

The Null-Life Bomb from Reality-1120 - a weapon created by Thanos (an evil Adam Warlock) that destroyed all life in the Milky Way Galaxy before Captain Mar-Vell smashed it and saved the rest of the universe--Captain Marvel IV#11

Null Space - a pocket dimension discovered by the alien scientist Osch where the Darkhawk ship was later based--Darkhawk I#25
The Null-Time Zone - the base of operations of the Time Variance Authority--(seen) Fantastic Four I#346; (identified) Deathlok II#31
Null-Tron - a robot that was one of the assassins/agents employed by Marquis Radu to recruit Carnage (Cletus Kasady) and bring him to the Microverse--Minimum Carnage Alpha#1
The Null-Trons - robotic Kree weapons of mass destruction that the Supreme Intelligence used against the inhabitants of planet Deneb IV as part of one of its schemes--Captain Marvel I#44
Kabul Nulla - a ruler of Hilltown during the Hyborian Era--Savage Sword of Conan I#11 (adapted into the MU from the El Borak short story "The Country of the Knife" that was published in the pulp magazine Complete Stories)
The Nullifier - a type of missile defense that was stolen by Dr. Octopus and later used by him to somewhat control Spider-Man--Amazing Spider-Man I#53
The Nullifier War of Reality-98120 - a conflict in which Adam Warlock, Captain Marvel, Doctor Stephen Strange and the Silver Surfer opposed the Magus who ended up trapped in the Betwixt--Captain Marvel V#23
Nullifiers (a.k.a. nullifier charges) - devices used by Karel that could "eat" whatever metal with which they came into contact--Uncanny X-Men I#358
Nullitor (a.k.a. the Nullitron) - a robot created by Zarrko to be used to kill Thor to prevent him from becoming the tyrannical Lord Thor from The Reigning--Thor II#33
or any other people, groups, places or things whose names begin with "Null-"
---
images: (without ads)
Silver Surfer III#6, page 19, panel 6 (main image)
page 4, panel 1 (crawling down equipment)
page 5, panel 6 (listening to the Supreme Intelligence)
page 19, panel 2 (with the other suspects)
page 20, panel 1 (executed!)
page 20, panel 3 (smouldering corpse)
---
Appearances:
Silver Surfer III#6 (December, 1987) - Englehart (writer), Rogers (pencils & colors), Rubinstein (inks), Higgins (editor)
---
First Posted: 07/02/2022
Last updated: 07/03/2022
Any Additions/Corrections? please let me know.
Non-Marvel Copyright info
All other characters mentioned or pictured are ™ and © 1941-2099 Marvel Characters, Inc. All Rights Reserved. If you like this stuff, you should check out the real thing!
Please visit The Marvel Official Site at: http://www.marvel.com
Special Thanks to http://www.g-mart.com/ for hosting the Appendix, Master List, etc.!
---