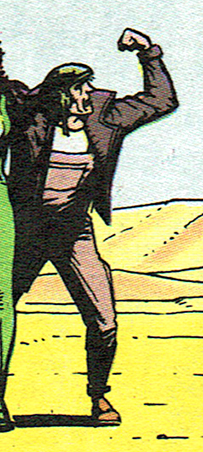 KEEPSAKE
Real Name: Unrevealed
Identity/Class: Extratemporal/alternate reality (Earth-5555, 8162 AD) human, technology User
Occupation: Salvage expert
Group Membership: None
Affiliations: Bahlia, Death's Head, The Doctor, vulture (pet)
formerly Colt, Thea
Enemies: Colt, Colt's Band, Ryosians, Thea
Known Relatives: Thea (possibly former wife)
Aliases: None
Base of Operations: Los Angeles Resettlement, Earth-5555, circa 8162 AD
First Appearance: Doctor Who magazine#140 (September, 1988)
Powers/Abilities: Keepsake has no known super human abilities. Innately easy going, he relies on the advanced technology of his era to get his way.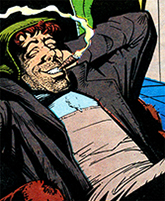 Height: 5'9" (by approximation)
Weight: 125 lbs. (by approximation)
Eyes: Blue
Hair: Brown
History:
(Doctor Who Magazine#140 - BTS) - In the 82nd century of alternate Earth-5555, Keepsake worked as a scavenger, occasionally aided by his associate Colt. By 8162, he was married to his wife Thea, begrudgingly putting up with the pet vulture she'd given him.
(Death's Head I#5 (fb) - BTS) - At some point, Keepsake, Thea and Colt accidentally discovered a shipment of gold bullion aboard an old cruiser on the bottom of the sea. With neither one of them trusting each other, Colt demanded that Keepsake split up the map leading to the treasure. When Colt was arrested and put in prison some time later, Keepsake and Thea were prevented from coming back to claim the treasure for themselves. Keepsake eventually abandoned Thea.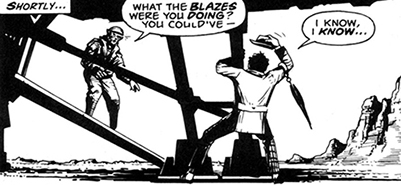 (Doctor Who Magazine#140 (fb) - BTS) - Traversing space in his ship, Keepsake picked up a distress call sent from a medic whose vessel had crashed on the planet Ryos. Figuring the cry for help offered him an easy opportunity to plunder the wreckage, Keepsake set course to Ryos. Unbeknownst to Keepsake, the Doctor (a time and dimension hopping adventurer native to Gallifrey) had also picked up the SOS. The Doctor had already arrived to save the girl, but failed to prevent her falling into the hands of the Ryosians.
(Doctor Who Magazine#140) - After arriving on Ryos, Keepsake eventually encountered the Doctor, who wanted his help in rescuing Bahlia. Even though Keepsake only cared about the possible technologies he could salvage from Bahlia's wrecked ship, he decided to play along, afraid the Doctor would turn him in when he discovered his true priorities. Acting under duress, Keepsake flew the Doctor to Bahlia's location, inside a hut of one of the Ryos natives. They easily saved her, with Bahlia deciding that Keepsake was the true hero and brains behind the operation. She passionately kissed Keepsake, even as the Doctor decided to leave by boarding his TARDIS and vanishing.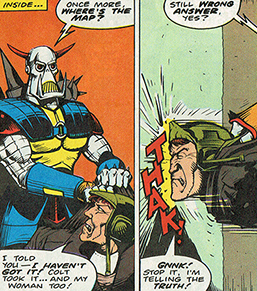 (Death's Head I#5 - BTS) - Keepsake and Bahlia became romantically involved although Keepsake was still married to his wife, Thea. Planning to see his old associate Colt, who was just released from prison, Keepsake was accompanied by Bahlia as they traveled to the Los Angeles Resettlement on Earth to meet with him. Keepsake hoped he'd be able to get Colt's help in locating the gold bullion they'd once located in a downed vessel at the bottom of the ocean. Learning of Keepsake and Colt's meeting to recover the golden bullion, Thea felt betrayed and decided to seek out professional help from Death's Head.
(Death's Head I#5) - While heading to the Spaceport Central in the Los Angeles Resettlement, Bahlia noticed that the ship was going rather fast, which happened to be correct because the auto pilot was malfunctioning, causing it to crash in the desert outside the city. As Keepsake, accompanied by Bahlia, made his way through the desert towards the city, they eventually reached Huggy's bar where they met with Colt. Hoping to get Keepsake's part of the map, Colt had ordered his band of thugs to stand by and seize the couple should the opportunity and the need arise. Just as Keepsake showed his half of the map, Colt pulled a blaster on him, demanding Keepsake's map piece, even as his men came out and took Bahlia hostage. But before Keepsake could undertake action, he was attacked by Death's Head who had been hired by his wife to find him; then entering the bar herself, Thea allowed Death's Head to continue smacking her husband's face into the wall once more for good luck.
Now combining their efforts, Keepsake, Death's Head, and Thea made their way towards the wharf where three of Colt's men were standing guard, with Colt on one of the boats with Bahlia and another henchman. While Death's Head and Thea tried to overthrow the henchmen, Keepsake made way for his spacecraft to find Colt and Bahlia on the sea. Although Colt uncovered the treasure, his joy was short lived when Death's Head and Thea arrived in another boat. Bahlia used this temporary distraction to bludgeon Colt's henchman with a hook. Before Colt could act, Death's Head heaved his heavy robotic form on to Colt's fragile vessel, rupturing it in the process. Now trying to fix the boat in a panic, Colt didn't notice how Bahlia had attached a grappling hook from Keepsake spacecraft to the treasure, mounting it and flying off.
As the flying vehicle left Colt behind, Keepsake offered Death's Head half of the gold to push Thea into the water. Death's Head did, leaving both Colt and Thea in a broken boat cursing each other. When Keepsake later landed his aircraft he was surprised to learn that Death's Head took all of the gold as he'd took the half Keepsake promised him and the other half of gold as Thea had already promised him. Afraid to argue with an infamous killer mechanoid, Keepsake decided not to argue or prevent Death's Head from leaving.
Bahlia tried to comfort Keepsake, telling him he'd still had her.
Comments: Created by Simon Furman and John Higgins.
Original profile by Per Degaton. To see his discussion of the nature of 8162 AD as we knew it around 2002 (real time), see this link (or just scroll downn). I left his discussion mostly intact, and updated my responses to reflect some information since clarified in the Official Handbook of the Marvel Universe.
New profile by MarvellousLuke
CLARIFICATIONS:
Keepsake has no known connections to
Keeper, of the 16th century @ Strange Tales I#97
Keeper, Member of A.I.M. @ Tales of Suspense I#80
Keeper, of the Twilight Well @ Thor I#195
Keeper, of the Hyborian Era @ Conan the Barbarian#192
any other "Keep" characters
---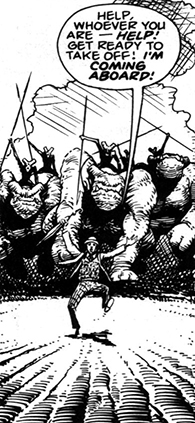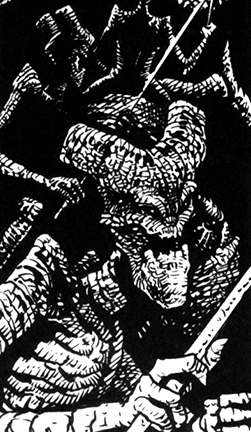 The Ryosians were the native inhabitants of the planet Ryos. A relatively simple, tribal primeval species prone to aggression, the Ryosians lived in huts and depended on spears for defense. They relied on large beasts they had domesticated for transport. One such tribe of Ryosians captured the medic Bahlia who had crash-landed on their planet. Bahlia was eventually rescued from the Ryosians by Keepsake and the Doctor. The Ryosians tried to stop the trio from leaving, but their spears were no match for Keepsake's spacecraft as it took off.
Note: In their original appearance, only the planet Ryos was named. In the pages of Death's Head the population eventually received its name.
--Doctor Who Magazine#140
---
images: (without ads)
Death's Head I#5, p5, pan2 (main image)
Death's Head I#5, p2, pan1 (left)
Doctor Who Magazine#140, p26, pan4 (meeting the doctor)
Death's Head I#5, p12 pan1&2 (attacked by Death's Head)
Doctor Who Magazine#140, p26, pan1 (Ryosians)
Doctor Who Magazine#140, p25, pan2 (Ryosians chasing the Doctor)

---
Other Appearances:
Doctor Who Magazine#140 (September, 1988) - Simon Furman(writer), John Higgins(pencils & inks), Richard Starkings(editor)
Death's HeadI#5 (April, 1989) - Simon Furman(writer), John Higgins(pencils & inks), Richard Starkings(editor)

---
Last updated: 07/13/14

Any Additions/Corrections? please let me know.

Non-Marvel Copyright info
All other characters mentioned or pictured are ™ and © 1941-2099 Marvel Characters, Inc. All Rights Reserved. If you like this stuff, you should check out the real thing!
Please visit The Marvel Official Site at: http://www.marvel.com

Special Thanks to www.g-mart.com for hosting the Appendix, Master List, etc.!
---
An entry that entails much comment, by Per Degaton. Keep in mind that this was written around 2002-2004, as were my responses. I've tried to update my responses, but let me know if something is off.
The placement of Keepsake in the Gallifreyan Multiverse, the 8162 that serves as a future for the Doctor Who series, has to do with the fact that he first appeared in a Doctor Who story. Generally, the Doctor mostly travels to eras within his own universe or multiverse, not other universes or multiverses. He has to take special measures to travel to other universes or multiverses. (The Doctor's universe is presumed to be outside of the Marvel Multiverse due to his generally not encountering counterparts of Marvel characters in his adventures, and most importantly, because he is owned by the BBC.)

Other characters seen in this 8162 from the Doctor Who stories include Josiah W. Dogbolter, from Doctor Who Monthly#84, 86-87, and #88-89. Dogbolter, a humanoid who resembled a frog, also appeared in Death's Head#8, where he hired Death's Head to kill the Doctor. Death's Head himself was sent to 8162 by the Doctor in Doctor Who Magazine#135, arriving there in Dragon's Claws#5, where he fought the government law enforcement group Dragon's Claws. (As noted under the Circuit Breaker entry, Death's Head immediately previous to his encounter with the Doctor had just escaped a confrontation with Unicron, Scourge and Cyclonus-in the Transformers-UK universe. Due to the presence of counterparts of Spider-Man, Nick Fury, the Savage Land, etc., the Transformers-UK universe is considered possibly part of the Marvel Multiverse. On the other hand, due to the fact that the hierarchy of cosmic characters of both Transformers universes [Unicron, Primus] does not mesh with the usual Marvel assortment of cosmic beings [Eternity, Death, Galactus, Lord Chaos, Master Order, etc.] one could place them in the Marvel Megaverse along with such tertiary realms as Earth-Shadowline. In any event, Death's Head encountered the Doctor at the Crossroads of Time, a point of intersection, a buffer zone between the Doctor Who Multiverse and the Marvel Multiverse/Megaverse.)

Since Dogbolter had only just developed very crude time-travel technology in the story in Death's Head#8, and thus could not have had the capability to cross multiverses, while Keepsake certainly had no time or dimensional travel capabilities, we can conclude that they were natives of this time and dimension of 8162. This raises an interesting point that Loki has made much of-namely, that would indicate that, although Dragon's Claws was not introduced in a Doctor Who story and is completely owned by Marvel, they are in fact from the Doctor Who multiverse. This has to do with the fact that, after his encounter with the Doctor in Doctor Who Magazine#135, Death's Head had no access to time and dimension travel technology until Dogbolter provided him with a prototype of the Dogbolter Temporal Rocket in Death's Head#8. Thus, all of his adventures took place in the location that the Doctor sent him, and since the Doctor usually travels to realms within his own universe/multiverse, we can presume that he sent Death's Head within such points. Since in their appearances with Death's Head the members of Dragon's Claws were shown as natives of that 8162, by extension, they are denizens of the Gallifreyan Multiverse.

An interesting sidepoint involves Death's Head's partner Spratt, introduced in Death's Head#1. Spratt became Death's Head's partner soon after Death's Head's initial encounters with Dragon's Claws. In fact, Spratt even followed Death's Head to the Marvel Multiverse, where Death's Head was displaced by the Doctor to again after the events of Death's Head#8 (the Doctor left him on top of Four Freedoms Plaza). Spratt even followed Death's Head to the 2020 that serves as the home of the Arno Stark Iron Man. In fact, Spratt died in this 2020 in Death's Head II I#3. Spratt is interesting, in that he encountered all of these characters from a separate multiverse, and did not seem surprised that they were not fictional characters!

Let me explain. Past stories have established that characters that are generally unique to certain multiverses are fictional to characters from other multiverses. (Of course, the reason that they tend to be unique to a certain multiverse has to do with the fact that they are strictly copyrighted and trademarked.) Somehow, a sort of "bleeding through" occurs by which certain people become subconsciously aware of events in other multiverses, and these people tend to be comic book artists and writers who use these visions for their work. For concrete examples of this phenomenon, in the New Universe (which, although owned by Marvel completely, to preserve a distinctive feel, has been designated as outside of the multiverse), the X-Men are only fictional characters-see Starbrand#11-12 for confirmation. The X-Men do not have counterparts in the New Universe. Superman/Fantastic Four established that Superman, of the DC Multiverse/Hypertimelines, is known on Earth-616 as only a fictional character. Superman does not have an Earth-616 counterpart. (Incidentally, Thor and other characters based on folklore and mythology--which are of course, public domain--are exceptions to this rule.)

Based on these examples, one would guess that Iron Man, the Fantastic Four, etc. should have been known to Spratt as fictional characters. Spratt, though, does not seem to have ever remarked either way as to whether Iron Man, the Fantastic Four, etc. were either known as real, historical personages or fictional characters in his home era and planet. This may have to do with the fact that 8162 AD represents such a long time from the 21st centuriy that much knowledge had been lost. Records and literature from those eras would not have been available to him due to the catastrophes that had rocked Earth in the intervening centuries. Thus, had the Arno Stark Iron Man had a counterpart on his Earth, Spratt would have had no way of knowing.
All in all, a nice little summary. A few points.
Earth-616, the mainstream Marvel world, exists within a single Universe. A collection of similar, but divergent worlds, such as Earth X, Earth-MC2, and the What If? worlds, which have a similar universal power structure exist within the same Multiverse. An Earth that does not appear to have any similarities to the universal structure and hierarchy of Earth-616 or similar worlds, therefore would be outside of the mainstream Multiverse, but within the greater Omniverse. Everything exists within the Omniverse--Including you, me, Popeye, and Rocky Balboa.
Further, there exists another division present between Multiverse and Omniverse, to link associated worlds, such as those linked to Marvel, and to keep distinct from other such groupings, such as those associated with DC or other titles. Thus worlds like the New Universe or the Shadowline are contained within the Marvel Megaverse.

The fact that the Doctor usually does not travel to another time zone does not make him from Reality-5555, nor part of any particular Multiverse. He is certainly within the greater Omniverse, but since he is owned by another group, he may inherently exists outside of the Marvel Megaverse.

This is not the case with other licensed characters, who are definitively within the Marvel Universe. For example, Godzilla exists within Earth-616. Marvel can no longer refer to him by name. Same with Fu Manchu, who has gone by St. Germaine, Han, and Zheng Zu in more recent appearance. Conan the Barbarian has--sigh--also been lost and is now licensed to Dark Horse. However, his adventures--and all of the Hyborian era--as published by Marvel did occur in the past on Earth-616--just the Robert E. Howard and other Conan Properties stuff can't be mentioned by name.

Earth-5555's 8162 AD, is a future world. It is part of the Marvel Megaverse, if not actually the Multiverse. Actually, just because we haven't seen the Watcher, Eternity, etc., doesn't mean they don't exist...what percentage of Reality-616 stories include members of the cosmic hierarchy? Maybe we just haven't seen them?

Why doesn't Spratt remember anyone? As Per Degaton touched on, this is an easy fix. How many people do you remember from 4000 BC?

Is Earth-5555 the future of Earth-616? Maybe. Until a major point of divergence is shown, it it a possibility. Does the Doctor (Who) originate or exist in Earth-5555? Maybe--as long as BBC would allow it. I don't think we can pin him down any better than that. He does exist in the same continuum as the Special Executive--I'd agree to that much, as long as it's allowed.

Transformers and GI. Joe will only be a part of the Marvel Multiverse once they run into Galactus, the Watcher, Eternity, etc. Is there a place in the Marvel Multiverse where this is the case? Maybe. We just can't refer to them by name. These worlds are Marvel Megaverse possibly, and Omniverse definitely.

Want more confusion? What about Earth-Amalgam? That's like an overlap of Megaverses. And then there's Earth-Crossover, where every single fictional character exists in the same world/timeline/universe. This world would be the home of such crossovers as Spider-Man vs. Super-Man, X-Men/Teen Titans, etc.