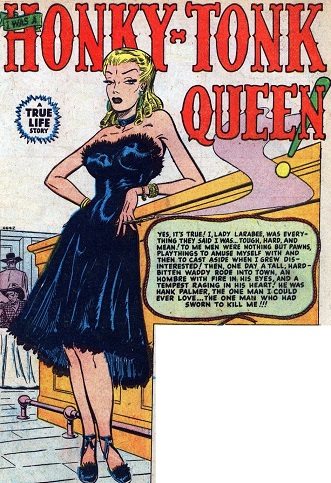 LADY LARABEE
Real Name: "Lady" Larabee (first name unrevealed)

Identity/Class: Normal human (Old West Era)
Occupation: Saloon owner

Group Membership: None
Affiliations: Hank Palmer

Enemies: Steve Conlan

Known Relatives: None
Aliases: None
Base of Operations: Roaring Gulch, midwest frontier USA

First Appearance: Love Trails#1/1 (December, 1949)
Powers/Abilities: Svelte yet seductive, Lady Larabee is a shrewd and tough business owner of a gambling den and saloon. Uncompromising, she once made it a point to never grow romantically attached to a man. She has good equestrian abilities and is skilled in firing handguns.

Height: 5'4" (by approximation)
Weight: 125 lbs. (by approximation)
Eyes: Blue
Hair: Blond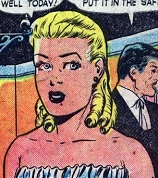 History:
(Love Trails#1/1 (fb) - BTS) - Lady Larabee established a saloon in the midwest frontier town of Roaring Gulch with business partner Steve Conlan. Both were quietly attracted to each other, but Larabee maintained a professional distance and ran an honest business. But Conlan secretly killed passing gambler Jerry Palmer for his gold without Larabee knowing and she was briefly saddened at his death.

(Love Trails#1/1) - Soon, Jerry's brother Hank wandered into town, suspecting his brother had been murdered and searched for clues. He found his way to Lady Larabee's Saloon and, having lost his money gambling, gained a job with Larabee, who was charmed by his good looks. Hank and Larabee soon began a romance, and Larabee was surprised at how quickly she had fallen in love. Conlan became jealous and declared his love for her, but threatened violence if she didn't dismiss Hank. Larabee refused so Conlan planted evidence that implicated Larabee in Jerry's murder for Hank to find. Easily fooled, Hank confronted Larabee angrily and swore to kill her in vengeance when he returned. She realized Conlan's misdeed and a brief gunfight ensued between Larabee and Conlan; Larabee and Conlan injured each other with superficial wounds. Hank fired the killing shot against Conlan as he also realized Conlan's guilt. The sheriff nearby witnessed the event and was sure Hank would be judged innocent. Hank carried Larabee to a bed for treatment and she saw a future together, leaving her gambling days behind her.

Comments: Uncredited creators (see comments).
Grand Comics Database suggests Syd Shores & John Buscema for artist credits, and Stan Lee for editor.
Profile by Grendel Prime.
CLARIFICATIONS :
Lady Larabee has no known connections to:
LADY of the LAKE (Niamh/Nimue) - Arthurian legend, created the sword Excalibur, lent it to Black Knight (Whitman) during Otherworld quest @ Hulk Comic#18
LADY-OF-LIGHT - worshiped by the Lava Men @ Avengers I#23
LADY-OF-LIGHT (also PULSAR) - mistaken for the divine woman worshiped by the Lava Men @ Avengers I#23
LADY of LIGHT of Earth-93060 -spawned from Henrietta Hawkins after Jumpstart Effect @ Strangers#1
LADY OF TEN SUNS - People's Defense Force, fought the Unspoken @ Mighty Avengers I#27
LADY ALLANA - one of harem of King Bharri Zhan, sent as sacrifice to monster-god @ Savage Sword of Conan I#183

LADY ANIME (Xixa) - Discovered her father dying trying to protect Shatterstar, swore vengeance @ X-Force II#3
LADY ANNIA of the Hyborian era - Nemedian noblewoman, wife of Barlonius @ Conan Annual I#6
LADY ANULA - queen on Lionheart, mutated by Perfection virus @ Death's Head II & DieCut#1
LADY ASH (a.k.a. MEGAERA) - Furies member, crone, temporarily possessed Uno @ Avengers I#50
LADY BUG 2099 I+II of Earth-Amalgam - Wasp + Shrinking Violet, Legion of Galactic Guardians I + II @ Spider-Boy Team-Up#1
LADY BULLSEYE - inspired to become assassin after seeing Bullseye, later joined Hand then assassin-for-hire @ Daredevil II#111

LADY BURNING FISH - Special Executive member, flying platter of gelatin @ Daredevils#8
LADY CHI (a.k.a. Lady Dragon) - Serpent leader of the Triads, defeated by Arana with the aid of a skin protection spell from Miguel @ Arana#7
LADY COMET - Earth-398 identity of FIRESTAR - member of Queen's Vengeance of Queen Morgan LeFey @ Avengers III#2
LADY DAEMON (Megan Daemon) - 1930s era sorceress, stopped sister from summoning the Outer Dark, resulting in Hindenburg explosion Bizarre Adventures I#25
LADY DEATHSTRIKE (Yuriko Oyama) - cyborg, skeleton bonded to Adamantium by Spiral, modified by Donald Pierce, extendable claws @ Daredevil I#197
LADY EVAINE of the 6th century - mother of Percy/Black Knight, Druidic priestess @ Mystic Arcana: Black Knight#1/2
LADY FAIR - assassin rehabilitated by Wonder Man, sacrificed her own life to prevent being forced to kill others under Neal Saroyan's control @ Wonder Man: My Fair Super Hero#5
LADY FYNN-GERES - extraterrestrial, allied with Bozo Samedi, employed Lunatik, employed the Schwarzeneggers @ Lunatik#2
LADY GORGON @ telepathic assassin, former Hand assassin, targeted Punisher (Castle) @ Punisher War Journal II#20

LADYHAWK of Earth-982 (Rosetta ) - New Warriors, sister of Regina, costumed heroine, takes turns with sister to increase exposure to establish identity @ Spider-Girl I#6
LADYHAWK of Earth-982 (Regina) - costumed heroine, takes turns posing as identity with sister to increase exposure, injured by Hobgoblin @ Spider-Girl I#6
LADY JANE (Jane) - girlfriend of Wheels Wolinski, former girlfriend of Benny @ Marvel Comics Presents I#23/4
LADY KARLOT - extraterrestrial noble on Segov-3, Reptyl (ext. Saurian) marinaded her and wanted to eat her @ Silver Surfer Annual III#2/5

LADYKILLER (Michael Reese) - Melvin Potter lookalike, crippled Becky Blake; Potter was mistaken for him @ Daredevil I#173
LADY KILLER of Earth-93060 (Elena LaBrava) - fashion designer, skilled fighter and leader of Strangers @ Strangers#1
LADYKILLERS - assassins, agents of Mr. X, sent to test Wolverine's battle prowess, defeated by him @ Wolverine II#159
LADY LARK (a.k.a. SKYLARK of Squadron Supreme) - identity used prior to Utopia Program @ Avengers I#85
LADY LARK - zombie clone of original Lady Lark of Squadron Supreme; unintentionally created by Dr. Dauoi @ Marvel Supreme Zombies#1

LADY LIBERATORS (a.k.a. LIBERATORS) - group of super-heroines duped into battling their male teammates by Enchantress @ Avengers I#83
LADY LOTUS - organized Super-Axis, powers gained via meditation + magic incantations + sacred lotus flower @ Invaders I#37
LADY LUFTWAFFE - Liberty Legion foe, led the Ferocious, Flying Frauleins @ Captain America: Patriot#1
LADY MAGDALENE - Earth-398 identity of MAGDALENE - member of Queen's Vengeance of Queen Morgan LeFey @ Avengers III#2

LADY MARVEL - Earth-398 identity of WARBIRD - member of Queen's Vengeance of Queen Morgan LeFey @ Avengers III#2

LADY MASTERMIND (Regan Wyngarde) - X-Men, Marauders, half-sister of Martinique Jason, captured and experimented on by agents of Pan @ X-Treme X-Men#6
LADY OCTOPUS (Carolyn Trainer) - has used armor enhancements from the Tinkerer and served Lucia von Bardas @ Secret War I#3
LADY OCTOPUS of Earth-982 (Carolyn Trainer) - alternate future version, ally of Canis @ Spider-Girl I#68
"LADY PUNISHER" (nickname given to LYNN MICHAELS) - former member of New York Police Department, tried to become next Punisher @ Punisher War Journal I#62
LADY STILT-MAN - used original Stilt-Man's armor in homage as criminal, quickly trounced by Spider-Man and Deadpool @ Amazing Spider-Man I#611

LADY TALIA of Earth-Amalgam - Lady Deathstrike + Talia, daughter of Ra's A-Pocalypse @ Dark Claw Adventures#1
LADY TRIDENT - Peacekeepers member, slew one of Touchstone's bodies, placed in stasis; uses throwing tridents imbued with Tantalus' black legacy @ Blackwulf#2
LADY URSULA - Knights of Wundagore, ursine, committed suicide to avoid mind control of the Man-Beast @ Excalibur I#113
LADY VANITY - mistress of brothel in London, raised Blade after his mother was killed, eventually killed by Legion of the Damned @ Vampire Tales#8/4

LADY VERMIN - Knights of Wundagore, rat evolved into humanoid form, uses laser cannon on back @ Quicksilver I#1
LARABEE, RED (a.k.a. GUNHAWK) (Preston Hardwick) - Old West, identity used to avenge parents' death, later became Gunhawk stopping outlaws @ Wild Western#15/5

or any other "Lady" or "Larabee" characters
---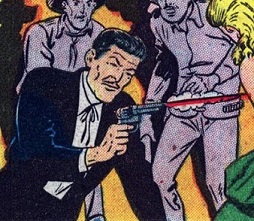 Steve Conlan was Lady Larabee's business partner in her saloon and was romantically attracted to her. He had a violent and criminal streak, and secretly murdered passing gambler Jerry Palmer for his gold. Not long after, Jerry's brother Hank arrived to investigate and soon fell in love with Larabee. Conlan became jealous and threatened Larabee with violence if she didn't end it with Hank, but she refused. Conlan planted evidence that fooled Hank into thinking Larabee was responsible for his brother's death and he stormed off. But Larabee realized Conlan's duplicity and the two had a brief gunfight where they only wounded each other. Instead, Conlan was shot dead by Hank, who had overheard Conlan's confession.

--Love Trails#1/1
---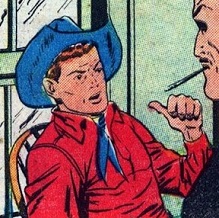 Hank Palmer traveled to Roaring Gulch to investigate his brother Jerry's death. Gambling his money away in Lady Larabee's Saloon, he quickly gained a job, attracting the eye of Larabee, and the two soon fell in love. But Larabee's fellow business owner Steve Conlan, also quietly also attracted to Larabee, became jealous. When Larabee refused to accede to Conlan's demands to dismiss Hank, Conlan blustered violence and planted evidence that implicated Larabee in Jerry's murder. Hank foolishly believed it and stormed off, threatening to shoot her out of vengeance. But he overheard Conlan confess his misdeeds to Larabee and during a gunfight between Larabee and Conlan, Hank fired the killing shot that downed Conlan. Hank carried the wounded Larabee to a bed and the pair declared their love for each other, ready to commit once Larabee had recovered.

--Love Trails#1/1
---
images: (without ads)
Love Trails#1/1, p1, pan1 (main image)
p5, pan4 (headshot)
p8, pan3 (Conlan)
p2, pan5 (Palmer)

---
Appearances:
Love Trails#1/1 (December, 1949) - no credits given
---
First posted: 02/14/2022 - happy Valentine's Day!
Last updated: 02/14/2022
Any Additions/Corrections? please let me know.
Non-Marvel Copyright info
All other characters mentioned or pictured are ™ and © 1941-2099 Marvel Characters, Inc. All Rights Reserved. If you like this stuff, you should check out the real thing!
Please visit The Marvel Official Site at: http://www.marvel.com
---