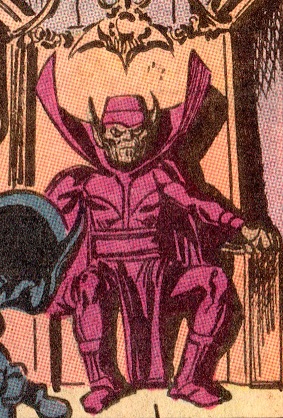 GORTH

Real Name: Gorth

Identity/Class: Extraterrestrial (Skrull deviant)
Occupation: Governor of an unidentified Skrull colony world;
would-be emperor

Group Membership: Leader of a Skrull faction (his own colony world and Skrull worlds conquered by Nebula)
Affiliations: Unidentified aide; his world's population
formerly Nebula and her crew (Gunthar, Kehl, Levan, Skunge, over 10,000 others unidentified; he only actually met Levan)

Enemies: Nebula, Zedrao and the Imperial armada;
presumably Karza, Kylor, S'Byll, and Yorak (see comments)

Known Relatives: None

Aliases: Emperor Gorth (a title he sought, but never actually achieved), Most High One

Base of Operations: Unidentified Skrull colony world in the Andromeda galaxy

First Appearance: Avengers I#259 (September, 1985)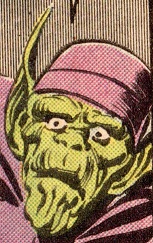 Powers/Abilities: As a Skrull, Gorth presumably possessed all of the standard capabilities and weaknesses of a normal member of the Skrull Deviant species. Specifically, Gorth could alter his size, shape, and color through mental concentration. Presumably Gorth was somewhat limited by his volume.
Additionally, Gorth did not demonstrate any significant combat abilities. he required "a moment" to make himself a little larger and more physically imposing, presumably his metamorph abilities were relatively minimal for a Skrull.

Though possessing aspirations of power and seeking to intimidate others to gain respect, Gorth was ultimately weak and cowardly.

According to Chancellor Kal'Du, Gorth neither deserved nor had the competence to rule as Emperor.

Height: Unrevealed (approximately 5'); variable
Weight: Unrevealed (approximately 110 lbs.)
Eyes: Unrevealed; dark, perhaps black or brown; variable
Hair: None; variable

History: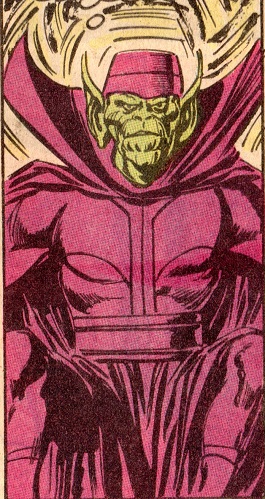 (The Official Handbook of the Marvel Universe I#10: Skrulls entry) - The Skrull Empire was governed by a totalitarian monarchy, with one supreme emperor or empress, and a governor for each of the 978 member-worlds in the empire.
(Skrulls!: Gorth profile) - Gorth was governor of one of the outer colony worlds of the Skrull Empire.

(Fantastic Four I#257/Fantastic Four I#262 (fb) - BTS) - Galactus consumed the Skrull Throneworld, Tarnax IV, killing all seven billion Skrulls who were there at the time, including Empress R'Klll and her daughter Princess Anelle.
(Avengers I#259 (fb) - BTS) - After Throneworld's destruction and the deaths of Empress R'Klll and Princess Anelle, chaos and rebellion spread throughout the Skrull Empire. Seeking to fill the power vacuum left by these deaths, all of the planetary governors declared themselves emperors or empresses and rallied their forces to bring the Empire under their personal control, and civil war broke out. In only a few days, more Skrulls had been killed by other Skrulls than had perished with the Throneworld.
(Skrulls!: Gorth profile) - Gorth dreamed of obtaining power and becoming Emperor.

(Avengers I#259 (fb) - BTS) - Gorth arrived with the space pirate Nebula, who promised to make him Emperor.
Backed by a great mercenary army with warriors from the Andromeda galaxy and beyond, Nebula brought down Skrull world after world. However, even her forces failed to penetrate the defenses of the "Prime Skrull star-base."
(Skrulls!: Gorth profile) - Via Nebula's support, Gorth became a contender for the title of Emperor.
(All-New Official Handbook of the Marvel Universe A to Z#9: S'Byll entry) - Presumably via Nebula's forces, Gorth warred against the forces of rival emperor-contender S'Byll, and likely Karza, Kylor, and Yorak.

(Avengers I#259) - Begging forgiveness for the interruption, Gorth's aide informed him that Commander Nebula had arrived and sought an audience with him.

Having anxiously awaited Nebula's arrival, Gorth instructed the aide to give him a moment before sending her in, during which time Gorth -- having decided that he should start presenting a more imposing image to his hirelings -- made himself larger.
Nebula then entered alongside her crewman Levan, greeting Gorth and telling him she had news of great successes. However, when Gorth arrogantly demanded she address him as Emperor and that she remember who pays her, an indignant Nebula informed him that he had best remember what he paid her for, and she then instructed Levan to cut him down to size.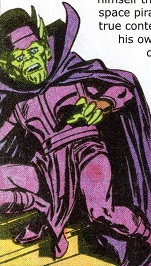 Levan blasted Gorth, knocking him to the ground and causing him to revert to his true size. Gorth argued that as she had promised to make him emperor that it was only fair that he looked imperial. Unimpressed, Nebula told him to save the shape-shifting for the underlings and that he was nothing without her backing.

After Gorth cowered and admitted this to be true, Nebula decided to get down to business. She led him to his balcony and pointed out the immense ship Sanctuary II that she had stolen. As his subjects stared agape at the immense craft, Gorth asked what it was, and Nebula told him it was the weapon that would make this backwater planet the next Skrull throneworld.
(Avengers I#259 (fb) - BTS) - Nebula brought Gorth aboard Sanctuary II and gave him a tour.
(Avengers I#259) - After Nebula noted how she had picked up her flight squadron and had over ten thousand trained warriors on board, Gorth noted how he had never seen such a ship, which was nearly a small world unto itself, and he asked her to please show him more.
They were interrupted by Levan, who informed them that their probes had picked up traces of the Imperial Armada (led by General Zedrao, in pursuit of Nebula). Terrified, Gorth told Nebula she must return him to his palace at once and then use her ship to lure the armada away from his world. Nebula informed Gorth that she would be the judge of how best to fight the armada.
As Nebula began to instruct Levan to have Gunthar prepare something, Gorth grabbed Nebula by the shoulder. She warned him to remove his hand from her person, but he insisted that she had to listen: "My world has been spared thus far! You must--!"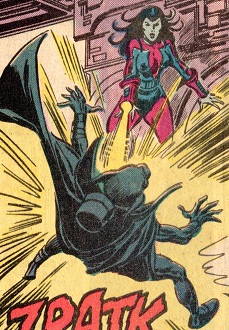 Stating that no one told her what she "must" do, Nebula blasted Gorth, apparently killing him.
Nebula then instructed Levan to prepare a propaganda statement, noting that Gorth had died in battle with the enemy.
(Silver Surfer III#2 / Silver Surfer III#6 / Silver Surfer III#13 / Silver Surfer III#14 / Official Handbook of the Marvel Universe A to Z hardcover#10: Skrulls) - Eventually, there were five Skrull warlords who contended for the role of Skrull Emperor (or Empress): Gorth, Karza, Kylor, S'Byll, and Yorak.
(Skrulls!: Gorth profile) - The official proclamation noted Gorth to have been killed in battle.
(Skrulls!: Gorth profile) - Evidence eventually arose that Gorth was murdered by Nebula.

Comments: Created by Roger Stern, John Buscema, and Tom Palmer.
In the Skrulls! handbook, Emperor Kal'Du noted:

"What can we take away from Gorth's failed attempt at gaining the throne is conviction that only death and dishonor will fall upon any Skrull who would ever place any of their allegiances to an an alien species, or place personal glory before the glory of the Empire itself"
That statement is solid political rhetoric. S'Byll obtained power with solid aid from the Silver Surfer (Zenn-Lavian Norrin Radd) and Reptyl (unidentified reptilian race). Almost every would-be emperor (just like most politicians) seeks personal glory and believes he or she is the best one to rule.

I did this profile in response to a discussion with a respected colleague, who is one of the most versed people on Marvel Continuity of whom I know. In response to his concerns, and our differing opinions:
Why is Gorth one of the "five" Skrulls competing for Emperor? There are matters to be considered.

Timing:
If Gorth died in Avengers I#259 (September, 1985), how could he be considered a contender for the role of Skrull Emperor in Silver Surfer III#6 (December, 1987).


For anyone who doesn't already appreciate this, "Marvel Time" is not real time.


Peter Parker (Spider-Man) was 15 years old in 1962. Barring alternate realities, Peter is not 72 years old. Most stories portray him as being in his late 20's (some make his seem like early 20's, but that's a bit too much, IMO).

So, if he's 29, then that means that only 14 years have passed since his first appearance, which makes each "Marvel Year" equivalent to a little over 4 years real time.

If you think Peter is closer to 26, that makes each "Marvel Year" equivalent to over 5 years real time.

Further, Peter Parker's progression through high school mean those first years occurred closer to real time, and the time compression becomes even more significant. That's tougher to pin down, as Peter and his associates could have been in advanced placement and taken less time in high school, etc., but figure a minimum of 5 years of real time equal to one Marvel Year.
BTW, there was just great series called Spider-Man: Life Stories (just came out in 2019) in which Peter ages in real time and is involved in real time events, check it out.

So, what's the purpose of this tangent? Despite there being 27 months between the publication of the issues discussed above, there's MAYBE 5 months between the events, Marvel Time.

Gorth's apparent demise in Avengers I#259 was part of a continued story that rapidly led to the activation of the Hyperwave Bomb, which threw the Skrull Empire into even further chaos.


Perhaps due to Nebula's devastating results in Gorth's name, he was still considered a contender, and his death was uncertain.

Did Gorth die?

Death is SO OFTEN shown to not be true in the Marvel Universe -- survival; slaying of an imposter/robot/clone; whatever -- that it should always be taken with a grain of salt...even in a normal human mortal, let alone an alien shapeshifter.

As a metamorph, it would have been easy for Gorth to adjust his form to survive Nebula's attack and/or have made himself to appear to be dead despite having survived. He seemed like more of a coward than a strategist, but perhaps due to his cowardice, he may have had a planned exit strategy to escape death. He wasn't incinerated, decapitated, etc.; he was shot in the chest with a blaster weapon and assumed to be dead. Have you ever seen a comic book character blasted and assumed to be dead, but then turn up alive? Yes? 10 times? 100 times? 1000 times? Probably depends on how many comics you've read, but if you've read a lot, probably somewhere between the latter two numbers.

One would think that Nebula would follow up solidly to ensure her foe was slain, but she was both arrogant and in a time crunch to oppose General Zedrao and the Imperial Armada

If Gorth survived, Nebula's banishment by the Beyonder may have given Gorth the opportunity to utilize a number of Nebula's mercenaries to strengthen his position.


I think that it is logical to assume not all of Nebula's forces were on Sanctuary II during its destruction...presumably, given Nebula's wisdom as a strategist, it's likely that some were on other ships and never boarded Sanctuary II, and some may have escaped its destruction.

Kylor had a semi-profile in Silver Surfer III Annual#1 that noted that Kylor was the first of the would-be emperors to fail...so whoever was going by the title of Gorth was still active at the time of Kylor's death in Silver Surfer III#13


Assuming Gorth did die...

He may have had a son or daughter, named after him (especially given his arrogance), and they may have succeeded him

Given the metamorphic abilities and the general scheming nature of most Skrulls shown in the comics, particularly through the 60's-80's, it is quite likely that another Skrull could have impersonated Gorth thereafter.
Again, Nebula's threat to the Skrulls was largely derived from her large mercenary force, even before she acquired Sanctuary II.


As mentioned above, I think that it is logical to assume not all of Nebula's forces were on Sanctuary II during its destruction; it's likely that some were on other ships and never boarded Sanctuary II, and some may have escaped its destruction.

I'm sure some people (

I'd say "many," but this is a continuity issue in a story 30 years old, so it's probably not too many that even car

) would prefer that the matter was dealt with in-story rather than in a handbook.

I 100% agree. My preference would be that Steve Englehart had resolved the issue when he brought up the number of five contenders and then only introduced four.

I REALLY enjoyed Steve's run on the Surfer (and many other series, and novels...), however, he never revealed the fifth contender for emperor.Steve also does not provide new information when we request if for the handbooks.

At the time the information was revealed in the handbooks, the plot was 20 years old and cold (over 30 years old now).
In my honest opinion, it seems lazy and neglectful to not fill such a plot hole with the most logical explanation. See above for the reasons.


Some people feel that handbooks should be resources, rather than sources, meaning handbooks should not reveal any new information. As a result, they automatically discount information from handbooks


If there are clear contradictions, then certainly the original source would generally outweigh the resource, unless there were problematic issues with the source.
As handbooks have consistently provided clarifications and new information since 1982, I think this point is about as valid as a wish that the sun should be red. Wishes don't equal reality.
The only way to change this policy is to become chief-creative-editor at Marvel, or to create your own fictional universe and make all the rules you want.
Otherwise, "that's not how I want it to be" is not a valid argument to me.

Given the above, presume data presented in comic stories, handbooks, files, etc. without contradiction to be true until/unless revealed/retconned to be false.


The Skrulls! files book did not list Gorth as one of the five.

The Skrulls! editor chose to neglect all information revealed in the handbooks. Therefore, unsurprising that he refused to allow the information about Gorth. It was obviously not a conscious thought process, but rather an automatic disregarding of the information.


The Skrulls! book should represent the Skrulls' extensive database, which would cover all information, including anything not previously revealed in the comics.

However, it failed to provide significant, basic information available to the Skrulls, like the real name of the Sensational Hydra, for example. Instead, it listed "Araki imposter, " "Contemplator imposter," "H. Warren Craddock imposter," "Doc Samson's patient," and numerous others. Would the Skrull Empire not know their names? Was it classified information that the current Empress should not know?

Even moreso than a handbook, a Files book representing the in-universe government database of the race that sent all of the agents should have complete information.


Information wouldn't be excluded due to being classified, as Veranke was the Skrull Empress.
I suppose it's possible that information may have been lost over time due to the chaos of destruction of worlds, turnover of power, etc.

I find it hard to believe an advanced technology wouldn't have some sort of inter-Empire internet that would share all and protect info.


Kal'Du was writing a report to earn Veranke's favor; it seems clear from his info, that he has this massive pro-current-Skrull bias, as perhaps she may have slain him if she didn't like it. Kal'Du writings had enough bias that it may well be that they were not purely factual.

While there is a level of information appropriate for handbooks,etc., when you have an "in-story" files book like Skrulls, which should access their entire database; as it was for the ruling empress at the time, Veranke, there is no reason to exclude any relevant information.

I definitely enjoyed the book on many levels, but I was very disappointed the lack of completeness of the Skrulls' records in this book.

If you check the credits, you can see that most of the writers were handbook writers; as such they clearly knew and had to exclude certain information, presumably per the directive of Rhett Thomas.
I concede that my arguments of "it should be this way" may seem to mirror arguments about how the handbooks should be.


However, the difference is that Marvel's handbooks have consistently been written from the perspective of being outside the Marvel Universe and have added new information and/or filled in blanks and/or clarified contradicting stories
Files books have been consistently written from the perspective of being in-universe, and depending on the in-universe "writers," there are differing levels of information. This one had access to the entire Skrull database.


Insanely. Squandered. Opportunity. In my opinion, of course.

Other contenders for the coveted "5th would-be Emperor" and/or other Skrulls active at this time

Prince Dezan, who didn't wish to rule and was considered a traitor to the Skrulls due to his desire for peace, could have been considered a contender, as he was allegedly the last living member of the royal family (Teddy Altman/Dorrek VIII/Hulkling was young, and hadn't been created yet).

Nenora, who was trapped in the form of and posing as a Kree; she was actually a traitor to the Skrulls and sought to rule the Kree Empire

Intelligencia, who didn't show up until 2000. We don't know when she was created, so she's a possibility

General Zedrao, who was a military leader, but never really sought to rule the Empire

The overweight queen from Fantastic Four Annual#19; I need to do a profile on her, but I have always considered her one of the top contenders that 5th spot.

Raksor, who was also a warrior/espionage agent


Super-Skrull

(Kl'rt), who was and is a warrior, not a leader, was actually trapped in Earth's Van Allen belts at the time the five would-be emperors were discussed. He was restored by an agent of S'Byll and enlisted as her agent.
Zabyk, who set off the Hyperwave bomb and was trapped within a suit of armor due to his subsequent inability to metamorph out of it; it's hard to imagine he had much of a following after taking away the Skrulls' greatest power.

I'm sure there are others, but I'm going to cap off the list here: Dezan, Intelligencia, and the overweight queen seem to be the other reasonable options. Or someone new and not yet seen.

Even at the time of the stories of the five would-be Emperors, none of them seemed to really be serious contenders, besides S'Byll.

What did Karza, Kyla, or Yorlak ever accomplish? Did they take over multiple worlds, like Gorth's ally, Nebula did in his name? No evidence to support that?

Kylor was a distant second to S'Byll, and Karza and Yorak were even less prominent.

Whoever was the fifth contender was apparently even less significant, as he/she was never even named in story.


Maybe someday, someone will publish the lost Skrull would-be Emperor story. It's been 32 years as of 2019, but stranger things have happened.
If new information comes along that contradicts what has been published in the handbooks, it will ret-con the info, just like any story/information.

Profile by Snood.
CLARIFICATIONS:
Gorth should be distinguished from:
---

Gorth was planetary governor of an unidentified colony world on the outer fringe of the Skrull Empire.

During the civil war that followed Galactus' consumption of Tarnax IV, the Skrull Throneworld, Gorth's world was spared from the conflict.

Gorth's subjects were astounded by Nebula's Sanctuary II ship as they saw it on the edges of their world's atmosphere.

--Avengers I#259



Note

: None of Gorth's subjects were identified by name


---

Gorth was planetary governor of an unidentified colony world on the outer fringe of the Skrull Empire.

During the civil war that followed Galactus' consumption of Tarnax IV, the Skrull Throneworld, Gorth's world was spared from the conflict.

Gorth's subjects were astounded by Nebula's Sanctuary II ship as they saw it on the edges of their world's atmosphere.

--Avengers I#259



Note

: Gorth's world was not identified.

---
images: (without ads)
Avengers I#259, pg. 11, panel 3 (Gorth's world's capital city);
panel 4 (true form, seated);
panel 5 (growing);
pg. 12, panel 3 (cowering);
panel 6 (subjects);
pg. 2, panel 3 (face);
panel 4 (blasted);

---
Appearances:
Avengers I#259 (September, 1985) - Roger Stern (writer), John Buscema (penciler/breakdown), Tom Palmer (inker/finisher), Mark Gruenwald (editor)
All-New Official Handbook of the Marvel Universe A to Z#9 (November, 2006) - Jeff Christiansen (head writer), Chad Anderson, Chris Biggs, Ronald Byrd, Madison Carter, Anthony Flamini, Michael Hoskin, Sean McQuaid, Eric Moreels, Mark O'English, Albert Sjoerdsma, Stuart Vandal (writers), Michael Short (assistant editor), Jeff Youngquist & Jennifer Grunwald (editors)
Skrulls! (September, 2008) - Ronald Byrd, Michael Hoskin, Gabriel Shechter, John Rhett Thomas, Stuart Vandal, Jeph York (writers), John Rhett Thomas (editor), Cory Levine & John Denning (assistant editors), Jennifer Grunwald & Mark Beazley (editors, special projects), Jeff Youngquist (senior editor, special projects)
---
First posted: 10/31/2019
Last updated: 11/08/2020
Any Additions/Corrections? please let me know.
Non-Marvel Copyright info
All other characters mentioned or pictured are ™ and © 1941-2099 Marvel Characters, Inc. All Rights Reserved. If you like this stuff, you should check out the real thing!
Please visit The Marvel Official Site at: http://www.marvel.com
Special Thanks to www.g-mart.com for hosting the Appendix, Master List, etc.!
---