(Infinity Abyss#5) - Gamora joined Captain Marvel and Spider-Man in their fight against the Nihilistic Elite and X. X captured the three of them, but they were rescued by the timely arrival of Pip and Moondragon. Moondragon telepathically misled X into believing that Final Oblivion had come (supposedly because his brothers had killed Atlez). The illusion of his own death was made real by X's mental powers, and so he he died happily - as he desired. At the same time, Warlock managed to hold Mystic and Warrior long enough for Doctor Strange to join them and defeat Mystic. Unfortunately Warrior then managed to knock Doctor Strange out, forcing Warlock to use his Soul Gem to take Warrior's soul, killing Warrior and severely disturbing Warlock's mental balance.
(Infinity Abyss#6) - Warlock left Doctor Strange caring for Atlez while he went away to meet Pip at the place of the joint Eternity/Infinity manifestation. Pip then teleported himself and Warlock to the Langunn's house, where they met the whole Langunn family (including Atleza) as well as Captain Marvel, Gamora, Moondragon and Spider-Man. A blast from the Soul Gem fully awakened Atleza to her destiny and power as Atlez's successor at the palace of the Cosmic Abyss. She then instantly healed the cosmic anomalies and pockets of nothingness that had manifested. The group was then joined by Thanos, who insisted that all of them joined forces to prepare for the imminent coming of Omega.
Thanos, protected from Omega's senses by a device he carried, teleported the Langunns' house (and its occupants) to a distant planet made of fissionable matter. Omega followed them (seemingly of his own accord) in order to kill Atleza. With great coordinated effort the allied heroes and Thanos managed to, in progression, separate Omega from his ship, destroy the ship, distract Omega long enough for Spider-Man to blind him with his webbing, and finally return to Earth while a number of remotely controlled Thanos' battleships approached the planet and began to fire, causing a gigantic nuclear explosion that supposedly killed Omega.

Comments: Created by Jim Starlin and Al Milgron.

The was never a group name for these characters in the Infinity Abyss. I chose Thanosi for my notes, and it became official when I had that name included in the Spider-Man Encyclopedia, in the appendix section, under Adam Warlock--Snood.

Thanos actually created at least a dozen clones of himself besides the five Thanosi detailed here, but most of the others died before ever getting time on panel. The reason for their deaths has never been made clear and is probably not unique: some of the corpses seen in Infinity Abyss#3 were in fact skeletons, while others looked like they had just recently died and were in fact fully formed and even clothed with variations of Thanos' garb. Most were presumably various combinations of Thanos with other superbeings' DNA; one of them had claws not unlike Wolverine's and was featured prominently on the cover of#3 as well as in the insides.

As Snood reminds me, Marvel time passes so slowly that it is hard to believe that Warlock spent two full years in his cocoon previous to this story. Snood thinks that some time distortion might have been at work, but both Atlez, Warlock himself and Dr. Nilrats of planet Degaitor make unequivocal mentions of two years' time. Then again, who knows? Maybe for some reason time passes faster on Degaitor than on Earth, and it just happens to pass at the same rate on the Infinity Abyss - or maybe Atlez was attuned to Warlock's passage of time, which sounds likely.
--It's pretty common for writers to jump huge spans of time, like 6-12 months during their storylines. But that almost always gets ret-conned out when the stories become 5-10 years old. The key point with stuff like that is to remember that Peter Parker is still supposed to be in his twenties, even though he was 15-16 when he became Spider-Man. If only 12-15 years have happened since "the modern era" started in 1961 (real time). There's no way 2 years passed in the Marvel Universe, b/t the Warlock limited series (1998) and the Infinity Abyss (2002). However, as Atlez was involved, there certainly could have been warped reality, etc.
--Snood.

We do not know for sure how long Thanos had kept the Thanosi. He tells Gamora that he first began to dabble with occultism about three centuries before her birth - but since she was recruited by Thanos from an alternate future at an unspecified time, that does not clarify much. He describes the events of Ka-Zar Vol. 4 as the first test of the project and those of Thor Vol. 2 as the actions of another of his duplicates before describing "a fight against Thor and his fellow Avengers" (supposedly Avengers: Celestial Quest) as the last straw that made him give up on the Thanosi. The implication is that the real Thanos was not directly involved in any of those story lines. It is however dangerous to take Thanos' words at face value.

In Infinity Abyss#6 Spider-Man seems to be capable of seeing Rick Jones' astral form. Does anyone know if that was a mistake or if there is some back story that I am unaware of?

Warlock was surprised to find Eternity and Infinity merged into a half-and-half being in#3, but I am certain that we have seen the two in much the same way before in one of the first three Infinity series (probably Infinity War#6). Maybe Warlock was not present at that scene (I don't remember).

Profile by Luis Dantas, the Daevanator.

CLARIFICATIONS:

The Thanosi, duplicates of Thanos modified to acquire characteristics from various superhumans, should be distinguished from
Thanos, the Mad Titan, their inspiration, template and probable DNA donor, described in greater detail in a number of sites listed in our links page @ Iron Man I#55
Rot, abstract entity created from the essences of Thanos and Death @ Avengers: Celestial Quest#5
also, neither of them has any known connection to:
Oblivion, the abstract entity, @ Iceman#3, Quasar#21 - but I personally think it must have inspired them in some sense and even be considered to be behind the scenes
Thanatos, Spider-Man 2099 and Captain Marvel foe, Rick Jones from an alternate future @ Spider-Man 2099#11
Thanatos, the mythological Greek personification of death @ Incredible Hercules#138
The Thanatosian Tomes, presumably a Lovecraftian reference, books of magic, @ Marvel Premiere#4
Armour of the Thanosi should be distinguished from:
Iron Man, Anthony "Tony" Stark, founding member of the Avengers from whose DNA Armour may be partially based.
additionally, he has no known connection to:
Mystic of the Thanosi should be distinguished from:
Doctor Strange, Stephen Strange, Sorcerer Supreme of Earth-616, enemy and possibly DNA donor for Mystic.
additionally, he has no known connection to:
MYS-TECH (Marvel UK) - British organization dedicated to takeover of the earth by technological and mystic means @ Warheads#1?
Omega of the Thanosi should be distinguished from:
Galactus, the Devourer of Worlds, from whose DNA Omega is partially based.
additionally, he has no known connection to:
Omega of Atillan, aka Ultron-7, gigantic android used first by Maximus and then by Ultron @ Fantastic Four I#131
OMEGA - merger of Roger Bochs and Scramble, utilizing Scramble's power to manipulate flesh and Bochs' creative mind, killed by Box/Jeffries @ Alpha Flight I#48
Omega the Unknown (Model X3Z) - penultimate humanoid creation of superhuman power bioengineered by Protar in order to replace their own dying race, inadvertently destroyed planet on which he was created, fled to earth, shot dead by policeman when mistaken for attacker against Ruby Thursday @ Omega the Unknown#1
other "Omega" characters, groups, etc.
Warrior of the Thanosi should be distinguished from:
Gladiator, Kallark of the Shiar Imperial Guard, from whose DNA Warrior may be partially based.
additionally, he has no known connection to:
any other Warriors or people named "Warrior"
X of the Thanosi should be distinguished from:
additionally, he has no other known connection to:
The Ex-Squadron Supreme, erstwhile name for the team of Doctor Spectrum, Haywire, Moonglow (formerly Arcanna), Shape, Skylark, Power Princess and Whizzer @ Quasar#13
X-Men, obscure Marvel team book of the 1960s that eventually ran out of steam and entered bimonthly reprint mode in 1970 with issue#67 (Dec 1970;#66 had a March 1970 cover date) and was finally cancelled in the early 1970s. The concept was eventually given a second chance, with a measure of success that actually led to at least a few spin-offs and media licenses. @ X-Men I#1 (September 1963)
any of those spin-offs, of which I believe there may be several, not necessarily all in comics books. In fact there is a good chance for a motion picture based on the X-Men to be launched in a year or two - I will try to keep you informed.
Any other X-somethings, if you find any... I am fairly sure there are some around.
---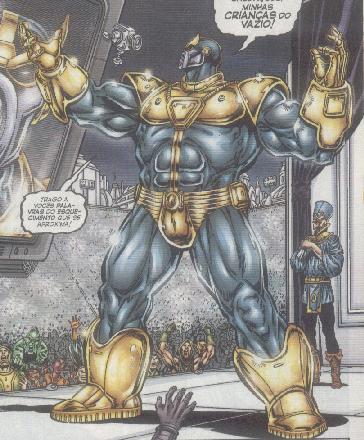 Armour
Designed to test Iron Man, he was first seen speaking at the Nietzsche Arena in Baligiest, where he recognized Gamora and asked his nihilistic followers to kill her. Of the Thanosi, he was the one most involved with the nihilist army. His power level was comparable to that of the original Thanos, but his outfit and possibly powers also drew inspiration from Iron Man (whom he was designed to combat). He was blasted out of existence by the original Thanos after calling him "Father".
--Infinity Abyss#1 (2,3,4d)
---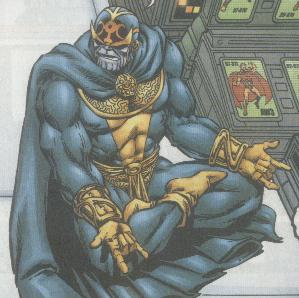 Hewas Thanos' answer to Doctor Strange. He had a significant degree of mystical ability and was capable of opening dimensional portals but proved no match to the real Doctor Strange. He was apparently banished to another dimension by Doctor Strange, but his real fate is unrevealed.
--Infinity Abyss#1 (2-5
---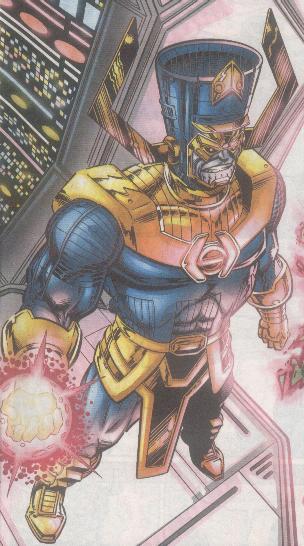 Omega was first mentioned in#1, seen as a silhouette (identical to that of Galactus) in#3 and fully seen only in#6. Thanos mentioned specifically that he was created with Galactus' DNA using samples obtained during the Infinity Gauntlet series. He had no mastery of language and slow reflexes, but was otherwise allegedly at least twice as powerful as Galactus. After feeding upon at least three planets (and perhaps sensing the destruction of his four fellow Thanosi) Omega traveled to the Langunn's home in an attempt to kill Atleza. He was detained by the coordinated efforts of the Infinity Abyss team, who managed to destroy his ship, and ultimately killed when the planet of their fight was destroyed by the combined firepower of several of Thanos' battleships, creating a nuclear explosion of planetary magnitude.
--[Infinity Abyss#1], 3 ([5(fb), [1,2], 3 [4,5] 6
---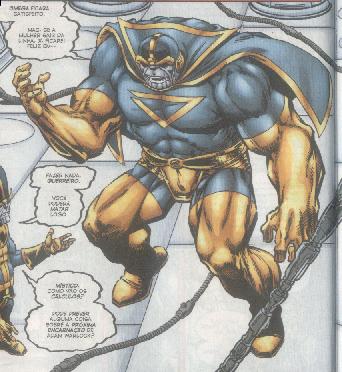 Warrior
Designed to determine the abilities of the Shi'ar Imperial Guardsman Gladiator.
He was first seen aboard the ship that he divided with Mystic and X. According to Warlock he was at least four times as strong as Thanos. Even so, Thanos considered him the weakest of the Thanosi awakened by Atlez, no doubt because of his limited intellect and eagerness to fight. Warrior was constantly kept restrained by his partners, who recognized his lack of tactical finesse. When he attempted to kill Atlez at the Infinity Abyss, Adam Warlock got desperate and ended up taking Warrior's soul with the Soul Gem, killing him in the process. By absorbing his soul Warlock became heavily nihilistic and mentally unstable for a time.
--Infinity Abyss#1 (2-5, [6]
---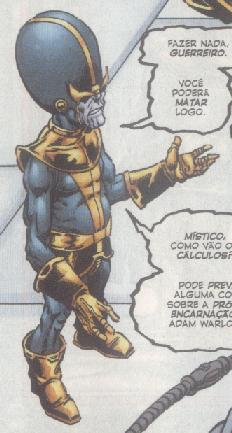 X
He was gifted with extensive mental powers, presumably inherited or at least based on those of Charles Xavier, the X-Men's Professor X. He was the Thanosi who disguised himself as the original Thanos by means of a mental projection, and enslaved Moondragon to his will. Moondragon later freed herself and paid X back with a mental illusion of her own, leading X to dream himself into death with a smile.
--Infinity Abyss#1 (2-5
---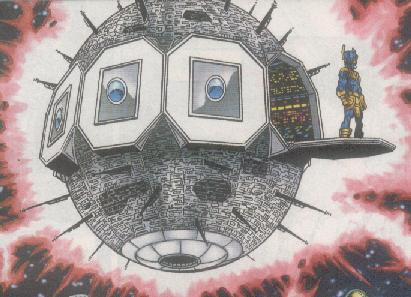 Omega's Ship was gigantic and roughly spherical, perhaps in imitation of the ship Galactus uses most of the time. It allowed Omega to feed upon the energies of even a nuclear explosion of planetary scale, and for that reason was destroyed by Pip as part of Thanos' plan to defeat Omega.
---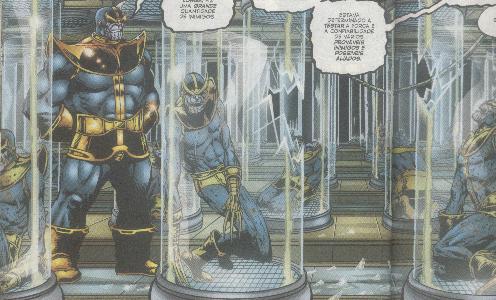 Many of Thanos' duplicates were less than successful, possibly even stillborn. Besides the five named Thanosi, both the cover of#3 and this panel clearly show one with Wolverine-styled claws. Other tubes (not shown in this picture) had nothing more than skeletons. It is not clear exactly how they died or why they are kept in storage. It could be that Atlez' meteorite damaged their life support system, but this is unconfirmed.
---
Appearances:
Infinity Abyss#1-6 (August-October, 2002) - Jim Starlin (writer/pencils), Al Milgrom (inks), Tom Brevoort (editor)
---
First Posted: 12/28/2003
Last updated: 09/04/2011
Any Additions/Corrections? please let me know.
Non-Marvel Copyright info
All other characters mentioned or pictured are ™ and © 1941-2099 Marvel Characters, Inc. All Rights Reserved.
If you like this stuff, you should check out the real thing!
Please visit The Marvel Official Site at: http://www.marvel.com
Special Thanks to www.g-mart.com for hosting the Appendix, Master List, etc.!