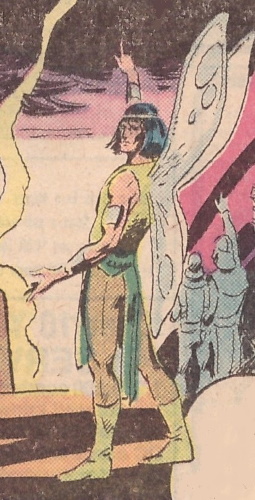 THORN
Real Name: Thorn
Identity/Class: Alternate Reality (Reality-791) extraterrestrial winged humanoid
Occupation: Non-violent social revolutionary
Original occupation has not been revealed
Group Membership: Cloudlanders (until they sentenced him to death)
Affiliations: The people of the giri-world; Star-Lord (Peter Quill), "Ship"
Enemies: Other Cloudlanders (especially Shreen)
Known Relatives: None
Aliases: None
Base of Operations: The World called Heaven (both the Cloudlands and the giri-world)
First Appearance: Marvel Spotlight II#7 (July, 1980)
Powers/Abilities: As one of the people of the world called Heaven, Thorn's appearance was almost identical to that of a light-skinned human from the planet Earth. The primary difference was that he could grow translucent wings from his shoulders that, when fully grown, enabled him to fly through the air.
Like the rest of his people, Thorn could carry within his body an energy (or something) that they called "giri." Accumulating enough "giri" enabled Thorn to grow functioning wings.
After being cast down from the Cloudlands, Thorn's wings began to regenerate once he received a transfusion of energies from thousands of giri-worlders. It then took three days for his wings to be fully restored and capable of carrying him in flight.
After mounting the final "step of giri" to reach the Cloudlands, Thorn received the blessing of immortality that then prevented him from aging or dying from natural causes. This immortality was not a natural result of living in the Cloudlands but something (perhaps a medical procedure) that the people of the Cloudlands had long ago developed to conquer aging.
Limitations: As a side effect of the blessing of immortality, Thorn, like all Cloudlanders, was unable to procreate.
Thorn was aware of the fact that, after sacrificing his immortality, his time would be severely limited even if he returned to the Cloudlands. This suggests that either the blessing of immortality could not be given to an individual more than once or that the other Cloudlanders would not be willing to give it to someone whom they had condemned to death and cast down.
Height: 6' (estimated)
Weight: Unrevealed
Eyes: Unrevealed
Hair: Black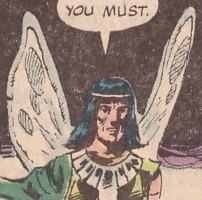 History:
(Marvel Spotlight II#7 (fb) - BTS) - The world called Heaven by its inhabitants possessed characteristics that were somewhat different from other planets in its reality. The most obvious of these differences was that some of the clouds in its atmosphere were tangible, permanent and capable of supporting considerable weight. These masses of clouds were like islands and continents that floated in the sky.
(Marvel Spotlight II#7 (fb) - BTS) - A very long time ago, a male humanoid named Thorn was born on the world called Heaven. Like all members of his race, Thorn initially lived on the planet's surface, known as the giri-world, and he lived his life in accordance with the system of giri in which each good deed was a "step of giri" that brought him closer to the rewards of the Cloudlands above.
(Marvel Spotlight II#7 (fb) - BTS) - As the number of giri-steps he had taken grew, wings began to grow from Thorn's shoulder blades. Eventually, after an unspecified time, Thorn's wings had attained their full growth , and he was able to "mount the final step to the Cloudlands" by actually flying there.
(Marvel Spotlight II#7 (fb) - BTS) - Once in the Cloudlands, Thorn was able to undergo a treatment developed there that stopped the aging process, granting him immortality.
(Marvel Spotlight II#7 (fb) - BTS) - After an unspecified time in the Cloudlands, Thorn came to believe that the only meaningful act of giri left for those who had already taken the final step into the Cloudlands was to share Heaven with those in the giri-world below. To this end, Thorn proposed the building of a bridge that would connect the Cloudlands to the giri-world and enable giri-worlders to reach the Cloudlands even if their wings had not grown enough to carry them there. However, the other Cloudlanders felt that Thorn's plan threatened the very basis of their world and that immortality was meaningless without the proper reality in which to live it.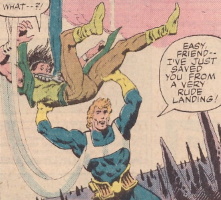 (Marvel Spotlight II#7 (fb) - BTS) - Thorn spent "eons" trying to persuade the other Cloudlanders, but they merely indulged his rebellion without ever changing their minds. Eventually, and with reluctance, the other Cloudlanders decided that Thorn deserved the punishment of righteous death. Thorn's wings were removed and he was brought to the edge of the Cloudlands to be thrown over the side to fall to his death on the ground below.
(Marvel Spotlight II#7) - As the Cloudlanders were preparing to execute Thorn, an alien known as Star-Lord and his sentient Ship had begun to investigate the planet and its unusually-tangible clouds. Happening upon the execution site just as Thorn was thrown over the side, Star-Lord quickly exited Ship and flew down after Thorn, managing to catch him just before he would have been impaled on some stone spikes. Thorn warned his rescuer that the Cloudlands had begun to darken from the loss of life of himself and one other just as they were attacked by another Cloudlander, Shreen the Huntress, whose duty was to carry out Thorn's punishment. Using his Element Gun, Star-Lord was able to temporarily trap Shreen in a cave and suggested that they flee in Ship but Thorn refused, stating that his rescuer had taken a step of giri on his behalf and it had to be repaid. Thorn then explained how the world called Heaven thrived on the system of giri, and Star-Lord was persuaded by Ship to humor him. Since Star-Lord's step of giri was an act of violence, Thorn shaped his giri into the act of cleansing him by taking water from a pool and pouring it over Star-Lord's head. With the ritual complete, Thorn accepted Star-Lord's offer of escape aboard Ship and asked to be taken to the World Palace where he could restore his wings.
As they flew aboard Ship, which Thorn found to be more imposing than flight on giri-wings, Thorn explained why the Cloudlanders had tried to execute him but stated that he still believed he was right and was determined to regain his wings so he could return to the Cloudlands and fight for his goal. Thorn then asked his rescuer who he was and why he was there, and the alien identified himself as Star-Lord, formerly a quite normal human named Peter Quill from the planet Earth, and revealed some of the major events in his life, from the meeting of his human mother and alien father to her murder by his father's enemies to how his obsessive quest for vengeance had brought him to the Master of the Sun who had transformed him into Star-Lord. After hearing his story, Thorn wondered if perhaps it was not mere chance that had brought him to Heaven at that time.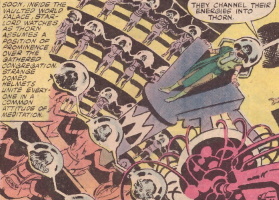 Arriving at the World Palace, Thorn, Star-Lord and Ship observed thousands of people entering the structure. Thorn explained that they had come there to give of themselves to him because the darkening of the Cloudlands had been a celestial sign that one of the Cloudlanders had been cast down among them so they had come to aid him in regaining his wings. Once everybody was in place, with domed helmets on their heads, the energies of the giri-worlders were channeled into Thorn in a procedure that lasted a long time.
(Marvel Spotlight II#7 (fb) - BTS) - To thank them for their energies, Thorn sacrificed his immortality by feeding the energies of his self back into them, slightly extending the lives of all of them.
(Marvel Spotlight II#7) - At the completion of the procedure, Thorn thanked the drained giri-worlders and then he led Star-Lord into a back chamber of the palace where he could rest. As Thorn explained how the giri-worlders, by coming to the World Palace to give him their energies, had sacrificed the giri that they could have devoted to each other and thus delayed the time when they could have received their own wings, Star-Lord asked if their sacrifice was not in itself a good deed of giri. Thorn replied that it was but that it didn't count because it had been done to help one who in theory did not need it. He then explained how he had repaid them anyway with the energy of his self and that he had to rest because it would be three days before his regenerating wings were fully restored. When Thorn expressed his hope that the time would pass before Shreen could hunt him down, Star-Lord offered to stay to protect him. Thorn thanked him and said his act would be repaid.
On the second day, as the giri-worlders stood vigil outside the World Palace, Thorn revealed that he was impatient to return to the Cloudlands even though his time there would be severely limited because he had sacrificed his immortality. Thorn then sadly spoke of how the blessing of immortality prevented the Cloudlanders from having "little ones" and that the death of any one of them thus brought them all one step closer to extinction, making death the greatest evil. Star-Lord wondered how, if that was true, the other Cloudlanders could have tried to execute him, and Thorn explained how they had indulged his rebellion for eons before reluctantly deciding to kill him.
On the third day, after Ship warned them that Shreen was near, Thorn felt that his fate was sealed because it was still an hour to sunset when his wings would be ready to carry him back. When Star-Lord offered to carry him up, Thorn revealed that it could not be done because the defense-systems had been activated and the Cloudlands could not be entered until the last step of giri had been mounted, meaning that he had to enter of his own power. Thorn then told Star-Lord a legend from a long-ago time about a male Cloudlander who had come down to claim the female giri-worlder he loved but they had both been killed by the defense-systems when he had tried to carry her up to his home in the Cloudlands.
As Thorn resigned himself to facing the huntress who called him out to face his punishment, Star-Lord stepped in to oppose Shreen in Thorn's place, and Shreen agreed, saying it would be a fight to the death. After a brief battle, Star-Lord managed to destroy her weapon and told her to leave in peace. When the defeated Shreen stated that he must now slay her, Star-Lord refused, saying that he had never learned to kill if there was another way. However, Shreen felt that she must fight to the death and, since Star-Lord had taken a step of giri by sparing her life, she had to repay him by sparing him the necessity of committing murder by slaying herself, which she then did by hurling herself onto the stone spikes.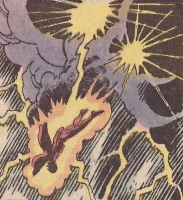 In response to Shreen's death, Thorn told Star-Lord that he had to repay her by laying her to rest, and Star-Lord used his Element Gun to create a burial mound of earth around her body. However, when Thorn then told Star-Lord that he had to weep on her grave to complete the step of giri, Star-Lord stated that he could not because she had tried to kill Thorn. The Cloudlander then revealed that there was no way for Shreen to mount the steps of giri even though she had sacrificed herself for Star-Lord and that, until her giri was repaid, the defense systems would remain in force, blocking anyone from entering the Cloudlands.
Unfortunately, when Thorn stated that Star-Lord had to sacrifice a small portion of grief and that Shreen and all above would have wept for Thorn if she had killed him, the alien insisted that he could not. Upon hearing Star-Lord's words, Thorn realized that there was only one clear passage left to him. Thorn stated that Shreen's sacrifice had opened his eyes, that he cursed his former blindness and that he now saw that he had been wrong and that the world called Heaven had to be earned. As he took flight towards the darkened clouds, Thorn declared that the steps of giri were good to climb and so he would do so one last time on behalf of the entire world.
As Star-Lord began to fly after Thorn to try to stop him, Ship warned him not to do so because the defense system would kill them both. Then, as Star-Lord, Ship and the giri-worlders watched, Thorn was struck by lightning. As he died, Thorn used the flesh of his arm to conduct the lightning back towards the underside of the Cloudlands, causing the clouds to burst and release a downpour, as if the gods themselves were weeping from the heavens onto Thorn's falling body.
(Marvel Spotlight II#7) - On the planet below, Star-Lord finally wept over Shreen's grave since Thorn's sacrifice had opened his eyes and allowed him to feel grief because Thorn had used the last of his life's energy to brighten the Cloudlands. As the rains stopped and a rainbow extended down to the grave at Star-Lord's feet, the giri-worlders celebrated that the way to the Cloudlands was open again.
As Star-Lord boarded Ship, he told her that they had learned much from this world called Heaven and that it was now time to leave to use their new knowledge in mounting their own steps to the farthest stars. And Ship replied, "Amen, Peter. Amen."
Comments: Created by Doug Moench and Tom Sutton.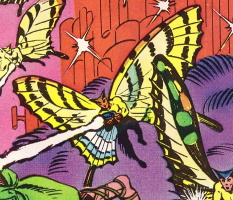 The people of the world called Heaven who appear on the cover of Marvel Spotlight II#7 are depicted with very large, multi-colored wings that resemble those of butterflies, as can be seen in the image to the right. In contrast, the people in the actual story have wings that are much smaller, narrower and translucent, like those of a dragonfly or hornet. One would not expect them to be able to provide enough lift to carry an adult human in flight. I presume that those the smaller wings were just easier to draw and color.
Based on what Thorn said, it would seem to take a significant amount to time to mount all the steps of giri needed to reach the Cloudlands and yet Thorn appeared to be a young man. I can only assume that he was either unusually virtuous and was able to accumulate enough giri while still young or he was an older man when he reached the Cloudlands and the blessing of immortality that he received there restored his youth. Either explanation works for me...but there was one white-haired Cloudlander with a wrinkled face...
One thing that the story never revealed was what exactly the Cloudlanders DID with their immortality. I mean, living on solid clouds and having no contact with the surface below would seem to limit what activities they could engage in to pass the time. Without any actual land or resources, they would be unable to grow crops or make, well, anything, so how did they feed and clothe themselves? Maybe their immortality also kept them eternally nourished but then what would there be for them to do all day, every day, forever? It seems to me that writer Doug Moench paid too much attention to how the world thrived on the system of giri and not enough time on building that world.
The "giri" that is so important to this story was presumably based on the Japanese value that, according to Wikipedia, roughly corresponds to "duty", "obligation" or even "burden of obligation" in English. However, I don't believe that this alien "giri" is meant to be exactly like the Japanese giri and it would seem to definitely not be defined as "to serve one's superiors with a self-sacrificing devotion." Instead, it seems more associated with the complex Japanese values that involve loyalty, gratitude, and moral debt.
Based on the story, this giri would seem to be a social obligation that is monitored and in some ways enforced by some all-seeing presence that was never identified. For example, those giri-worlders who aided Thorn did a good deed but it didn't count because "it was expended on one who in theory (did) not need it." This clearly indicates that there was something on that world called Heaven that was somehow able (or empowered) to decide if good deeds counted as "steps of giri" or not.
Another thing about this "giri" that was unlike the real world version was the fact that it could apparently be measured somehow, possibly as a form of energy. When Thorn and Shreen left the Cloudlands, the loss of their lives caused the clouds to darken, a sign that the defense-systems had been activated. Thorn later revealed that those systems would remain activated until "the last step of giri had been mounted." Later, after Star-Lord had taken a step of giri by sparing Shreen's life and she had repaid him by taking her own life, Star-Lord had to repay her by laying her to rest and complete the step by weeping on her grave. When he proved to be unable to "sacrifice a small portion of grief" to do so, Thorn had to complete the step himself, by sacrificing himself, in order to open the way to the Cloudlands again. This would seem to make it clear that there was something on Heaven that was monitoring the behavior of the sentient beings who were present.
In an earlier version of this profile I wrote that the gathered congregation had aided Thorn in regaining his wings by transferring their accumulated giri into him. I rewrote that part when I realized that the story specifically stated that they had channelled/fed their energies into him. However, if that's the case, I'm a bit puzzled as to exactly how those giri-worlders "sacrificed the giri they could have devoted to each other" by coming to the World Palace to help Thorn. Further, how did helping to restore Thorn's wings delay the time when they would receive their own wings? These statements by Thorn would really make sense if they had given their giri to him and Thorn had repaid them by feeding each of them some of his own energies but the story seems determined to avoid actually saying that.
The nature of the wings possessed by the people of the world called Heaven are a bit confusing. Although it's clear that these "giri-wings" are actual, physical wings that grow from their backs, Thorn states, "Everyone in the Cloudlands wears wings--symbols that one has successfully mounted the steps of giri, as well as the actual means by which one mounts the final step to the Cloudlands by flying." Thorn also mentions that the giri-worlders who had helped him had "delayed the time when they will receive their own wings." These two statements make it sound like "giri-wings" are things that can be worn or received, which would imply that they were NOT a natural part of their bodies.
Taking everything that happened on Heaven into consideration, this does not seem to be one of Star-Lord's more "heroic" adventures. Sure, Star-Lord and Ship left with new knowledge but think of what it cost the people of Heaven. If Thorn's execution had been carried out as planned, then he would have died, all the people of the Cloudlands would have wept for him and the way to the Cloudlands would have remained open. However, thanks to Star-Lord's interference in saving Thorn, thousands of giri-worlders, knowing that one of the Cloudlanders had been cast down among them but was still alive, gave of themselves to aid him in regaining his wings. Then there's Shreen who had a fight to the death with against Star-Lord and then, when he took a step of giri by sparing her life, felt that she had to repay him by killing herself. And finally, there's Thorn himself who had to take drastic and fatal action to undo the damage that Star-Lord had done to the way of life on that world called Heaven.
So, because Star-Lord tried to save Thorn, Shreen died, Thorn died anyway, and some (or many) giri-worlders are going to die before they can receive their wings, fly to the Cloudlands and gain the blessing of immortality. Plus, Thorn died knowing that he had wasted "eons" of his life in pursuit of the goal of enabling all to share in Heaven because Star-Lord's actions had shown him that the world called Heaven really must be earned by those who would go there.
All in all, not what I would call a happy ending.
This profile was completed 7/03/2021, but its publication was delayed as it was intended for the Appendix 20th anniversary 's celebratory event.
Profile by Donald Campbell.
Clarifications:
Thorn from the World called Heaven has no known connections to
Thorn, a coal miner who was believed to be insane and forcibly committed to Hagstone Sanitarium when he tried to tell people about his encounter with "four-armed men" who lived underground and were plotting to conquer the surface world--Menace#4/4
Thorn (Salvatore Carbone), a former member of the Carbone crime family who somehow gained superhuman abilities after being nearly killed by the Punisher--Punisher War Zone#1
Thorn Boy, an Ultra with thorns covering his body who had been captured and caged by the cyborg Mourning Star so that she could harvest antibodies from his blood to extend her life--Foxfire#1
Thorne, a young English sorceress who opposed the selfish sorceress sisters Martina and Regina Wolcroft, and who befriended and healed the alien dragon Lockheed--X-Men Unlimited I#43
Thornn, one of the witches of New Salem and a member of Salem's Seven whose alternate form could project explosive spines from his body--Fantastic Four I#186
Thornn (Lucia Callasantos), a mutant with a cat-like appearance and feline abilities who was a member of the underground mutant community known as the Morlocks--X-Force I#6
Thorns (Grove of Elders, Captain Kalyx), a race of sentient mobile plant-beings who allied with the Starjammers in an effort to recover the stolen Hyrax seeds from the evil Committee--Starjammers II#1
Aaron Thorne, a former executive and burnt-out yuppie who Varnae turned into a vampire and made the leader of Varnae's secret clan of vampire followers, the Bad Seed--Blade: Vampire Hunter I#1
Belle Thorne, the loving and supportive wife of football coach Sam Thorne--Fantastic Four I#50
Harry Thorne, a US infantry soldier who did not like to fight and hoped for peace but was gunned down from behind by North Korean soldiers when he held back and hid while his fellow soldiers advanced into battle--War Comics#9/1
Martin Thorne, a greedy entrepreneur who was willing to make money from companies and business deals that threatened the health of the planet Earth and innocent people until Night extracted his darkness from him--Strange Tales II#16
Sam Thorne, a football coach at Metro College who had previously attended that college alongside Reed Richards and Victor Von Doom-- Fantastic Four I#50
The Thornoids, a race of mobile giant plants who killed everything around them to create carrion for them to eat and were sometimes used as living weapons by the alien Dire Wraiths--Rom#7
The Khan-Khilayim (a.k.a. the Thorns) of the Hyborian era, the elite palace guardsmen who served Akter Khan, a ruler of the desert city-state of Zamboula - (novel) Conan and the Sword of Skelos; (adapted) The Savage Sword of Conan#58
Doctor Synne (Christopher Thorn), a British scientist and former co-worker of James Braddock, Sr. who was transformed against his will into the super-powered Synne by the malfunctioning Mastermind computer--Captain Britain I#8 (Marvel UK)
Smart Alec (Alexander "Alec" Thorne), a Canadian mutant with a peak human intellect who was a member of the Canadian government's Gamma Flight before being recruited to join the criminal Omega Flight--Alpha Flight I#1
or to any person, group, race, place or thing with a name that begins with "Thorn-"
---
images:
Marvel Spotlight II#7, page 14, panel 6 (main image)
page 15, panel 1 (head shot)
page 3, panel 2 (being saved by Star-Lord)
page 9, panel 1 (receiving energy from the giri-worlders)
page 16, panel 1 (struck by the defense-system)
page 16, panel 5 (his plummeting death)
front cover (different wings)
---
Only Appearance:
Marvel Spotlight II#7 (July, 1980) - Doug Moench (writer), Tom Sutton (artist), Jim Salicrup (editor)
---
First Posted: 09/07/2021
Last updated: 09/05/2021
Any Additions/Corrections? please let me know.
Non-Marvel Copyright info
All other characters mentioned or pictured are ™ and © 1941-2099 Marvel Characters, Inc. All Rights Reserved. If you like this stuff, you should check out the real thing!
Please visit The Marvel Official Site at: http://www.marvel.com
Special Thanks to http://www.g-mart.com/ for hosting the Appendix, Master List, etc.!
---