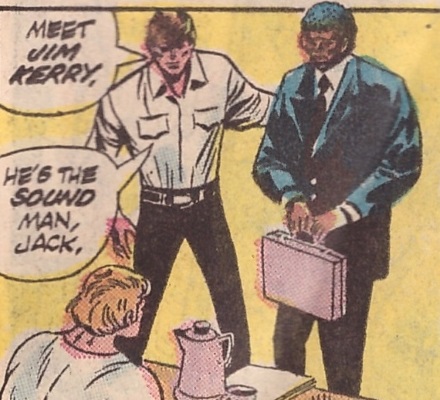 JIM KERRY
Real Name: James "Jim" Kerry
Identity/Class: Human technology-user
Occupation: Sound engineer
Group Membership: Unrevealed, probably a member of some professional union
Affiliations: Buck Cowan, Jack Russell
Enemies: None (although, if he'd known of Kerry and his device, Sarnak probably would have considered him to be an enemy)
Known Relatives: None
Aliases: None
Base of Operations: Los Angeles, California
First Appearance: Werewolf by Night I#10 (October, 1973)
Powers/Abilities: Jim Kerry was not known to possess any superhuman powers or fighting skills but he was a skilled sound engineer.
Height: 6' (estimated)
Weight: 250 lbs. (estimated)
Eyes: Brown
Hair: Black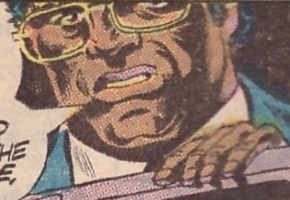 History:
(Werewolf by Night I#10 (fb) - BTS) - Jim Kerry was a sound engineer who worked in the Los Angeles area. Under circumstances which have never been revealed, he met Buck Cowan. Their relationship was a friendly one.
(Werewolf by Night I#10 (fb) - BTS) - Jim Kerry received a telephone call from Buck Cowan who told him of Jack Russell, a friend of Buck's who needed a device that could cancel out sound in the upper frequencies. When Cowan asked if Kerry could provide such a thing, Kerry said he could and proceeded to obtain an appropriate mechanism.
(Werewolf by Night I#10 (fb)) - Later that day, Jim Kerry arrived at Buck Cowan's house in Venice and Cowan introduced him to Jack Russell. Kerry then opened his briefcase and showed Cowan and Russell the Model M-17 Sonic Screen device that he had brought for Russell and told him that it should fill the bill for what he needed nicely. While Kerry was attaching the device to Russell's upper left arm, Russell asked if it would blot out sound in the upper frequencies. Kerry confirmed that it would and then asked Jack what it was for. Jack avoided answering that question, saying that he might be able to tell Jim later but that right now it was between him and his "shadow on the wall."
Although Russell presumably later returned the Sonic Screen to Kerry, this has not been confirmed. It's also not been revealed if Russell ever told Kerry about how he'd used the device but, since that explanation would have involved werewolves and the death of a man (Sarnak), it seems unlikely that Russell would have chosen to burden Kerry with that knowledge.
The Model M-17 Sonic Screen device which Jim Kerry was able to provide to Jack Russell was certainly an impressive device. It's remarkably convenient that Kerry not only had that device handy but that it was so capable of doing exactly what Russell needed it to do. Even more impressive was the fact that it had an automatic setting, one which did not require a trained professional to operate.
Not being a scientist, I have no idea how "realistic" this device is. It apparently functions through a form of noise cancellation, a method for reducing unwanted sound by the addition of a second sound specifically designed to cancel the first. An article on "Active Noise Control" which can be found on Wikipedia here has a lot more information on this subject but not quite enough to let me know if the method could actually be useful in counteracting a fictional sonic mind control weapon.
Anyway, according to the Wikipedia article, Sound is a pressure wave, which consists of alternating periods of compression and rarefaction. A noise-cancellation speaker emits a sound wave with the same amplitude but with inverted phase (also known as antiphase) to the original sound. The waves combine to form a new wave, in a process called interference, and effectively cancel each other out - an effect which is called destructive interference.
Profile by Donald Campbell.
CLARIFICATIONS:
Jim Kerry has no known connections to:
Dallas Kerr, a corrupt vice-president of a bank who managed the account of the Miami crimelord known as the Slug -- Marvel Comics Presents I#61/2
John Forbes Kerry, an American politician who is the United States Secretary of State and a former Democratic Senator from Massachusetts who may or may not exist in Reality-616
James Eugene "Jim" Carrey, a Canadian-American actor, comedian, impressionist, screenwriter and film producer who may or may not exist in Reality-616
or to anyone else with the first name "James" or a last name that sounds like "Kerry"
The Model M-17 Sonic Screen has no known connections to:
The Mosquito, a real world "sonic screen" which is used to deter loitering by young people by emitting sound at high frequency.
Sonic (Daniel Bannion), a member of the Seekers team (alongside Chain and Grasp), three brothers who are former A.I.M. techicians who have gone freelance as mercenaries using battle armor that they developed--Iron Man I#214
The Sonic Cannon, a new military weapon (possibly from a divergent Earth) designed to use sound to render its targets unconscious--PS, The Preventative Maintenance Monthly#592
The Sonic Crystal, an immense (and possibly mystical) crystal located in a cavern beneath Castle Duncraig near the village of Lochalsh in Scotland, which the Hellfire Club tried to use to create a powerful sonic weapon--Marvel Graphic Novel: Spider-Man: Spirits of the Earth
The Sonic Disruptor, a weapon which could target and destroy entire planets across even inter-galactic distances, used (until destroyed by the Fantastic Four) by the Skrulls of Kral IV to force their alien slaves to obey their masters--Fantastic Four I#92
Sonic Enhancers, devices designed and manufactured by Enos Warwick which catalyzed muscle growth to increase the abilities of athletes but which also affected brain cells and caused damage to memory and hastened the onset of brain diseases like Alzheimer's Disease--Amazing Spider-Man I#388/3
The Sonic Fields of Dystopia, a place where Sleepwalker used to go to in order to escape the turmoil of the Mindscape--mentioned in Sleepwalker#23
The Sonic Pulse Generator, a device stolen from Lou & Oscar's Lab Inc. by Overdrive for Mr. Negative which was lost in battle with Spider-Man and taken into police custody by Carlie Cooper--Amazing Spider-Man I#564
The Sonic Scrambler, an Atlantean tank-like weapon that Namor the Sub-Mariner once used against the Defenders--Defenders I#95
The Sonic Sponge, a device used by Annihilus in an attempt to snuff out the flame of the Human Torch (Johnny Storm)--Fantastic Four Annual I#6
Sonicorn of Reality-9602, a recurring enemy of Iron Lantern who was manipulated by H.E.C.T.O.R. into doing his "dirty work" and who is an Amalgamation of the Unicorn (Milos Masaryk) from Reality-616 and Sonar (Bito Wladon) from a Different Cosmos--mentioned on the letters page of Iron Lantern#1
Soniklaw of Reality-9602, a member of the Sinister Society (sentient robots created by Dr. Will Magnus to destroy all metamutant life) who is an Amalgamation of Klaw (Ulysses Klaw) from Reality-616 and Sonar (Bito Wladon) from a Different Cosmos--The Magnetic Men Featuring Magneto#1
or to any other person, place or thing with "Sonic" as part of their name.
---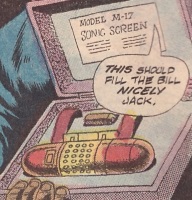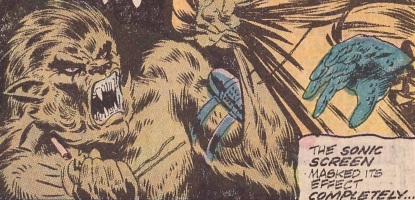 The Model M-17 Sonic Screen was a device that was able to "blot out" sound in the upper frequencies (ultrasonics). The way in which this device was normally used was not revealed but the fact that Jim Kerry was able to obtain one so quickly suggests that it was a piece of equipment that is commonly used by sound engineers (at least, those living in the Marvel Universe). Also, the fact that it came equipped with straps by which it could be attached to a person suggests that it was normal (or, at least, not unusual) for the device to be worn by people.
The fact that the exact frequency used by Sarnak's control whistle could not have been known by Russell indicates that the Sonic Screen had an automatic setting which would analyze any ambient ultrasound, instantly calculate a frequency that would cancel out the target sound and emit its own sound at that frequency. Why this device would have such an automatic setting is unknown.
Aside from its unspecified normal usage, the Sonic Screen was able to completely mask the effect that Sarnak's command whistle had on living brains. Close proximity exposure to the Sonic Screen's soundwaves also had the unexpected effect of reversing any sensitization that the command whistle had previously created within the brains of its victims, thereby freeing them from the sense of powerlessness that had been induced in them by that inceased sensitivity of their brains.
At Jack Russell's request, writer Buck Cowan asked sound engineer Jim Kerry to provide them with a device that could blot out sound in the upper frequencies. Kerry was able to bring a Model M-17 Sonic Screen to Cowan's home and attach it to Russell's upper left arm.
That night, the device remained attached to Russell's arm even after he transformed into the Werewolf and entered the sewers in search of his sister, Lissa. As the Werewolf battered his way through Sarnak's army of derelicts, Sarnak attempted to use his command whistle to stop him but the Werewolf was unaffacted because the Sonic Screen masked the command whistle's effect completely. The Werewolf then knocked Sarnak down and freed Lissa from her chains.
However, before the Werewolf could leave with Lissa, the derelicts regained consciousness and discovered that they were no longer under Sarnak's control. Enraged by how Sarnak had used and hurt them, the derelicts attacked him, beating him to death (or into a catatonic state).
--Werewolf by Night I#10
---
images:
Werewolf by Night I#15, page 15, panel 1 (full body)
page 15, panel 2 (head shot)
page 15, panel 2 (Sonic Screen)
page 17, panel 4 (Werewolf wearing Sonic Screen)
---
Only Appearance:
Werewolf by Night I#10 (October, 1973) - Gerry Conway (scripter), Tom Sutton (art & letters), Roy Thomas (editor)
---
First Posted: 11/06/2016
Last updated: 11/05/2016
Any Additions/Corrections? please let me know.
Non-Marvel Copyright info
All other characters mentioned or pictured are ™ and © 1941-2099 Marvel Characters, Inc. All Rights Reserved. If you like this stuff, you should check out the real thing!
Please visit The Marvel Official Site at: http://www.marvel.com
Special thanks to http://www.g-mart.com/ for hosting the Appendix, Master List, etc.!