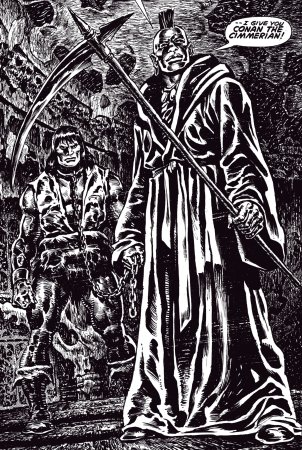 ZULA
Real Name: Zula
Identity/Class: Hyborian Era human magic user
Occupation: Sorcerer, swordsman;
former slave
Group Membership: Formerly the Black Corsairs, Black Ring (provisional member)
Affiliations: Ajonga, Ajujo, Bêlit, Basara, Conan, Helgor, Fafnir Hellhand, Ispirana, Juma the Black, Khorajan army, Jullah, Kozaks, Laranga, Lasanga (possibly a misspelling of Laranga; see comments), Malthom (aka Amalric), M'Gora, Milo, Nefertari/Zabibi, N'Yaga, Red Sonja, Sablat, Tania, Turgohl, Yakov, Yarunga (likely a misspelling of Yasunga; see comments), Yolinda;
formerly Ctesphon III (Neftha), Geb-Siris, Mer-Ath, Salbatanu, Ur-Pophis, wretches of the pit below Kherdpur, Wuu (servant in the House of Kheshatta), Zosara;
limited alliances with Hobb, Imhotep/Ravager of Worlds, Count Thespides, Wrarrl/Devourer of Souls, Yasmela;
possibly Jenghil of Vendyha
Enemies: Afterlings, Ageera and the city of Meroe, Athyr-Bast, Ctesphon II, Ctesphon III (Neftha), Devourer of the Dead, Drakus and his Kothian army, emissary of Natohk/ape-thing, Ferryman of the River of Darkness, giant-king, gargoyle monster, Grimm/Black Hound of Death, Hak-Heru, Hath-Horeb, King Irruk, Kahoul and his band of nomads, Katuman, Kulan Gath, unidentified Man-Serpent, Murabi, Natohk/Thugra Khotan, Nim-Narrak, Ptor-Nubis, unidentified Serpent Men, Sheb-At, Shu-Onoru, Thoth-Amon, Tuzun Thune and his Conan & Red Sonja doppelgangers, Totramsek, Turanian army, Varnae, Yezdigerd, Yildiz, Yun-Yothga, Zug, Zugites, unidentified Kushite tribe and war-chief, soldiers of Yamman;
formerly Helgor,
Known Relatives: Unidentified father (deceased)
Aliases: Lord Zula
Base of Operations: Unrervealed;
formerly the Turanian Steppes;
formerly the House of Shu-Onoru, Kheshetta, Stygia;
formerly Zamballah (presumably part of modern day South Africa)
First Appearance: Conan the Barbarian I#84 (March, 1978)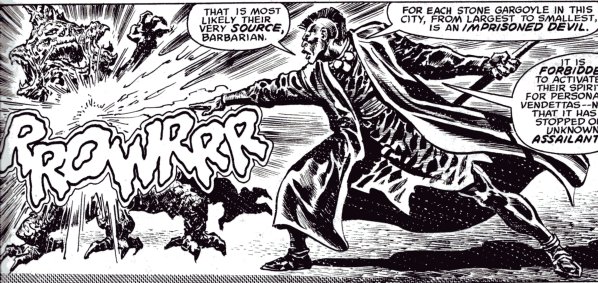 Powers/Abilities: Zula is exceptionally strong & intelligent, and a highly skilled warrior & swordsman, able to hold his own against even Conan, at least for a short time.
Zula's magical abilities increased significantly with age, starting with being able to mesmerize others on contact and being able to resist being mesmerized himself. He could use his mesmerism skills to appear to conjure or transform objects or beings, disguise his appearance, or to hide himself from sight.
In his later days, he could subdue a man (even Conan) for a few seconds via a touch to the trapezoid, possibly a nerve pinch. He could animate objects, such as a skeleton that he sent to battle a foe. He could fire magical blasts, though this rapidly exhausted his magical stores, or blasts of pure light. He could also utilize the Black Hand, which slew a target, leaving a black hand imprinted on their body.
Zula also mastered many forms of science, which would appear as magic to most who failed to understand science.
He briefly held one of the Chthon scrolls (later part of the Darkhold), including spells to destroy vampires, to banish demons, and to perform teleportation.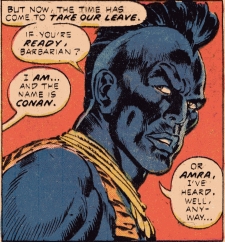 History:
(Conan the Barbarian I#85 (fb)) - Zula was son of the chieftain of the Zamballahs, a small tribal nation dwelling south of Darfar. As he was about to undergo his people's rites of manhood, a band of blood-thirsty Kushites -- who had smoked the peace-root with Zula's father but had become greedy for the price that slaves brought in Stygia -- invaded their territory and slew every adult male, intending to keep the women and female children as more docile slaves. Alone in the hut of retreat, Zula awakened to see his own father cut down before his eyes. Zula considered rushing out and avenging his father but instead decided that his tribal heritage must somehow survive. He removed the decorative jewelry that would identify him as the chief's son and placed them on a dead warrior one year older than him.
Zula's ruse worked, and he was spared death, the last male survivor of his once-proud race. He was marched to the Kushite village, where their war-chief took a liking to him and made him his slave, instead of selling him in Khemi or on the black coast.
(Conan the Barbarian I#84 (fb) - BTS) - Zula fought in a slave-arena.
(Conan the Barbarian I#85 (fb) / Conan the Barbarian I#89 (fb) - BTS) - Zula intended to eventually slay the war-chief while he slept, but he sold Zula to Ptor-Nubis, a Stygian sorcerer who took him to Kheshatta, the Stygian city of magicians. There he was gifted to Shu-Onoru, one of the eldest, most feared, and venerated sorcerers. Assuming Zula to ignorant, Shu-Onoru did not bother to guard his spells, allowing Zula to sweep up his sanctum sanctorum; but Zula was a quick study, having learned a smattering of Stygian on his trek, and he learned much as he watched in silence. Zula feigned superstitious fear to prevent Shu-Onoru from realizing the truth, and Shu-Onoru even allowed him to grow the war-crest that was the symbol of the Zamballah chiefs.
(Conan the Barbarian I#86 (fb) - BTS) - Shu-Onoru told Zula that a large pyramid was started outside Luxur as a model for smaller pyramids to be built both outside Luxur and Khemi, but something frightened away the Stygian builders so that they erected only the lesser pyramids.
(Conan the Barbarian I#89 (fb) - BTS) - Zula heard whisperings about immense man-headed serpents, as well as of the legendary Thoth-Amon.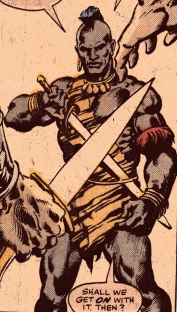 (Conan the Barbarian I#85 (fb)) - Shu-Onoru gave Zula a Vendyhan tiger's hide to wear when he grew to manhood, musing that he had tamed a tiger and referring to Zula as a jungle beast. Pushed over the edge by this insult, Zula watched that evening as Shu-Onoru summoned the demon Helgor, intending for him to share the secret of the Sword that Conquers All, and memorized all that he could. After Shu-Onoru went to bed, Zula brought a sword into the sanctum and attempted to repeat the ritual, reading from the tomes of Shuma-Gorath, Skelos, and Vathelos. Unfortunately, Zula had not matched the ritual exactly, and Helgor appeared and then angrily attempted to slay him; sensing the mystic commotion, Shu-Onoru returned, banished Helgor, and then made Zula's sword to hot to hold. Realizing that he could not trust Zula as a slave any further but wishing to gain some enjoyment from his passing, Shu-Onoru forced him to fight to the death with captives from Zembabwei (who had been promised freedom if they slew him). Failing to convince the others not to fight or to join him against the Stygians, Zula was forced to kill them. He then attacked Shu-Onoru, who knocked him out with a hurled vial of vapors.
Realizing Zula could learn, Shu-Onoru decided not to have him killed, but instead sold him to a Khemi merchant, Sheb-At, who brought him to the Hawk god worshipping Stygian city of Harakht.
(Conan the Barbarian I#84) - When Conan was captured by the soldiers of the king of Harakht, Mer-Ath, Zula rushed forward (dragging his master, Sheb-At, alongside him) and knocked Conan out with a double-fisted punch, so the guards wouldn't have to kill him to stop him. Sheb-At drew his sword to slay Zula for the rough treatment, but the grateful Mer-Ath stopped him and insisted Zula not be slain.
Conan was then chained up in a dungeon, the same one in which Zula was chained for the night, just as Zula had planned. Zula revealed that he had hit Conan to save him, then offered to free Conan if he would join him on a mission of vengeance to Kheshatta. When Conan agreed, Zula produced a vial of corrosive and melted both their chains. Zula then screamed that Conan was trying to kill him, leading the guards to come rushing in, and they knocked out the guards, stole their swords, and fought their way to freedom. En route, Zula stole one of the flutes that the city's hawk-riders used to control their giant hawks. Zula then used the flute to control a pair of hawks, allowing Conan and he to escape on the hawks' backs...though Zula suffered from a little air-sickness.
(Conan the Barbarian I#85) - As Zula and Conan continued their flight atop the giant hawks, each shared their pasts. Upon landing, however, Conan decided that while he had vowed to aid Zula, he had also vowed to help BÍlit gain vengeance against those who had deposed her father. Conan told Zula his vengeance would have to wait, leading Zula to attack him for his betrayal. The two fought fiercely but briefly, as Conan, not wishing to kill Zula, offered a compromise: to aid Zula after Zula helped him locate and assist BÍlit. Realizing that he had little choice and that his own vengeance could wait, Zula agreed to accompany Conan to Luxor, capital of Stygia. The pair found their hawks had died of exhaustion from the long flight, and so they continued their journey on foot.
(Conan the Barbarian I#86) - Arriving in Luxor, Zula and Conan scaled the city walls, with Conan arriving first and killing the guard while Zula struggled all the way to the top. Zula was forced to pretend to be Conan's slave in get by in the city, and he waited outside a tavern while Conan got information on how to get to Ctesphon. Forced to endure the racist taunts of some Stygian acolytes as he waited, Zula was more than to confront and slay those same acolytes when Conan told him they would need to be part of a funeral procession. As part of the procession, they entered the base of the partially completed giant pyramid via a canal, after which Zula was recognized as an outlander. He and Conan fought their way away from the priests, but then encountered the monstrous Devourer of the Dead. Easily overpowered by the monster, Conan led Zula to light the barge on fire and send it careening into the Devourer, while they took the sarcophagus -- having seen an air hole and realizing someone was alive within it -- with them. Opening the sarcophagus, they found BÍlit, who had been placed there by agents of Neftha, sister to King Ctesphon.
(Conan the Barbarian I#88) - Stating himself to be a champion of the downtrodden, Zula offered to help BÍlit rescue her father, and he accompanied her and Conan through a tunnel into the royal palace. They arrived just in time to prevent Ctesphon's executioner from killing Neftha, and Zula and Conan took down the palace guards while BÍlit killed Ctesphon upon learning that he had long ago had her father put to death.
Neftha was then crowned King Ctesphon III (per Stygian law and tradition) and she swiftly ordered the deaths of BÍlit, Conan, and Zula; but Zula used hypnosis and magic, learned from watching Shu-Omoru, to make them invisible to the guards' eyes. While the sorcerer Hath-Horeb worked to counter Zula's spell, BÍlit skewered him with a spear, and the three outlaws fled.
(Conan the Barbarian I#89) - Zula, Conan, and BÍlit fought their way out of the palace, attempting to slay every last guard so that none could sound the alarm. They then fled into a tunnel, and the guards pursuing them were turned back by Thoth-Amon, who had his own plans for them. In their moments' peace, Zula reminded Conan of his vow to help him, but upon learning that Pto-Nubis was in Shem, he agreed to accompany Conan and BÍlit there to get vengeance. Thoth-Amon then sent an immense Man-Serpent into the tunnel after them, and it mesmerized BÍlit into approaching it. Zula heard the call, but his experience with hypnosis enabled him to resist the call, and he saved BÍlit. Evading the Man-Serpent's first strikes, Zula was nonetheless snared in its coils, which began to crush him, and its thick body resisted his sword strokes. Just as Zula was ready to pass out, Conan rushed in and called out his name, distracting the Man-Serpent as it hovered in preparation of striking, and Zula rallied and cut off its head.
Zula and BÍlit were subsequently separated by Conan via boulders hurled at them by a pair of Serpent Men, whom Conan then slew. Zula and BÍlit rejoined Conan, following his request to speak the words "Ka Nama Kaa Lajerama" to prove they were not also Serpent Men. They were confronted by other Serpent Men posing as BÍlit's crew, but Conan exposed their true nature with the magic words, and they found a ship they could use to get to Khemi and the Western Sea.
(Conan the Barbarian I#90 (fb) - BTS) - Zula, Conan, and BÍlit slew the owners of the ship and took command of its crew.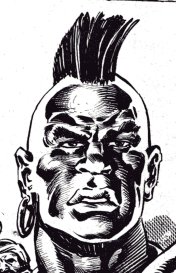 (Conan the Barbarian I#90) - Zula, Conan, and BÍlit rode a ship along the River Styx, getting off as near to Khemi as they dared, and had the crew carry their supplies as they headed South over land. Unwittingly wandering into a Stygian holy place, they were beset by an earthquake, which opened into a chasm into which many of the crew (and their food supplies) fell. They repelled down to rescue the others, and BÍlit found the bones of one of the Giant-Kings, as well as a tomb containing a jeweled diadem that was worn by one of the Giant-Kings. Zula watched the diadem while Conan and Zula went to look for more such treasures, but their servants then ambushed him, stunning him with a rock to the head, while they stole the diadem. This theft activated a curse that restored the Giant-King to life, and while the Stygians fled, the Gaint-King picked up Zula to devour him. Returning to the scene, Conan told the Giant-King that Zula's black meat was poisoned, causing the the Giant-King to cast Zula away. Regaining consciousness, Zula followed Conan's instruction to scale the rope to escape the cavern, then waited for Conan's call to throw the rope down for him and Zula; at the same time, Zula futilely wished his hypnotic "magic" could be of some help. When Conan called, Zula cast down the rope, and Conan, BÍlit, and one Stygian escaped.
(Conan the Barbarian I#91) - Zula, Conan, and BÍlit met up with her Black Corsairs and boarded her ship, the Tigress, off the coast of Stygia, south of Khemi. Conan introduced the crew to Zula, and Laranga recognized the name of the Zamballah. Later that night, as the crew celebrated, Zula demonstrated his hypnotic powers, making Basara think he was a sea gull. Later still, Zula spoke with the elder shaman N'Yaga who had raised BÍlit. Later they met with M'Gora who had investigated Asgalun in preparation of BÍlit retaking the throne by force. After learning that the Stygians had invaded Asgalun and planned to annex it, Zula and N'Yaga recommended preceding with caution and gathering allies rather than attacking rashly and ill-prepared, but BÍlit's legendary temper wouldn't let her wait.
The next day, Zula joined Conan, BÍlit, and M'Gora and entering Asgalun, entering via alliances M'Gora had made during his previous trip. M'Gora led them into a garden, allegedly so they could catch King Nim-Karrak unawares, but in reality it was a trap; M'Gora had been mesmerized by the Stygian sorcerer Ptor-Nubis. As a large group of Stygians confronted them, Zula tried to hypnotize some of them, but then M'Gora -- under Prot-Nubis' control -- dropped Zula with a rock to the head. Prot-Nubis then touched Zula, BÍlit, and Conan, putting them all under his control, after which he ordered Zula to fight M'Gora, and Conan to fight BÍlit.
(Conan the Barbarian I#93) - His mystic senses protecting him from Ptor-Nubis' control, Zula pretended to obey his commands but gradually moved the battle closer to Ptor-Nubis until turning suddenly and striking him down. Zula joined the now free-minded BÍlit, Conan, and M'Gora in taking down the remaining Stygians. Zula then joined M'Gora in spreading the word throughout Asgalun that BÍlit has returned to claim the throne that was rightfully hers from King Nim-Narrak. Ultimately, as war broke out in the city, Zula caught sight of Nim-Narrak attempting to stab BÍlit in the back. BÍlit could not hear Zula's warning of the chaos, but Zula managed to catch Nim-Narrak's gaze for an instance, and Zula mesmerized him into seeing a giant lion statue as an attacking monster, and Nim-Narrak staggered backwards and fell to his death.
Upon learning that the crown was permanent once donned and could only be given up upon death, however, BÍlit declined the crown and departed with Conan and Zula, and she and Zula discussed how vengeance was not as sweet as it was whispered to be. He reconsidered his mission to Kheshatta to seek vengeance on Shu-Onoru.
(Conan the Barbarian I#94) - Zula parted ways with Conan and BÍlit, who allowed several of her Black Corsairs (including Yarunga, Lasanga, & Ajonga) to accompany him as he headed North (not South to Kheshatta). As his group walked away, Zula hypnotically made them all vanish, briefly reappearing long enough to wave goodbye before vanishing for good.
(Conan the Barbarian I#244 (fb) - BTS) - Zula parted ways with Yarunga and the others. He spent several years wandering the Hyborian lands, learning the way of the "snow skin," some of which he found pretty odd.
(Conan the Barbarian I#244 (fb) - BTS) - Needing employment, Zula headed for Khoraja, but was waylaid by a small army of Kothians serving under Captain Drakus. Because Zula did not fight when captured, they allowed him to live, placing him in a prison within a volcano and giving him until dawn to decide whether to join their forces as a scout or be slain. Zula discovered a subterranean tunnel beneath a boulder but was reluctant to climb down into the depths of a volcano alone.
(Conan the Barbarian I#244) - In the cell, Zula was reunited with Conan and introduced to his ally Red Sonja, who had also been captured by Drakus' troops. Zula made it appear that a corpse that Conan was holding was a deceased Zula, and when the guards approached the cell, Zula punched them both through the bars. Taking the guards swords and torch, the trio entered the tunnel and were soon attacked by one of the Afterlings, which Conan slew. As they emerged from the tunnel into daylight, they were captured by a huge swarm of Afterlings who brought them into another cavern and deposited them before their master, Varnae, the first lord of vampires.
(Conan the Barbarian I#245) - After telling Conan, Red Sonja, and Zula of his origins, Varnae had the Afterlings cast them into a pit, intending to hold them until he captured the forces of Almaric (aka Malthom) at which point he would perform a massive blood sacrifice and transform the Afterlings into true vampires. Escaping via a crude rope and grappling hook made from a dagger and bone fragments, strips of leather, and chain mail from the multitude of dead warriors in the pit, they encountered Almaric's troops and aided them against the attacking Afterlings. One of the Afterlings snagged the Darkhold scrolls from Almaric's saddle bags, and Zula instructed Sonja to stop it. The Afterling carried her to Varnae, and she and Conan battled him, but Zula obtained the scrolls and began to read the spell that could destroy vampires. Varnae was forced to flee from this magic, and the Afterlings were freed from his control and departed peaceably.
For saving him and his men, Malthom made Conan captain of his forces and enlisted Sonja and Zula into his army as well.
(Conan the Barbarian I#246) - Zula and Sonja accompanied Conan and Malthom into Khoraja where Conan drove off some would-be assassins loyal to Natohk (Thugra Khotan) and the nomads that were preparing to assault Khoraja. When Count Thespides questioned the presence of a black and a woman amongst Malthom's soldiers, Malthom offered to withdraw his entire army to avoid offending the Khorajan nobles, but Thespides withdrew his objection.
Zula and Sonja spent the next three weeks training under Conan's instruction alongside Malthom's and Khoraja's armies. Chafing under being treated as Conan's subordinate, Sonja went to meet with the rebels, and Zula followed her. As Sonja had previously spared a young boy of their number, they were allowed to stay under close watch, and then Nathohk's ape-thing emissary appeared and told the rebels of plans to poison the soldiers. Realizing they were in a bad place, Zula and Sonja tried to slip away but were discovered and nearly overwhelmed by the rebels until Conan, having secretly followed them, sent in his troops to attack the rebels. Zula tried to take one of the ape-thing's gas-containing idols, but the ape-thing tore it from and teleported away. Though Conan suspected Sonja's true actions, he told his troops that Zula and Sonja had been spying on the rebels for him. Understanding the connection Sonja had felt for the young rebel, whom she had been forced to kill in the battle, Zula encouraged Conan to give her some space.
(Conan the Barbarian I#247) - Zula had a nightmare of the final days of Acheron and Kuthchemes (and the self-banishment of Thugra Khotan), and Conan woke him up to accompany him on a mission to Yamman to learn if they had heard of a rebel Stygian prince so they could try to induce him to join the defense of Khoraja, rather than its attackers. Entering Yamman, they were caught in a net hurled by agents of that very Stygian prince, Katuman. Zula fell before a gas globe hurled by his former master, Shu-Onoru. Conan's forces were captured and brought before Yamman's King Irruk, who had allied with Katuman and Shu-Onoru (whose magic foretold of the approaching delegation from Yasmela of Koraja. When Zula and the rest of Conan's agents began to break free, Shu-Onoru summoned his demon familiar, Helgor, who subdued Zula and many others. Katuman himself wielded the Sword that Conquers All and defeated Conan and any remaining soldiers from Khoraja.
(Conan the Barbarian I#248) - Holding Sonja hostage with the Sword that Conquers All, Katuman ordered Zula and Conan to fight each other to the death. Zula whispered a plan to Conan and then mesmerized Katuman, Irruk, and the various guards present so that it appeared to them that Conan stabbed Zula through the chest and then beheaded him. Katuman then accepted Conan's challenge to battle him, and would have won, but then the seemingly headless body of Zula approached him, and Katuman dropped the Sword that Conquers All and fled. Shu-Onoru and Helgor then returned, but Conan hurled the mighty sword into the demon's chest and both vanished, while Zula finally took his revenge and slew Shu-Onoru with his sword (though he was surprised that this left him feeling empty rather than satisfied. Conan freed Sonja and they and Zula freed the rest of them men and headed back to Khoraja. Katuman rushed Conan, but Zula dropped him with a thrown skull to the head, and they returned to Khoraja.
That night, Zula cautioned Conan and Sonja not to party so hard so they wouldn't be ruined for the battle against Natohk the next day, and then Count Thespides arrived, closed down the bar, and sent them home. Conan split up from Sonja and Zula to walk off his anger, but Princess Yasmela then led him into her palace and made him commander of the armies of Khoraja (in front of the statue of Mitra, she had heard a voice, telling her to go forth alone into the streets and place her kingdom in the hands of the first man she met there. That man turned out to be Conan).

(Conan the Barbarian I#249) - Zula offered aid to Sonja in handling a would-be thief, though she didn't need it. He then accompanied Sonja to listen in as the thief, Fahim, told Conan of his encounter with Natohk.
The next day, Zula and Sonja were part of Conan's army to defend Khoraja from Natohk's approaching forces, noting how Conan was growing wiser and less headstrong as a soldier. They were sent on a mission alongside Malthom and others to ride over a secret path to come up behind Natohk's forces and assault them from behind. As Natohk's forces fell under the attack, Natohk himself arrived alongside his ape-demon-thing and Yun-Yothga (a camel-dragon-thing) and abducted Yasmela. To combat this magic, Zula drew the Chthon scroll from his saddle bag, and he voiced a spell that freed the ape-thing from Natohk's control, causing it to cast Natohk and Yasmela from the chariot. Sonja attacked the ape-thing, and Zula leapt atop Yun-Yothga, but Zula was forced to turn to aid Sonja, and the ape-thing stole the Chthon scroll. Zula skewered the ape-thing, which only stunned it, but he then cast it into Yun-Tothga's mouth, and the two demon-monsters exploded in a brilliant burst of light via the energies released from the scroll when the dragon's teeth bit into it.
After Natohk/Thugra Khotan has been slain, Conan named Zula and Sonja as captains.
(Savage Sword of Conan#194/2 (fb) - BTS) - Recalling that the Chthon scroll was indestructible, Zula went back and retrieved it from amongst Yun-Yothga's blood and guts.
(Conan the Barbarian I#250) - Zula, Conan, Malthom, Sonja, and the rest of the soldiers enjoyed a hero's welcome in Khoraja, though Malthom noted that with the threat past, they, as mercenaries, would be paid off and sent packing. Soon after, Conan, Zula, and Sonja headed to the ivory dome in Kuthchemes (former base of Thugra Khotan) to obtain its legendary treasure, and they were ambushed by a group of Zugites seeking to beat them there. The Zugites knocked out and abducted Sonja and Yasmela to force the others to let them enter the dome in peace. Conan and Zula followed soon after, descended the pit within dome in their pursuit, and slew the ferryman across the River of Darkness to gain control of his boat. Conan was forced to punch Zula unconscious to prevent him from jumping into the lethal waters to be near illusions of his parents. By the time Zula woke up, they had caught up to Sonja and Yasmela, whose former captors had sacrificed themselves to Zug. As they departed the pit, the monstrous Zug ensnared their newest companion, the less-than-trustworthy Hobb. Nonetheless, both Conan and Zula returned to the pit to save him, dumping the treasure they had obtained on top of Zug to slow it down.
After their escape, Yasmela was furious over the lost treasure, and Sonja and Zula decided to part ways with Conan and Yasmela, taking Conan's thanks with them.
(Savage Sword of Conan#194/2) - Zula and Sonja traveled across the Kharamun Desert towards Zamboula. A heat-exhausted Sonja didn't take too kindly to Zula's jest that she return to cooler Hyrkania and raise a family, and she thrust her sword in front of his neck, then backed off and apologized after regaining her composure. Along the way, Zula occasionally took time to study the Chthon scroll once again.
One night as they slept they were ambushed and captured by Kahoul and his band of nomads, intending to sell them both in the slave markets of Stygia. However, Kahoul attempted to first have his way with Sonja, but both she and Zula broke free and slaughtered and scattered their remaining would-be captors. Joining forces with a freed slave girl, Zabibi, who wished to dance for Jungir Khan (the satrap of Zamboula), they left Kahoul chained up in the desert, with water and the key to his chains both just inches beyond his reach.
(Savage Sword of Conan#195/2) - Arriving in Zamboula, Zula, Sonja, and Zabibi entered the market, purchasing arms and seeking a room, but Zula and Sonja were split up and captured by the forces of Totramsek, whose runes had predicted the arrival of the Chthon scroll, which he had long sought. After recovering the scroll from Zula's bag, Totrasmek ordered his men to slay Zula and Sonja, and began voicing the spells (though he apparently had not mastered the dialect, and nothing happened). Zula and Sonja defeated their attackers, and Zula tore the scroll from Totrasmek. As a number of Totrasmek's men rushed to his aid, Zula read a spell from the scrolls to transport them to safety, but no sooner had it been completed (transporting them back into the marketplace), when the scroll vanished from his hands. Encountering Zabibi, who seduced Jungir Khan, become his woman, and renamed herself Nefertari, they accepted her thanks for their aid and then left the city.
(Savage Sword of Conan#207/2) - Zula and Sonja arrived at a tavern in Yukkub, Turan, and soon enough Zula was trying to cool off Sonja from a fight after a man named Murabi slapped her on the rump. Murabi provoked Zula with an insult and then a shove, and Zula considered skewering Murabi, but instead decided to go back to his drink. Murabi then grabbed Zula's drink, but Zula mesmerized Murabi and the others present, making it appear that the drink had turned into a toad. When the "toad," turned back into the glass and shattered upon hitting the floor, Murabi realized what Zula had done and turned on him again, but when Sonja tried once again to get everyone to just go back to their drink, Murabi assaulted her, which ended with Sonja cutting off Murabi's right hand; confident in Sonja's ability, Zula merely drank his drink. Afterward, Lord Linneus, who had employed Murabi, hired Sonja to replace him on an expedition to the lost city of Zanadu. Zula declined traveling that far east of the Villaget sea. Another man, Jenghil of Vendhya, complimented Zula on his hypnotism, then demonstrated his own powers by casting a magic bolt that reassembled the shattered glass and turned it into a real toad. Impressed, Zula was nonetheless convinced to carry a woman upstairs to her room for a night of festivities.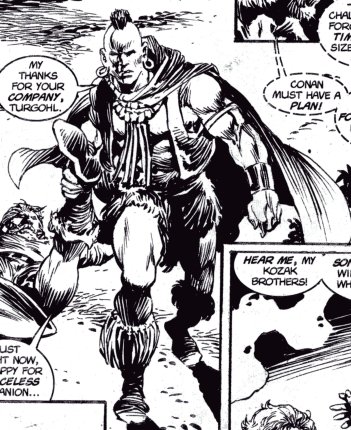 (Savage Sword of Conan#218 (fb) - BTS) - Zula joined a tribe of Kozaks, intending to aid them against the Turanian Empire.
(Savage Sword of Conan#218) - After Conan won a challenge by combat and became hetman of the Kozak tribe, Zula greeted his old ally anew. Zula was surprised to see Conan taken aback upon leaning that the commander of the Turanian forces was Grimm, the Black Hound of Death.
(Savage Sword of Conan#219/2) - Zula and Turgohl, another ally of the Kozaks, found Conan musing on his past encounter with Grimm. They wondered what worried him so, but he told them he was merely daydreaming and invited them back to the others for a drink.
(Savage Sword of Conan#220/2) - Conan asked Zula and Sablat to remain behind as leaders of a group of hostages to stay with a tribe of Hillmen while their leader, Hobar, sent his own son and some other men to accompany Conan to Yaralet to oppose the Hand of Nergal.
(Savage Sword of Conan#231) - As Conan returned to the Kozaks alongside Red Sonja and Gonar (in actuality the sorcerer Tuzun Thune was posing as Gonar, and he had replaced Conan & Sonja with mirrored duplicates), Zula suspected that the two were duplicates, but backed down when "Conan" proved able to relate the stories of his first meetings with his allies. Thune attempted to shift the suspicion from his duplicates onto Fafnir, by exposing his demon hand. "Conan" attacked Fafnir, and in the course of the struggle, Fafnir determined that "Conan" was a duplicate because he (and Sonja) were both using their left, non-dominant, hands. However, "Sonja" skewered Fafnir from behind, before he could reveal his knowledge to the rest of the army.
Zula and Turgohl, took Fafnir off to bury him, and though "Gonar" had confirmed Fafnir as being dead, the Vanir suddenly rose up again, his wound completely healed. Fafnir revealed his origins and related his suspicions to Zula. However, as they made plans on how to overcome the wizard and his doppelgangers, Thune ambushed them, imprisoning their souls in one of the shards from his cavern of a thousand mirrors.
(Savage Sword of Conan#232) - "Conan" told the Kozaks and his other allies that Fafnir's demon hand had restored him to life just long enough to slay those who were burying him. He had their bodies brought back to the village to be burnt at midnight. Thune/Gonar wished to have the burnt sooner, but his doppelganger's had begun to take on will of their own and defied his wishes. At midnight, before their bodies would be burnt, Thune performed a ritual to insure that his three downed enemies could never return to life. The ritual was interrupted by the return of the real Conan and Sonja, and in the ensuing struggle, Turgohl's wife, Tania, got hold of Thune's mirror shard and freed the spirits of Fafnir, Zula, and Turgohl. They then destroyed a number of Thune's mirror weapons, weakening him. Thune's doppelgangers turned on him, mortally wounding him, and he, in turn, destroyed the mirror shard that allowed them to exist.
(Savage Sword of Conan#233) - Zula continued fighting alongside Conan, Red Sonja, Fafnir, and the Kozaks. Following a battle against the Turanians, Zula was present at a celebratory party where Conan was reunited with his old ally Juma the Black. Zula was rightly suspicious of Juma, who had his own agenda with Conan. Zula watched with concern as Conan left with Juma to Kherdpur to seek the aid of Yolinda in trying to talk King Yildiz out of trying to annex the steps. Juma led Conan into a trap and dumped him into a pit of monsters, but Zula, having mistrusted Juma, had followed them there, and he rushed into the pit to aid Conan. Both were overwhelmed by the monsters and carried off.
(Savage Sword of Conan#234/2) - Having struck his head in the fall, Zula was unable to use his powers of hypnotism against the monsters. When Zula tried to escape down a tunnel, he was assaulted by Zosara, after which the monsters swarmed over both Conan and Zula. Yolinda, who lived in the caverns around the pit with her monstrous children Zosara and Salbatanu, stopped the wretches of the pit from harming Conan and his ally Zula.
When Juma tried to sneak back to the pit to check on Conan, but was discovered by Grimm and his men. Juma attacked, but was bitten by the neck by Grimm and cast into the pit, after which Grimm vowed to hunt down and slay Yolinda. Within the pit, Juma was confronted by Salbatanu.
(Savage Sword of Conan#235/2) - Conan and Zula rushed to save Juma from Salbatanu, and a brief but savage battle erupted until Yolinda arrived, interrupted the fight, and revealed Salbatanu to be her son. However, Conan had only saved Juma so he could take vengeance himself, and he rushed Juma with his knife, ignoring Juma's efforts to explain. Yolinda interrupted this fight as well, and revealed Juma's purpose in leading them there: to lure them to Kherdpur to help protect her.
Conan asked if there was an exit out of Kherdpur through the tunnels of the pit, and when Yolinda revealed it, he and Zula departed through it, advising her to flee, too, while she still could. Grimm's men soon arrived and overwhelmed Juma, Yolinda, and the monsters, mortally wounding both of Yolinda's children. Zosara managed to catch up with Conan and Zula before dying, and Conan and Zula returned to the pit to try to save Yolinda and Juma, or at least to avenge them. Conan and Zula, alongside Salbatanu (still clinging to life) confronted Grimm, whom Conan decapitated with Juma's aid. Yolinda perished from bloodloss, and Zula had to drag Juma out of the caverns as the Turanian soldiers rushed in. Zula, Conan, and Juma headed back to the Kozak camp.
(Conan: Flame & Fiend#1) - Alongside Conan and Fafnir, Zula slew Turanian soldiers seeking to capture Ispirana. When one of the soldiers called Zula a "Kushite ape," Zula mesmerized the man, causing him to see a giant ape charging him, and Zula used the distraction to skewer the soldier. Soon after, Zula helped Fafnir regain control of himself after he had nearly lost control to his demon hand. Ispirana then told Conan that she had not had a baby despite seemingly having become pregnant by Acheron, the human guise of Wrarrl, the Devourer of Souls (a monster of whom Zula was familiar). Conan then sent Zula, Fafnir, and Ispirana to find the rest of the Kozaks and bring them on while Conan himself sought out the shamaness Armati to try to prevent her from resurrecting Kulan Gath. Conan was instead captured by Armati and the Turanian soldiers within whom she was allied.
(Conan: Flame & Fiend#2) - An hour from the Kozak settlement, Ispirana pretended she had to get something out of her horse's hoof and she told Zula and Fafnir to continue on while she did so. In reality she headed off to check on her son, who turned out to be the reborn Devourer of Worlds. Having suspected Ispirana was lying, Zula had told Fafnir to follow her, and he continued on to gather and return with the Kozaks. Fafnir helped Ispirana escape the Devourer.
(Conan: Flame & Fiend#3 (fb) - BTS) - Zula gathered the Kozaks and was reunited with the Fafnir and Ispirana. The group headed to Akif to rescue Conan.
(Conan: Flame & Fiend#3 - BTS (see comments)) - While Fafnir & Ispirana scaled the wall of Akif, Zula and the rest of the Kozaks fought their way in. Ultimately, Conan was freed, Armati and Kulan Gath were slain, and Zula, the Kozaks, and his other allies departed Akif.
(Savage Sword of Conan#205 (fb) - BTS) - Having gained a greater taste for sorcery after briefly possessing the Chthon scrolls, Zula traveled, adding various feats of magic to his repertoire.
(Savage Sword of Conan#205 (fb)) - Zula returned to Kheshatta and managed to be declared legal heir to Shu-Onoru. Now a nobleman, he stood before the Black Ring, demanding to take Shu-Onoru's place in their sect. As admission to the Black Ring required a test of mystic skills, Zula summoned Helgor just long enough to convince them to admit him, at least for a trial period (despite their having a prejudice against black wizards, suspecting them all of being mere Ju-Ju Men).
(Savage Sword of Conan#206 (fb) - BTS) - Zula paid a princely sum for the privilege of joining the Black Ring.

(Savage Sword of Conan#205) - Seeing his old friend Conan for sale on a slave block on Kheshatta, Zula outbid Athyr-Bast (another sorceress of the Black Ring) and purchased Conan for 1000 scarabs, though he was unable to show any familiarity to his new purchase or risk his status within the Black Ring. When the slave master offered to castrate Conan to make him a better servant, Conan attacked the slave master, but Zula stopped Conan before he could kill the man (Zula subdued Conan for a few seconds via a touch to the trapezoid, possibly a nerve pinch). Zula then led Conan by his chain back to his castle. After instructing his servant Wuu to ensure privacy, Zula sat down and told Conan to come over and have a drink. Suspecting treachery or perhaps an impersonation, Conan hurled a spear to Zula and then attacked him. Zula tried to convince Conan that he had just been having fun with him, but Conan continued his assault. Eventually convinced, Conan attempted to have his own jest, knocking Zula down and then narrowly missing him with a spear stroke. Zula, however, animated the skeleton of a three-taloned ape-thing Shu-Onoru had brought home from an expedition to the South, and commanded it to attack Conan. Conan admitted defeat, but Zula continued to send the ape-thing skeleton after Conan. Though overpowered, Conan knocked the ape-thing's skull off. It continued to attack Conan, but Zula agreed to call it off if Conan swore he wouldn't assault him, and Conan stopped fighting long enough for Zula to explain his situation.
Afterwards, Conan told Zula of his need to free Imhotep the Ravager of Worlds from Hak-Heru, and he also told Zula of his plan to take him from the City of Wizards and save him from the addiction to the power and pleasures of sorcery. Zula refused to be forced into anything and warned Conan that he had changed greatly, but then they were assaulted by a composite gargoyle creature created by Athyr-Bast to punish Zula for outbidding her. Zula fired an energy bolt that pained the creature, but that (combined with the feats he had used against Conan) depleted the last of his mystic strength. Zula then stabbed the creature in its palm, but it swatted him to the ground. Grasping the severed arm of the skeletal ape-thing, Conan savagely attacked the gargoyle creature, granting Zula the time to summon dark energy into his palms to utilize the powerful Black Hand assaultl. Zula then leapt around the creature's neck, causing it great pain, but it eventually hurled him away. Chanting "Kh-Khehahten Thar Nophis!", Zula fired a burst of pure light from his hand that struck the creature at the same time Conan struck it yet again with the ape-claw, and the gargoyle creature collapsed and crumbled to dust.
In exchange for Conan's promise to not try to drag him out of Kheshatta, Zula agreed to help Conan get Imhotep out of Hak-Heru's clutches.
(Savage Sword of Conan#206) - Zula presented his new "slave" to the rest of the Black Ring, telling them Conan could help them against the approaching assault by Ageera and the armies of Meroe (who were attacking because Hak-Heru had sent his Sky Horde to assault Meroe in an earlier attempt to slay Imhotep). Insisting Conan maintain his calm, Zula joined the rest of the Ring in conjuring forth an image of the approaching army. Conan became enraged as the Ring members debated a course of action while the army approached, and when Zula yanked on his chain and urged him to be silent, Conan yanked back, knocking Zula over. Nonetheless, Zula stopped the others from striking Conan down, explaining how they needed Conan to fight off Ageera's army. Hak-Heru agreed to send his Sky Horde alongside Conan against Ageera's army, but only if Zula could best Hak-Heru at a game of Zinat; if Zula lost, he would have to ride into army, leading Kheshatta's untrained forces against Ageera's). As Conan again became impatient, Zula threw him Imhotep's scythe to "keep him busy."
Conan served as Zula's game piece in Zinat, transported into a mystical representation of the game board and limited by the luck of Zula's toss of the game sticks. Ultimately, Conan triumphed over Hak-Heru's various challenges; Hak-Heru furiously threatened to slay Zula, but other members of the Ring stepped in, stating that Zula had won fairly and that it was against the Ring's laws for a member to use magic against another within their chamber. As Hak-Heru agreed to honor the terms of the wager, Ageera's forces began their assault on Kheshatta's gates, and Conan escaped the prison cell into which he had deposited Zula, after which Conan free Imhotep. Meanwhile, seeking to teach the rest of the Ring a lesson that they needed and should respect his power, Hak-Heru allowed Ageera's forces to virtually overwhelm Kheshatta's forces -- both the soldiers and the other sorcerers -- intending to swoop in at the last minute with his Sky Horde and save the day.
Zula joined Conan and Imhotep as they exited the House of Hak-Heru, shedding his wizard's robe to expose his long-worn tiger-skin. Imhotep targeted the other Ring members as he made his way to Hak-Heru, but Zula stayed close to Conan, far from the vengeful demon. When Hak-Heru pushed his lover Athyr-Bast off the back of his winged steed so that she wouldn't slow it down, Zula caught her, saving her from falling to her seeming death. Imhotep eventually slew Hak-Heru, regaining control of the Sky Horde and leading them to slaughter Meroan and Stygian alike. Zula used his sword and sorcery skills to fight for Kheshatta, while Conan singled out and slew his old antagonist, Mongo. Conan then pressed Imhotep to the terms of their arrangement, forcing him to lead the Sky Horde away from Stygia and taking Conan back to Zabhela to save Conan's imprisoned crew.
As he departed, Conan asked Zula to renounce the poisons of sorcery and come with him, pirating on the Western Sea, but Zula refused, intending to stay and perhaps rise to prominence in the Black Ring with Hak-Heru and the others dead. Zula prepared to being mending fences with Athyr-Bast and the other sorcerers, but he then saw an approaching fiery column. Realizing that this was the retuning Thoth-Amon, Zula leapt atop a nearby horse and swiftly road east.
Comments: Created by Roy Thomas, John Buscema, and Ernie Chan.
Zula frequently invoked Ajujo, presumably a deity he worshipped, as well as ancient Jullah, who may or may not be the same as Gullah, the gorilla god.
Conan the Barbarian I#87 & 92 were reprints.
In the movie adaptation of Conan the Destroyer, Zula was a woman, played by Grace Jones.
Conan the Barbarian I#246-250 told another side of Black Colossus, originally adapted in Savage Sword of Conan#2. Neither Zula nor Sonja were in that story originally, though now we can consider them behind-the-scenes.
In Flame and the Fiend#3, there is a bald, headband-wearing black man seen prominently with the Kozaks, but that could be Juma or any other native of Kush or another nation in the Black Coast.
OK...in reviewing that issue while writing Juma's profile, eight years after I posted Zula's profile, I'm sure it has to be Juma. He had been with Zula and Conan after Yolinda's death, and there's no reason he couldn't have stayed with them. The same artist was on #1 & 2 as #3, and there's no real reason there would have been a sudden art confusion. Zula has a different skin color and a mohawk, plus no earrings. Juma is bald with earrings...plus the outfits were different, and the guy leading the charge to Akif has a shield similar to what Juma used in SSoC#41-43.
In Conan the Barbarian I#94, Yarunga (alongside Lasanga, Ajonga, and a couple others) decides to leave the Black Corsairs on the coast of Shem and head north with Zula. I believe "Yarunga" is actually Yasunga, while Lasanga is actually Laranga (they just accidentally switched the "s" and "r" between the two names). Yasunga is prominent amongst the Black Corsairs, and "Yarunga" is chosen by the others to speak for them as they depart, hoping Belit would understand.
Writer Charles R. Saunders wrote the essay To Kush and Beyond: The Black Kingdoms of the Hyborian Age, published in Savage Sword of Conan I#56 (September, 1980), in his old blog, Saunders mentioned that Thomas wanted him to write for a Zula comic book, but it ended up not being made.
--Quiof Thrul
Profile by Snood.
CLARIFICATIONS:
No KNOWN connections to:
---
images: (without ads)
Conan the Barbarian I#84, p14, panel 5 (face) - another face in CtB#91
#86, p10, panel 2 (with sword)
---
Appearances:
Conan the Barbarian I#84 (March, 1978) - by Roy Thomas (writer/editor), John Buscema (penciler), Ernie Chan (inker).
Conan the Barbarian I#85 (April, 1978) - by Roy Thomas (writer/editor), John Buscema (penciler), Ernie Chan (inker), Archie Goodwin (consulting editor)
Conan the Barbarian I#86 (May, 1978) - by Roy Thomas (writer/editor), John Buscema (penciler), Ernie Chan (inker), Archie Goodwin (consulting editor), with a co-plotting thanks to Ed Summer
Conan the Barbarian I#88-91 (July-October, 1978) - by Roy Thomas (writer/editor), John Buscema (penciler), Ernie Chan (inker), Jim Shooter (consulting editor)
Conan the Barbarian I#93 (December, 1978) - by Roy Thomas (writer/editor), John Buscema (penciler), Ernie Chan (inker), Jim Shooter (consulting editor)
Conan the Barbarian I#94 (January, 1979) - by Roy Thomas (writer/editor), John Buscema (penciler), Ernie Chan (inker), Jim Shooter (consulting editor)
Conan the Barbarian I#244-247 (May-August, 1991) - by Roy Thomas (writer), Gary Hartle (penciler), Mike DeCarlo (inker), Mike Rockwitz (editor)
Conan the Barbarian I#248 (September, 1991) - by Roy Thomas (writer), Mike Docherty (penciler), Gerry Talaoc & Ernie Chan (inkers), Mike Rockwitz (editor)
Conan the Barbarian I#249-250 (October-November, 1991) - by Roy Thomas (writer), Mike Docherty (penciler), Ernie Chan (inkers), Mike Rockwitz (editor)
Savage Sword of Conan#194/2-195/2 (February, 1992) - Roy Thomas (writer), Tony DeZuniga (artist), Mike Rockwitz (editor)
Savage Sword of Conan#205-206 (January-February, 1993) - Roy Thomas (writer), John Buscema (penciler), Ernie Chan (inker), Richard Ashford (editor)
Savage Sword of Conan#207/2 (March, 1993) - Roy & Dann Thomas (writers), Del Barras (artist), Richard Ashford (editor)
Savage Sword of Conan#218 (February, 1994) - Roy Thomas (writer), Mike Docherty (penciler), E.Z. Cruz (inker), Michael Kraiger (assistant editor), Richard Ashford (editor)
Savage Sword of Conan#219/2 - 220/2 (March-April, 1994) - Roy Thomas (writer), Mike Docherty (penciler), E.Z. Cruz (inker), Michael Kraiger (assistant editor), Richard Ashford (editor)
Savage Sword of Conan#231 (March, 1995) - Roy Thomas (writer), Mike Docherty (penciler), E.Z. Cruz (inker), Timothy Tuohy (editor)
Savage Sword of Conan#232 (April, 1995) - Roy Thomas (writer), Mike Docherty (penciler), E.Z. Cruz (inker), Mike Lackey (editor)
Savage Sword of Conan#233 (May, 1995) - Roy Thomas (writer), Mike Docherty (penciler),Geof Isherwood (inker), Mike Lackey (editor)
Savage Sword of Conan#234/2-235/2 (June-July, 1995) - by Roy Thomas (writer), Mike Doherty (penciler), Ralph Reese (inker), Mike Lackey (editor)
Conan: Flame & Fiend#1-3 (August-October, 2000) - by Roy Thomas (writer), Geoff Isherwood (penciler), Sandu Florea (inker), Ralph Macchio (editor)
---
First Posted: 05/24/2008
Last updated: 05/24/2008
Any Additions/Corrections? please let me know.
Non-Marvel Copyright info
All other characters mentioned or pictured are ™ and © 1941-2099 Marvel Characters, Inc. All Rights Reserved. If you like this stuff, you should check out the real thing!
Please visit The Marvel Official Site at: http://www.marvel.com
Special Thanks to www.g-mart.com for hosting the Appendix, Master List, etc.!
---