HEARTBREAK KID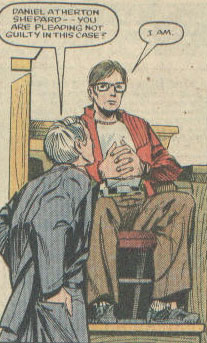 Real Name: Daniel Atherton Shepard
Identity/Class: Presumably human mutant
Occupation: Student
Group Membership: None
Affiliations: Defenders (Angel, Cloud, Moondragon, Valkyrie), Edna Mae Terry, Spider-Man, the townspeople of Abbotsford
Enemies: Formerly Edna Mae Terry, the townspeople of Abbotsford
Known Relatives: Sheriff Harry Shepard (father), Louise Shepard (mother)
Aliases: None
Base of Operations: The town of Abbotsford in the Midwestern United States
First Appearance: Defenders I#140 (February, 1985)
Powers/Abilities: The Heartbreak Kid had the psychic ability to absorb the hate-filled and heartbroken feelings of others.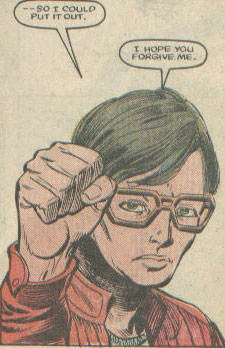 History: (Amazing Fantasy II#15/7) - On his first day at Midtown High School, Danny walked by other students, sensing their sadness. The most powerful sadness was inside of Peter Parker, whose Uncle Ben had died the previous day, and Peter blamed himself. Danny offered to take away Peter's pain, but Peter responded that his pain was all that he had left of his Uncle Ben, and that he would rather live with it.
(Defenders I#140 (fb)) - After class one day, Danny Shepard spoke to his teacher, Edna Mae Terry, and told her about a poem he had written. After reading it, Ms. Terry explained that she was moved by it. At that one point, Danny grabbed her by the shoulders and used his powers on her.
(Defenders I#140 (fb) - BTS) - He made her remember about an affair she had with a white boy when she was younger and how she had a child by him. She recalled having to give the child up for adoption and how much she had not wanted to do so. These painful memories made Edna feel defiled and hurt, so she reported that Danny had attacked her. When questioned by the authorities, Danny confirmed her (false) story and was arrested.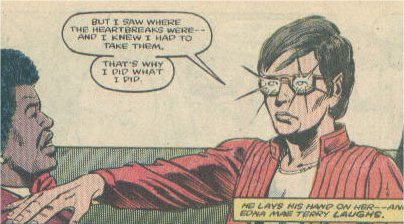 (Defenders I#140) - While in prison, Danny Shepard was brought dinner by his father, the sheriff. When his father asked why he had done what he had done, Danny replied that he wouldn't understand. Angered, his father smacked him to the ground and then apologized. Danny explained that it was okay. Later that night, Edna Mae Terry visited the Shepard's home and asked if Harry could take her to visit Danny in prison. During her visit, she asked why he did what he did to her and he replied that it was because she was there and because she was African-American. Shocked, Edna Mae asked what he was saying and Danny then used his powers on her and exclaimed that he was saying what had to be said. The act of using his powers caught the attention of the psychic Defender Moondragon, who, along with her teammates in the Defenders, rushed to Abbotsford. Outside the prison, racist protesters had gathered and demanded that they free Danny Shepard. When the crowd got violent, the Defenders protected the people and slowing stopped the fighting.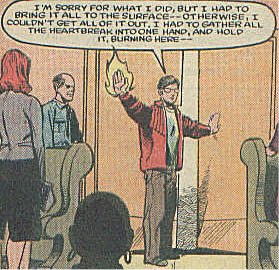 Later, during Danny's trial, Edna Mae explained to the jury that she was attacked and abused by Danny. Danny was then asked if he was pleading not guilty and he replied yes. He was then asked if he denied that he had brutally assaulted Ms. Terry and Danny explained that he had no regrets and that Ms. Terry was worthless anyway. Danny then asked who cared that one more "old black woman" was beaten up and that it happened every day. One of the audience members then pulled a gun and shot at Danny, claiming that he had said enough. Luckily, Moondragon and the other Defenders were present in the audience and Moondragon used her telekinesis to stop the bullet mere inches from Danny's head. Moondragon then questioned why Danny had done what he done and Danny explained that he had just wanted to break everyone's hearts. Moondragon then used her powers to force Edna Mae to tell the truth. Edna explained about the memories Danny's power had triggered, and how upset these recollections made her. Moondragon then deduced that Edna Mae had made up the story about being physically assaulted by Danny, prompting her to ask him why he had mentally assaulted her. Danny explained that he had to because it was the first time he knew that he had powers. He explained that he had felt Ms. Terry's heartbreak and he knew that the burning inside himself meant that he had to take the heartbreak away. Danny then absorbed the heartbroken emotions from Ms. Terry, causing her to laugh. Danny then proclaimed that he had to take the heartbreak away from everyone in town and therefore, he had to make the town think that he had betrayed them in order to absorb their heartbreak. As he finished absorbing the emotions from the audience, Danny apologized and walked out of the courtroom. Cloud of the Defenders asked if Moondragon planned on stopping him and Moondragon replied that even if she wanted to, she didn't think she could.
Clarifications:
This character, the Heartbreak Kid, has no known connections to:
H. E. A. R. T. (Luz Delgado, Mei Lin, Fiona McCormick, Tyler Meagher, Denika Trevani)-mercenaries, most killed by Ghost Rider--Ghost Rider III#8
Heart of Ahriman-magic item circa 13000 B. C., used by Xaltotun--Giant-Size Conan#1
Heart of Athena-creation of Zeus, amplifies power sent through it--Hercules: Heart of Chaos#1
Heart of Darkness-fell to Earth 20000 years ago, used by the Yin and then Mandarin--Iron Man I#309
Heart of the Elephant-magical gem circa the Hyborian era--Conan the Barbarian I#4
Heart of Forever-temporal power item, reshaped by Immortus into the Forever Crystal--Avengers Forever#3
Heart of the Infinite-virtually unlimited power source, used by the Celestial Order--Marvel Universe: The End#2
Heart of Pele-mystic power source, stolen by Vanisher--X-Force I#81
Heart of Tammuz-magic item, absorbed by Fafnier Hellhand--Conan the Barbarian I#30
Heart of the Universe-another name for the Heart of the Infinite--Marvel Universe: The End#4
Heart Attack (Tyler Meagher)-former member & sole survivor of H. E. A. R. T--Ghost Rider III#8
Heartbreaker 2099-former exotic dancer Maggie Megaton--Ghost Rider 2099#15
Heartbreak Hotel (Kate, Link, Lucy, Poltergeist, etc.)-Californian shelter for mutants--Beauty & the Beast I#1
---
EDNA MAE TERRY
Edna Mae Terry was one of Danny's school teacher. Feeling the heartbreak within her, Danny used his powers on her, making her relive her most painful moment. Awakened feeling defiled, she constructed a story in which Danny had physically assaulted her. In order to make the town think he had betrayed them, Danny went along with her story, so he could absorb the townspeople's heartbreak as well. Moondragon forced Edna Mae to tell the truth, which she did, revealing that she had made up the story. Danny then absorbed her heartbreak, causing her to laugh.
--Defenders I#140 (140 (fb) - BTS, 140 (fb), 140
---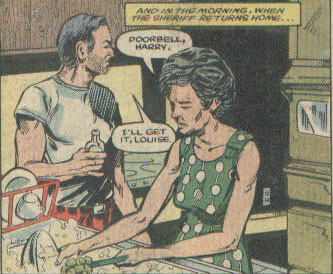 HARRY & LOUISE SHEPARD
The sheriff in town, Harry was there to give his son his dinner every night in prison. When he could not get a response from his son as to why he had "physically assaulted" Ms. Terry, Harry smacked his son to the ground, but then apologized. Returning home to his wife, Louise, Harry was visited by Edna Mae, who asked to see Danny in prison. Getting back into uniform, Harry led Ms. Terry to the prison where she was shocked when Danny explained that he had used her because she African-American. After the Defenders had quelled the angry mob outside the Abbotsford jail, Louise sunk to the ground and sobbed over the situation.
--Defenders I#140
---
images:
Defenders I#140
p7, panel 3 (Harry & Louise Shepard)
p18, panel 2 (Heartbreak Kid full body shot)
p20, panel1 (Edna Mae Terry)
p21, panel 5 (Heartbreak Kid headshot)
---
(New) Defenders I#140 (February, 1985) - Peter B. Gillis (writer), Don Perlin (penciler), Kim DeMulder (inker), Carl Potts (editor)
Amazing Fantasy II#15 (January, 2006) - Roberto Aguirre-Sacasa (writer), Jeff Parker (artist), Sal Buscema (inker), Mark Paniccia (editor)
---
Last updated: 12/17/05
Any Additions/Corrections? please let me know.
Non-Marvel Copyright info
All characters mentioned or pictured are ™ and © 1941-2099 Marvel Characters, Inc. All Rights Reserved. If you like this stuff, you should check out the real thing!
Please visit The Marvel Official Site at: http://www.marvel.com
Special Thanks to www.g-mart.com for hosting the Appendix, Master List, etc.!