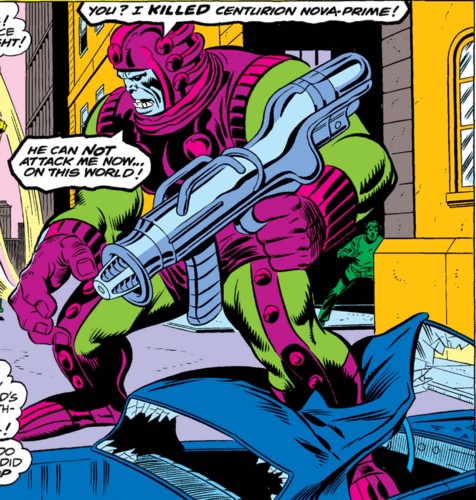 ZORR
Real Name: Zorr
Identity/Class: Extraterrestrial (Luphomoid)
Occupation: Warrior, conqueror
Group membership: The remaining Luphomoids
Affiliations: None known
Enemies: Nova (Richard Rider), Nova-Prime (Rhomann Dey), Xandarian race
Known Relatives: Kraa (brother), Xira (sister), Nebula (alleged daughter)
Aliases: Froggy, Razor-Face (Nova's nicknames for him)
Base of Operations: Formerly the home planet of the Luphomoids; later the planet Xandar, intergalactic space, and New York City.
mobile in his starship
First Appearance: Nova I#1 (September, 1976)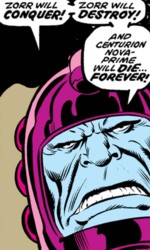 Powers/Abilities: Zorr possesses vast power. He is at least 10-12 feet tall and likely ranges somewhere in the Class 75-100 strength and durability range--he could knock over an entire building. He carries a large hand held energy weapon, which projects bursts of concussive force.
Height: 12'
Weight: 2 tons
Eyes: White
Skin: Light Blue
History:
Zorr is a Luphomoid, an extremely power race of apparent warriors/conquerors. It is uncertain whether his level of power ir representative or if he is a mutant or mutate. His brother, Kraa, possesses similar or even superior powers.
(Nova I#1(fb) - BTS) - Galactus drained the life energy from the homeworld of the Luphomoids. Only those who were at the time invading another world survived. Zorr was one of these few survivors--vowing vengeance on Galactus.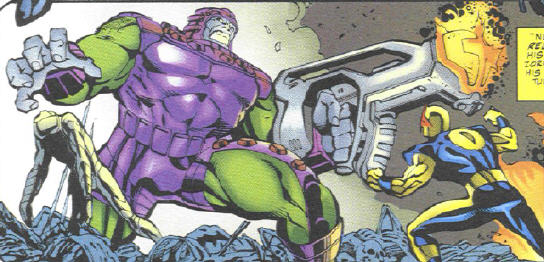 (Fantastic Four I#204 (fb)) - Zorr's starship appeared in the Tranta System, shrugged off Xandar's Nova Corps and destroyed most of its fleet, and then began to syphon the energy from the planet Xandar to use against Galactus. As a last-ditch effort the Nova Prime ship, piloted by Centurion Nova-Prime Rhomann Dey, attacked Zorr's ship. Though he was unable to save Xandar, whose internal stresses tore it apart, Dey managed to drive off Zorr, apparently before he could syphon all the energy he required.
BTS - Dey hounded Zorr from one star system to the next, consistently preventing him from carrying out his plans.
(Nova I#1(fb)-BTS/Nova III#1(fb)
Zorr finally crushed the Centurion Nova-Prime, Rhomann Dey, the last of the resistance, but was either unable to obtain the energy he needed from Xandar, or the quantity of energy he obtained was insufficient.
BTS - Zorr next traveled to Earth, planning to make it his next target. However, Rhomann Dey survived, though paralyzed and mortally wounded, and his drones brought enabled him to pursue Zorr to Earth.
(Nova I#1) - Zorr went on a rampage in New York City, where he encountered Richard Rider, to whom Dey had transferred his power, costume, rank, and responsibility. The neophyte Nova was unable to damage Zorr in any way, but he did distract him sufficiently so that Dey could use his Nova-Prime Starship to lock onto Zorr, teleport him aboard...
(Nova I#8 (fb)) - ...and disintegrate him by channeling the ship's full power into him. Dey used up the last of his energy in the process of doing this and expired as well,...
(Nova I#1) - ...leaving behind only the empty costume of Zorr on the floor of his ship.
(Nova I#8 - BTS) - Nova (Richard Rider) found Zorr's costume on Rhomann Dey's star-ship and learned how he had ultimately been destroyed.
Comments: Created by Marv Wolfman and John Buscema.
In Nova III#1, Erik Larsen had Nebula claim to be the daughter of Zorr. My fellow editor, Prime Eternal, and I have debated Nebula's ancestry. However, since I own the site, I say I'm right and he's wrong!
Well, that's only partially true.
I like the idea of Nebula being the spawn of Zorr, rather than Thanos (whom she originally claimed to be her grandfather). Thanos worships death and I don't see him getting hot and heavy with some chica' to create any babies. Thanos denied his relationship to her, was appalled that any thought he would create life, and nearly slew her as punishment for her claims.--That, and the fact that Zorr's just more obscure. Thanos is a great character (one of my favorites), but there will always be stories about him. How often do you hear about the Luphomoids? not so much.
Prime pointed out that Thanos spawned the Rot in the Avengers: Celestial Quest limited series, as well as creating the "Thanosi" in the Infinity Abyss. He also pointed out that in Silver Surfer Annual#5/2, Nebula revealed a different father, neither Thanos nor Zorr, who had sexually abused her until she killed him. He also said that I was an obscure-whore, and that I'd like Nightwatch if they somehow connected him to Reno Jones (from the old Gunhawks series and the more recent Blaze of Glory).
OK. The last part's true--and not out of the realm of possiblity!!! I don't consider the metaphysical union of Death and Thanos splintering off some non-physical entity--that was neither life nor death--the same as having a child--although things may be different in Canada (Prime's home)! I would also consider the Thanosi to have been intended to be semi-intelligent weapons acting under his control, and certainly having no sexual relationship (again, I'm not sure if this is similar to life in Canada, so I can't speak for Michael). I also interpretted the abusive man to be either a foster father, or perhaps someone who had just purchased her from a slave-trader or something. It's not clear. The OHotMU Master Edition does refer to that man as her father, though-for whatever that's worth. I further submitted that Prime Eternal is, not surprisingly so, an Eternal-Whore.
Stunner adds: In Infinity Gauntlet #1, Thanos says to Death, "Allow me to introduce you to Nebula -- my granddaughter. At least that's what she claimed to be, so i took her word for it and made her my own." Also, during the time that Thanos held Nebula and Eros captive, he kept stressing that there was a family reunion. This implies that Thanos has had not only one mate, but maybe even more, and did seem to beleive that Nebula was his granddaugher. He may have told her she wasn't as to insult her or as not to let it be publicly known Thanos created life. (To me, this seems to imply that Thanos may not have been fully convinced, but his twisted sense of humor allowed for him to let Nebula attempt to play out her claims - Madison Carter)
An e-mail exchange between Flank McLargehuge and Chris adds (respectively): "I read the article that someone posted where the guy explained his theory about how Thanos and Nebula could still be related, even though the paternity test the Titanian Eternals performed said they weren't. His idea is that, when Thanos turned Nebula into a walking corpse while he had the Infinity Gauntlet, he changed her at a genetic level. Hey, it's possible. But it's really far-fetched, and doesn't stand up to Occam's Razor. So, sure, it could be included in the profile. I just really felt like the guy was reaching." - to which Chris replies: "Of course, it is also possible that the Titanians were lying through their teeth about the results of that test too. They're probably embarassed enough already by the fact that Thanos was born and raised there by them; they probably didn't want the additional burden of having someone like Nebula associated with them too."
It's also worthy of consideration that Thanos being her grandfather (or was it great-grandfather) and Zorr being her father are not mutually exclusive. If Thanos is indeed her ancestor, then he could be from her mother's side (or Zorr could even only be half-Luphomoid, and be derived from Thanos himself). And when neither of those sumbitches stuck around to take care of her, she was sold into a life of slavery, and bought by the abusive father we saw in the Silver Surfer Annual. See how nice contrinuity can be?
In fact, that's how those of us on the New Warriors Mailing List at the time rationalized the whole Zorr thing-- I didn't read Nova III#1 for myself, so I don't know what Nebula claimed Zorr was to her, but she always said Thanos was her grand-daddy. Could be great-grand-daddy, of course.--many on ComicBoards at the time decided that Nebula was a compulsive liar who'd claim Norman Osborn was her twice-removed cousin for an excuse to attack Spider-Man. Naturally, this would mean Thanos started having kids when he was 5, if we take those scans you sent me from Moondragon's childhood at face value. :-) --MH (Prime Eternal)
So, the truth? It doesn't exist, because the characters are fiction. However, the real story will come out some day...and then be ret-conned to something else...and again...and again. Come to think of it, maybe her father is Marduk!
Disclaimer: No Canadians were harmed during the making of this profile!
Different sources have described Zorr's purpose in attacking Xandar and Earth as seeking energy to (1) replace that Galactus had stolen from his own planet, (2) gain enough power to avenge his race on Galactus. I think these could be considered his dual goals.
CLARIFICATIONS:
No known connection to:
Zorr - the android/multi-powered primitive--Fantastic Four I#82
Xorr the God-Jewel - sentient condensed biosphere--Thor I#214
X'orr - a galactic slave market--Sensational She-Hulk I#43
The High Priest of Zor - demon, served by Demi-Demons--Power Man and Iron Fist I#102
Kraa, his brother, @ Nova II#15, has no known connection to:
---

Zorr's ship
Presumably designed by the Luphomoids to raid other worlds, Zorr's starship could fire an energy beam that would drain all the geothermal energy from a planet. It was also so heavily armed and armored that it destroyed most of Xandar's fleet and killed many members of the Nova Corps, without seeming damaged in the slightest. It also dwarfed the Nova Prime starship, which was itself a mile long.
-Fantastic Four I#204 (fb)
---
images: (without ads)
Nova I#1, p13, pan1 (main)
Nova I#1, p16, pan7 (head shot)
Nova III#1, p6, pan3 (vs Rhomann Dey & Rich Rider)
Fantastic Four I#204, p7, pan3 (Zorr's ship)
---
Appearances:
Nova I#1 (September, 1976) - Marv Wolfman (writer/editor), John Buscema (pencils), Joe Sinnott (inks)
Nova I#8 (April, 1977) - Marv Wolfman (writer/editor), Sal Buscema (pencils), Frank Giacoia (inks)
Fantastic Four I#204 (March, 1979) - Marv Wolfman (writer/editor), Keith Pollard (pencils), Joe Sinnott (inks)
Nova III#1 (May, 1999) - Erik Larsen (writer), Joe Bennett (pencils), Armando Durruthy (inks), Ruben Diaz (editor)
---
First Posted: 10/25/2002
Last updated: 02/01/2023
Any Additions/Corrections? please let me know.
All characters mentioned or pictured are ™ and © 1941-2099 Marvel Characters, Inc. All Rights Reserved. If you like this stuff, you should check out the real thing!
Please visit The Marvel Official Site at: http://www.marvel.com
Special Thanks to www.g-mart.com for hosting the Appendix, Master List, etc.!