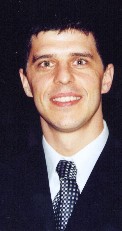 Dr. JEFF CHRISTIANSEN
Real Name: Jeffrey Steven Christiansen, DVM, DACVS
(Doctor of Veterinary Medicine; Diplomate, American College of Veterinary Surgeons)
Identity/Class: Human; former energy user;
German/Polish/Irish/English/Norwegian/Mexican/Cherokee descent
Occupation: Veterinary surgeon, owner of Superior Veterinary Surgical Solutions, freelance writer and editor;
investigator of the Cockroach Conspiracy
Group Membership: American College of Veterinary Surgeons, Alpha Psi Veterinary Fraternity, Bull Moose Club, Marvel Comics Group, Masters of the Obscure, Phi Delta Theta Fraternity, Phi Zeta Honor Society, Superior Veterinary Surgical Solutions;
honorary agent of S.H.I.E.L.D. (Strategic Hazard Intervention Espionage Logistics Directorate);
formerly Boy Scouts, Veterinary Specialists of South Florida
Affiliations: Gary & Laurel Buser; Terri & Whit Cothern, Morgan & Jen Dawkins, Kevin & Kim Drake, Hal "Tac" & Melinda Flynt, Bill, Chrissy, Denise, and Jeff McLaughlin; Liz Rawson; Shayne Taylor; Time Traveler/Enigma Force; X-Men, Jeff Youngquist; numerous others
Elvis, Lamont, Shaniqua, Yolanda (cats); Consuela (dog); Francesco (chameleon)
Enemies: Continuity trashers;
Roger Fieldston
Known Relatives: Wendy Malone (formerly Wallace) Christiansen, DVM (wife); Henry Wallace Christiansen (son); Kate Veronica "Cupcake" Christiansen; Theodore Lance Christiansen (father); Barbara Joanne Christiansen (mother); Theodore Scott and Gregory Brian Christiansen (brothers); Donna and Laura Christiansen (sisters-in-law); Al and Sharyne Wallace (parents-in-law); Kimberly and Kevin Drake (sister-in-law and brother-in-law-in-law); lengthy extended family
Aliases: Snood;
formerly Captain Universe
Place of Birth: Columbus, Ohio
Base of Operations: Melbourne, Florida (an hour southeast of Orlando)
formerly Miramar (way, way, way South), Florida;
Pittsburgh, Pennsylvania;
Wilmington, Delaware and Philadelphia, Pennsylvania;
Houston, Texas;
Manhattan (Upper East Side), New York;
Knoxville, Tennessee;
State College, Pennsylvania;
Lewisberry, Pennsylvania;
Columbus, Ohio
First Appearance: (mentioned): Quasar#20 (February, 1991)
(on panel): X-Men and Captain Universe: Sleeping Giants#1 (December, 1994)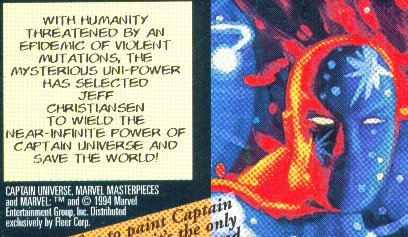 Powers/Abilities: Jeff Christiansen has no superhuman powers. He is extensively trained in veterinary medicine, and small animal surgery in particular. He has an excellent memory and is highly driven, some might even say obsessive or compulsive. He is able to keep his beer in his left hand at all times (despite being right handed). In addition, he maintains excellent physical condition via regular weight-lifting and bicycle riding.
He has over 38, 000 comic books, over 90% Marvel, detailed further here: My collection.
He briefly gained the Uni-Power, which granted him flight, superhuman strength and durability, the ability to project various forms of energy, form shields, etc.
Height: 5'10"
Weight: 170 lbs.
Eyes: Hazel
Hair: Dark brown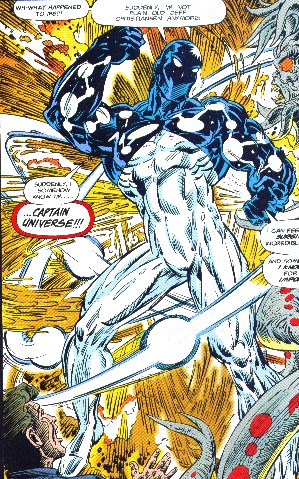 History:
(unpublished history) - Jeff Christiansen was born in Columbus, Ohio, the youngest of three sons, but his parents relocated to Lewisberry, Pennsylvania within the year. Attending Mt. Zion Elementary School, he received subscriptions to two comic books (starting with Avengers I#197 and Amazing Spider-Man I#207) from his brother Greg. Moving on to Allen Middle School, he broke the growth plate in his distal right 3rd metacarpal, resulting in a shortened middle finger on that hand. Recovering without complication, he was soon recruited to the Red Land High School Freshman wrestling team, for which he was the high point winner as a 7th and 8th grader. In High School, he obtained four varsity letters in Wrestling, three in Cross Country racing, and two in Track and Field. During his senior year suffered a rotator cuff injury to his right shoulder that ended his wrestling career. He also broke Red Land's cross country record by 48 seconds: 5 kilometers in 16: 46. He obtained a Bachelor of Science in Animal Bioscience at Pennsylvania State University (Main/University Park/ campus, where he joined Phi Delta Theta fraternity and made a number of lifelong friends. He then went on to attend the University of Tennessee-Knoxville College of Veterinary Medicine.
(X-Men and Captain Universe: Sleeping Giants#1) - Visiting New York, Jeff (then 24 years old) observed a woman on a subway who was accidentally touched by the mutant Roger Fieldston, who activated dormant mutant genes, transforming her into a monstrous creature that went on a rampage. Jeff then became the recipient of the Uni-Power, transforming him into Captain Universe. As he attempted to contain the mutated woman, he encountered the X-Men (Gambit, Iceman, Jubilee, Rogue, Wolverine). As the mutate proved increasingly destructive, Wolverine and Gambit prepared to unleash lethal force; Captain Universe stopped them, earning their ire, until it was revealed that he was correct in describing the mutate as an innocent victim. The X-Men returned to their mansion where Professor X revealed that there had been multiple mutations; he also discussed their likely cause. Meanwhile, Jeff (still Captain Universe) encountered another mutate, and the X-Men arrived to battle this one, as well. Captain Universe again angered Gambit by stopping him from injuring this mutate, but this time he sensed the presence of Fieldston and tracked him down. Though Fieldston briefly mutated Rogue, Captain Universe used the full force of the Uni-Power, altering Fieldston's power so that his power now turned off the dormant mutant genes his powers had turned on before. As Fieldston began to cure his former victims, the Uni-Power, its reason for choosing Christiansen no longer needed, departed in search of another host. Christiansen made it to cover before being seen.
(Secret War: From the Files of Nick Fury - BTS) - Christiansen was recruited to serve as an agent of S.H.I.E.L.D., researching history and data relating to the superhuman community.
potential future history continued under comments
Comments: Created by Ted and Barbara Christiansen;
adapted to comics by Bob Budiansky, Jim Craig, and Dan McConnell.
Real World history:
Date of Birth: July 15, 1970
High School Graduation: June, 1988
College Graduation: June, 1992
I was adapted into this comic during my junior year of Vet School, with the information sent in by my then girlfriend and fellow vet student Jenny Lynch. Just like Weezi Mason from She-Hulk, by entering the world of comics, I achieved immortality, as I would now cease to age in normal time, moving in Marvel Time instead. The downside is that my Earth-616 counterpart will never reach the payoff of all of his studies, or write for Marvel. All of the above dates are to be considered topical by the Earth-616 Jeff Christiansen, and only have relevance as the distance from December, 1994.
Back in the real world:
On January 28, 1995, I had my first date with my future wife, Wendy Wallace (also a vet student): as a poor student with several tens of thousands of dollars of student loans, I took her to see the movie Stargate on a special night sponsored by Fox 43 television, and the date cost me $0.86 (43 cents each). Clearly impressed, she stuck with me! On Easter weekend of my senior year (1996), I was kicked in the face by a horse, shattering my zygomatic arch (cheek bone) with an open fracture (bone through skin), and a cracked maxilla (upper jaw). With the help of an expert surgeon, I recovered completely. I have three titanium plates in my face; to answer your questions, (1) No, I don't set off the metal detector at airports; (2) No, I can't stick magnets to my face, (3) the only side effect I have is that every time someone uses the microwave, I piss my pants and forget who I am for half an hour...not really.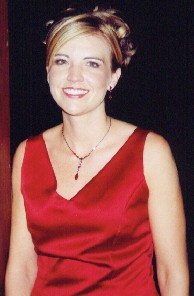 I graduated from Vet School in June, 1996, and almost immediately started my internship at the Animal Medical Center (the largest veterinary hospital on the planet) in New York City. While there I was part of a special on the TV show 48 hours, and I also proposed to Wendy: Dinner at Windows on the World (on the top of the former World Trade Center), orchestra seats to Phantom of the Opera, stretch limo to Central Park, and the proposal on a handsome cab (horse and carriage). I graduated from AMC in June, 1997, started by surgery internship at Gulf Coast Veterinary Specialists in Houston, Texas, and was married on August 2, 1997 (Always go for an all-expenses included vacation for your honeymoon--it's so worth it). I graduated from GCVS in June, 1998 and then moved to Wilmington, Delaware for three years while I did my surgery residency at the University of Pennsylvania in Philadelphia, PA. It was during that time that I got a scanner and started doing profiles on my computer (Aan Taanu was my first). I made contact with Jon Couper and Al Sjoerdsma from Spider-Fan and submitted a few profiles to them. I also maintained contact with Kim Henckel (the Beetle), and discussed how comic websites worked. Wendy supported me throughout all of my continuing education while I made WAY sub-minimum wage with 60-100 hour work weeks. Also during this time I was featured on the Animal Planet network for my work in canine orthotics (specialized braces) for dog's with lower limb nerve dysfunction. If you ever see Bootleg Chester, that's me in it!
Upon graduation in June 2001, Wendy and I moved to Pittsburgh, PA, and I started a job as a surgeon at a local practice. During that time, I bought a "Websites for Dummies" book and, with a little help, I started the Appendix. Kim Henckel was the first to submit profiles to me, followed by Kyle, Omar Karindu, eric englehard, etc. When I had a dozen or so contributors, I had to upgrade to a dedicated server, because the site traffic was too high. On Halloween 2001, I broke my foot while dressed as a rooster and dancing to The Devil Went Down to Georgia (how many people do you know that can say that). I passed my surgery boards in February 2002. Early in 2003, Jon Couper got me involved in a project he was working for under Marvel: The Spider-Man Encyclopedia.
May 2003 I took a much better job in South Florida, and the good life began in earnest. Based on my work for the Spidey-Pedia, I was drafted to write the Punisher section of the Marvel Knights Encyclopedia, and I was soon promoted to head of all three comics sections. Next came the Fantastic Four Encyclopedia, of which I was head writer/researcher, and then I got drafted into writing the Official Handbook of the Marvel Universe series. Along the way, I brought my big guns from the Appendix, which has continued to expand into the monster that it is today. Most recently, eric englehard's comics company, G-Mart, has agreed to host my website, saving me @ $1200/year. Wendy and I had our 16th wedding anniversary in August 2013, I've written several dozen books for Marvel, and I now have a pool, a hot tub, a keggerator, a beautiful house where the weather's always great, two great kids, and over 33, 000 comics. Life is good.
Here's a list of the books I've been involved with for Marvel: Jeff Christiansen's Marvel books.
Update...turning 40 is hard...but I spent the last year getting in better shape. I've always worked out, but I became more dedicated in the past years.
http://www.marvunapp.com/Appendix2/snood_at_40_b.JPG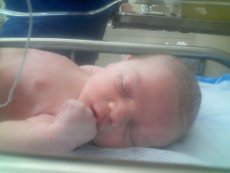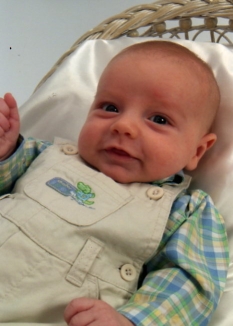 On March 5, 2008, at 6:32 AM, our son, Henry Wallace Christiansen was born. Weighing in at 8 lbs. 4 oz. and measuring 21.5 inches long, he has proven capable of sleeping, crying, nursing, peeing, and pooping...and sometimes opening his eyes and just taking in the world around him. We'll have to wait a few years to see if he develops any superhuman powers and/or becomes a profile writer.
And here he is just before 7 weeks old.
and here he is again at about 9.5 months: Hank the Tank meets Scary Santa:
And at 20 months: TWO Spider-Men for Halloween (and, yes, that's Da-Da in the other Spider-Man suit)
And, Snood plus Henry on Da-Da's 40th birthday (Henry at 28 months)
http://www.marvunapp.com/Appendix2/snood-40-Henry2&half.JPG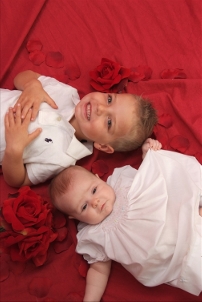 And here's Kate / Cupcake - born October 25, 2010
And Henry and Cupcake around Valentine's
And here's Cupcake at 5 months! Happy girl!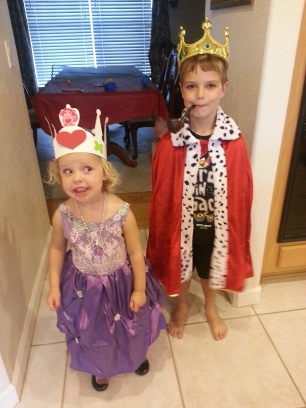 ...time marches on - here's Henry & Kate as of 2/8/2014 - as Old King Cole and Princess Cupcake.
BTW - In case you didn't get the Captain Universe deal, Marvel published the comic with the offer of personalizing it to be you. In my comic, I became Captain Universe and helped the X-Men against the mutates. Since it's my site, I'm the character in the semi-official version.
Since working for Marvel, several of my friends have also mysteriously developed Earth-616 counterparts. Wendy is Ponygirl, TAC (Hal Flynt) is Mouse, Gary Buser is Shellshock, and Bill McLaughlin is the Samurai Destroyer. In addition, the Beetle has some strange connection to Maria Henckel...
Also, in case you care...the origin of the name Snood (not something for the really young kids, Mom and Dad)
While Wendy and I were engaged, she was reading a Modern Bride (or something) magazine, in which a future bride to be wrote in to ask advice: this woman was concerned that certain nether parts of her anatomy dangled too much, and that her husband wouldn't like it. The editor assured her that men weren't too worried about the appearance of her...down there, and that her husband would like it just fine. This cracked us up, and though the editor explained to the writer the anatomic names of said parts, we decided that if they dangled excessively, it should be renamed the snood (after the thing that hangs off the top of a turkey's beak).
That might have been forgotten, but the next day, we watched an episode of The Tick, in which, in an effort to establish a battle cry while surrounded by villains in a restaurant, the Tick picked up a wooden ladle and yelled, "Spoon!"
The next time we were at a party, I picked up a spoon and yelled "Spoon!" Wendy responded by picking up another spoon, but yelling "Snood!"
Snood it is.
My encounter with Mark Gruenwald
Over the summer while I was in college, I think, a couple of my friends and I took a trip to New York, seeing the sights, attending the David Letterman Show, and visiting Marvel's offices. Marvel was remodeling or moving or something, and we took an elevator up. There wasn't really much to see as there was no formal tour or anything, so we went to grab the elevator again. As we waited, two guys walked by, and one of them--who was balding and had a moustache and pony tail--said, "Take the stairs!" As he headed down the stairs, I could hear him muttering something about "Kids these days..."
Too late, I realized it was the Gru, and he was long gone by the time I made it to the bottom of the stairs.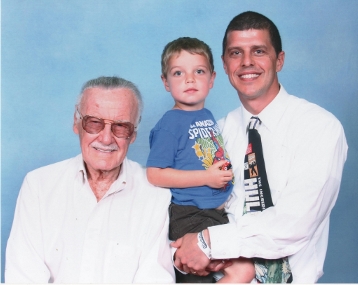 And Here's my next encounter with greatness...Stan "The Man" Lee! Henry's got a toy "Flo" from the Cars movie...he was telling Stan all about it!
Quotes: "You can't just read the books you like."
--Beat the Geeks, a Comedy Central trivia show
"Sleep is for the weak."
--Snood
Pictures:
Wedding Day Jeff
Christiansen family - Greg, on the left, is the one who bought me my first comic
Hoof to the face - one week after - you should have seen it the day after surgery!
Here's my pets:
Willow (Willowmeena Sweetpizza Princess Ginger Snap) - Born March 1994. The horns aren't real, but they might as well be. I adopted her after her leg was broken by a horse (before I was broken by a horse). Named for Willow from Dreadstar. She's a Golden Retriever mix.
She died around May, 2008.

Rainman (Rainman Xavier Sasparilla Bojangles) - Born @ October 1997. They initially named him Rainy because they found him by the side of the road on a rainy day. They didn't notice the bone sticking out of his "forearm," but my one of the surgeons I worked with fixed his leg up, I adopted him, and renamed him Rainman, b/c he didn't seem particularly bright. He's a Pit Beagle, sort of.
He died around July, 2008.

Elvis the Cat (Elvis Fatty Boombalatty Gump) - Born @ May 1999. His mother had the Panleukopenia virus when she was pregnant, and so he was born with cerebellar hypoplasia (the portion of his brain controlling coordination is underdeveloped). He walks like he is really, really drunk. But he doesn't know anything's wrong, and so he's very happy.

Lamont (Lamont Dontrelle Sharpton) - Born @ August 2003. Named for Lamont Sanford, from Sanford and Son, the Big Dummy!

Shaniqua (Shaniqua Condaleeza Jackson) - Born @ August 2003 (litter mates with Lamont). Named after Queen Shaniqua, a character from Saturday Night Live

Yolanda (Yolanda Guadalupe Cabrera) - Born @ September 2005 (orphaned during Hurricane Wilma)

Consuela (Consuela Moesha Conseco) - Born @ December 2005

Francesco, a veiled chameleon we got as a baby back in September, 2012. Henry named him after the Cars 2 character.
And my fracture adventures: circa November, 2006
Here's a radiograph (x-ray) of the fracture - the only image I could get was by taking a digital picture of the x-ray, so it's not the best quality
http://www.marvunapp.com/Appendix2/tibialfracture.jpg

Here's the temporary trans-articular External Skeletal Fixator placed to keep the fracture from collapsing while the swelling goes down
http://www.marvunapp.com/Appendix2/Tibia-ESF-11--21-06.JPG
Yes, the pins come right out of my thigh. Ouch.

Here's the post-op fracture repair film (again, taken with a digital camera, so it's blurry)
http://www.marvunapp.com/Appendix2/tibialfracture_postop.jpg

And here's the incisions (if you have a weak stomach, maybe don't look at these)
Medial: http://www.marvunapp.com/Appendix2/tibial-incision-med.jpg
Lateral: http://www.marvunapp.com/Appendix2/tibial-incision-lat.jpg
Profile by Snood.
CLARIFICATIONS:
No known connection to:
---
images:
X-Men and Captain Universe: Sleeping Giants#1, collector's card (Captain Universe face)
p4 (Captain Universe body)
---
First posted: 04/23/2005
Last updated: 04/16/2023
Any Additions/Corrections? please let me know.
Non-Marvel Copyright info
All other characters mentioned or pictured are ™ and © 1941-2099 Marvel Characters, Inc. All Rights Reserved. If you like this stuff, you should check out the real thing!
Please visit The Marvel Official Site at: http://www.marvel.com
Special Thanks to www.g-mart.com for hosting the Appendix, Master List, etc.!
---