SAMURAI SQUADRON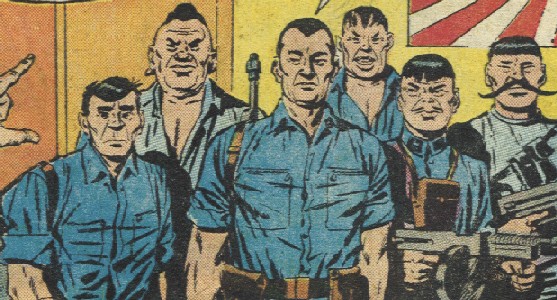 Membership: Sgt. Joe Morita, Toshiro Monsoon, four others unnamed (including the second in command (apparently not pictured in the top image))
Purpose: soldiers in the Japanese Imperial Army during World War II
Affiliations: Axis forces;
loose alliance with the Leatherneck Raiders
Enemies: Baron Strucker, HYDRA; Allied forces
Base of Operations: Unidentified Japanese island during World War II
Aliases: Samurai Squad (on the cover of Captain Savage#2)
First Appearance: Captain Savage and his Leatherneck Raiders#2 (March, 1968)
History:
(Captain Savage#2) - The members of the Samurai Squadron were chosen because they were outstanding examples of the Japanese fighting man. They were sent to investigate the phantom submarine that had been destroying both American and Japanese ships between a US island base and Australia. At the same time, a similar squadron of American marines, the Leatherneck Raiders, investigated the island nearest to the point from which the submarine had been identified. The Raiders and the Squadron each approached the island by submarine, and they swam to shore from opposite sides.
On the island, each group was attacked by traps set by the one who had orchestrated the submarine attacks: Baron Strucker and his newly formed group, HYDRA. Eventually both groups fell into pits, though their leaders, Captain Simon Savage and Sgt.Joe Morita remained free. Within the underground passages, the two groups fought each other, with the Raiders gaining the advantage, but eventually they were both captured and imprisoned by the forces of HYDRA.
On the surface, Savage and Morita squared off. Though an even match, Savage managed to knock Morita down long enough to convince him that without their squadrons, they would need to team up against the common enemy.
(Captain Savage#3) - After another brief scuffle between the two squad leaders, Strucker forced them both to run a gauntlet to decide whether they could be worthy additions to HYDRA (after some brainwashing, of course). Despite several disagreements, Morita and Savage were forced to work together to survive the series of attacks. Meanwhile, the members of the Samurai Squadron and the Leatherneck Raiders joined forces to break free from their prisons, though tensions remained high. The two groups managed to confront Strucker himself, but not before he could send a squadron of HYDRA agents to attack their exhausted leaders.
(Captain Savage#4) - Savage and Morita managed to regain their wits and fight off their attackers, but Strucker managed to trap the two groups, summon reinforcements, and line them up in front of a firing squad. Before Strucker could give the order, however, Savage and Morita broke in and freed their soldiers. Recognizing defeat, Strucker set up the self-destruct sequence on the island and escaped in his own private submarine. The Raiders and Samurai Squadron managed to make it to another submarine and escape as well, though not without some fighting over who was in command of the vessel.
Ultimately, the two groups parted in peace, as the Americans brought the Samurai Squadron back to their rendezvous ship. Savage and Morita shook hands, hoping that they'd one day meet again as friends and allies.
COMMENTS: Created by Gary Friedrich and Dick Ayers.
The Raiders were an attempt to follow the pattern of success of the Howling Commandos, with the Samurai Squadron being the counterparts to the Commando foes, the Blitz Squad (or one of its many similar names). However, the Blitz Squad (initially agents of Strucker), never teamed up with the Howling Commandos, as far as I can recall.
Some info via Per Degaton:
With regards to Joe Morita: Why was he named Joe in the first place? The Samurai Squadron were presumably all born in Japan, none of them Japanese-Americans. The name Joe/Joseph is a Hebrew name that is only popular in Jewish, Christian, and Muslim countries-Japan is Shinto, none of the above. There does exist a Japanese first name "Jo" which is sometimes erroneously spellchecked into "Joe". Composer Joe Hidahsi as an exmaple of this.
No offense intended to Per Degaton, but this is a bit simplistic. Japan has a population in several millions and has had Christians and/or whites contributing to its family lines for quite some time; expecting to find no one named "Joe" there is like expecting to find no one named "Hiro" in New York. There may not be a lot of them, but there's bound to be a few.
--Ronald Byrd.
Toshiro Monsoon may be an homage to Toshiro Mifune, star of Japanese films such as High and Low.
There is a Timely Comics story (USA Comics#8 (5/43) "Shot In The Back") that has 6 Imperial Japanese Soldiers in it, the same number that the Samurai Squadron has.
--Gammatotem
CLARIFICATIONS:
No known connection to:
Sgt. Joe Morita has no known connection to:
Pat Morita, aka Mr. Miyagi from the Karate Kid movies, Arnold from Happy Days, and some weirdo transvestite hooker from Night Patrol, amongst other roles
Toshiro Monsoon has no known connection to:
MONSOON (Aloba Dastoor) - mutant?, brother of Haven--X-Factor I#99
any other "Toshiro" characters
---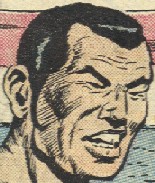 Sgt. Joe Morita
Leader of the Squadron, he was a skilled warrior and commander
--Captain Savage and his Leatherneck Raiders#2 (3, 4
---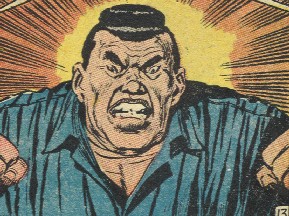 Toshiro Monsoon
The muscle man of the group, he may have been a sumo wrestler, though he wasn't all that huge...
Pvt. Littlebear, a former wrestler, managed to get the better of him in their initial struggle, forcing him to surrender while held in a Full Nelson.
--Captain Savage and his Leatherneck Raiders#2 (3, 4
---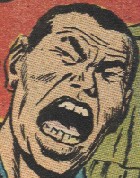 second-in-command guy
While separated from Morita, he led the group, and even was mistakenly referred to as Sgt. Morita in a few panels. He butted heads with Sgt. Yates, second-in-command of the Raiders, before the two groups agreed to join forces.
--Captain Savage and his Leatherneck Raiders#2 (3, 4
---
images:
---
Other appearances:
Captain Savage and his Leatherneck Raiders#3-4 (May-July, 1968) - Gary Friedrich (writer), Dick Ayers (pencils), Syd Shores (inks), Stan Lee (editor)
---
Last updated: 10/27/04.
Any Additions/Corrections? please let me know.
Non-Marvel Copyright info
All other characters mentioned or pictured are ™ and © 1941-2099 Marvel Characters, Inc. All Rights Reserved.
If you like this stuff, you should check out the real thing!
Please visit The Marvel Official Site at: http://www.marvel.com