HENRI-DÉSIRÉ LANDRU

Real Name: Henri-Désiré Landru
Identity/Class: Human; former French citizen
Nature of abilities: None (though possessing a silver tongue and great natural charisma)
Occupation: Serial killer; Proprietor of a Magic Skull shop
Group Membership: None
Affiliations: Doctor Strange; Augustyne Phyffe; Grogronk of Gronk
Enemies: French police
Known Relatives: Remy (wife, deceased), mother, father, son, daughter (names unrevealed, deceased), two other children (names unrevealed, deceased)
Aliases: M. Diard, The French Bluebeard, Georges Petit, M. Dupont, M. Cuchet, M. Fremyet, M. Lucien Guillet, M. Forest
Base of Operations: Magic Skull shop at the Bazaar at the End of Unreason;
formerly late 19th and early 20th Century France
First Appearance: Doctor Strange in Marvel Super-Heroes III#12 (January 1993)
aka Winter Special 1992
Powers/Abilities: He apparently has some experience with magic items, as he made his living selling magic skulls.
History: (real world history) - Henri Desire Landru was born in Paris in 1869. He was the son of a fireman at the local Vulcain Ironworks and educated at the Ecole des Freres where he was regarded as fairly intelligent. He was also a student at the School of Mechanical Engineering after which he spent four years in the army where he reached the rank of sergeant. During his service, he seduced his
cousin Mlle Remy. She conceived him a daughter in 1893 while he was a quartermaster-sergeant in the 3rd Regiment. They married in 1893, but a year later he returned to civilian life. He got a job for a firm where he had to pay a fine, but his employer disappeared to America with his deposit.

By 1900, Landru served two years for fraud after trying to draw a deposit with a false name. He had attempted or pretended to attempt suicide while in prison and served seven prison sentences in his life. While he was in prison, he inserted a matrimonial advertisement in a Lille newspaper and made the acquaintance of a forty-year-old widow. He handed her his deeds and she gave him a dowry of 15,000 francs with which he absconded. Just before World War I, the police were searching for Landru over the questioning of
several shenanigans and finally in his absence they tried him and sentenced him to four years imprisonment and deportation to New Caledonia. Before Landru could serve his sentence, he would have to be found first.

It was this time that Landru found himself alone in the world. His mother had died in 1910 and his father who had lived with his wife for a while committed suicide on August 28, 1912 despondent over his son's life of crime. In 1914, Landru made the acquaintance of Mme. Cuchet who worked in a lingerie shop in the Rue Monsigny. Posing as a M. Diard, he met Mme. Jeanne Cuchet and her son André. While she was straightening things in his home near Chantilly, her brother-in-law found many letters from women in a chest in the house. Warned that Diard was an imposter, Cuchet ignored the accusation and was declared missing along with her son by January 1915. The previous June, Landru had opened an account of 5,000 francs at Chantilly claiming it was part of the money he had inherited from his father. Cuchet's gold watch meanwhile found its way as a gift to his wife.

Landru next encountered and introduced himself to Therese Laborde-Line, a native of Buenos Aires and the widow of a hotelkeeper in June of 1915. On June 21, 1915, she moved out of the hotel she was staying in to live with Landru in his home near Vernouillet. By June 26, she had not been seen in public and all her securities and furniture was sold out. Whatever could not be sold, Landru stored in a garage in Neuilly.

Landru next met Mme Guillin Marie Angelique Desiree Pelletier from Rue Crozatier. She had met him through one of his marriage advertisements on May 1, 1915 and went to meet him in person near Vernouillet. By August 2, she gave up her apartment to move out to Vernouillet and had her furniture placed in storage. Two days later, a removal van moved the furniture to the Neuilly garage.

Using the name Georges Petit, Landru claimed to be Mme Guillin's brother-in-law to sell her bonds and create several forgeries to get
possession of 12,000 francs that she had in the Banque de France. He later claimed that she had become paralyzed and that he'd be hired to cover her business affairs.

Landru soon moved to Villa Ermitage near Gambais south of France in December 1916. Calling himself Dupont, he met and made relations with a widow named Mme Heon who was nine years his senior. By September of 1917, he was arranging for her furniture to be sold in her absence. Although she had not been seen since December, three of her friends received postcards from her through Dupont.

Landru had by now equipped the Ermitage with a stove and large supply of coal. Mme Anna Collomb then contacted him through another advertisement. Now calling himself M. Cuchet, he captivated her before they parted for a year. When they met again, he reluctantly surrendered to meet her family who had an inexplicable dislike for him. He persuaded her to live with him in his flat at Rue Chateaudun and they were visited there on December 24 by his potential sister-in-law, but by after Christmas, the family lost all contact with her. A young soldier claiming to be M. Cuchet's son paid a debt for her on January 29 and dropped off flowers supposedly from her by way of Nice.

Landru had by now met Andree Anne Babelay, a nineteen-year-old servant girl who he had found crying on the platform of the Metro in January 1917. He asked her what the problem was and she explained that she had been fighting with her mother and would be out of work the next day. Since she had no money, Landru offered her his room at Rue de Mauberge and on March 11, she returned to her mother saying she was going to be getting married. On March 29, they traveled out to Gambais. She was not seen again after April 12.

In April 1917, Landru was courting Mme Celestine Buisson. They had been in contact with each other for over two years through correspondence and by now she wanted to meet him. Now calling himself M. Fremyet, he met her and her mother and hersuaded her to marry him. He took a single ticket for her and a double for himself to Garencieres near Gambais and suddenly she was seen no
more. On September 1, Landru's cash increased by 1,000 francs. Settling her affairs, Landru forged a letter to the concierge of her apartment. When the concierge doubted the signature, Landru called him and said that Mme Buisson had "gone south."

Landru met Mme. Louise Jaume through a matrimonial agent. She knew him as M. Guillet and paid for her own trip to meet him at Gambais. Leaving her home in Rue de Lyanes on November 25, 1917, and soon Landru's cash increased by 275 francs. On November 30, he negotiated with the Banque Allaume for her remaining 1,400 francs.

Mme. Anne Marie Pascal started having an affair with Landru and became his mistress. She had very little money and knew Landru by the name M. Forest. On a single ticket, she moved out to Gambais on April 5, 1917, to be never seen again. Her furniture was moved and with the help of his son, Landru sold it for money.

Calling himself Lucien Guillet, Landru soon began courting Mme. Marie Theresa Marchadier. She had a small lodging house at 330 Rue St Jacques she wanted to sell for 7,000 francs, but Landru did not have the money and he needed to borrow it from his real wife. He purposed marriage to her on January I, 1919, and they moved out to Gambais where he persuaded her to sell her belongings. Landru was so short of cash that he bought to single tickets and borrowed a return ticket. Mme Marchadier sold her furniture in Paris for 2,000 francs and then returned to Gambais. Returning back, Landru took two large bags of coal. Mme. Marchadier's two dogs that she loved very much also vanished as she did.

The sister of Mme Anna Collomb was by now trying to locate all traces of her sister. She wrote to the Mayor of Gambais asking for help in finding her, and he told her to get in touch with the sister of Mme. Buisson who had also vanished visiting the Villa Ermitage. The two families met and started comparing notes. The police ran a search at Villa Ermitage and soon issued an arrest warrant for a man with the description of Henri Desire Landru. Mme. Buisson's sister, Mme. Lacoste, meanwhile, recognized Landru on the streets of Paris with twenty-seven-year old Fernande Segret. He was living as Lucien Guillet at 76 Rue de Rochechouart with Segret. Mme. Lacoste informed the police and the arrested him ay the Rue de Rochecouart address on April 12, 1919. In his pocket was a black covered loose-leaf notebook, which he tried to hold on to. It turned out to contain cryptic notes on his eleven victims. During another search of the garden at Gambais only the remains of three dogs turned up.

Landru remained uncooperative during the whole investigation. No trace of his victims was ever found, but their legal papers and clothing were found in great quantity. Several bone splinters were found in the ashes from the stove, but there was nothing incriminating that could be proved to suggest a murder had been committed.

He was tried at the Court of Versailles two and a half years later from November 7 to November 30. Vehemently proclaiming his innocence, he claimed that all the women were merely business clients and that he could not be tried for murder without a single body present. He kept secret of any details as to where his fiancées had gone to, but the neighbors from Gambais testified of the putrid black smoke that billowed from the chimney of the Villa Ermitage. One witness has seen him toss something into the pond out
back and one witness claimed to have pulled out something like putrid flesh while fishing in the pond.

Landru meanwhile treated the trial as a circus; even going as far as offering his seat to a lady. Fernande Segret testified on his willingness to marry her. Their relationship had lasted for two years and she truly believed he loved her. Maitre Godefoy's speech for the prosecution lasted an entire day as Landru reminded him that he was not in a theatre. The defense speech by Maitre Moro-Giafferi lasted two days and was of such brilliance many believed Landru would be acquitted. In spite of this, the jury found him guilty and although they were persuaded by the advocate to sign a petition for clemency, Landru was sent to the guillotine on February 23,
1922. Forty years later, the daughter of the defense lawyer found a message scribbled on a drawing handed to him from Landru that had been hanging on the wall of his office. It read: "I did it. I burned their bodies in the kitchen stove."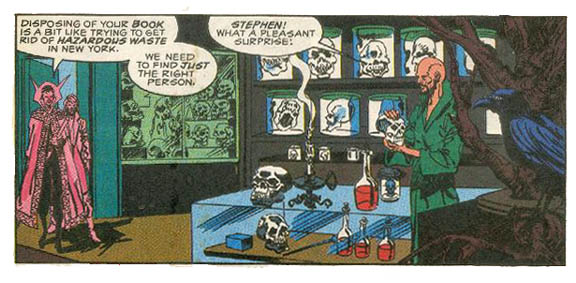 (Marvel Super-Heroes III#12 (fb) - BTS) - In circumstances as yet unrevealed, Landru avoided the grisly fate in store for him, and ended up the proprietor of a shop selling magic skulls (including Julian Phyffe's) at the extra-dimensional Bazaar at the End of Unreason.

(Marvel Super-Heroes III#12 (fb) - BTS) - Landru encountered Doctor Strange at some point in the past.
(Marvel Super-Heroes III#12) - Doctor Strange, accompanied by Augustyne Phyffe, came into Landru's store, seeking to find where they could meet a Grogronk of Gronk. Landru mentioned that the magic skull business was in a recession. During Strange's conversation with Landru, Augustyne had a brief talk with the skull of his father.

(Marvel Super-Heroes II#14/2, Summer Special 1993 - BTS) - Augustyne Phyffe asked Strange how Landru fared.
Comments: Created by Jean-Marc Lofficier, Roy Thomas (writers) and Brian Postman (penciller) and Armando Gil (inks).

(More about the historical Landru.) His story inspired Charlie Chaplin's film, Monsieur Verdoux.
The "saga" of Augustyne Phyffe has a rather unusual backstory. Mike Rockwitz and Rob Tokar, then respectively editors of Doctor Strange and Marvel Super-Heroes, located two complete Doctor Strange stories in inventory, penciled and inked but not scripted, which had been commissioned in the past (no one knew by whom), presumably paid for, but had never been used. The first story had a plot attached by a Stuart Hopen; the second story had no such credit. There were no art credits and these had to be guessed by the editors. Wanting to use the stories, Tokar asked Roy Thomas and Jean-Marc Lofficier if it was possible to script them. Lofficier came up with the idea of linking the two otherwise unconnected stories through the appearance of a bearded young man in both of them -- that character became Augustyne Phyffe -- and certain thematic similarities. None of the characters from the original Stuart Hopen plot survived during the rewriting necessary to script the new concept, except the name "Bazar at the End of Unreason". There was no Landru in the original plot, the character just looked like Landru.
I'd have guesses that Augustyne was just having a(n) hallucination when he thought his dad's skull was talking to him, but I guess you sure can't argue with the guy who wrote the story!!!!
--Snood.
Thanks to Will U for the real world backstory of Landru. He cites the following sources: Encyclopedia of Murder by Colin Wilson and Patricia Pittman.Pgs.400-407 and Encyclopedia of Serial Killers by Brian Lane and Wilfred Gregg. Pgs. 234-236
Will U: Landru appeared in the "Twilight Zone" episode "The New Exhibit" as a wax figure along with Jack the Ripper, William Burke, William Hare and the fictional killer Edward Hicks. In that episode, it depicted him as a killer with a garrote.
Ronald Byrd: On a tangential subject, does the use of a hyphen in a British surname (such as Wesley Wyndham-Pryce on "Angel") mean anything in particular? In American tv it tends to be used as shorthand for uptight proper British guy (the way Wesley started out in "Buffy").

"Profile by" Jean-Marc Lofficier (yes, that Jean-Marc Lofficier!--Snood).
CLARIFICATIONS:
Landru was nicknamed for:
Bluebeard, the fairy tale character who took seven wives, killing the first six for disobedience.
He has no known connection to
Bluebeard, (Arnold Perril), @ Moon Knight II#4
Landa, the wife of Occulus from Fantastic Four I#363
Landar, Star Masters' ally from Cosmic Powers Unlimited#4-5
Landru, Star Trek villain, @ "The Return of the Archons"
---
Images:
Marvel Super-Heroes Winter Special 1992 Vol. 2, No. 12, p.10, panel 6
Actual press photo
Marvel Super-Heroes Winter Special 1992 Vol. 2, No. 12, p.10, panel 5



---
Last updated: 04/16/04
Any Additions/Corrections? please let me know.
Non-Marvel Copyright info
All other characters mentioned or pictured are tm and © 1941-2099 Marvel Characters, Inc. All Rights Reserved. If you like this stuff, you should check out the real thing!
Please visit The Marvel Official Site at: http://www.marvel.com