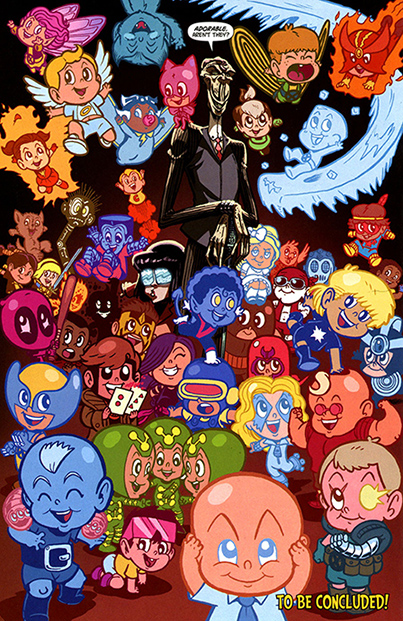 ADORABLE X-BABIES
Core Membership: "Colossus", Cyke, Nighty-Nightcrawler, "Kitty Pryde", "Rogue", Stormy, Wolvie
Other Members: Adam X, Albert, Anarchist, Angel, Angel Dust, Anole, Archangel, Armor, Artie Maddicks, Aurora, Banshee, Battering Ram, Beak, Beast, Bird-Brain, Bishop, Blindfold, Bling!, Blink, Bloke, Box, Cable, Caliban, Callisto, Cannonball, Captain Britain, Chamber, Lila Cheney, Rusty Collins, Corsair, Cypher, Daken, Danger, Darwin, Dazzler, Dead Girl, Deadpool, Domino, Doop, Dust, Electric Eve, Elixer, Elsie-Dee, Ernst, Fantomex, Feral, Feron, Forge, Gambit, Gateway, Gin Genie, Glob Herman, Graymalkin, El Guapo, Havok, Hellion, Horn, Husk, Icarus, Iceman, Indra, Martha Johansson, Joseph, Jubilee, Juggernaut, Karma, Kylun, Lacuna, Lady Mastermind, Leech, Legion, Lifeguard, Litterbug, Loa, M, Maggott, Magik, Magma, Magneto, Marrow, Match, Maverick, Meggan, Meltdown, Mercury, Micromax, Mimic, Moonstar, Morph, Multiple Man, Mystique, Nezho, Northstar, La Nuit, Omega Sentinel, Onyxx, Orphan, Penance, Phat, Phoenix (Jean Grey & Rachel Summers), Pixie, Plazm, Polaris, Postman, Prodigy, Professor X, Psylocke, Quicksilver, Random, Rictor, Rockslide, Rogue, Sabretooth, Sage, Saint Anna, Shard, Shatter, Shatterstar, Siryn, Skids, Skin, Sluk, Spike, Spyke (Evan Daniels), Squid-Boy, Stacy X, Stepford Cuckoos, Strongguy, Sunfire, Sunspot, Surge, Synch, Thornn, Trance, Venus Dee Milo, Vivisector, Vulcan, Warlock, Warpath, White Queen, Widget, Wildchild, Pete Wisdom, Wolfsbane, X-23, X-Cutioner, X-Man, Xorn, Zeitgeist
Purpose: To serve Veech
Aliases: "Phony baloney X-Babies" called by Cyclops
Affiliations: Nandy, Spiral, Veech
Enemies: Fester Addams, Alf, Br'er Rabbit, Captain Kangaroo, Cookie Monster, Forbush Man of Earth-665, Hawkeye of Earth-99062/Mini-Marvels, Pee Wee Herman, Little Rascals (Alfalfa and one other), Mister Magoo, Mister Rogers, Planet Terry, Royal Roy, Spider-Ham of Earth-8311, Top Dog, Wally the Wizard, X-Babies (Colossus, Cyclops, Nightcrawler, Kitty Pryde, Rogue, Storm, Wolverine)
Base of Operations: Mojoverse
First Appearance: X-Babies#1 (2009)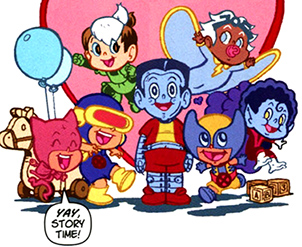 History:
(X-Babies#4 (fb) - BTS) - In an attempt to gain control of Mojoworld's powerful broadcast system Veech had incapacitated Mojo. Hoping for the cutest, nicest, safest and most educational show on Mojo TV he created the Adorable X-Babies.
(X-Babies#1 - BTS) - Mojo's original X-Babies accidentally escaped their confinement only to discover their popular, but violent TV show had been replaced with the softer, educational Adorable X-Babies. Enraged, they set out to get down to the bottom of it.
(X-Babies#1) - The Adorable X-Babies were in the middle of their latest episode, called "Stormy's Green Thumb" in which Stormy and Cyke taught Wolvie about planting. They explained the use of seeds, planting some while Storm used her powers to water the plot. Sometime later Colossus and Nighty-Nightcrawler joined to enjoy a feast of vegetables.
(X-Babies#3) - In another episode of the Adorable X-Babies Colossus was afraid to get a haircut but little Kitty Pryde assured the metallic X-Baby she'd had lots of haircuts and that it wouldn't hurt. Believing Kitty, Colossus and Nightcrawler decided to stick together even through haircuts.
(X-Babies#3) - Veech assembled his Adorable X-Babies to stop the real X-Babies from foiling his plans. Seeing Veech's imitation, the X-Babies were less than impressed regarding the Adorable X-Babies as little more than toddlers. On Veech's command, the Adorable X-Babies attacked. Thanks to their elastic-like bodies, they quickly gained the upper hand. Once they had defeated Colossus, Cyclops, Rogue and Storm the Adorable X-Babies set their sights on young Kitty Pryde but were shocked by the arrival of Wolverine and Nightcrawler who brought an entire army of Veech's prisoners. Having had all about he could take, Wolverine went into a feral berserker rage and chopped the Adorable X-Babies into little pieces. Veech smugly applauded this victory, then used his staff to reanimate the tiny pieces which transformed into an army of Adorable X-Babies.
(X-Babies#4) - The Adorable X-Babies took over the X-Babies comic's recap page where they and Veech's assistant Nandy discussed the events leading up to the final issue.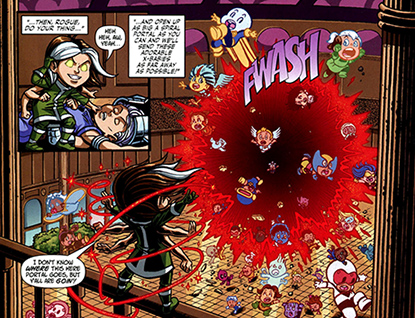 (X-Babies#4) - The dozens of Adorable X-Babies attacked the original X-Babies and Veech's former prisoners, quickly gaining the upper hand. The original Cyclops quickly made a plan to defeat the Adorable X-Babies once and for all. Once Royal Roy successfully disarmed Veech, the original Rogue knocked Spiral unconscious, "borrowing" her magical abilities in the process. She used Spiral's powers to create a giant portal to an unknown dimension that sucked in all the Adorable X-Babies. For good measure, the X-Babies threw in Veech and his assistant Nandy as well.
Comments: Created by Gregg Schigiel (writer), Jacob Chabot (pencils, inks).
Veech created the Adorable X-Babies from an unrevealed elastic-like material. Whenever any of them would be hit their bodies would bend and automatically revert back to their original shape, they could also bounce around like a ball.
The army Wolverine and Nightcrawler had assembled consisted of several children's television characters, personalities and other obscure Marvel characters abducted by Veech at one point or another to star in his shows: Fester Addams, Alf, Br'er Rabbit, Captain Kangaroo, Cookie Monster, Forbush Man of Earth-665, Hawkeye of Earth-99062/Mini-Marvels, Pee Wee Herman, Little Rascals (Alfalfa and one other), Mister Magoo, Mister Rogers, Planet Terry, Royal Roy, Spider-Ham of Earth-8311, Top Dog, Wally the Wizard. Eagle eyed readers can also spot Charlie Brown in the midst of the all-out battle in issue 4.
Profile by MarvellousLuke
CLARIFICATIONS:
The Adorable X-Babies have no known connections to
X-Babies, short description @ X-Men Super-Sized Annual#12
or any other "adorable" characters
---
images: (without ads)
X-Babies#3, p23, pan1 (main image)
X-Babies#4, p1, pan1 (core members)
X-Babies#4, p12, pan1,2 (sucked into the vortex)

---
Appearances:
X-Babies#1 (December, 2009) - Gregg Schigiel (writer), Jacob Chabot (pencils, inks), Nick Lowe, Daniel Ketchum (editors)
X-Babies#3 (February, 2010) - Gregg Schigiel (writer), Jacob Chabot (pencils, inks), Nick Lowe, Daniel Ketchum (editors)
X-Babies#4 (March, 2010) - Gregg Schigiel (writer), Jacob Chabot (pencils, inks), Nick Lowe, Daniel Ketchum (editors)

---
Last updated: 12/08/16.
Any Additions/Corrections? please let me know.
Non-Marvel Copyright info
All other characters mentioned or pictured are ™ and © 1941-2099 Marvel Characters, Inc. All Rights Reserved.
If you like this stuff, you should check out the real thing!
Please visit The Marvel Official Site at: http://www.marvel.com
Special Thanks to www.g-mart.com for hosting the Appendix, Master List, etc.!
---