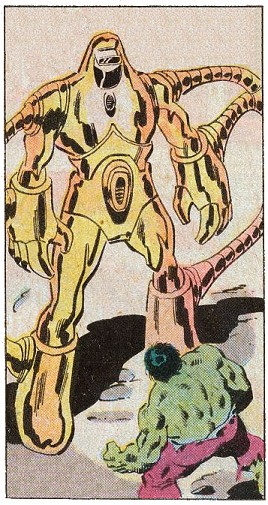 Classification: Unconventional weapon
Inventor: Tony Stark (original project)
Constructed by: Unknown
User/Possessors: SHIELD, US Army (Glenn Talbot)
First Appearance: Incredible Hulk II#245 (March, 1980)
Powers/Abilities/Functions: Super-powered suit of armor worn by human operators, enhancement of the Mandroid Mark I battle suit.
Armor exterior dimensions:
Height (overall): 4 meters (160 inches)
Width (overall): 1,8 meters
Width (short axis): 1 meter
Weigth: 200 kilograms (450 lbs.)
Armor Composition:
Surface/Primary Layer: Titanium
Musculature enhancements: Amplifies wearer's strength up to Class 10 tons.
Limits: DC electric motors allow for severe overloading with a theoretical limit of 500% for .01 seconds.
Power supply:
Primary: Thermoelectric radioisotope electric generator, 50,000 watts.
Secondary: 15,000 watt exotic, high density battery.
Armor system control:
Type: Body motion following sensors.
Sub-systems: Verbal instructions, limited commands.
Articulation/reenforcement: Magnetic.
Life support:
Range: High altitude to deep water: 21,000 meters above to 250 meters below (70,000 feet above to 800 feet below).
Air supply duration: 1,2 hours.
Pressure: Normal atmosphere (14.7 psi) provided internally over a wide external range.
Temperature: 23° C internal, over 85° C to 1600° C external (73° F internal , over 185° F to 1600° external)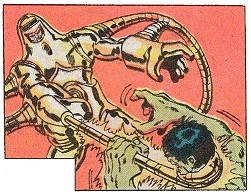 Environment design program:
Type: full spectrum chemical, biological, nuclear environment.
Range: 2 months of filtered external air.
Exposure: Suit can tolerate short periods of high radiations by stepping up magnetic beam generator's activity.
Propulsion systems:
Type: Locomotor (walking) capacity through muscle amplification.
Maximum speed: 70 km/h (45 mph) for 14 minutes.
Weapon sub-systems:
Offensive:
Major: high neuronic frequency stun cannons (2)
Description: hand-mounted projectors.
Range: 6 meters (175 feet).
Major: laser offensive torch.
Description: 250 watt laser.
Range: 30 meters (33 yards).
Limits: not effective in smoke, fog, clouds, etc.
Major: Punch Blasters.
Description: also installed in the arms, operates off magnetic force.
Range: 2 meters (7 feet).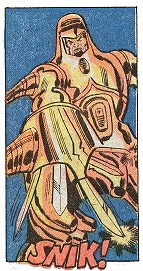 Minor: Prehensile electrocuting whip.
Description: installed in index fingers.
Range: 5 meters (17 feet).
Minor: Force Blasts.
Description: helmet firemouth.
Range: 5 meters (17 feet).
Minor: Multiple high-penetration blades.
Description: snikting from wrists, able to cut even gamma-powered skin.
Range: 20 centimeters length (8 inches).
Defensive:
Major: Electro-magnetic repelled field generator.
Description: back located generators enabling protective force field against metallic objects.
Range: 1.5 meters (5 feet).
Limits: repelling field does not affect masses greater than 25 kilograms (52 lbs.).
Major: Electrostatic beams.
Description: High voltage electrical dischargers.
Communication systems: Numerous secure audio and visual channels available to user, with an average range of 30 miles (in combinations with communications relay satellite; worldwide). External sources may take over programming in event of wearer failure.
Computer: On board housekeeping routines, which supervises all suit systems. Verbal recognition system with self-motivation programming that allows the suit to function autonomously under some battle conditions and in the vent of the user impairment.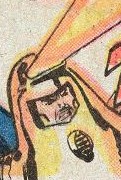 History: (Incredible Hulk II#245 (fb) - BTS) - SHIELD built a Super-Mandroid model adding more lethal weapons to the basic suit of the Mark I exoskeleton.
The U.S. Army requisitioned the Super-Mandroid armor from the SHIELD and sent it to Gamma Base.
(Incredible Hulk II#245) - The Hulk's research for the dead Jarella was menacing Gamma Base, so, Glenn Talbot wore the Super-Mandroid armor, and with the military might of Gamma Base to cover his back, attacked the jade behemot to defend the Base. The bone-crushing power and the new weapons of his shining super-armor hold back Hulk for some minutes, and even let Talbot spill the first blood, cutting Hulk's skin. But its power was surpassed by Hulk's mounting rage. Hulk smashed the Mandroid's power pack and started breaking the Mandroid in two pieces.
(Incredible Hulk II#246) - Only Captain Marvel's arrival on the scene saved Talbot's life. The Super-Mandroid armor was buried under the ruins of a building. Captain Marvel found the armor cracked and with the help of his nega-bands managed to tear the armored layer apart and free Talbot.
( Incredible Hulk II#275) - In the abandoned Gamma Base, in the most protected part of it, the Gamma Ray Research Lab, a Mandroid suit was stored, beside other powerful weapons like Megalith.
(Thunderstrike#5/6 - BTS) - One of the Super-Mandroid's weapons, the frontal force blast, was added to the weapons of the Mandroid Mark I used on the SHIELD Helicarrier. When Spider-Man, Thunderstrike, and agent Andrew "Jock" Jackson landed, unauthorized on the Helicarrier, some Mandroids attacked them and special Agent DePaul used the frontal force blast against Stellaris. The fight was interrupted by Nick Fury.
Comments: Created by Bill Mantlo & Sal Buscema (writer/storytellers/artist), G. Roussos (colors), Al Milgrom (editor)
The most part of the technical characteristics of the Super-Mandroid armor are the same of the Mandroid Mark I armor. The Super-Mandroid seemed rather taller than the Mandroids Mark I, so I adapted the dimensions.
The frontal "firemouth" on the forehead was still present on the Mandroid Mark I. Hypotesis:
the weapon was still present but was never used before, and was seen for the first time in action on the Super-Mandroid;
the weapon was not present, the frontal firemouth had other undescribed purposes. It was adapted to offensive purposes on the Super-Mandroid armor and after also on the Mandroid Mark I armors;
the weapon was not present, among the Mandroids who attacked Thunderstrike, Spider-Man and Jackson, there was at least a Super-Mandroid piloted by DePaul, but its dimensions weren't so different from the normal Mandroids.
Profile by Spidermay.
CLARIFICATIONS:
The Super-Mandroid has no known connections to
Mandroid, Johnny Storm of Earth-7712 @ What IF I#6
Mandroid, Kree android used to hunt and execute traitors, @ Captain Marvel I#18
Super Humanoid android servant of Leader, defeated by Hulk, @ Incredible Hulk II#116
or any other "Super" character.
---
Images:
Incredible Hulk II#245, p9, pan4 (Super-Mandroid, full body)
Incredible Hulk II#245, p9, pan5 (name)
Incredible Hulk II#245, p12, pan2 (whip)
Incredible Hulk II#245, p14, pan2 (blades)
Incredible Hulk II#245, p12, pan6 (head shot)

---
Appearances:
Incredible Hulk II#245 (March, 1980) - Bill Mantlo & Sal Buscema (writer/storytellers/artist), G. Roussos (colors), Al Milgrom (editor)
Incredible Hulk II#246 (April, 1980) - Bill Mantlo (writer), Sal Buscema (artist), Ben Sean (colors), Al Milgrom (editor)
Thunderstrike#5 (February, 1994) - Tom De Falco (writer), Ron Frenz (pencils), Al Milgrom (inks), Rockwitz & Lopez (colors), Ralph Macchio (editor)
Thunderstrike#6 (March, 1994) - Tom De Falco (writer), Ron Frenz (pencils), Al Milgrom (inks), Joe Andreani (colors), Ralph Macchio (editor)

---
Any Additions/Corrections? please let me know.
Last Updated: 07/18/13
Non-Marvel Copyright info
All other characters mentioned or pictured are ™ and © 1941-2099 Marvel Characters, Inc. All Rights Reserved. If you like this stuff, you should check out the real thing!
Please visit The Marvel Official Site at: http://www.marvel.com