MONSTROSITY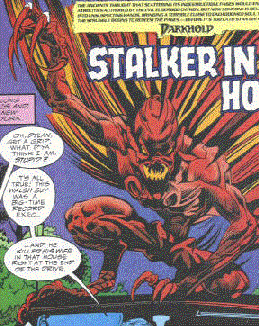 Real Name: unknown
Identity/Class: demon, presumably extra-dimensional (from dimension of Chthon)
Occupation: agent of Chthon
Affiliations: Chthon (master), Dwarf (ally); Victoria Montesi (unwitting summoner)
Enemies: Darkhold Redeemers (Sam Buchanan, Louise Hastings, Jinx, Victoria Montesi); Dylan Powelson and Brenda, Pvt. Bob Plunkett
Known Relatives: None
Aliases: the name "Monstrosity" was given for what it appeared to be whispering when it appeared. However, it was really whispering "Montesi."
Base of Operations: Dimension of Chthon; formerly Long Island, New York City, New York
Appearances: Darkhold#13 (October, 1993); (14
Powers: Its powers are magical in nature, making them difficult to quantify. It possesses superhuman strength, speed, and durability of an unknown degree. It has large, razor-sharp talons, able to easily rend human flesh and bone. It could siphon the life force of a human through his or her mouth into its own, killing him or her. It mirrored the activities of Victorio Montesi while she was with the Darkhold Redeemers. It traveled to each of the sites of her previous activities, in chronological order, and slaughtered those it encountered.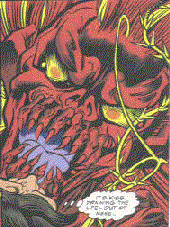 History: (Dh13,14)-Victoria Montesi tapped into the power of a page of the Darkhold in order to gain healing powers to help her comatose friend and lover, Nash Salvato. This released the demon that would be referred to as the Monstrosity. It traveled to Long Island, where she had opposed Donald Walsh, and slew two young lovers (Dylan and Brenda) outside of Walsh's house. It next went to the Adams-Morgan section of Washington, DC, where the Redeemers had opposed Gen. Mark Hamilton, and slew Pvt. Bob Plunkett who was on watch duty there. It then headed to the town of Perfection and slew one of the few survivors of the recent massacre.
Sam Buchanon recognized the pattern of attacks, and attempted to head the creature off in Perfection. He was too late, but did learn from the demon's victim, that it had actually saying "Montesi." Buchanon instantly rushed back to their new base, Louise Hasting's house in New Hope, Pennsylvania, where he encountered the demon as it arrived. He proved unable to stop the demon, who stabbed the young Jinx in the chest before fleeing.
Victoria Montesi arrived, glowing with the healing energy she now possessed and saved Jinx's life. The demon continued to trace Montesi's steps, and slew a doctor or nurse looking in on Nash at the Summertide Convalescent Home. The demon then went on a rampage, attacking anyone it encountered in the hospital. As Hastings' house was across the street, the Redeemers heard the screams and went over to the hospital. The demon quickly overpowered Buchanon. Vicki attempted to use her healing powers on her friend Nash, but even though she was comatose, Nash knew that Vicki was risking her immortal soul to use the magic of the Darkhold, and refused to accept it. Vicki realized what she was risking, and renounced the power, casting the demon back to its realm before it could kill Buchanon.
Comments: Created by Chris Cooper and Rurik Tyler.
The fact that Victoria had succumbed to using a Darkhold page provided evidence that she was not a true Montesi, who were "incorruptable."
Clarifications: The Darkhold Redeemers have no connection to:
Redeemers, organized by Gyrich (under control of Strucker), and later serving the U.S. Government, @ Thunderbolts#47
Redeemers of Earth-S, who opposed the Utopia Program, @ Squadron Supreme#10
Redeemer, Craig Saunders, a pawn of the Leader, @ Incredible Hulk II#343
Redeemer, Gen."Thunderbolt" Ross, under control of the Leader, @ Incredible Hulk II#397
---
First Posted: 09/30/2001
Last updated: 08/02/2002
All characters mentioned or pictured are ™ and © 2001 Marvel Characters, Inc. All Rights Reserved. Please visit The Marvel Official Site at: http://www.marvel.com
Special Thanks to www.g-mart.com for hosting the Appendix, Master List, etc.!