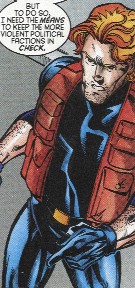 FORTUNOV, DIMITRI
Real Name: Dimitri Fortunov
Identity/Class: human
Occupation: rebel leader
Group Membership: former Royal Family of Latveria
Affiliations: Sergei (partner, deceased);
Nathaniel Richards, X-Force (Cable, Meltdown, Rictor, Shatterstar, Siryn) (loose alliance)
Enemies: Dr. Doom, SHIELD II (GW Bridge, Colin Muldowney, Theresa Petty), Baron (Wolfgang) Strucker
Known Relatives: Tristian Mangegi Fortunov/Baron of Sabbat (grandfather), unnamed grandmother (not the Baroness Sabbat), unidentifed father (illegitimate son of Tristian), Rudolfo and Zorba (uncles)
Aliases: Baron Sabbat?
Base of Operations: Latveria;
briefly Liddleville
First Appearance: Tales of the Marvel Universe#1 (February, 1997)
Powers/Abilities: no superhuman powers;
He is experienced with firearms and other conventional weapons, and he fights passionately for that in which he believes.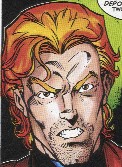 History:
(Tales of the Marvel Universe#1) - Dimitri and Sergei received word of the apparent death of Dr. Doom (during the final battle with Onslaught). He decided that it was time his family retake the throne of Latveria.
(X-Force#63 (fb) - BTS) - Using Sergei's surveillance jamming device, Dimitri and Sergei Infiltrated Castle Doom. However, having failed to account for heat sensors, they were discovered and incapacitated by Doom's servitor robots. As they had been programmed, the servitors hooked up their captives to Doom's Liddleville, sending their minds into synthe-clones within the artificial city. However, with Sergei, something went wrong with the process: his synapses were fried and he died instantly.
(X-Force#63) - Dimitri encountered Meltdown, who had been similarly captured and transferred into Liddleville upon infiltrating the Castle. Meltdown's allies, X-Force and Nathaniel Richards, freed the two from Liddleville. Cable and Richards planned to destroy Doom's technology to prevent the wrong hands from getting hold of it, but Dimitri thought that the time platform in particular could be used for good. When SHIELD agents arrived to confiscate the equipment for the United Nations, Dimitri pulled a grenade to hold everyone back, but agent Petty shot Dimitri. His body flew back into the time machine, activating it and somehow sending the entire Castle Doom into 1941, overlapping its past self like a phantom.
(X-Force#64) - Back in 1941, Dimitri tried to find his grandfather to try to convince him to change his ways, to make things better for the Latverian people suffering under his rule. Learning that Tristian's uneasy Nazi allies, Baron Strucker and his aide, Schlange, planned to assassinate him, Dimitri instead joined with X-Force to destroy Strucker's Sturmfanger (Storm-Catcher) machine, the energies of which was holding them all in the past. Dimitri told Tristian of Strucker's intentions, but was stopped by Meltdown from revealing who he was or how he had gotten in there. Rictor destroyed the Sturmfanger machine, and Dimitri and the others returned to the present.
Comments: Created by Mark Bernardo & Aaron Lopreste, and possibly Rachel Pinnock or Randy Emberlin.
It's unclear whether Dimitri, who had been shot in the chest by Petty and had been saved by traveling back in time to before it happened, survived after returning to the present. It may have been that once he returned, he went right back to where he was, dying from the bullet wound. Or not...He was not seen or mentioned again after fading from the past.
Now <cracks knuckles>, onto the real challenge. Putting all of the past of Latveria into one coherent chronology.
Doom was given the crown by Rudolfo (or a robot posing as Rudolfo under Doom's control), as shown in Astonishing Tales#2.
Rudolfo is referred to as the late king by Zorba in Fantastic Four I#198.
The OHotMU Deluxe Edition revealed that Doom took the crown from King Vladimir.
In X-Force#63+64, Dimitri Fortunov claims to be the grandson of the Baron deposed by Doom, and his grandfather is shown to be Baron Sabbat, aka Tristian Mangegi Fortunov.
An issue of Doom 2099 says that Doom took Latveria from a Baron Vassily Gonereo Krozi.
Then there's that TSR roleplaying module, that states that the ruling family was Haasen, who ruled for 600 years before being overthrown by Doom

King Vladimir is the same as Tristian Mangegi Fortunov, who also goes by Baron Sabbat and possibly Baron Krozi and Baron Haasen.
To show how this can easily be the case, lets take a quote from Wikpedia about Charles, Prince of Wales:
"The Prince's full title is: His Royal Highness Charles Philip Arthur George, Prince of Wales, Knight of the Garter, Knight of the Thistle, Knight Grand Commander of the Order of the Bath, Member of the Order of Merit, Knight of the Order of Australia, Member of the Queen's Service Order, Privy Counsellor, Aide-de-Campe to Her Majesty, Duke of Cornwall, Duke of Rothesay, Earl of Chester, Earl of Carrick, Baron of Renfrew, Lord of the Isles and Prince and Great Steward of Scotland. He is correctly referred to as HRH The Prince of Wales (or in Scotland, HRH The Prince Charles, Duke of Rothesay). Though the term is commonly used, he ceased to be styled Prince Charles (and technically should not be described as such) following the accession of his mother to the throne in 1952, becoming Duke of Cornwall instead. "
So he can theoretically be called: Charles Philip Arthur George Mountbatten-Windsor (his actual birth name), HRH, His Royal Highness Prince Charles, the Prince of Wales, Duke Rothesay, Duke Cornwall, Earl Chester, Earl Carrick, Baron Renfrew, etc.
If and when he ascends to the throne, he would become King Charles (not sure what number), of the King of England, the King of Scotland, the King of Great Britain, the King of Australia, the King of Jamaica, King of Antigua and Barbuda, King of the Commonwealth of the Bahamas, King of Belize, etc. (You should see the list of countries the current Queen USED to be counted as the Queen of!)
Vladimir Vassily Gonereo Tristian Mangegi Fortunov, Baron of Sabbat, Baron of Haasen, Baron of Krozi.
Vladimir was the king/baron that ordered the death of Werner von Strucker. Doom slew Vladimir upon returning to Latveria, as vengeance for Werner's death. Rudolfo, the son of Vladimir, was imprisoned by Doom, who used a robot in the form of Rudolfo to officially hand over power to Doom.
Zorba almost certainly was speaking of Rudolfo as the rightful king, rather than the literal king of Latveria.
This would make Vladimir quite old, but also consider this further info:
We're not certain exactly how long after damaging his face Doom returned to Latveria and took over (over 5 years).
--Similarly, we don't know how long that was before Doom first encountered the Fantastic Four, so very early in the modern era. At minimum it was 10-12 years ago, and it may have even been twenty years or more ago that Doom took over power in Latveria.
--Given that, Vladimir/Tristian--who looked quite young when seen in 1941 (maybe only 18-25 years old), would only have been 61-78 years old. Even with the sliding timescale, that is certainly credible for at least another 20-40 years!
Dimitri could still be the grandson of Vladimir, whose may have had an affair quite late in life, and his illegitimate son would have been passed over for ascension to the throne. This would make Dimitri the partial nephew of Zorba and Rudolfo. It seems unlikely that Dimitri would have been the son of either of these, who had legitimate claims to the throne
If the Vladimir was also the Baron of Sabbat, then the TSR module could have been true, too.
This is the only solution that makes all versions true, and thus is preferred by me.
This has since been confirmed as true in the Fantastic Four Encyclopedia and the Official Handbook of the Marvel Universe Fantastic Four 2005: Dr. Doom entry. I'll have to do a profile on him sooner or later to put it all together.
See the Rudolfo entry for the TSR history of the Latverian throne.
Please let me know if I am neglecting any significant portion of Latverian history.
Alternate theories on the King of Latveria pre-resolution:
(2) Fortunov/Sabbat was in power in 1941, but was overthrown by Vladimir (or one of his ancestors) sometime thereafter.
Vladimir could still have been the Baron of Krozi, and/or the Baron of Haasen.
This does not tie Vladimir into any particular period of real time, and so he can just be put into the sliding timescale
Dimitri could still consider himself the rightful heir to the throne, as his grandfather was overthrown.
This would not allow for a continuous lines for the Haasens, however.
(3) Vladimir was and is Fortunov/Sabbat, but Rudolfo overthrew him and came to power, at which point he was deposed by Doom.
I don't like this one, primarily because it conflicts with the OHotMU, which would seem the most definitive of all the varying sources.
(4) Latveria was in a position of unrest for the few decades before Doom's takeover, with several different people declaring themselves as rulers.
OR it had been a loose association of states that was first united under Doom.
Fortunov/Sabbat, Vladimir, Krozi, Haasen, and Rudolfo might all have come from different groups declaring sovereignty, or they just might have led different city states within the larger whole..
However, I have never seen anything to support this concept.
CLARIFICATIONS:
No known connection to:
FORTUNE, DOMINIC (Duvid Jerome T. "Davey" Fortunov) - pre-World War II crimefighter and brigand for hire, semi-retired--Marvel Preview#2

FORTUNE, DOMINIC (Jerome "Jerry" Fortunov) - son of Duvid, briefly took over identity when father was believed dead, killed by Iron Monger for Simon Steele in attempt to save fatherís life--Marvel Team-Up I#120 ; (DF) Iron Man I#212
---
images:
X-Force#63, p14 (w/o ads), pan1 & 3
---
Other appearances:
X-Force I#63 (February, 1997) - John Francis Moore (writer), Anthony Castrillo (pencils), Mark Morales & Chad Hunt (inks), Bob Harras (editor)
X-Force I#64 (March, 1997) - John Francis Moore (writer), Anthony Castrillo & Mark Pajarillo (pencils), Jon Holdredge & Mario Alquiza (inks), Bob Harras (editor)
---
Last updated: 09/10/06
Any Additions/Corrections? please let me know.
Non-Marvel Copyright info
All other characters mentioned or pictured are ™ and © 1941-2099 Marvel Characters, Inc. All Rights Reserved. If you like this stuff, you should check out the real thing!
Please visit The Marvel Official Site at: http://www.marvel.com