AIM WEAPONS EXPO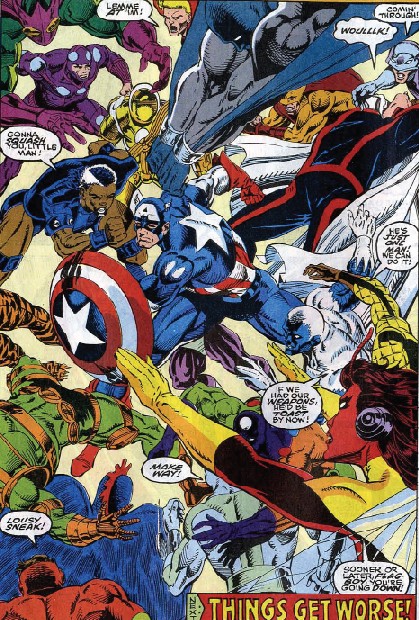 (See the image below for the corresponding number in the crowd)
ABSORBING MAN,
AIM ([Brannex]),
ANACONDA [56],
ANGAR [61],
AQUEDUCT [37],
BATTLEAXE (Ehren) [11],
BATROC [center, announcer],
BEETLE (Jenkins) [62],
BLACKLASH (Scarlotti) - Captain America #414, p8,panels3&4
BLACK TALON (Barone) [39],
BLIZZARD (Gill) [22],
BOMBSHELL [45],
BOOMERANG [20],
BOOMSLANG [21],
BULLET [23],
CONSTRICTOR,
DRAGONFLY (Dultry) [26],
DRILL (Power Tools) [64],
EEL (Lavell) [44],
ELECTRO (Dillon) [41],
FIREBRAND (Broxtel or a successor) [52],
FLYING TIGER [50],
FRENZY [40],
GENERAL WO,
GLADIATRIX [12],
GREY GARGOYLE--maybe not,
HAMMERHEAD (Maggia) [4],
HYDRO-MAN [30],
IRON MAIDEN (Vostokovna),
JACKDAW/BLACKBIRD (O'Gara) [25],
KILLER SHRIKE [54],
KLAW,
KNICKKNACK [28],
KNOCKOUT [25],
LADY DEATHSTRIKE [31],
MACHETE (Ferdinand Lopez) [far right face],
MAD DOG,
MAN-APE [32],
MAN-BULL [59],
MENTALLO (Flumm),
MESMERO [33],
MODAM,
MOONSTONE (Sofen) [14],
NITRO (?) [34]
ODDBALL [46],
PILEDRIVER (Calusky),
POUNDCAKES [10],
PUFF ADDER [55],
RAMROD,
RAZORFIST (Douglas Scott),
RESISTANTS - 2 unidentified members [42, 43],
RHINO [2],
RINGER (Kraft) [53],
RINGMASTER (Maynard Tibold) [1],
ROCK PYTHON [57],
SCORPION (Gargan) [16],
SCREAMING MIMI [60],
SHOCKER (Schultz) [27],
SHOCKWAVE [19],
SNAPDRAGON (Sanada) [35],
SPEED DEMON [63],
SPYMASTER (Lemon) [17],
STILETTO [13],
STILT-MAN (Day) [18],
SUNSTROKE [49],
SUPERIA,
TARANTULA (Alvarez) [24],
THERMO [48],
TITANIA (MacPherran) [35],
TOMBSTONE [15],
TRICK SHOT [7],
TRIPLE IRON [66],
TRUMP [51],
VERTIGO (Savage Land Mutates) [36],
WHIRLWIND (Cannon) [58],
WILDFIRE [6],
WRECKER (Garthwaite),
ZARAN (Zaran) [far left face]
several unidentified}}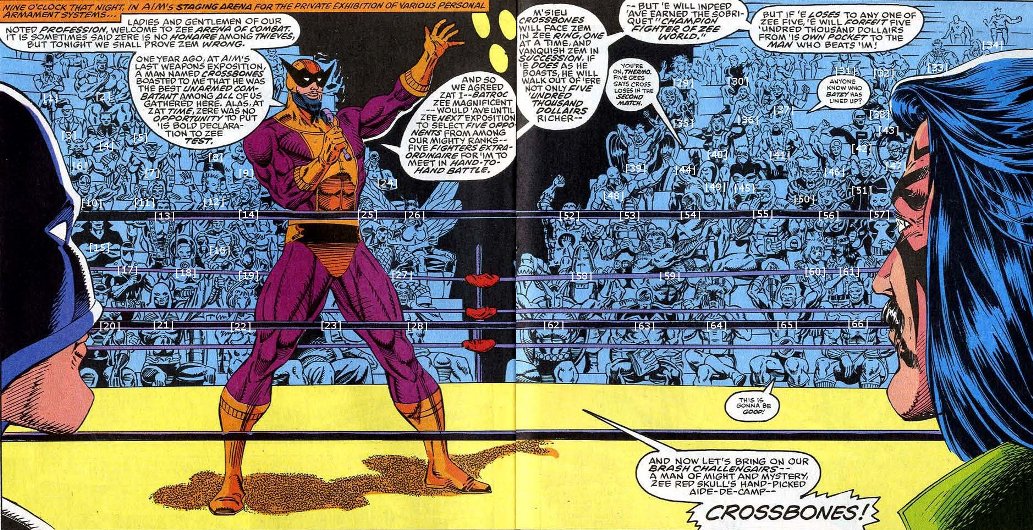 Thanks to Ronald Byrd for identifying Wildfire, on pg. 18 of Cap#411, right behind Poundcakes. Good Eye!!
Omar Karindu ID'd Triple Iron from the cover and inside of Cap411.
Helen King ID'd Blacklash & Drill.
Extra special thanks to Nathan Elliott for providing the numbered crowd image and also to James Sharpe for updating the identifying numbers.